"WHAT A FOGGY FARCE"
Daily Mirror
Officials
England
UK ruling on substitutes
Scotland
Referee
Paul

Raymond

Wyssling
46 (5 January 1912), Zürich, Switzerland
Linesmen
J.W. Roberts
E.S. Sanders

England Intermediate Team
Rank:

No official ranking system established;
Colours:
The 1954 Umbro away uniform - Red v-necked short-sleeved continental jerseys, white shorts, red socks with white tops.
Capt:
Trevor Smith


second, W 2 - D 0 - L 0 - F 9 - A 3.

Manager:
Walter Winterbottom, 44 (31 March 1913), appointed as FA national director of coaching/team manager on 8 July 1946;


eleventh intermediate match, W 8 - D 2 - L 1 - F 35 - A 12.

Team chosen by the Intermediate Selection Committee, headed by Frank Adams, on Monday, 6 January.
England Lineup
four changes to the previous U23 match

league position

(6 January)

Hopkinson, Edward
22
78 days
29 October 1935
G
Bolton Wanderers FC

(FL 9th)

2

3ᵍᵃ

2
Howe, Donald
22
95 days
12 October 1935
RB
West Bromwich Albion FC

(FL 2nd)

5
0
3
Harris, Gerald W.
22
99 days
8 October 1935
LB
Wolverhampton Wanderers FC

(FL TOP)

3
0
4
Setters, Maurice E.
21
30 days
16 December 1936
RHB
West Bromwich Albion FC

(FL 2nd)

3
0
5
Smith, Trevor
21
277 days
13 April 1936
CHB
Birmingham City FC

(FL 15th)

10
0

most U23 apps

55-58

6

Crowther, Stanley
22
134 days
3 September 1935
LHB
Aston Villa FC

(FL 18th)

3
0
7
Brabrook, Peter
19
68 days
8 November 1937
OR
Chelsea FC

(FL 10th)

3
1
8

Greaves, James P.
17
329 days
20 February 1940
IR
Chelsea FC

(FL 10th)

3
5
53
9

Murray, James Robert
22
96 days
11 October 1935
CF
Wolverhampton Wanderers FC

(FL TOP)

1
1
54
10

Hayes, Joseph
21
360 days
20 January 1936
IL
Manchester City FC

(FL 5th)

1
1
11
A'Court, Alan
23
107 days
30 September 1934
OL
Liverpool FC

(FL2 2nd)

4
1
reserves:
Hayes was the original reserve—his travelling reserve status went to Brian Richardson (Sheffield United FC

(FL2 10th)

).
team n

ot

es:
There was one change to the original team that was named, Joe Hayes replacing Johnny Haynes (Fulham FC

(FL2 TOP)

) on Monday, 13th January. Originally chosen as captain, Haynes was suffering with influenza.
pre-match n

ot

es:
Walter Winterbottom had outlined his intentions on 28 November 1957 to make sure England were successful at the 1958 World Cup Finals in June.

"ALL League clubs approached have willingly agreed to release their players for special F.A. training sessions to be held"

every month until the World Cup. The first took place on Tuesday, 14 January 1958. It was et to be played at Maine Road, Manchester, but on the day, the pitch was unplayable
The England practice team to oppose the under-23 team was chosen on 7 January:- Nigel Sims (Aston Villa FC); John Bond (West Ham United FC), Jim Langley (Fulham FC); Ron Clayton (Blackburn Rovers FC), Billy Wright (Wolverhampton Wanderers FC), Ray Barlow (West Bromwich Albion FC); Bryan Douglas (Blackburn Rovers FC), Bobby Robson, Ronnie Allen, Derek Kevan (all West Bromwich Albion FC) and Tom Finney (Preston North End FC).
"Trevor Smith and Stan Crowther were recovering from injury and could not be risked in practices. Ken Taylor, of Huddersfield, and Brian Richardson, of Sheffield United, were called in. But . . . Taylor could not head the ball because of stitches in a wound and Richardson's elbow was strapped after dislocation. In half-hour games, the shadow England team drew 2—2 with Manchester City

[Kevan (2) for England, Bobby Johnstone & Roy Clarke for City]

and beat the Under-23 team 1—0."

Tom Finney scored

.
2-3-5
Hopkinson -
Howe, Harris -
Setters, Smith, Crowther -
Brabrook, Greaves, Murray, Hayes, A'Court.

Averages:

Age
21 years 219 days
Appearances/Goals
3.5
0.4

Scotland Intermediate Team
Rank:

No official ranking system established;
Colours:
Made by Umbro - Dark blue continental jerseys with white v-neck collars/cuffs, white shorts, blue socks with red tops.
Capt:
Dave Mackay
Selector:
Scottish 2nd XI FA Selection Committee
Team chosen on 8 January 1958
Scotland Lineup
1
Beattie, Richard

Scott

21
83 days
24 October 1936
G
The Celtic FC
2
4ᵍᵃ
2
Parker, Alexander

Hershaw

22
166 days
2 August 1935
RB
Falkirk FC
5
0
3
McIntosh, James

Douglas

21
165 days
3 August 1936
LB
Falkirk FC
3
0
final u23 app 56-58
4
Mackay, David

Craig

23
62 days
14 November 1934
RHB
Hearts of Midlothian FC
4
1
final u23 app 55-58
5
Plenderleith, John

Boyd

20
101 days
6 October 1937
CHB
Hibernian FC
3
0
6
Thomson, George

Matthewson

21
88 days
19 October 1936
LHB
Hearts of Midlothian FC
1
0
7
Scott, Alexander

Silcock

20
54 days
22 November 1937
OR
Rangers FC
1
0
only u23 app 1958

8

Currie, Daniel
20
14 days
1 January 1938
IR
Clyde FC
2
1
9

Young, Alexander
20
346 days
3 February 1937
CF
Hearts of Midlothian FC
4
2
10
Brand, Ralph

Laidlaw

21
38 days
8 December 1936
IL
Rangers FC
1
0
only u23 app 1958
11

O'Hara, Albert Edward
22
79 days
28 October 1935
OL
Falkirk FC
2
0
unused substitutes:
Bert Slater (Falkirk FC); Willie Polland (Raith Rovers FC), Brown (Third Lanark); Nicol (Hibernians FC), Doug Baillie (Airdrieonians FC), John Baxter (Hibernians FC); George Herd (Clyde FC), John Colrain (The Celtic FC), Max Murray (Rangers FC), Tasker (Queen of the South FC) and Davie Wilson (Rangers FC).
post match notes:
Although this is Alex Scott's one and only intermediate appearance, he was chosen for the reverse fixture in February 1959, which never got played, having been postponed. On the day of the postponement, Scott had to withdraw because of injury, as he had done in the previous Under-23 fixture between these two countries..
2-3-5
Beattie -
Parker, McIntosh -
Mackay, Plenderleith, Thomson -
Scott, Currie, Young, Brand, O'Hara

Averages:

Age
21 years 109 days
Appearances/Goals
2.5
0.2
Match Report
by Frank McGhee, Daily Mirror, Thursday, 16 January 1958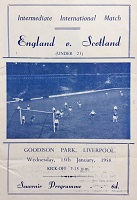 Young England win the phantom match
This was phantom football, a muffled mystery of a match, shrouded in a clammy grey blanket of fog. In my opinion it should never have been started—everything that went across on the far side of the pitch here at Goodison Park had to be guessed at.
IT COULDN'T POSSIBLY BE SEEN.
Six minutes after the start, a great roar from the crowd behind England keeper Eddie Hopkinson's goal told us that Scotland had gone in front. Outside left Eddie O'Hara carved out the chance and scorer was centre forward Alex Young.
At least, I believe it was Young—he was the one who got all the back slaps and handshakes on the return trip to the centre circle.
After half-an-hour this exercise in eye-strain eased a little as one corner of the fog blanket lifted and let in a glimmer of light. For a spell the flitting phantoms became footballers and you could see, appreciate . . . and criticise.
Two who did take the eye were Young England's inside forward pair, Joe Hayes, of Manchester City, and Jimmy Greaves, of Chelsea.
It was Hayes who tested Scots 'keeper Dick Beattie, with a tremendous drive. It was greaves who laid on a great scoring chance that Wolves centre-forward Jimmy Murray only just missed. For the Scots, I would single out right half David McKay, of Hearts, a terrific worker, with a tackle that had the snap and effect of a steel trap closing.
Four minutes before half-time, Murray made up for that earlier miss by popping in the England equaliser.
And just before the interval whistle they went in front when wonder boy Jimmy Greaves glided though to finish off a move started by Hayes and Murray. Scotland missed a great chance of drawing level in the sixtieth minute, when O'Hara, their brightest forward, got the England defence in a terrible tangle.
He put Young clean through, only to see the centre forward shoot wide from a yard out!
But with the light improving ever so slightly, England were in command, moving faster, tackling harder, thinking quicker. Beattie made three brilliant saves in five fantastic minutes, diving to snatch the ball from the thundering feet of first Hayes then Murray then Greaves. And he made a desperate attempt to stop the point-blank shot from Hayes which put England 3—1 up after eighty minutes, actually managing to parry the ball but not quite succeeding in robbing it of the impetus which carried it over the line.

Match Report
as appears in the F.A. Yearbook 1958-59 pages 31-32
This was played at Everton in such poor weather, a swirling fog obscuring much of the play. England won quite comfortably, but without really impressing as a great side. They took some time to settle down and were a goal in arrears after six minutes, when Young scored from a pass by O'Hara. The equaliser was delayed until shortly before half time when Murray scored with a finely angled shot from a free-kick taken by Crowther, who once again played well. Greaves scored England's second just on the interval, following a good move on the left wing, an in the second half England really took a grip on the play. A third goal by Hayes served to confirm their advantage seven minutes from time.

Source Notes
Official matchday programme
FA Yearbook 1958-59
Fitbastats.com

Rothman's Yearbooks




Original newspaper reports
cg