"CHAMPAGNE ENGLAND BUBBLE OVER"
Daily Mirror
Officials

from France

England
FIFA ruling on substitutes
Romania
Referee
Jacques Devillers


46 (23 August 1911), Cambrai

The IFAB introduced the linesman's flag of 'vivid colours' into the Laws of the Game.

flame flag

Linesmen orange flag
Édouard

Eugène

Harzic


51 (

25 September 1906)

, Amiens

Louis Fauquembergue

England Intermediate Team
Rank:

No official ranking system established;
Colours:
The 1954 Umbro away uniform - Red v-necked short-sleeved continental jerseys, white shorts, red socks with white tops.
Capt:
Trevor Smith


first, W 1 - D 0 - L 0 - F 6 - A 2.

Manager:
Walter Winterbottom, 44 (31 March 1913), appointed as FA national director of coaching/team manager on 8 July 1946;


tenth intermediate match, W 7 - D 2 - L 1 - F 32 - A 11.

Team chosen by the Intermediate Selection Committee, headed by Frank Adams, on Sunday, 6 October, finalised on Thursday, 11 October.
England Lineup
four changes to the previous U23 match

league position

(11 October)

Hodgkinson, Alan
21
61 days
16 August 1936
G
Sheffield United FC

(FL2 13th)

4

3ᵍᵃ

2
Armfield, James
22
25 days
21 September 1935
RB
Blackpool FC

(FL 14th)

2
0
3
Harris, Gerald W.
22
8 days
8 October 1935
LB
Wolverhampton Wanderers FC

(FL TOP)

2
0
4
Setters, Maurice E.
20
304 days
16 December 1936
RHB
West Bromwich Albion FC

(FL 2nd)

2
0
5
Smith, Trevor
21
186 days
13 April 1936
CHB
Birmingham City FC

(FL2 11th)

9
0

most U23 apps

55-57

6

Crowther, Stanley
22
43 days
3 September 1935
LHB
Aston Villa FC

(FL 18th)

2
0
7

Brabrook, Peter
19
342 days
8 November 1937
OR
Chelsea FC

(FL 11th)

2
1
8

Greaves, James P.
17
238 days
20 February 1940
IR
Chelsea FC

(FL 11th)

2
4
51
9

Curry, William Morton
22
4 days
12 October 1935
CF
Newcastle United FC

(FL 12th)

1
1
only U23 app 1957
52
10
Parry, Raymond A.
21
270 days
19 January 1936
IL
Bolton Wanderers FC

(FL 9th)

1
0
11
A'Court, Alan
23
16 days
30 September 1934
OL
Liverpool FC

(FL2 4th)

3
1
reserves:
Jimmy Armfield, Stan Crowther and Ray Parry were the original named reserves.
When the side was formalised on 11 October, new reserves were chosen:- Peter Wakeham (Torquay United FC

(FL3S 24th BOTTOM)

), Larry Carberry (Ipswich Town FC

(FL2 14th)

) and Bobby Charlton (Manchester United FC

(FL 4th)

), who was also celebrating his twentieth birthday.
team n

ot

es:
The original team was announced with the inclusion of Don Howe, Duncan Edwards and Johnny Haynes in the side, and the acknowledgement that those three players will probably be named in the senior side.
pre-match n

ot

es:
The under-23 team practised at the Empire Stadium, along with the senior side, on Tuesday 14th. And at Finchley on the day of the match.
2-3-5
Hodgkinson -
Armfield, Harris -
Setters, Smith, Crowther -
Brabrook, Greaves, Curry, Parry, A'Court.

Averages:

Age
21 years 103 days
Appearances/Goals
2.7
0.4

Romania Intermediate Team
Rank:

No official ranking system established;
Colours:
yellow shirts, dark blue shorts
Capt:
Gheorge Pahonţu
Manager:
Romania Lineup
1
Utu, Iuliu
21
42 days
4 September 1936
G
FC Dinamo Bucareşti
2
Pahonţu, Gheorge
24
91 days
17 July 1933
RB
FC Petrolul Ploieşti

oldest opp. U23 player

so far

3
Szakács, Iosif
23
264 days
25 January 1934
LB
FC Dinamo Cluj
4
Vasile, T.
nk
not known
LHB
FC Dinamo Bucareşti
5
Stanch
nk
not known
CHB
Ştiinţa Timişoara
6
Nunweiler, Ion
21
280 days
9 January 1936
RHB
FC Dinamo Bucareşti
7
Anghel, Vasile
19
328 days
22 November 1937
OR
FC Dinamo Bucareşti

8

Seredai, Vasile
23
298 days
22 December 1933
IL
FC Lokomotiva Bucareşti
9

Ene, Gheorghe

20


262 days
27 January 1937
CF
FC Lokomotiva Bucareşti
10

Georgescu, Nicolae
21
288 days
1 January 1936
IR
FC Lokomotiva Bucareşti
11
Semenescu, C
nk
not known
OL
FC Lokomotiva Bucareşti
unused substitutes:
not known
team notes:
Georgescu appears to have replaced Alexandru Meszaros (CS Târgu Mureş) and Semenescu seems to have replaced S. Buekkoesi (CCA Bucareşti), who was the original centre-forward, meaning their was positional changes too. Anghel swapping wings from left to right and Ene, the outside-right, going into the middle.
The Romanian under-23 team flew into England on Sunday, 13 October as part of the 45-man party.

'The largest foreign party ever to tour Britain. In addition to the under-23, there will be a Youth international between the two countries.'.

The under-23's then trained under the floodlights of Brentford FC's Griffin Park ground.
2-3-5
Utu -
Pahonţu, Szakács -
Vasile, Stanch, Nunweiler -
Anghel, Seredai, Ene, Georgescu, Semenescu

Averages:

Age
tbc
Appearances/Goals
Match Report
by Bill Holden, Daily Mirror, Thursday, 17 October 1957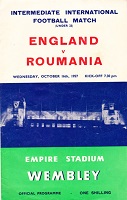 AFTER a champagne start with a goal in the first minute, Young England gained a close victory over Rumania at Wembley Stadium.
But the game, which had promised greatness, became tawdry through petty fouling. Quick-fire Young England flashed into a one-minute lead. Jimmy Greaves, 17, cracked it in and proceeded to make life a misery for the Rumanians. He and Villa's blond bomber Stan Crowther inspired fourteen minutes of sheer supremacy from the kick off.
It was Crowther who began the thrust for the first goal.
He broke up a threatened Rumanian attack before it could reach the half-way line and set up a left-wing raid himself. Inside-left Ray Parry flicked the ball to Alan A'Court and as the left winger's cross was nodded down Greaves pounced to crack in a low drive.
Crowther and then A'Court had long, dangerous shots held by Utu, the Rumanian goalkeeper, and then he made a brilliant save from Greaves.
Then for a spell England faded. The first time the Rumanians got within shooting distance they came as near to equalising as anyone ever could. Outside right Anghel dallied plumb in front of goal and by the time he had decided to shoot goalkeeper Alan Hodgkinson had rushed out to parry his shot. Anghel got to the ball again, but by then three England players had dashed back on to the goal line and left back Gerry Harris turned the shot round the post for a corner. The Rumanians appealed for a penalty. The crowd fell into a hushed murmur of uncertainty, but the French referee, J. Devillers, gave a corner. Centre forward Ene missed another chance when he beat Hodgkinson in a race for the ball and pushed it wide of the post as the 'keeper lay helpless.
England breathed once more . . . THANKS TO GREAVES again.
He catapulted forward in the twenty-third minute to head in a cross from A'Court and finished his plunge by somersaulting into the net after the ball. The joy lasted just three minutes. Hodgkinson failed to hold a centre from the left and Ene darted in to cut England's lead.
Eleven minutes later it was lost entirely.
This time England's defence was slow to anticipate a cross from the right and before they could move to cut it off inside left Georgescu had slipped in to crack the ball home. In the fifty-fifth minute centre forward Bill Curry rose to nod down a Lawton-like bullet but Utu held it on the line. And that Curry header really turned the English tap full on. Utu clutched and clawed at a long shot from Stan Crowther, grabbing it at last as if life itself depended on him holding it.
He did it again with a header from Greaves . . . he dashed out to intercept . . . he held another header from Curry.
But a goal had to come. In the sixtieth minute in a furious goalmouth battle for possession, Curry had a split-second chance and he took it with a rasping shot which crashed down over the line from the crossbar. Parry and Groves juggled their way through again, holding off a succession of tough challenges—one of which, a 'tackle' on Greaves, could easily have been a penalty. Near the end England twice had the Rumanians struggling desperately and from a free-kick A'Court whizzed a header just wide of a post. But the Rumanians almost snatched success from England in the dying minutes when unhappy Hodgkinson again failed to hold a cross shot and the ball skidded from him to nip outside the far upright.

Match Report
by Glen Isherwood
England, in red shirts, won the only international at this level to be played at Wembley despite losing the two-goal lead given them by Jimmy Greaves on his first appearance at the stadium. Greaves went on to score 44 goals in 57 full internationals after scoring a record 13 goals in 12 under-23 internationals.

Match Report
as appears in the F.A. Yearbook 1958-59 page 30
After their comfortable win over Bulgaria the England Under-23 team, was given a rather rude awakening when they were only able to beat Rumania by the odd goal in five. The match opened sensationally with a superbly taken goal by Greaves within fifty seconds of the kick-off, and twenty minutes later the same player put England two up with a fine diving header. The came an amazing turn in the game's fortunes, for within further fifteen minutes Rumania were level through goals scored by Ene and Georgescu. For a while it appeared that England might well completely lose their grasp on the game, but a partial revival was rewarded with a goal by Curry which restored their lead. During the remaining thirty minutes there was no further score. Once again Crowther had a fine game, and young Greaves will also retain pleasant memories of his first game at Wembley.

Football League Division One
Everton 2 Arsenal 2
Goodison Park, Liverpool

(54,345)
Thomas, Harris
~ Bloomfield, Herd
Source Notes
Official matchday programme
FA Yearbook 1958-59

Rothman's Yearbooks


Original newspaper reports
Glen Isherwood's Complete Record of Wembley
cg