"GOAL CRAZY ENGLAND RIP IN SIX"
Daily Mirror
Officials
England
FIFA ruling on substitutes
Bulgaria
Referee


Jaroslav Vleck




Czechoslovakia

The IFAB introduced the linesman's flag of 'vivid colours' into the Laws of the Game.
Linesmen
from Wales
D.C. Underwood
G.T. Watkins

England Intermediate Team
Rank:

NNo official ranking system established;
Colours:
The 1954 Umbro home uniform -

"The White"

v-necked short-sleeved continental jerseys, blue shorts, red socks.
Capt:
Johnny Haynes


last, W 2 - D 0 - L 0 - F 9 - A 3.

²
Manager:
Walter Winterbottom, 44 (31 March 1913), appointed as FA national director of coaching/team manager on 8 July 1946;


ninth intermediate match, W 6 - D 2 - L 1 - F 29 - A 9.

Trainer: Bill Nicholson (Tottenham Hotspur)
Team chosen by the Intermediate Selection Committee, headed by Frank Adams, on Tuesday, 17 September.
England Lineup
eight changes to the previous U23 match (Howe, Smith & Haynes remain)

league position

(17 September)

4
Hopkinson, Edward
21
331 days
29 October 1935
G
Bolton Wanderers FC

(FL 10th)

1

2ᵍᵃ

44
2

Howe, Donald
21
348 days
12 October 1935
RB
West Bromwich Albion FC

(FL 7th)

4
0
45
3
Harris, Gerald W.
21
352 days
8 October 1935
LB
Wolverhampton Wanderers FC

(FL 5th)

1
0
46
4
Setters, Maurice E.
20
283 days
16 December 1936
RHB
West Bromwich Albion FC

(FL 7th)

1
0
5
Smith, Trevor
21
165 days
13 April 1936
CHB
Birmingham City FC

(FL 21st)

8
0

most U23 apps

55-57

47
6
Crowther, Stanley
22
22 days
3 September 1935
LHB
Aston Villa FC

(FL 15th)

1
0
48
7

Brabrook, Peter
19
321 days
8 November 1937
OR
Chelsea FC

(FL 13th)

1
1
49
8


Greaves, James P.
17
217 days
20 February 1940
IR
Chelsea FC

(FL 13th)

1
2
youngest U23 scorer
50
9
Kevan, Derek T.
22
203 days
6 March 1935
CF
West Bromwich Albion FC

(FL 7th)

1
0
only U23 app 1957
10

Haynes, John N.
22
343 days
17 October 1934
IL
Fulham FC

(FL2 2nd)

6
7

most U23 gls

55-57

final U23 app 55-57
11

A'Court, Alan
22
360 days
30 September 1934
OL
Liverpool FC

(FL2 11th)

2
1
reserves:
Gerry Cakebread (Brentford FC

(FL3S 6th)

) and Ken Taylor (Huddersfield Town FC

(FL2 13th)

). Ron Tindall (Chelsea FC

(FL 13th)

) was added on 23rd September as Kevan's replacement.
team n

ot

es:
Brian Clough (Middlesbrough FC

(FL2 3rd)

) was the original named centre-forward, his place going to the reserve, Derek Kevan on Monday, 23 September. Clough was one of many who had caught the Asian influenza bug which was sweeping its way the the country at this time.
The following night, the youngsters beat Tottenham Hotspur FC at Cheshunt 4-3.
pre-match n

ot

es:
The Young England team had a practice match against Fulham FC on 23 September. England won 5-1 with goals from Derek Kevan, Johnny Haynes (2), Jimmy Greaves and Alan A'Court.
2-3-5
Hopkinson -
Howe, Harris -
Setters, Smith, Crowther -
Brabrook, Greaves, Kevan, Haynes, A'Court.

Averages:

Age
21 years 138 days
Appearances/Goals
2.5
0.4

Bulgaria Intermediate Team
Rank:

No official ranking system established;
Colours:

"The Red shirts"

, white shorts, green socks
Capt:
Stoyan Kitov
Manager:
Nako Aleksandrov Chakmakov, 36 (13 August 1921)
Bulgaria Lineup
1

Tachev

Parchanov, Nikola, illegally off 46th min.
27
98 days
19 June 1930
G
PFC Spartak Pleven
ᵍᵃ
2/14
Kirchev, Iliya
24
271 days
28 December 1932
RB
FK Spartak Varna
3

Kirilov

Kitov, Stoyan
19
29 days
27 August 1938
LB
FC Spartak Sofia
4

Simeonov

Largov, Dimitar

21


15 days
10 September 1936
RHB
PFC Slavua Sofia
5

Milanov

Dimitrov, Ivan
22
134 days
14 May 1935
CHB
FC Lokomotiv Sofia
6
Georgiev, Ivan
21
232 days
5 February 1936
LHB
PFC Levski Sofia
7
Pechenikov, Dimo, illegally off 44th min.
21
209 days
28 February 1936
OR
PFC Levski Sofia
8
Bachev, Doicho
nk
not known
IR
VVS Sofia
9
Diev, Todor

23


240 days
28 January 1934
CF
PFC Spartak Plovdiv

10

Bristov

Iliev, Hristo
21
137 days
11 May 1936
IL
PFC Levski Sofia
11
Debarski, Spiro
23
291 days
8 December 1933
OL
FC Lokomotiv Sofia
Bulgaria Substitutes
scoreline: England 3 Bulgaria 0
15

Iordanov, Dimitar, on 44th min. for Pechenikov
27
328 days
1 November 1929
OR
PFC Levski Sofia
Derventski, Ivan

P., on 46th min. for Parchanov

25


105 days
12 June 1932
G
SC Levski
result: England 6 Bulgaria 2
unused substitutes:
not known
team notes:
As in the May 1957 B match between the teams, Ivan Derventski was chosen as the goalkeeper, but an injury in the previous match against Hungary meant his place went to Parchanov. Left-half Georgurev replaced the original choice, Gavril Stoyanov. Pechenkov appears to replaced Milev at outside-right. And Dubirsky in for Gugalov.
Alex Kostov was chosen as the original inside-right. Bachev moved across and Iliev came in at inside-left.
On the day of the match, Kitov replaced original captain and left back Manolov.
Although the Daily Mirror's Bill Holden states that it was a substitute wearing the number 14 shirt, Peter Lorenzo (Daily Herald) confirmed it was in fact the same right-back, wearing a different jersey, and the second half was delayed a minute because of it.
Dimitar Largov will be Bulgarian Football Union's President in 1991-93.
2-3-5
Parchanov (Derventski) -
Kirchev, Manolov -
Ly#argov, Dimitrov, Georgurev -
Pechenikov (Iordanov), Bachev, Diev, Iliev, Debarski

Averages:

(start)
(finish)
Age
22 years 239 days¹⁰
23 years 33 days¹⁰
Appearances/Goals
Match Report
by Bill Holden, Daily Mirror, Thursday, 26 September 1957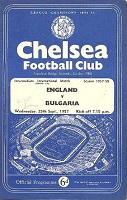 Greaves Slams two in first international
THIS was revenge in full for that defeat in Sofia last summer — and Young England deserved every bit of it.
It was doubly sweet in view of the Bulgarian's desperate substitute tactics. They just hadn't brought enough to hold this brilliant young England team. Jimmy Greaves, inside-right idol of Stamford Bridge, came within an ace of a hat-trick international debut on his club ground. After scoring two great goals, he had a penalty saved three minutes from the end. Inches alone robbed England of a fantastic half-time lead.
They gained eleven corners in 35 minutes. They rained in shots galore.
But at last the goals came. Jimmy Greaves hammered in one in the fortieth minute and within sixty seconds Johnny Haynes got another. The all-Midland defence never had any real work to do, but in a few spasms of retaliation the Bulgarians made Don Howe and Trevor Smith shine. Howe, tired of inactivity, came up the right wing a minute before the interval to inspire the third England goal—by Peter Brabrook.
He thundered in a glorious goal, and the crowd were roaring their acclaim as this young team of greatness left the field.
Although it had been agreed that there should be only one substitute—other than a goalkeeper—up to the forty-fourth minute, 'No. 14' ran out after the other players had taken the field to line up at right back for Bulgaria. Already—after England's second goal—they had sent on 'No. 15' in place of outside-right Pechenkov. Two minutes after the restart, Iliev lobbed a free-kick into the goalmouth.
The unknown No. 15 headed the ball down on to the goal line, and Debirsky rushed up to tap it into the net.
Then the new 'keeper had to dive to prevent an own goal—and at last came England's fourth. The goalkeeper—later found to be Derventski—dived to save from Greaves and the ball flew out to A'Court, who drove it in. In the seventy-fifth minute Haynes made up for some amazing misses with a pass that Greaves with all the time in the world to slam in No. 5. Then Greaves gave Haynes an equally perfect pass for Johnny to run on to and bang in no.6. In the last minute, with Gerry Harris off the field for treatment, Debirsky dribbled through to clip the lead to 6—2.

Match Report
as appears in the F.A. Yearbook 1958-59 page 30
The opening on the International season was marked by one of the best displays by an England forward line of recent years. The Young England forwards shone throughout the match, played at Stamford Bridge, and although the first goal did not come for forty minutes the result was never really in doubt. Haynes and Greaves, playing in his senior game for England, struck up a great understanding and each scored twice. Other goals came from Brabrook and A'Court, while Diev and Debirsky replied for Bulgaria. In defence the England backs Howe and Harris were steady, while Setters and Crowther impressed at wing-half.

Football League Division One


Leeds United 2 Sunderland 1


Elland Road, Leeds

(17,500)


Baird, Gibson ~ O'Neill

Newcastle United 0
Sheffield Wednesday 0


St. James' Park, Newcastle-upon-Tyne

(27,630)

Football League Division Three South


Brighton & Hove Albion 0 Aldershot 1


Goldstone Ground, Hove

(8,687)


Henry

Exeter City 1 Gillingham 3


St. James' Park, Exeter (5,965)
Calland ~ Morgan, Payne, Clark

Southend United 2 Swindon Town 3


Roots Hall, Southend

(9,000)


McCrory, Duffy ~ Duffy OG,

Micklewright, Skull

Southampton 0 Plymouth Argyle 1


The Dell, Southampton (14,251)


Carter

Torquay United 1 Crystal Palace 1


Plainmoor, Torquay

(5,000)


Collins ~ Deakin

Football League Division Three North


Bradford 0 York City 2


Park Avenue, Bradford

(5.036)


Wragg, Bottom

Chester vs. Accrington postponed


S

ealand Road, Chester

(ground unfit)

Rochdale 1 Scunthorpe United 4


Spotland, Rochdale

(5,278)


Bushby OG

~


Haigh, Marriott, Waldock, Fletcher

Workington 1 Bradford City 1


Borough Park, Workington

(7,400)
Colbridge

~ Samuels

Wrexham 0 Crewe Alexandra 1




Racecourse Ground, Wrexham

(3,048)


Rowley


European Cup Preliminary Round First leg


Shamrock Rovers 0
Manchester United 6


Dalymount Park, Dublin

(45,000)


Taylor (2), Whelan

(2),

Berry, Pegg
Source Notes
Official matchday programme
FA Yearbook 1958-59

Rothman's Yearbooks




Original newspaper reports
cg