"WORSE THAN CARDIFF!"
Daily Mirror
Officials

from Wales

England
UK ruling on substitutes
Northern Ireland

Referee

(black)


Benjamin Mervyn Griffiths
46 (17 January 1909), Abertillery, Monmouthshire

flame flag

Linesmen

orange flag

G.T. Powell


Newport

D. King


Pontypridd

England Team
Rank:

No official ranking system established;
ELO rating 6th
Colours:
The 1954 Umbro home uniform - White v-necked short-sleeved continental jerseys, blue shorts, red socks with white tops.


eighth, W 4 - D 1 - L 3 - F 21 - A 12.

⁴³
Capt:

Billy Wright³
56th W 32 - D 10 - L 14 - F 139 - A 87.⁹⁰

Manager:
Walter Winterbottom, 42 (31 March 1913), appointed as FA national director of coaching/team manager on 8 July 1946;


74th match, W 45 - D 14 - L 15 - F 213 - A 108

, one abandoned.

¹³⁹

Team chosen by Selection Committee, headed by Joe Mears, on Thursday, 27 October

England Lineup

five changes

to the previous match

(Williams, McGarry, Matthews, Revie & Lofthouse)

league position

(27 October)

Baynham, Ronald L.
26
145 days
10 June 1929
G
Luton Town FC

(FL 9th)

2

1ᵍᵃ

2
Hall, Jeffrey J.
26
56 days
7 September 1929
RB
Birmingham City FC

(FL 7th)

3
0
3
Byrne, Roger W.
26
55 days
8 September 1929
LB
Manchester United FC

(FL 2nd)

16
0

751

4

Clayton, Ronald
21
89 days
5 August 1934
RHB
Blackburn Rovers FC

(FL2 10th)

1
0
the 36th Rover to represent England
5
Wright, William A.
31
269 days
6 February 1924
CHB
Wolverhampton Wanderers FC

(FL 11th)

71
3

most apps

1952-55

6
Dickinson, James

W.

30
192 days
24 April 1925
LHB
Portsmouth FC

(FL 15th)

43
0
7

Finney, Thomas
33
211 days
5 April 1922
OR
Preston North End FC

(FL 13th)

58
25
4th player (oldest & slowest) to reach the 25-goal milestone (9yrs 35dys)
8

Haynes, John N.
21
16 days
17 October 1934
IR
Fulham FC

(FL2 2nd)

2
1
9
Jezzard, Bedford A.G.
28
14 days
19 October 1927
CF
Fulham FC

(FL2 2nd)

2
0

final app

1954-55

10

Wilshaw, Dennis J.
29
236 days
11 March 1926
IL
Wolverhampton Wanderers FC

(FL 11th)

9
9

752

11

Perry, William A.
24
53 days
10 September 1930
in Johannesburg, South Africa
OL
Blackpool FC

(FL 3rd)

1
0
the ninth Blackpool player to represent England
reserve:
Bob Morton (Luton Town FC

(FL 9th)

)
team notes:
Ronnie Clayton and Bill Perry become the one hundredth players to be picked in the starting XI by the Selection Committee in the Winterbottom era.
pre-match:
The team trained at Stamford Bridge and played Chelsea FC in a practise match on Monday, 31 (0-0 in a match that consisted of two twenty-minute halves). They trained again at Stamford Bridge on Tuesday, with no practise match arranged.
records:
Billy Wright extends his record appearance tally, in his record 36th consecutive match.
England win a record four matches in a row at Wembley for the first time, beating the pre-war record.
2-3-5
Baynham -
Hall, Byrne -
Clayton, Wright, Dickinson -
Finney, Haynes, Jezzard, Wilshaw, Perry

Averages:

Age
27 years 90 days
Appearances/Goals

18.9

3.2

Northern Ireland Team
Rank:

No official ranking system established;
ELO rating 45th
Colours:
Green continental jerseys with white v-neck collar/cuffs, white shorts, blue socks with white tops.
Capt:
Terry McCavana
Manager:


Team Attendant: Gerry Morgan

Peter Dermot Doherty, 42 (5 June 1913), appointed October 1951, also manager at Doncaster Rovers FC since June 1949.
fifteenth match, W 2 - D - 3 - L 10 - F 16 - A 38,
team chosen on Tuesday, 25 October
Northern Ireland Lineup
Uprichard, W. Norman M.
27
196 days
20 April 1928
G
Portsmouth FC

, England

12

28ᵍᵃ

2
Cunningham, William E.
25
255 days
20 February 1930
RB
Leicester City FC

, England

6
0
3
Graham, W.G. Leonard
30
16 days
17 October 1925
RB
Doncaster Rovers FC

, England

13
0
4
Blanchflower, R. Dennis
29
265 days
10 February 1926
RHB
Tottenham Hotspur FC

, England

18
0
5
McCavana, W. Terence
34
282 days
24 January 1921
CHB
Coleraine FC
3
0
final app 1954-55
6
Peacock, Robert
27
34 days
29 September 1928
LHB
The Celtic, Scotland
7
0
7
Bingham, William L.
24
89 days
5 August 1931
OR
Sunderland AFC

, England

16
2
8
McIlroy, James
24
8 days
25 October 1931
IR
Burnley FC, England
14
0
9
Coyle, Francis
22
215 days
1 April 1933
CF
Coleraine FC
2
0

10

Tully, Charles P.
31
114 days
11 July 1924
IL
The Celtic FC, Scotland
9
3
11
McParland, Peter J.
21
191 days
25 April 1934
OL
Aston Villa FC, England
5
2
reserve:
Jackie Blanchflower (Manchester United FC), Wilbur Cush (Glenavon FC)
team notes:
This is first ever visit to the Empire Stadium by either of the Irish teams, to celebrate the 75th anniversary of the IFA.

Manager Peter Doherty played for Ireland against England on seven separate occasions from 1935 until 1947, scoring one in 1947.

The team trained in Weybridge prior to the match, training on a recreation ground near their hotel, The Oatlands Park, and then they stayed at the Charing Cross Hotel.
2-3-5
Uprichard -
Cunningham, Graham -
Blanchflower, McCavana, Peacock -
Bingham, McIlroy, Coyle, Tully, McParland

Averages

:

Age
27 years 53 days
Appearances/Goals

9.5

0.6
News
"Park your brains on the touchline, son — you won't be needing them in our team. And if you want to be a ball-player, laddie, go right ahead—but you can forget about playing for your country if your country happens to be England. That is the clear manifesto presented to the footballers of England by the F.A. selectors. Matthews is out of the England team to play Ireland at Wembley next Wednesday, Revie is out, Lofthouse is out and Jezzard is in his place. Johnny Haynes is in, but not at inside left. That is too easy. Oh no, make him an inside RIGHT. There are two new caps, Ronnie Clayton, of Blackburn, and Bill Perry, of Blackpool. Banish the ball-players, bring in the bashers and runners and bumpers and borers." - Bob Ferrier, The Daily Mirror, Friday, 28 October 1955

Match Report
by Mike Payne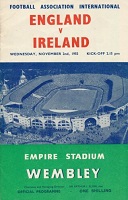 To help celebrate the 75th anniversary of the Irish FA, England decided, for the first time, to play them at Wembley. Alas, the game did not live up to the extra prestige of the venue and it will be quickly forgotten. The football matched the greyness of the day and the first half was dull and unimaginative. Ireland had a good deal of the play but neither side threatened much in front of goal.

The one shining light in all this gloom was the youthful Johnny Haynes. Here was a player of real class, who showed a maturity well beyond his years. His superb passing and two footed skills were the main features of this match.

Ireland looked out of place at Wembley. One of the smallest crowds ever assembled for an important international, only 62,000 had little to warm their hearts. True, there was plenty of effort but the general play fell well short of what is expected at this level. The only memorable incident of the first-half came when one of the many passes by Haynes found Bedford Jezzard who beat Uprichard with a shot, only for Graham to save the day with a goal-line clearance.

At the other end, Ron Baynham looked decidedly shaky on crosses and the wing-halves. Ronnie Clayton and Jimmy Dickinson, never imposed themselves on the play. Up front Tom Finney never made the impact that Stan Matthews might have done, despite making several runs. Finney seemed to find it difficult at times to raise his game on the big occasions as Matthews does.

Predictably, the half ended goalless, but five minutes into the second period the match suddenly burst into life. Baynham made a superb point-blank save from Tully and then play swung brilliantly to the other end via a fine triangular move involving Haynes, Dennis Wilshaw and Jezzard. Haynes finally delivered a defence-splitting reverse diagonal pass for Wilshaw to take possession, side-step Uprichard and shoot into the empty net.

If ever a pass won a match, it was Haynes' at that moment. Ireland were now down, and two minutes later they were out as England scored again. This time Jezzard sent Finney away. The winger sent over a deep centre which was lobbed back into the middle by Bill Perry. It dropped under the crossbar and Wilshaw was on the spot to head home. It was ironic in some ways as the Wolves striker had been largely anonymous, and yet here he was with two goals under his belt.

The victory was rounded off by Finney in the 88th minute. Haynes was again at the heart of the move and when Finney received Jezzard's square pass, his change of direction and acceleration took him inside Graham before a diagonal shot beat Uprichard and found the far corner. It was Finney's first goal since the World Cup match against Uruguay.

It was a disappointing performance from England who needed to improve for the forthcoming visit of Spain.

Match Report
by Norman Giller
Fulham clubmates Johnny Haynes and Bedford Jezzard played alongside each other for the only time in an England international. Haynes, partnering Tom Finney on the right wing, played farther upfield than usual to confuse his marker, Danny Blanchflower, and it was mainly because of his probing passes that England won comfortably with two goals from Dennis Wilshaw and another from Finney. Jezzard's career was ended a year later by an ankle injury. South African-born Bill Perry came into the attack in place of his Blackpool team-mate Stanley Matthews, and Ronnie Clayton won the first of his thirty-five caps. This was Northern Ireland's first appearance at Wembley, and the only time they threatened to mark the occasion with a goal was when Charlie Tully had a point-blank shot superbly saved by goalkeeper Ron Baynham in the second half.

Match Report
by Glen Isherwood
England were aiming for a third successive outright British Championship, but had already lost 2-1 to Wales at Ninian Park. Northern Ireland had beaten Scotland 2-1 at Windsor Park and were making their first appearance at Wembley. They had not beaten England since 1927 when they won 2-0 at Windsor Park.
The Irish defence held out until just after half-time. A brilliant pass from Haynes left Dennis Wilshaw with only Uprichard to beat which he did with ease. Two minutes later from Finney's cross, Perry lobbed for Wilshaw to head his second over the 'keeper. In the 89th minute, from a pass by Jezzard, Tom Finney cut inside and shot into the corner for England's third.
This was the only occasion that all four teams shared the British Championship. England had now won a record five successive titles while Northern Ireland's success was their first since 1914. They would be back two years later to secure a memorable victory.

Match Report
as appears in the F.A. Yearbook 1956-57 page 29
This match, played at Wembley on November 2nd, turned out to be rather an undistinguished game. Apart from another immaculate defensive display by Wright, the outstanding feature was the proof that the youthful Haynes had blossomed into a really good inside-forward, whose use of the long through-pass was both astute and accurate. After an uninspiring first-half a grand midfield movement between Wilshaw, Jezzard, and Haynes resulted in the first-named scoring. Two minutes later Wilshaw headed a second to finish off another combined movement, and England remained comfortably on top, with Finney scoring the third and final goal shortly before the end.

Source Notes
TheFA.com
Original newspaper reports
The Complete Book of the British Charts


Northern Ireland's Footballing Greats

Rothman's Yearbooks




Mike Payne's England: The Complete Post-War Record


Norman Giller, Football Author


Glen Isherwood's Wembley: The Complete Record


British Pathé
cg