"JEFFREY TRAGEDY"
Daily Mirror
Officials

from Switzerland

England
FIFA ruling on substitutes
France
Referee (black)
Gottfried Dienst
37 (9 September 1919), Basel
The Continental ruling of allowing a substitute to replace an injured player prior to the 44th minute, and a goalkeeper at any time, is in place.
Linesmen
tbc
tbc

England Intermediate Team
Rank:

No official ranking system established;
Colours:
The 1954 Umbro home uniform - White v-necked short-sleeved continental jerseys, blue shorts, black socks with white tops.
Capt:
Stan Anderson


only, W 0 - D 1 - L 0 - F 0 - A 0.

¹
Manager:
Walter Winterbottom, 43 (31 March 1913), appointed as FA national director of coaching/team manager on 8 July 1946;


seventh intermediate match, W 5 - D 1 - L 1 - F 22 - A 6.

Team chosen by Intermediate Selection Committee, headed by Frank Adams, on Friday, 12 October.
England Lineup

nine changes

to the previous U23 match

(Clayton & Smith remain)

league position

(12 October)

Hodgkinson, Alan
20
62 days
16 August 1936
G
Sheffield United FC

(FL2 6th)

2

0ᵍᵃ

2
Howe, Donald
21
5 days
12 October 1935
RB
West Bromwich Albion FC

(FL 15th)

2
0
3
Shaw, Graham L.
22
100 days
9 July 1934
LB
Sheffield United FC

(FL2 6th)

3
0
4
Anderson, Stanley
21
213 days
27 February 1934
RHB
Sunderland AFC

(FL 19th)

3
0
final U23 app 55-56
5
Smith, Trevor
20
187 days
13 April 1936
CHB
Birmingham City FC

(FL 6th)

6
0

mst U23 apps

55-56

6
Neal, Richard Marshall
23
16 days
1 October 1933
LHB
Lincoln City FC

(FL2 10th)

2
0
7
Douglas, Bryan
22
143 days
27 May 1934
OR
Blackburn Rovers FC

(FL2 16th)

2
0
final U23 app 1956
8
Jeffrey, Alick, injured off 9th min
17
262 days
29 January 1939
IR
Doncaster Rovers FC

(FL2 5th)

2
0
final U23 app 1956
39

9

Groves, Victor George
23
347 days
5 November 1932
CF
Arsenal FC

(FL 12th)

1
0

oldest u23 player

only U23 app 1956
40
10
Cheesebrough, Albert
21
274 days
17 January 1935
IL
Burnley FC

(FL 4th)

1
0
only U23 app 1956
41
11
A'Court, Alan
22
17 days
30 September 1934
OL
Liverpool FC

(FL2 12th)

1
0
England Substitute
42
Booth, Colin, on 9th min. for Jeffrey
21
292 days
30 December 1934
IR
Wolverhampton Wanderers FC

(FL 9th)

1
0
only U23 app 1956
unused substitutes:
Johnny Bollands (goalkeeper, Sunderland AFC

(FL 19th)

) and Ken Taylor (Huddersfield Town AFC

(FL2 7th)

)
team notes:
The seventeen year-old Alick Jeffrey's second appeara

nce

was marred by an accident nine minutes into this match. His right leg was fractured and the crack was heard by most of the watching crowd. This exciting new talent was forced to retire from the game, although he did achieve comeback years later.
2-3-5
Hodgkinson -
Howe, Shaw -
Anderson, Smith, Neal -
Douglas, Jeffrey (Booth), Groves, Cheesebrough, A'Court

Averages:

(start)
(finish)
Age
21 years 216 days
21 years 352 days
Appearances/Goals
2.3
0.0

France Espoirs Team
Rank:

No official ranking system established;
Colours:
probably Blue collared jerseys, white shorts, red socks.
Capt:
Manager:
Pierre Piberot, 40 (23 July 1916)
France Lineup
1
Tailandier, Jean, injured off 57th min.
18
269 days
22 January 1938
G
Racing Club de Paris
2
Tylinski, Michel
22
152 days
18 May 1934
RB
AS Saint-Étienne Loire
3
Novak, Marcel
22
99 days
10 July 1934
LB
Olympique Lyonnaise
4
Le Menn, André
22
229 days
2 March 1934
RHB
FC Nantes Atlantique
5
Tylinski, Richard
19
29 days
18 September 1937
CHB
AS Saint-Étienne Loire
6
Ferrier, René
19
315 days
7 December 1936
LHB
AS Saint-Étienne Loire
7
Dorsini, Pierre
22
177 days
23 April 1934
OR
AS Nancy Lorraine
8
Oleksiak, Jean
21
215 days
16 March 1935
IR
AS Saint-Étienne Loire
9
Courtin, Jean Marie
21
102 days
7 July 1935
CF
Racing Club de Lens

10

Szkudlapski,

Théo

dore

20
335 days
17 November 1935
IL
Racing Club de Lens
11
Stiévenard, Michel
19
26 days
21 September 1937
OL
Racing Club de Lens
France Substitute
1
Roussel, Guy, on 57th min. for Tailandier
20
335 days
17 November 1935
G
Toulouse FC 1937
ᵍᵃ
unused substitutes:
not known
team notes:

"Goalkeeper Jean Tailandier injured his left arm saving from outside left Alan A'Court and was carried off with a suspected fractured right wrist."


The Tylinski's are brothers.
2-3-5
Taillandier -
M.Tylinksi, Novak -
Le Men, R.Tylinksi, Ferrier -
Dorsini, Oleksiak, Courtin, Théo, Stievenard

Averages:

(start)
(finish)
Age
20 years 343 days
21 years 51 days
Appearances/Goals
tbc
tbc
Match Report
by Frank McGhee, Daily Mirror

, Thursday, 18 October 1956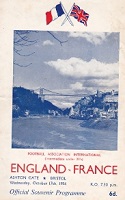 ENGLAND WONDER BOY CARRIED OFF WITH BROKEN LEG
TRAGEDY came for Young England at Ashton Gate here last night. After only nine minutes' play Alick Jeffrey, Doncaster Rovers brilliant seventeen year-old inside right, broke his leg in two places, and was taken to hospital. There was a hush as Jeffrey and French centre half Richard Tylinski, challenged for a loose ball.
And over that hush everyone heard the crack of the bone breaking.
Jeffrey fell heavily, clutching his leg. Almost before he hit the ground at least three England players, realising how serious it was, yelled anxiously for a stretcher. He was carried off, his young face contorted in agony. It is obvious that he will be out for the rest of this season—or even longer.
The pity of it was that Jeffrey had already showed signs of taking over this match completely.
He was linking up perfectly with centre forward Vic Groves and was only stopped from scoring in the fifth minute by a despairing tackle from left back Marcel Novak. But even though they missed Jeffrey — Colin Booth of Wolves came on as substitute — England should have been two goals up in the next ten minutes. Blame right winger Bryan Douglas for two incredible misses after he had weaved his way through with only the goalkeeper to beat.
Each time he delayed his shot a split second too long. BUT ENGLAND HAD THEIR ESCAPES TOO.
A minute from half-time centre forward Jean Marie Courtin had rounded centre half Trevor Smith for the first time in the match. He was poised to shoot when right back Don Howe took the ball of his toe for a corner.
England really piled on the pressure at the start of the second half. A header from Booth thudded against the crossbar, a shot from Groves trickled just wide.
Goalkeeper Jean Taillandier injured his left arm saving from outside left Alan A'Court and was carried off with a suspected fractured right wrist.
His substitute Russell was in action right away, snatching the ball from Booth's head. But England's luck was right out and gradually the match became scrappier and scrappier. They played like men with their minds on something else—and my guess is that they were all thinking of Jeffrey. It was only in the last minute that the game flared up again. Goalkeeper Alan Hodgkinson saved England with a desperate dive to clutch and clear a shot from outside right Dorsini. And at the other end Roussel did exactly the same to smother a Bryan Douglas effort.

Match Report
as appears in the F.A. Yearbook 1957-58 page 32
Under the floodlights at Ashton Gate, Bristol, this match was unfortunately marred by an accident to Aleck Jeffrey, whose leg was fractured nine minutes after the start. The crack was heard by most of the spectators and it seemed to take the sting out of the game. On the general run of play England should have won, although it required a daring dive by Hodgkinson to stop the little French outside-right from scoring in the final seconds. After the first 20 minutes, when the England wingers were in dashing form, defences were on top, with Smith at centre-half an outstanding success.

European Cup First Round First Leg:


Manchester United 3
Bsv Borussia 09 Dortmund 2


Maine Road, Manchester

(75,598)


Viollet (2), Burgsmüller OG

~


Kapitulski, Preißler


Friendly matches:
Norwich City 0 Sunderland 3
Partick Thistle 4 Newcastle United 1
Source Notes
Official matchday programme
FFF.fr

Rothman's Yearbooks




Original newspaper reports
cg