"MILBURN RESCUES ENGLAND TWO MINUTES FROM TIME"
Daily Mirror
Officials

England
FIFA ruling on substitutes
Arg
enti
na

Referee

(black)


Benjamin Mervyn Griffiths
42 (17 January 1909), Abertillery, Monmouthshire, Wales
The Continental ruling of allowing two substitutes to replace injured players prior to the 44th minute, and a goalkeeper at any time, is in place.

England had 14 Corner Kicks



"England wore red shirts as the referee, Mr. B. M. Griffiths, decided England's usual white shirts did not allow sufficient contrast between the white and sky blue shirts of the Argentine players." -

Daily Mirror

red flag

Linesmen

yellow flag

A. Bond


London

P.L. Greig


Middlesex

England Team
Rank:

No official ranking system established;
ELO rating 4th
Colours:
The 1951 away uniform - Red jerseys, white shorts, black socks with white tops.


first, W 1 - D 0 - L 0 - F 2 - A 1.

⁴³
First time red has been worn at the national stadium
Capt:


Billy Wright³
20th, W 14 - D 0 - L 6 - F 52 - A 25.⁹⁰


Manager:
Walter Winterbottom, 38 (31 March 1913), appointed as FA national director of coaching/team manager on 8 July 1946;


37th match, W 26 - D 4 - L 7 - F 116 - A 42

.

¹³⁹

Team chosen by Selection Committee headed by Arthur Drewry, on Monday, 30 April 1951

Winterbottom's first victory at the national stadium
England Lineup
Williams, Bert F.
31
98 days
31 January 1920
G
Wolverhampton Wanderers FC
15

19ᵍᵃ

2
Ramsey, Alfred E.
31
107 days
22 January 1920
RB
Tottenham Hotspur FC
13
0
3
Eckersley, William
25
297 days
16 July 1925
LB
Blackburn Rovers FC
4
0
4
Wright, William A.
27
92 days
6 February 1924
RHB
Wolverhampton Wanderers FC
35
3

704

5
Taylor, James G.
33
185 days
5 November 1917
CHB
Fulham FC
1
0
the fifth Fulham player to represent England
6
Cockburn, Henry
29
237 days
14 September 1921
LHB
Manchester United FC
11
0
7
Finney, Thomas
29
34 days
5 April 1922
OR
Preston North End FC
31
19
8

Mortensen, Stanley H.
29
17 days
26 May 1921
IR
Blackpool FC
23
21
9

Milburn, John E.T.
26
363 days
11 May 1924
CF
Newcastle United FC
10
8
10

Hassall, Harold W.
22
66 days
4 March 1929
IL
Huddersfield Town AFC
2
1

705

11
Metcalfe, Victor
29
95 days
3 February 1922
OL
Huddersfield Town AFC
1
0
the 17th Town player to represent England

unused substitut

es:
Bill Nicholson (both Tottenham Hotspur FC) and Stan Pearson (Manchester United FC). Nicholson was replaced by Harry Johnston (Blackpool FC) on the day of the match. Ted Ditchburn (Tottenham Hotspur FC) was also drafted in as a reserve.
team notes:
Stan Matthews (Blackpool FC) was the original chosen outside-right. Finney swapped sides and vić Metcalfe was drafted in to replace him. Matthews has a bruised foot.
Bill Nicholson received a leg injury playing for Tottenham Hotspur FC against FC Austria.
2-3-5
Williams -
Ramsey, Eckersley -
Wright, Taylor, Cockburn -
Finney, Mortensen, Milburn, Hassall, Metcalfe.

Averages:

Age

28

years 276 days
Appearances/Goals

13.3

4.5

Argentina Team
Rank:

No official ranking system established;
ELO rating 1st
Colours:
Sky blue and white broad striped v-necked jerseys with white collars, black shorts, pale blue socks
Capt:
Norberto Yácono

Selecto

r:
Selection Committee, headed by Manuel Gonzales
Team chosen on Monday, 7 May 1951.
"holds the proud of record that during his 12 years as a selector his teams have never been beaten."

Trainer:

Guillermo

Antonio

Stábile

,

46 (17 January 1905)

Argentina Lineup
Rugilo, Miguel Ángel
32
110 days
19 January 1919
G
CA Vélez Sarsfield
2
Colman, Juan Carlos, injured off 35th min.
28
145 days
15 December 1922
RB
Boca Juniors
3
Filgueiras, Juan
24
118 days
11 January 1927
LB
Huracán
4
Yácono, Norberto A.
32
121 days
8 January 1919
RHB
River Plate
5
Faina, Ubaldo R.
22
349 days
25 May 1928
CHB
Newell's Old Boys
2
0
final app 1951
6
Pescia, Natalio A.
29
128 days
1 January 1922
LHB
Boca Juniors
11
0
7

Boyé Auterio, Mario E.H.
28
283 days
30 July 1922
OR
Racing Club
8
Méndez, Norberto D., playing with a bandaged left leg
28
124 days
5 January 1923
IR
Racing Club
9

Bravo, Rubén
27
174 days
16 November 1923
CF
Racing Club
3
1
final app 1950-51

10

Labruna, Ángel A.
32
223 days
28 September 1918
IL
River Plate
14
8
11
Loustau, Félix
28
135 days
25 December 1922
OL
River Plate
Argentina Substitutes

also wore


2
Allegri, Ángel N., on 35th min. for Colman
24
134 days
26 December 1926
RB
Newell's Old Boys
3
0

unused substitut

es:
not known

t

eam notes:
"Not until a few minutes before kick-off was it decided that Mendez, the Argentine inside-right, and their cleverest forward, would play. He had injured himself in practise but after intensive treatment was declared fit after mid-day." - Daily Mirror


Rubén Bravo was injured during the first half also, and played the second-half on the wing.

The Argentinians were training at Arsenal FC's Highbury ground, the Arsenal Stadium
2-3-5
Rugilo -
Colman (Allegri), Filgueiras -
Yácono, Faina, Pescia -
Boyé, Méndez, Bravo, Labruna, Loustau.

Averages:

Age

28

years 242 days
Appearances/Goals
-
-
News
"SOCCER FESTIVAL IN MAY, 1951
"A Festival of Soccer is to be arranged by the Football Association as part of the Festival of Britain in 1951, and the F.A.'s of Scotland, Ireland and Wales are being asked to support the plan. Preliminary discussions began yesterday in Glasgow between officials of the four Associations, before the international between Scotland and Wales at Hampden Park. The Football Association stated that it was proposed to extend the 1950-51 season for two weeks in May in order that international matches could be staged between England and overseas countries. The fixtures would take the place of a close-season tour. After the international programme the F.A. hope that League teams will play against Continental clubs. The F.A. have no intention of clashing with summer sport, and all games will be played in the evening. It is expected that many clubs who have entertained British sides abroad will be invited to the Festival" - Thursday, 10 November 1949, The Yorkshire Post and Leeds Mercury.

"SOCCER'S BIG PLANS FOR 1951 FESTIVAL OF BRITAIN
"These are the 1951 Festival of Britain dates as far as we have got:- May 9, England v. Argentina ; May 12, England v. France; May 12 or 19, Scotland v. Italy (provisional); May 12 or 19, Wales v. Portugal (provisional); May 16, England v. Portugal; Scotland v. France (prov); Wales v. Italy (prov); Ireland v. Belgium (prov); May 19, England v. Belgium." - Thursday, 9 March 1950, The Yorkshire Post and Leeds Mercury.

Match Report

by Mike Payne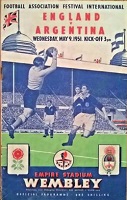 In a match helping to celebrate the Festival of Britain, England came so close to losing their precious unbeaten home record against foreign opposition. Playing in red shirts, they began with a determined burst but struggled later.

Henry Cockburn quickly asserted his authority and soon Rugilo was making athletic saves from Stan Mortensen and Jackie Milburn. Clearly the goalkeeper was an eccentric, as he showed in his exaggerated play, but he was effective and kept England at bay. Argentina built their game around short, sharp passes and Pescia was outstanding.

The visitors first serious attack incredibly brought them a goal. It came in the 18th minute and began after a mistake by Billy Wright in midfield. From there the Argentinians worked the ball brilliantly. Labruna, killing Rugilo's long clearance perfectly, sent Lostau away. He beat Alf Ramsey for pace before crossing for Boye to head past Bert Williams. Boye was so taken with the excitement of scoring that one would have been mistaken to think that the goal had won the World Cup.

From that moment until half-time it was all England. Milburn latched on to a Mortensen pass but was thwarted by a brave dive by Rugilo at his feet. Harold Hassall, with a flashing drive and two searching headers forced the goalkeeper into three more saves as the pressure increased. At the end of the first 45 minutes though England were still searching for the equaliser. They went off to have a rethink.

It was soon noticeable that they were releasing their passes quicker when they restarted and as a result began to create more chances. Wright was supporting Tom Finney better now and Milburn was finding gaps at last in the tough tackling Argentine defence. For 15 minutes England laid siege on the visitor's goal. Once, Allegri, who had come on as a substitute for Colman, cleared off the line with an acrobatic scissors kick and then Milburn twice hit Rugilo's right hand post.

And so it went on. Time drained away and still no England goal. Williams had been a virtual spectator for 95% of the game and it was all England. A huge Wembley roar built up to urge England forward and with only 11 minutes to go, they finally gained their long overdue reward. Mortensen was the hero as he rose to head in a corner by Finney. It was England's 14th corner and that was some measure of their dominance. With only four minutes left the game was transformed with the winning goal.

This time Mortensen turned provider when he headed Ramsey's free-kick across the goalmouth for Milburn to ram the ball in from close range. This ruined Rugilo's day but his antics, although raising quite a few laughs amongst the crowd, in the end got their just desserts.

It was a spectacular end to a spectacular match.

Match Report

by Norman Giller
Goals in the last ten minutes from Stan Mortensen and Jackie Milburn (following the two he had scored for Newcastle on the same pitch in the FA Cup final four days earlier) gave England a scrambled victory. Eccentric Argentinean goalkeeper Rugilo, nicknamed 'Tarzan', had the crowd roaring with laughter as he swung on the crossbar and clowned his way through the match, which was staged as part of the Festival of Britain celebrations. Fulham centre-half Jim Taylor won the first of two caps at the age of thirty-three. Argentina were only the second country other than Scotland to play England at Wembley.

Match Report

by Glen Isherwood
England were facing foreign opposition at Wembley in an official international for the first time. Argentina had not competed in the previous year's World Cup but had won the South American Championship three years in succession in the mid-1940's and had the best record in the history of the competition. They were coached by Guillermo Stabile, the top scorer in the 1930 World Cup, and this was their first meeting with England.
The home side, wearing red shirts at Wembley for the first time were a goal down when Lostau lured Williams from his goal and chipped the ball up for Mario Boye to head in.
England were heading for defeat but they finally drew level when Stan Mortensen headed in a Finney corner. With four minutes to go they snatched victory when Mortensen headed on a Ramsey free-kick for Jackie Milburn to drive home the winner.
England went to Buenos Aires the following year, but the game was abandoned after 21 minutes without a goal because of torrential rain. Argentina returned to Wembley in 1966 for the World Cup.

Match Report
as appears in the F.A. Yearbook 1951-52, pages 24-25
A crowd of 100,000 saw England beat Argentina by 2 goals to 1 at Wembley on May 9th - the first of the Festival of Britain Internationals. Argentina held a lead of 1-0 until 11 minutes of the end, but in fact England had most of the play. It was mainly the skill of Rugilo, the Argentine goalkeeper, and England's inability to cope with the unfamiliar 'funnelled' defence used by Argentina, that prevented them from winning by a wide margin.
England attacked for most of the first half, except for a short phase at about the 18th minute when Argentina took the lead, with a fine goal headed by Boye. England were playing good enterprising football, but somehow things seemed to go wrong at the critical moment. Once Milburn went clean through the Argentine defence from Mortensen's pass, only to be robbed of a certain goal by Rugilo's miraculous save; Hassall also had several near misses. But in general the English attack found itself baffled by the massed defence tactics of their opponents, and the interval found Argentina one goal up.
For the first quarter of an hour of the second half the Argentine goalmouth was under continuous siege, and there several exciting incidents. Milburn narrowly failing to score no less than three times. England kept on hammering away at the Argentine defence, with growing desperation. Then suddenly, with only 11 minutes left, Mortensen headed home a corner-kick by Finney. Four minutes from the end, Mortensen headed a fine centre from Ramsey's free-kick, and gave England victory.

Source Notes
TheFA.com
Original newspaper reports


Glen Isherwood's Wembley: The Complete Record

Rothman's Yearbooks


Mike Payne's England: The Complete Post-War Record
Norman Giller, Football Author
British Pathé
cg