"Great Blow To England' Soccer Prestige"
Western Daily Press & Bristol Mirror
Officials
Sweden
FIFA ruling on substitutes
England Party

Referee

(black blazer)


Giovanni Galeati
48 (

18 February 1901), Castel Bolognese, Italy

Teams presented to the Swedish Crown Prince, Oscar Fredrik Wilhelm Olaf Gustaf Adolf.

The FIFA ruling of allowing a substitute to replace an injured player prior to the 44th minute, and a goalkeeper at any time, is in place.
Linesmen
from Norway
Oskar Björnë
Finn Bröthen

Sweden Team
Rank:
No official ranking system established;
ELO rating 5th to 4th
Colours:
Yellow jerseys with blue collars/cuffs, blue shorts, blue socks with two yellow thin hoops.
Capt:
Henry Carlsson
Selector:
Selection committee
headed by J. Rudolf E. Kock, 47 (29 June 1901)

Trainer:

George Sidney Raynor, 42 (13 January 1907)
Sweden Lineup
Svensson, Karl-Oskar
23
183 days
11 November 1925
G
Helsingborgs IF
1

1ᵍᵃ

2
Nordahl, Knut E.A.
29
120 days
13 January 1920
RB
IFK Norrköping
17
1
3
Nilsson, Erik
32
280 days
6 August 1916
LB
Malmö FF
24
0
4
Rosén, Kjell
28
78 days
24 April 1921
RHB
Malmö FF
18
6
5
Leander, O. Börje
31
67 days
7 March 1918
CHB
AIK Stockholm
20
3
6
Andersson, Sune I.
28
80 days
22 February 1921
LHB
AIK Stockholm
16
1
7


Jónsson

, Egon
22
200 days
25 October 1926
OR
GAIS Göteborg
1
1
8

Gren, J. Gunnar
28
294 days
31 October 1920
IR
IFK Göteborg
38
24
9

Jepsson, Hans
24
3 days
10 May 1925
CF
Djurgårdens IF
1
1
10

Carlsson, N.G. Henry
31
196 days
29 October 1917
IL
AIK Stockholm
25
17
11
Bäckvall, Bertil K.
26
80 days
22 February 1923
OL
AIK Stockholm
2
0
final app 1945-49
unused substitutes:
G.Sjöberg (AIK), C.E.Andersson (Djurgårdens), B.Rosengren (Norrköping), K.Franck (Helsingborgs), A.Hjalmarsson (Elfsborg), according to the matchday programme.
team notes:
Börje Leander was the brother-in-law of Lennart Johansson, UEFA President 1990-2007.
records:
For the first time, two players have scored on their debuts against England. The first opposition debut goal since Scotland did so in April 1947.
Committee Chairman Pette Kock played against England in 1923.
2-3-5
Svensson -
Nordahl, Nilson -
Rosén, Leander, Andersson -
Jónsson, Gren, Jepsson, Carlsson, Bäckvall.

Averages:

Age
27 years 279 days
Appearances/Goals

14.8

4.6

England Team
Rank:
No official ranking system established;
ELO rating 4th to 5th
Colours:
The 1949 home uniform - White collared jerseys, blue shorts, black socks with white tops.


2nd, W 0 - D 0 - L 2 - F 2 - A 6.

⁴³
Capt:
Billy Wright


5th, W 3 - D 0 - L 2 - F 15 - A 8.

⁹⁰
Manager:
Walter Winterbottom, 36 (31 March 1913), appointed as FA national director of coaching/team manager on 8 July 1946;


20th match, W 14 - D 3 - L 3 - F 68 - A 20.

¹³⁹
Trainer: Jimmy Trotter (Charlton Athletic FC)

Party chosen by Selection Committee headed by Arthur Drewry, on Monday, 2 May, team chosen on Wednesday, 11 May.

England Lineup

four changes

to the previous match

(Swift, Howe, Milburn & Pearson out)

FINAL league positions

(7 May)

Ditchburn, Edwin G.
27
201 days
24 October 1921
G
Tottenham Hotspur FC

(FL2 5th)

2

3ᵍᵃ

681
2
Shimwell, Edmund
29
75 days
27 February 1920
RB
Blackpool FC

(FL 16th)

1
0
the fifth Blackpool player to represent England
only app 1949
3
Aston, John
27
162 days
3 September 1921
LB
Manchester United FC

(FL RU)

5
0
4
Wright, William A.
25
96 days
6 February 1924
RHB
Wolverhampton Wanderers FC

(FL 6th)

20
0

the 19th/20th player to reach the 20 app milestone

5
Franklin, Cornelius
27
109 days
24 January 1922
CHB
Stoke City FC

(FL 11th)

20
0

the 19th/20th player to reach the 20 app milestone

6
Cockburn, Henry
27
241 days
14 September 1921
LHB
Manchester United FC

(FL RU)

10
0
7

Finney, Thomas
27
38 days
5 April 1922
OR
Preston North End FC

(FL 21st rel.)

16
13
8
Mortensen, Stanley H.
27
352 days
26 May 1921
IR
Blackpool FC

(FL 16th)

11
14
682
9
Bentley, T.F. Roy
24
361 days
17 May 1924
CF
Chelsea FC

(FL 13th)

1
0
the fifteenth Chelsea player to represent England

10

Rowley, John F.
30
218 days
7 October 1918
IL
Manchester United FC

(FL RU)

2
1
11
Langton, Robert
30
157 days
8 September 1918
OL
Preston North End FC

(FL 21st rel.)

9
1
unused substitutes:
no reserves were named.
team notes:
This defeat marks England's first post-war back-to-back defeats. The first time they have suffered two defeats-in-a-row since 1936.
2-3-5
Ditchburn -
Shimwell, Aston -
Wright, Franklin, Cockburn -
Finney, Mortensen, Bentley, Rowley, Langton.

Averages

:

Age
27 years 301 days
Appearances/Goals

8.8

2.5
Match Report

by Mike Payne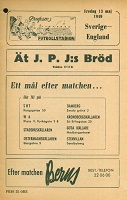 It really was a case of unlucky 'Friday the thirteenth' when England met Sweden in Stockholm in the first game of their summer tour of Scandinavia. The Swedes dished out quite a football lesson to their illustrious visitors and fully realised the potential they had shown at Highbury two years ago.

The first two minutes contained two of the games important moments. After 90 seconds, Roy Bentley all but scored when he followed on to a bad back-pass by Leander and lobbed the ball over Svensson. The goalkeeper, though, somewhat luckily managed to keep it out of his net.

It was a crucial miss as Sweden then went straight up the other end and opened their scoring. Gren, lively throughout, caught England out with a fine pass for Carlsson to run on to and score a good goal.

England were stunned and it showed again in their play. On 35 minutes Gren was again the playmaker as a brilliant four-man move ended with Jepsson crashing home a shot on the run. The, three minutes from half-time, Johnsson volleyed home spectacularly after receiving yet another cross from Gren. That goal brought the near 40,000 crowd to their feet and they gave their players a standing ovation at the break. Mortensen had hit a post just before then end of the half, but England trooped off bemused and bewildered.

To their eternal credit, England rallied after the restart and in the last 25 minutes controlled the play. When after 67 minutes, Tom Finney scored to round off a fine dribble and pass by Bentley it seemed that a miracle may be possible.

However, it was at this stage of the game that the ball began to run very unkindly for England. Bentley saw a shot cannon off a post and Finney was twice dispossessed when seemingly about to score. Then, in the last minute, Svensson saved bravely at Mortensen's feet when a goal seemed certain as the inside-right strode clear.

Match Report

by Norman Giller
Even without the great Italian-based Gunnar Nordhal, Sweden were able to produce the power and precision that had brought them the 1948 Olympic gold medal. They scored their three goals in the first half, with Eddie Shimwell being given a torrid time in his only international appearance at right-back. Chelsea centre-forward Roy Bentley was unlucky not to mark his debut with a goal in the opening minutes, and both he and Tom Finney hit the woodwork in the second half as Sweden battled to hang on to their three-goal lead. It was a Bentley dribble that set up Finney for England's only goal in the sixty-seventh minute. Skipper Billy Wright lost the toss and ir proved crucial. The Swedes chose to play with a setting sun behind them and goalkeeper Ted Ditchburn complained of being blinded for two of the three Swedish goals. But overall England could not complain about the result. The football Sweden played was a credit to English coach George Raynor.

Match Report
as appears in the F.A. Yearbook 1949-50, page 25
To play matches in five different countries in the space of ten days is no small undertaking. The twenty-six players who went on the trip were split up into 'A' and 'B' teams. The 'A' team played three matches beating France and Norway, losing to Sweden: the 'B' team won both their matches, against Holland and Finland. Although the opening game against Sweden was lost, the overall success of the tour and the welcome given everywhere to the English players undoubtedly justified such a strenuous programme.
The party left London for Stockholm on May 10th in two aircraft on a fine sunny day, and had an excellent flight to the Swedish capital after a brief stop in Copenhagen on the way. The opening match of the tour against Sweden took place on the evening of Friday, May 13th.

England won the toss and decided to take the wind but play into the sun. In the opening minute England almost scored, due to a misunderstanding between a Swedish defender and the goalkeeper. Only a minute later Sweden got the vital opening goal when Carlsson carefully lobbed the ball into the net over the head of the advancing Ditchburn. A second goal came to the Swedes in the thirty-sixth minute after a delightful movement by Carlsson and Jepsson. Sweden got another before the interval when their right winger, Johnsson, drove in a terrific right-foot shot from a difficult angle.
England's solitary goal came in the sixty-seventh minute from the right-foot of Preston's winger, Finney. It was undoubtedly one of England's off days, although in spite of fielding a weakened side, Sweden played extremely well together.

IN OTHER NEWS...
It was on 12 May 1949 that the Soviet blockade of Berlin was finally ended after 327 days, when roads, railways and waterways were opened to traffic to deliver supplies to the west of the city. The huge airlifts provided mainly by the British and American air forces continued to drop supplies for another four months to help to build up a surplus of goods.
Source Notes
TheFA.com
Original newspaper reports
Svenskfotboll.se

Rothman's Yearbooks


Mike Payne's England: The Complete Post-War Record


Norman Giller, Football Author
cg