Match Summary
Officials

Denmark
FIFA ruling on substitutes
England

Referee


Karel Louis van der Meer
43 (29 July 1905), Den Haag, Netherlands.
The FIFA ruling of allowing a substitute to replace an injured player prior to the 44th minute, and a goalkeeper at any time, is in place.

Linesmen
tbc
tbc
Attended by the King Frederick & Queen Ingrid of Denmark, as well as the Duke & Duchess of Gloucester.


Denmark Team
Rank:
No official ranking system established;
ELO rating 18th
Colours:
Red collared buttoned jerseys, white shorts, black socks with white tops.
Capt:
Karl Aage Hansen
Selector:
Udtagelses Komitéen,
on Monday, 20 September 1948.
Denmark Lineup
Nielsen, Eigel L.M.F.
30
11 days
15 September 1918
G
Kjøbenhavns Bk
13

29ᵍᵃ

2
Petersen, Poul E.
27
168 days
11 April 1921
RB
FC København
14
0
3
Jensen, H. Viggo
27
181 days
29 March 1921
LB
Esbjerg fB
14
1
4
Pilmark, Axel
22
308 days
23 November 1925
RHB
Kjøbenhavns Bk
8
0
5
Örnvold, Dion E.
26
345 days
17 October 1921
CHB
Kjøbenhavns Bk
8
0
6
Jensen, T. Ivan
25
321 days
10 November 1922
LHB
FC København
19
2
7
Plöger, Johannes T.L.
26
176 days
3 April 1922
OR
Bk Frem af 1886
20
8
8
Hansen, Karl Aage
27
84 days
4 July 1921
IR
FC København
21
17
9
Præst, Karl Aage
26
213 days
26 February 1922
CF
Østerbros Bk
21
17

10

Hansen, John A.V.Ø
24
64 days
24 July 1924
IL
Bk Frem af 1886
7
10
11
Seebach, Holger
26
193 days
17 March 1922
OL
FC København
5
1
unused substitutes:
not known
team notes:
To make this International against England possible, the DFU waived the rule forbidding their national team to play against professional sides.
The

team

consists entirely of players who represented

Denmark

In the Olympic Games at Wembley last month.

Denmark

beat the British amateur

team

by 5-3 in the match for third place at the Games.
2-3-5
Nielsen -
Petersen, V.Jensen -
Pilmark, Örnvold, S.Jensen -
Pløger, K.Hansen, Præst, J.Hansen, Seebach.

Averages:

Age
26 years 189 days
Appearances/Goals

13.6

5.1

England Team
Rank:
No official ranking system established;
ELO rating 3rd
Colours:
The 1946 home uniform - White collared jerseys, blue shorts, red socks.


15th, W 11 - D 3 - L 1 - F 53 - A 12.

¹⁸

Capt:
Frank Swift

0

ᵍᵃ
last, P 2 - W 1 - D 1 - L 0 - F 4 - A 0.²
Manager:
Walter Winterbottom, 35 (31 March 1913), appointed as FA national director of coaching/team manager on 8 July 1946;


15th match, W 11 - D 3 - L 1 - F 53 - A 12

.¹³⁹

Member-in-charge:

H.R. Cobbin

Team chosen by Selection Committee headed by Arthur Drewry, on Monday, 13 September.

England Lineup
four changes to the previous match (Howe, Mortensen, Mannion & Langton out)

league position

(13 September)

Swift, Frank V.
34
275 days
26 December 1913
G
Manchester City FC

(FL 8th)

15

12ᵍᵃ

2
Scott, Lawrence
31
156 days
23 April 1917
RB
Arsenal FC

(FL 10th)

15
0
672
3
Aston, John
27
23 days
3 September 1921
LB
Manchester United FC

(FL 11th)

1
0
the ninth United player to represent England
4
Wright, William A.
24
233 days
6 February 1924
RHB
Wolverhampton Wanderers FC

(FL 5th)

15
0
5
Franklin, Cornelius
26
246 days
24 January 1922
CHB
Stoke City FC

(FL 14th)

15
0
6
Cockburn, Henry
27
12 days
14 September 1921
LHB
Manchester United FC

(FL 11th)

6
0
7
Matthews, Stanley
33
238 days
1 February 1915
OR
Blackpool FC

(FL 15th)

26
9
673
8
Hagan, James
30
249 days
21 January 1918
IR
Sheffield United FC

(FL 18th)

1
0
the 28th United player to represent England
only app 1948
9
Lawton, Thomas
28
356 days
6 October 1919
CF
Notts County FC

(FL3s 8th)

23
22
final app 1938-48
674

10

Shackleton, Leonard F.
26
146 days
3 May 1922
IL
Sunderland AFC

(FL 7th)

1
0
the 15th Sunderland player to represent England
11
Langton, Robert
30
18 days
8 September 1918
OL
Preston North End FC

(FL 17th)

8
1
the 13th Northender to represent England
unused substitute:
Jackie Milburn (Newcastle United FC

(FL 2nd)

)
team notes:
On Tuesday, 21 September, Stan Mortensen (Blackpool FC

(FL 15th)

), the original name inside-right, withdrew because of a sprained ankle and Tom Finney (Preston North End FC

(FL 17th)

), the outside-left, also withdrew. Hagan moved from left to right, allowing Shackleton to be called up and Langton replaced Finney.
records:
This draw extends the post-war unbeaten record. England have gone eight games without loss, beating the previous record of six set between 1946-47.
2-3-5
Swift -
Scott, Aston -
Wright, Franklin, Cockburn -
Matthews, Hagan, Lawton, Shackleton, Langton.

Averages

:

Age
29 years 80 days
Appearances/Goals

11.5

2.9

oldest post-war team so far
Match Report
by Mike Payne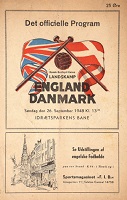 The King and Queen of Denmark and our own Duke and Duchess of Gloucester were amongst the spectators to see England surprisingly held by the amateurs of Denmark.

On a rain-soaked ground, a much-changed England side featured in its first goalless draw since the war. There was no doubt that they were the better side but on the day they were woefully weak up front.

Although the sun was shining at the start, the pitch was sodden after heavy rain and water lay on at least one part of the playing area.

England should have scored after only two minutes but Len Shackleton with only the goalkeeper to beat, dallied too long and the defenders were able to clear. Nielson then did well to save a stinging shot from Tommy Lawton six minutes later but had no chance when the same player crashed the ball past him on 20 minutes. Fortunately for Denmark, the goal was disallowed for an earlier infringement by Shackleton. At the time, all the crowd seemed convinced that it was a wrong decision by the referee.

Denmark were defending stubbornly and the occasional break they made was dangerous. Indeed, only a fine save by Frank Swift stopped the embarrassment of I. Jensen scoring. England had the better of the first half, but sadly had left their shooting boots at home.

Denmark twice went close early in the second half when first K. Hansen headed over and then Ploeger's cross-cum-shot hit the top of the England crossbar. However, England continued to have most of the possession but they were badly missing the power of Stan Mortensen and Tom Finney in front of goal.

In the end, Denmark's crowd was absolutely delighted with the result and thoroughly enjoyed the whole experience of entertaining the mighty England team.

Match Report
by Norman Giller
English hearts stopped two minutes from the end when Danish right winger Johan Ploeger fired in a shot that went through the legs of Frank Swift and into the net, but the linesman's flag was up for off-side. England's forwards were unable to make an impact against a packed Danish defence on a heavy, rain-saturated pitch. The Danes were amateurs who two months earlier had finished third in the Olympics. This was their first ever match against professional opponents. John Aston, Jimmy Hagan and Len Shackleton made their international debuts in a game that brought crushing criticism for England's shot-shy performance. It marked the end of Tommy Lawton's England career after 22 games and 23 goals, not counting his 25 goals in wartime internationals. He was convinced he had scored another goal against the Danes, but the referee disallowed it because of a foul by Len Shackleton. For once, the Clown Prince had nothing to laugh about. Shack made his debut wearing a pair of rugby boots. "They're more comfortable," he explained, "and they give better grip in muddy conditions." That certainly seemed the case when in the fifth minute he waltzed round the Danish goalkeeper and side-footed the ball towards goal. Shack turned ready to receive the congratulations of his team-mates, not realising that the ball had stuck in a mound of mud on the goal-line. Of all the players around in the immediate post-war years, Shack was the player with the most footballing tricks in his locker. There were often times when not only his opponents but even his own team-mates, and even perhaps Shack himself, did not know what he was going to do next.

Match Report
as appears in the F.A. Yearbook 1949-50, page 22
The International season opened with a surprise and a disappointment on September 26th 1948 when England were held to a goal-less draw by Denmark at Idroets Park, Copenhagen. In the first quarter of an hour, England did most of the attacking but their finishing was weak. Ten minutes before the interval Denmark all but scored when Swift had to dive full length to turn a terrific shot from Jensen at 40 yards range.
Denmark began the second half with a vigorous attack, but the English defence stood firm. Seven minutes from the end came the best English movement of the match when Matthews received a short pass from Wright, beat two men and passed to Shackleton who headed the ball to Hagan. Unfortunately, Hagan shot over the bar.
All twelve England players on duty were absent from their club's league fixture on the previous day:
Football League Division 1:
Arsenal 3 Wolverhampton Wanderers 1 - Arsenal without Lawrie Scott, Wolves without Billy Wright.
Birmingham City 2 Stoke City 1 - Stoke without Neil Franklin.
Blackpool 1 Liverpool 0 - Blackpool without Stan Matthews.
Everton 4 Preston North End 1 - Preston without Bobby Langton.
Huddersfield Town 2 Sunderland 0 - Sunderland without Len Shackleton.
Manchester United 3 Aston Villa 1 - United without Aston and Cockburn.
Newcastle United 0 Manchester City 0 - Newcastle without Jackie Milburn, City without Frank Swift.
Portsmouth 3 Sheffield United 0 - United without Jimmy Hagan.
Football League Division 3 (South):
Notts County 5 Crystal Palace 1 - County without Tommy Lawton.

IN OTHER NEWS...
It was on 25 September 1948 that fifty-year-old Sarah Shenton fell from a station platform at Morecambe between two carriages of a train and was killed.
Source Notes
TheFA.com
Original newspaper reports
Dbu.dk

Rothman's Yearbooks


Mike Payne's England: The Complete Post-War Record
Norman Giller, Football Author
Billy Wright's The World is My Football Pitch
cg