England Football Online
B Team Results
Page Last Updated 12 May 2022

Schweiz/Suisse/Svizzera/Svizra
previous senior match

(112 days)


301 vs. Spain


previous match

(21 days)


'B' 19 vs. Scotland


B

20


next match

(24 days)


302 vs. Scotland

'B' 21 vs. Scotland

Wednesday

,

21 March 1956




International 'B' Friendly Match





England 4 Switzerland 1

[1-0]




The Dell, Milton Road, Bedford Place, Itchin, Southampton, Hampshire
Kick-off (GMT): 7.30pm,


Attendance: '18,919' (floodlit)
unknown kicked-off
[1-0] Tommy Taylor header 21
headed home a long-floating cross from Duncan Edwards

7.0

News 7.15 Newsreel 7.20 Highlight 7.30 'The Grove Family' 8.0 Sportsview
8.30 England. v. Switzerland
9.15 Music For You 10.0 News 10.15 At Home 10.45 What's Yours?

[2-0] Tommy Taylor header 60
headed home another long-floating cross, this time, from David Pegg
[3-0] Tommy Taylor 70
left-footed shot from short range from another David Pegg centre
[4-0] Jack Rowley header 75
headed in a Bryan Douglas right-sided cross







[4-1] René Hamel 85


tapped-in a shot from close range after Matthews had saved a Reutlinger shot

second half only - Commentator: Kenneth Wolstenholme


"LUCKY 'B' BOYS"
Daily Mirror
Officials

from

West Germany

England
UK ruling on substitutes
Switzerland

Referee


Erich Bernhard Asmussen
33 (11 June 1922)
Linesmen
tbc
tbc

England B Team
Rank:

No official ranking system established;
Colours:
The 1954 Umbro home uniform - White v-necked short-sleeved continental jerseys, blue shorts, black socks with white tops.
Capt:
Tommy Cummings


last. W 1 - D 1 - L 0 - F 6 - A 3.

²

Manager

:
Walter Winterbottom, 42 (31 March 1913), appointed as FA national director of coaching/team manager on 8 July 1946;
th

irteenth B match, W 8 - D 2 - L 0 - F 38 - A 9.

Team due to be chosen by the Intermediate Selection Committee, headed by Frank Adams, on Wednesday, 14 March, put back to Sunday, 18 March.
England Lineup

eight changes

to the previous B match

(Matthews, Cummings & T.Taylor remain)

league position

(18 March)

Matthews, Reginald D.
23
92 days
20 December 1932
G
Coventry City FC

(FL3S 8th)

3

4ᵍᵃ

final B app 1955-56
2
Cummings, Thomas S.
27
191 days
12 September 1928
RB
Burnley FC

(FL 10th)

3
0
final B app 1953-56
3
Mansell, John
28
212 days
22 August 1927
LB
Portsmouth FC

(FL 7th)

2
0
final B app 1954-56
120
4
Morton, Robert H.
28
178 days
25 September 1927
RHB
Luton Town FC

(FL 11th)

1
0
only B app 1956
121
5
Gratrix, Roy
24
41 days
9 February 1932
CHB
Blackpool FC

(FL 2nd)

1
0
only B app 1956
6

Edwards, Duncan
19
172 days
1 October 1936
LHB
Manchester United FC

(FL TOP)

4
0
122
7

Douglas, Bryan
21
299 days
27 May 1934
OR
Blackburn Rovers FC

(FL2 6th)

1
0
123
8
Taylor, Ernest
30
201 days
2 September 1925
IR
Blackpool FC

(FL 2nd)

1
0
only B app 1956
9

Taylor, Thomas
24
52 days
29 January 1932
CF
Manchester United FC

(FL TOP)

2
4
final B app 1956
124
10

Rowley, G. Arthur
29
335 days
21 April 1926
IR
Leicester City FC

(FL2 2nd)

1
1
only B app 1956
125

11

Pegg, David
20
183 days
20 September 1935
OL
Manchester United FC

(FL TOP)

1
0
reserves:
Ray King (Port Vale FC

(FL2 7th)

), Chris Gunter (Portsmouth FC

(FL 7th)

), Gerry Hitchens (Cardiff City FC

(FL 12th)

)
team notes:
The ISC were due to pick the team on Monday, 5 March, but the Players' Union ban on floodlit games prevented them (the ban was to begin on Tuesday, 13 March). The ISC intimated that they would find willing players. However, the ban was lifted following talks between The Football League and the Players' Union on Sunday, 11 March. The Union had announced that its members would be banned from taking part in floodlit matches, or in front of the television cameras without payment.
When the team was eventually announced, Vic Groves (Arsenal FC

(FL 16th)

) was named, despite being unfit with a thigh injury. His place went to Douglas the following day.
Arthur Rowley was the younger brother of Jack Rowley
pre-match notes:
On the Tuesday before the match, the B team played Portsmouth FC at Fratton Park in a forty-minute practise match, the game ended 1-1 with Edwards scoring for B, and Peter Harris equalising.
2-3-5
Matthews -
Cummings, Mansell -
Morton, Gratix, Edwards -
Douglas, E.Taylor, T.Taylor, Rowley, Pegg.

Averages:

Age
25 years 110 days
Appearances/Goals
1.8
0.1

Switzerland
B Team
Rank:
No official ranking system established;
Colours:
probably Red jerseys, white shorts, black socks.
Capt:
Manager:
Helmut Käser, 43 (14 November 1912) secretary in charge.
Team announced Tuesday, 20 March
Switzerland Lineup
Schley, Werner
21
56 days
25 January 1935
G
FC Basel 1893

2
Perruckoud, Marc
27
209 days
25 August 1928
RB
FC Lausanne-Sport
3
Flückiger, Marcel
26
275 days
20 June 1929
LB
Berner Sport Club Young Boys
4

Thüler

, Silvan
23
233 days
1 August 1932
RHB
FC Basel 1893
5
Weber, Hans
21
195 days
8 September 1934
CHB
FC Lausanne-Sport
6
Müller, Donato
21
223 days
11 August 1934
LHB
Grasshopper Club Zürich
7
Chiesa, Francesco

A.

24
178 days
25 September 1931
OR
FC Chiasso
8

Hamel, René
23
243 days
22 July 1932
IR
FC Grenchen
9
Reutlinger, Hans
26
359 days
28 March 1929
CF
FC Zürich

10

Pastega, Aldo
22
163 days
10 October 1933
IL
Servette FC Genève 1890
11
Scheller, Kurt

R.

23
365 days
22 March 1932
OL
FC Winterthur
reserves:
not named
team notes:
The Swiss team arrived at London Airport from Zürich on Tuesday, 20 March. There were minor changes to the team that was announced on their arrival, and that which took to the field. Maurer was replaced with Thueler, and Pastega replaced Norbert Eschmann, then Hemel and Pastega swapped positions.
secretary notes:
Helmut Käser was the general secretary of the ASF/SFV, and within four years of this match (April 1960), will be the general secretary of FIFA, until 1981. He was unceremoniously replaced with Sepp Blatter, who would also marry his daughter two months after his enforced retirement.
2-3-5
Schley -
Perruchoid, Flückiger -
Thüler, Weber, Müller -
Chiesa, Hemel, Reutlinger, Pastega, Scheller.

Averages:

Age
23 years 360 days
Appearances/Goals
Match Report
by Frank McGhee

, Daily Mirror, Thursday, 22 March 1956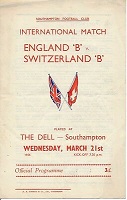 THE score looks impressive on paper. It sounds promising for the future. But don't be fooled. For painfully long periods, England were struggling against a faster-moving, quicker-thinking outfit. Man they have to thank was Coventry goalkeeper, Reg Matthews, who stood practically alone in the first half.
On this display he may well have played himself into the full international side.
You can't say that for more than a handful of his team mates. Main charge against the clever continentals has always been that they either can't or won't shoot. On the strength of their first-half display alone every man in the Swiss forward line can plead not guilty. They shot just as hard and often as England.
Only brilliant, acrobatic saves by the young Coventry goalkeeper, Reg Matthews, saved England.
Three Matthews moments stand out. In the eighteenth minute he dived to save a fierce shot from inside-left Aldo Pastega. Five minutes later he gave the crowd an encore in dealing with a similar shot from inside-right Rene Hemel.
The ten minutes before half-time he made the save of the season.
England defenders stood still, waiting for an offside whistle as centre forward Hans Reutlinger raced through alone. They hadn't spotted Tommy Cummings standing nearly on the goal line. Reutlinger shot from five yards and, incredibly, Matthews saved. Against the run of play, England took the lead in the twentieth minute when centre forward Tommy Taylor soared to head home a long floating cross from his Manchester United team-mate, David Pegg. England played with more snap and authority at the start of the second-half. Twice in the first few minutes Tommy Taylor had the ball snatched from his toe in the goalmouth.
But England could be justly accused of poor finishing at this stage. Tommy Taylor was twice the offender.
But after exactly an hour Taylor more than made up for his blunders with a repeat version of his first-half goal after a carbon copy of the same move.
Exactly ten minutes later the third Manchester United member of the party, left half Duncan Edwards, started England's third goal with a short crisp pass to Pegg.
He crossed the ball to Tommy Taylor—sorry if this is getting monotonous—and this time the centre forward completed his hat-trick with a left-foot shot. Arthur Rowley made it 40 in the seventy-fifth minute when he headed home a right wing cross from Bryan Douglas. Inside right Hemel scored a consolation goal for the Swiss with five minutes to go. Matthews dived to parry a shot from Chiesa. Reutlinger shot and the ball was tapped in by Hemel with Matthews helpless.

Match Report
as appears in the F.A. Yearbook 1956-57 page 30
The two great successes of this floodlit match, which was played at Southampton on March 21st, were goalkeeper Matthews, and centre-forward Tommy Taylor. They are placed in that order because Matthews made at least three magnificent saves before England came into the picture in the second half. Three goals from flying headers, two by T. Taylor and one by Rowley, were features of a game in which reputations of some outstanding League players undoubtedly suffered.

Source Notes
Official matchday programme




Rothman's Yearbooks




Original newspaper reports
cg