Match Summary
Officials from Italy

Spain

Type

England

Referee (black blazer) - Riccardo Pieri
x (-).

Linesmen - tbc

The FIFA ruling of allowing a substitute to replace an injured player prior to the 44th minute, and a goalkeeper at any time, is in place.
The Spanish match programmes for the home matches against England in 1980 and 1987 both call it the Estádio Chamartin when detailing this game. A history of the Spanish national team calls it the Bernabéu at that time. Simon Inglis' The Football Grounds of Europe says 'the name Santiago Bernabéu was officially adopted in January 1955'; and above all the cover of the actual match programme for the 1955 game calls it the Estadio Santiago Bernabéu.

Spain Team
Rank:

No official ranking system established;
ELO rating 12th
Colours:
Red collared jerseys, blue shorts, black socks with red/yellow hooped tops.
Capt:
Antonio Ramallets
Manager:
Don Benito Díaz Iraola, 57 (17 April 1898).
appointed for the summer matches.
second and final match, W 0 - D 1 - L 1 - F 2 - A 3.
Spain Lineup
Ramallets Simón, Antonio
30
4 July 1924
G
FC Barcelona
15

20ᵍᵃ

2
Matito Domínguez, Román
28
2 February 1927
RB
Real Valladolid CF SAD
1
0
3
Campanal


González del Río

, Marcelino Vaquero

23
13 February 1932
LB
Sevilla FC SAD
5
0
4
Mauri


Lauzirika, Mauricio Ugartemendia

21
26 April 1934
RHB
Athletic Club
1
0
5
Garay Vecino, Jesús
24
10 September 1930
CHB
Athletic Club
3
0
6
Zárraga Martín, José María
24
15 August 1930
LHB
Real Madrid CF
1
0
7
Mañó Villagrasa, Daniel
23
27 February 1932
OR
Valencia CF
1
0
8
Pérez-Payá Soler, José Luis
27
28 March 1928
IR
Real Madrid CF
1
0

9

Kubala Stecz, László
27
10 June 1927
born in Buda-pest
CF
FC Barcelona
5
1
10
Rial

Laguía

, José Héctor
26
14 October 1928
born in Pergamino, Argentina
IL
Real Madrid CF
2
1
11
Gento López, Francisco
21
21 October 1933
OL
Real Madrid CF
1
0

unused substitutes:

Carmelo Cedrón Ochandategui, Canito, José María Maguregui Ibargutxi, Miguel González Pérez, Ramón Alberto Villaverde Vázquez, Sócrates Belenguer Pérez and Enrique Collar Monterrubio.... according to BDfutbol

team notes:

Journalist Bob Ferrier reported that Benito Diaz was the 'Spanish team manager who saw our failure against France.' - Tuesday, 17 May 1955, Daily Mirror
This is probably the youngest post war opposition team since France in May 1949.
2-3-5
Ramallets -
Matito, Garay -
Campanal, Zárraga, Mauri -
Rial, Pérez-Payá, Mañó, Kubala, Gento

Averages:

Age
24.9
Appearances/Goals
3.3
0.1

England Team
Rank:

No official ranking system established;
ELO rating 5th
Colours:
The 1954 Umbro home uniform - White v-necked short-sleeved continental jerseys, blue rayon shorts, black socks with white tops.
Capt:
Billy Wright, 52nd captaincy
Manager:
Walter Winterbottom, 42 (31 March 1913), appointed as FA national director of coaching/team manager on 8 July 1946;


seventieth match, W 43 - D 14 - L 13 - F 203 - A 102

, one abandoned. Team chosen by Selection Committee on Tuesday, 17 May.

England Lineup
Williams, Bert F.
35
31 January 1920
G
Wolverhampton Wanderers FC
22

29ᵍᵃ

2
Sillett, R. Peter T.
22
1 February 1933
RB
Chelsea FC
2
0
3
Byrne, Roger W.
25
8 September 1929
LB
Manchester United FC
12
0
4
Dickinson, James

W.

30
24 April 1925
RHB
39
0
5
Wright, William A.
31
6 February 1924
CHB
67
3
6
Edwards, Duncan
18
1 October 1936
LHB
Manchester United FC
3
0
7
Matthews, Stanley
40
1 February 1915
OR
Blackpool FC
44
10
8
Bentley,

T.F.

Roy
31
17 May 1924
IR
11
8
9/


blank

Lofthouse, Nathaniel
29
27 August 1925
CF
Bolton Wanderers FC
25
25

10

Quixall, Albert
21
9 August 1933
IL
Sheffield Wednesday FC
4
0
11
Wilshaw, Dennis J.
29
11 March 1926
OL
Wolverhampton Wanderers FC
6
7

unused substitutes:

not named, but certainly Reg Matthews (Coventry City FC)

team notes:

Billy Wright extends his record appearance tally.


"In one blatant obstruction, centre-forward Nat Lofthouse had his shirt almost torn from his back. He played in the second half in a new unnumbered shirt"

2-3-5
Williams -
Sillett, Byrne -
Dickinson, Wright, Edwards -
Matthews, Bentley, Lofthouse, Quixall, Wilshaw.

Averages:

Age
28.3
Appearances/Goals
21.4
4.7
Match Report by Mike Payne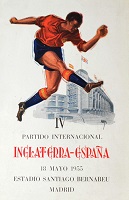 This game will be remembered for all the wrong reasons. On a beautiful sunny day, in front of 125,000 people in a magnificent stadium, the scene was set for a classic confrontation. Sadly, by the end, it had degenerated into nothing short of a brawl.

Spain had looked forward to this match and the air of expectancy was much in evidence around this lovely city prior to the kick-off. England withstood a passionate opening by the Spaniards. Kubala was instrumental in all the good things his team produced and they forced England back on their heels for long spells. Bert Williams was looking very safe in goal, though, and Billy Wright marshalled his defenders superbly, drawing on all his vast experience.

As the first half progressed, the visitors began to come into things a little more and with Stanley Matthews roaming inside to gain more of the possession some chances were beginning to appear. After 25 minutes, Ramellets saved at Albert Quixall's feet braveley after the Sheffield Wednesday player had been put through by Roy Bentley. Then Nat Lofthouse had the goalkeeper diving at full length to save a screamer before, amazingly, with six minutes of the half remaining England took the lead.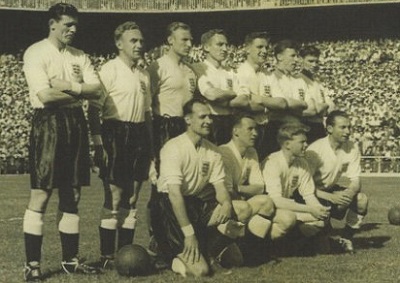 A good move between Dennis Wilshaw, Quixall and Lofthouse set up Bentley. The number eight continued with his impressive goal tally by shooting home a beauty from 20 yards out. Three minutes after the goal came the incident that, more than any other, lowered the tone of the game.

In a breakaway attack, Bentley hit a long pass forward. It dropped in front of Lofthouse, who for once was clear of his marker, Garay. The big centre-forward strode clear and seemed certain to score, but two yards from the edge of the Spanish penalty area Garay dived forward, rugby style, to grab Lofthouse and end the attack in the most callous way possible. From that moment England's dander was up and the second half was 'fought' out in a most uncompromising manner.

The Italian referee struggled to keep control and all the rhythm went from the play as his whistle constantlt interuppted the proceedings. For the most part of the second half, England were under heavy pressure as Spain searched for an opening. With 25 minutes left, the impressive debutant Ugartemendia dribbled hard at the England defence. As the ball fell between Sillett and Duncan Edwards, Rial nipped in smartly to finish off the attck to equalize.

Neither side impressed during the remainder of the match and some players seemed more intent on kicking each other rather than the ball.

Match Report by Norman Giller
In a bad-tempered match Nat Lofthouse had his shirt ripped off his back in the first-half, and played throughout the second half with a numberless shirt. Even Stanley Matthews was drawn into the roughhouse, and conceded a free-kick with a tackle, the first time anybody could recall him committing a foul. Roy Bentley scored from a Lofthouse pass in the thirty-eighth minute and Spain equalised in the sixty-fifth minute following a mistake by Duncan Edwards that was as rare as a foul by Matthews. The trouble flared after Lofthouse had been rugby tackled to the ground when on a run towards the penalty area. There were so many personal feuds going on after this that the game lost all of its rhythm, and the Italian referee had little or no control. England's players were furious over the foul against Lofthouse, and they could not believe it when the player who had rugby tackled him was allowed to stay on the pitch. Tempers were on a short fuse, and when Stanley Matthews was moved to foul somebody then something had to be seriously wrong. The referee completely lost it, and the wonder is that there were no legs broken. It was one of the roughest and most bad spirited games in which England had played overseas.

The

Top Twenty UK Music Chart by New Musical Express
On Friday, 15 November 1952, The New Musical Express published the first ever singles chart in the UK, comprising the twelve highest selling singles of the week, it increased to twenty on Friday, 1 October 1954. When England drew with Spain, Tony Bennett's Stranger in Paradise was the best selling single. As the chart was published on Friday, 13 May 1955, this is the first time England have played twice in one chart publication:-
1.
(2)
Stranger In Paradise - Tony Bennett (Philips)
11.
Unchained Melody - Al Hibbler

(Brunswick)

2.
(1)

Cherry Pink & Apple Blossom White

- Perez Prado & His Orchestra (HMV)

12.
(11)
Under The Bridges Of Paris

- Eartha Kitt (HMV)

3.
(4)
Cherry Pink & Apple Blossom White

-

Eddie Calvert (Columbia)

13.
(14)
Unchained Melody - Jimmy Young

(Decca)

4.
(5)
Earth Angel

- Crew Cuts (Mercury)

14.
(9)
Ready, Willing And Able

- Doris Day

(

Philips

)
5.
(3)
Give Me Your Word - Tennessee Ernie Ford (Capitol)
15.
(10)
Melody Of Love - Ink Spots (Parlophone)
6.
(=)
Softly Softly

-

Ruby Murray (Columbia)

16.
(=)
Prize Of Gold - Joan Regan (

Decca

)
7.
(=)
Stranger In Paradise - Tony Martin (HMV)
17.
Unchained Melody - Les Baxter

(Capitol)

8.
(re)
If You Believe

- Johnnie Ray (Philips)

18.
(13)
Under The Bridges of Paris - Dean Martin (Capitol)
9.
(8)
(I'm Always Hearing) Wedding Bells

- Eddie Fisher (HMV)

19.
Stranger In Paradise - Eddie Calvert (Columbia)
10.
(12)

If Anyone Finds This I Love You

- Ruby Murray with Anne Warren

(Columbia)

20.
(15)
Serenade - Mario Lanza

(HMV)

♪Most weeks at number one when England played:

Doris Day and Frankie Laine five, Guy Mitchell two, Tony Bennett, Vera Lynn, Al Martino, Lita Roza, Stargazers, Tennessee Ernie Ford and David Whitfield one each

Source Notes
TheFA.com
BDFutbol.com
Original newspaper reports
Rothman's Yearbooks
Mike Payne's England: The Complete Post-War Record (Breedon Books Publishing Company, Derby, U.K., 1993)
Norman Giller, Football Author
officialcharts.com singles chart
____________________

CG