Match Summary
Officials from West Germany

France

Type

England

Referee (-) - Emil Schmetzer
x (-).

Linesmen - tbc

The FIFA ruling of allowing a substitute to replace an injured player prior to the 44th minute, and a goalkeeper at any time, is in place.

Goal Attempts
Attempts on Target
Hit Bar/Post
Corner Kicks Won
Offside Calls Against
Fouls Conceded
Possession

France Team
Rank:

No official ranking system established;
ELO rating 13th to 11th
Colours:
Blue collared jerseys, white shorts, red socks.
Capt:
Roger Marche
Manager:
Team chosen by the Selection Committee, announced on Tuesday, 10 May 1955
France Lineup
Remetter, François
26
8 August 1928
G
FC Sochaux-Montb�liard
11

13 ᵍᵃ

2
Bieganski, Guilhem
22
3 November 1932
RB
Lille Olympique SC
4
0
3
Marche, Roger
31
5 March 1924
LB
RC de Paris
43
0
4
Penverne, Armand
28
26 November 1926
RHB
Stade de Reims
15
2
5
Jonquet, Robert
30
3 May 1925
CHB
Stade de Reims
32
0
6
Louis, Xerc�s
28
31 October 1926
LHB
RC de Lens
5
0
7
Ujlaki, Joseph
25
10 October 1929
in Buda-pest, Hungary
OR
OGC Nice Côte d'Azur
12
7
8
Glovacki, L�on
27
19 February 1928
IR
Stade de Reims
7
3
9
Kopaczewski, Raymond
23
13 October 1931
CF
Stade de Reims
19
11

10

Bliard, Ren�
22
18 November 1932
IL
Stade de Reims
2
0
11
Vincent, Jean
24
29 November 1930
OL
Lille Olympique SC
9
6

reserves:

Paul Sinibaldi (Stade de Reims), Ren� Pleimelding (Toulouse FC) and Abderrahman Mahjoub (RC de Paris).

team notes:

Roger Marche played for France against England back in May 1947, when he was winning his second cap.
2-3-5
Remetter -
Bieganski, Marche -
Penverne, Jonquet, Louis -
Ujlaki, Glovacki, Kopa, Bliard, Vincent

Averages:

Age
26.0
Appearances/Goals
14.5
2.5

England Team
Rank:

No official ranking system established;
ELO rating 5th
Colours:
The 1954 Umbro home uniform - White v-necked short-sleeved continental jerseys, blue rayon shorts, black socks with white tops.
Capt:
Billy Wright, 51st captaincy
Manager:
Walter Winterbottom, 42 (31 March 1913), appointed as FA national director of coaching/team manager on 8 July 1946;


69th match, W 43 - D 13 - L 13 - F 202 - A 101

, one abandoned. Team chosen by Selection Committee, announced Saturday, 14 May.

England Lineup
Williams, Bert F.
35
31 January 1920
G
Wolverhampton Wanderers FC
21

28ᵍᵃ

2
Sillett, R. Peter T.
22
1 February 1933
RB
Chelsea FC
1
0
3
Byrne, Roger W.
25
8 September 1929
LB
Manchester United FC
11
0
4
Flowers, Ronald
20
28 July 1934
RHB
Wolverhampton Wanderers FC
1
0
5
Wright, William A.
31
6 February 1924
CHB
66
3
6
Edwards, Duncan
18
1 October 1936
LHB
Manchester United FC
2
0
7
Matthews, Stanley
40
1 February 1915
OR
Blackpool FC
43
10
8
Revie, Donald G.
27
10 July 1927
IR
Manchester City FC
3
2
9
Lofthouse, Nathaniel
29
27 August 1925
CF
Bolton Wanderers FC
24
25

10

Wilshaw, Dennis J.
29
11 March 1926
IL
Wolverhampton Wanderers FC
5
7
11
Blunstone, Frank
20
17 October 1934
OL
3
0

unused substitutes:

Reg Matthews (Coventry City FC), Harry Hooper (West Ham United FC), Albert Quixall (Sheffield Wednesday FC).

team notes:

Billy Wright extends his record appearance tally.
2-3-5
Williams -
Sillett, Byrne -
Flowers, Wright, Edwards -
Matthews, Revie, Lofthouse, Wilshaw, Blunstone

Averages:

Age
26.9
Appearances/Goals
16.4
4.3
Match Report by Mike Payne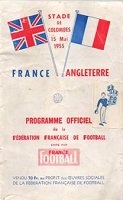 After the euphoria of the magnificent win against Scotland, England were brought back down to earth by France on this the first leg of their 1955 summer tour. It was a very disappointing performance by England and the Union Jacks in the crowd were waving in a rather forlorn way at the end. Once again the continental style of play contrasted greatly to England's and the gap in class seemed to widen again.

Nearly 55,000 people packed into the Colombes Stadium to see France quickly move into their stride. Marche, their captain, soon latched on to Stan Matthews and subdued the great man in a better way than many defenders before him. It was also obvious why France had had such a good season. Wins against Sweden, Germany and Spain, combined with a good draw at Belgium, had boosted their confidence and now they were looking to add the biggest scalp of all.

England looked sluggish and for long spells the quick and delightful football of the French stole the honours. Kopa, Glovacki, Bliard and the long-legged coloured player Louis showed some super skills. Alas, the English challenge never really got going. Matthews was marked out of it by Marche and with Ron Flowers having a quiet debut, thus making Don Revie ineffective, they rarely threatened.

Only Dennis Wilshaw looked dangerous for the visitors and he put in some spirited attempts. Ironically, despite the quality of France's football, the goal that settled the match came from a penalty. Indeed, some questionable refereeing decisions had a big say in the outcome.

In the 21st minute, Blunstone was sent sprawling by a reckless challenge in the French penalty area. To England's disgust the German official waved play on. It was a different story some 15 minutes later, though. This time Peter Sillett brought down the elusive Vincent in the England box and the referee showed no hesitation in awarding the spot-kick. There was no doubting his decision but this foul was no less obvious than the one against Blunstone. Kopa stepped up calmly to beat Bert Williams with his shot and the French fans went wild with delight.

After the interval, Kopa, who was outstanding throughout, and Vincent, both crashed fierce shots against the England goalposts and the writing was on the wall. Bliard featured in one amazing incident when he found himself clean through. Believing he was offside he simply tapped the ball to Williams, only afterwards realising the whistle had not blown. Williams, always the busier of the two goalkeepers, then made flying saves from Bliard and Vincent. Despite all of this French pressure, England could still have won the match. On 62 minutes they began an eight-minute spell when they might easily have scored three times.

First Wilshaw sent Nat Lofthouse clean through, only for his shot to strike Remetter's body as the 'keeper came out. Then, England's best move of the game involving Duncan Edwards, Revie and Wilshaw ended with the latter also finding his shot somewhat fortuitously blocked by Remetter's body. Finally, Matthews, with a mavellous piece of skill, killed a high pass superbly to set up Lofthouse. This time the centre-forward did beat Remetter, only to see Penverne appear from nowhere to clear off the goal line.

That was the end of England's efforts and at the end France did a lap of honour to celebrate their famous victory. As for England, only Billy Wright and Edwards could be totally happy with their performances and the party now moved on to Spain.

Match Report by Norman Giller
Peter Sillett, making his debut at right-back, conceded the thirty-sixth minute penalty from which the great Raymond Kopa scored the winning goal for France. Just a month earlier Sillett's penalty goal against Wolves had virtually clinched the League championship for Chelsea, and forced Wolves into settling for runners-up place. Ron Flowers, making his debut alongside his Wolves skipper Billy Wright, had to wait three years for his second cap and then won forty in a row - an unbroken sequence beaten only by Billy's seventy consecutive appearances. The nearest England came to scoring was when Frank Blunstone was unceremoniously pulled down as he shaped to shoot. England appeals for a penalty were turned down, while the German referee had no hesitation in awarding the penalty to France for a less obvious foul by Sillett.
The

Top Twenty UK Music Chart by New Musical Express
On Friday, 15 November 1952, The New Musical Express published the first ever singles chart in the UK, comprising the twelve highest selling singles of the week, it increased to twenty on Friday, 1 October 1954. When England lost in France, Tony Bennett's Stranger in Paradise was the best selling single. The chart was published on Friday, 13 May 1955:-
1.
(2)
Stranger In Paradise - Tony Bennett (Philips)
11.
Unchained Melody - Al Hibbler

(Brunswick)

2.
(1)

Cherry Pink & Apple Blossom White

- Perez Prado & His Orchestra (HMV)

12.
(11)
Under The Bridges Of Paris

- Eartha Kitt (HMV)

3.
(4)
Cherry Pink & Apple Blossom White

-

Eddie Calvert (Columbia)

13.
(14)
Unchained Melody - Jimmy Young

(Decca)

4.
(5)
Earth Angel

- Crew Cuts (Mercury)

14.
(9)
Ready, Willing And Able

- Doris Day

(

Philips

)
5.
(3)
Give Me Your Word - Tennessee Ernie Ford (Capitol)
15.
(10)
Melody Of Love - Ink Spots (Parlophone)
6.
(=)
Softly Softly

-

Ruby Murray (Columbia)

16.
(=)
Prize Of Gold - Joan Regan (

Decca

)
7.
(=)
Stranger In Paradise - Tony Martin (HMV)
17.
Unchained Melody - Les Baxter

(Capitol)

8.
(re)
If You Believe

- Johnnie Ray (Philips)

18.
(13)
Under The Bridges of Paris - Dean Martin (Capitol)
9.
(8)
(I'm Always Hearing) Wedding Bells

- Eddie Fisher (HMV)

19.
Stranger In Paradise - Eddie Calvert (Columbia)
10.
(12)

If Anyone Finds This I Love You

- Ruby Murray with Anne Warren

(Columbia)

20.
(15)
Serenade - Mario Lanza

(HMV)

♪Most weeks at number one when England played:

Doris Day and Frankie Laine five, Guy Mitchell two, Tony Bennett, Vera Lynn, Al Martino, Lita Roza, Stargazers, Tennessee Ernie Ford and David Whitfield one each

Source Notes
"Pushing, shoving, elbowing, the French were allowed to run through the full Continental book of obstruction, yet the most innocuous England tackle was punished." - Monday, 16 May 1955, Daily Mirror

"It was a bad performance. Our young players failed!" - Sir Stanley Rous, F.A. Secretary
"We did not use the ball well and there was too much individualism!" - Walter Winterbottom

TheFA.com
FFF.fr
Allezlesbleus.free.fr
Original newspaper reports
Rothman's Yearbooks
Mike Payne's England: The Complete Post-War Record (Breedon Books Publishing Company, Derby, U.K., 1993)
Norman Giller, Football Author
officialcharts.com singles chart
____________________

CG