"THIS ATTACK WON'T DO"
Charles Buchan. Daily News
Officials

Yugoslavia
FIFA ruling on substitutes
England Party
Referee (black)
Carl Erich Steiner


34 (9 May 1920), Wien, Austria

The FIFA ruling of allowing a substitute to replace an injured player prior to the 44th minute, and a goalkeeper at any time, is in place.



Yugoslavia won 8 corner kick's to England's 0

Linesmen
tbc

tbc

Yugoslavia Team
Rank:

No official ranking system established;
ELO rating 8th
Colours:
Blue laced collared jerseys, white shorts, red socks with white hoop.
Capt:
Branko Stanković


'made captain for the day'

Selectors:
The Selection Committee
Aleksandar Tirnanić, Leo Lemešić, Milovan Ćirić, Franjo Wölfl and Branko Pešić
Yugoslavia Lineup
Beara, Vladimir
25
195 days
2 November 1928
G
HNK Hajduk Split SDD
25

34ᵍᵃ

2
Stanković, Branko
32
197 days
31 October 1921
RB
Fk Crvena zvezda
50
1
3
Crnković, Tomislav
24
333 days
17 June 1929
LB
nk Dinamo Zagreb
17
0
4
Čajkovski, Zlatko
30
173 days
24 November 1923
RHB
Fk Partizan
51
7
5
Milovanov, Sima
31
36 days
10 April 1923
CHB
Fk Vojvodina
4
0
final app 1951-54
6
Boškov, Vujadin
23
16 May 1931
LHB
Fk Vojvodina
22
0
7
Milutinović, Miloš
21
229 days
5 February 1933
OR
Fk Partizan
8
1
8

Mitić, Rajko
31
178 days
19 November 1922
IR
Fk Crvena zvezda
47
32
9
Vukas, Bernard
27
15 days
1 May 1927
CF
HNK Hajduk Split SDD
35
11

10

Bobek, Stjepan
30
164 days
3 December 1923
IL
Fk Partizan
53
27
11
Dvornić, Dionizije, injured off 40th min.
28
19 days
27 April 1926
OL
nk Dinamo Zagreb
3
1
Yugoslavia Substitute
14
Zebec, Branko, on 40th min. for Dvornić
24
364 days
17 May 1929
OL
Fk Partizan
22
7
unused substitutes:
not known
team notes:
Zlatko Papec (nk Lokomotiva Zagreb) was the original named outside-left.
2-3-5
Beara -
Stanković, Crnković -
Čajkovski, Milovanov, Boškov -
Milutinović, Mitić, Vukas, Bobek, Dvornić (Zebec)

Averages:

(start)




(finish)

Age

27

years 290 days


27

years 187 days
Appearances/Goals

28.6

7.2

England Team
Rank:

No official ranking system established;
ELO rating 4th
Colours:
The 1949 home uniform - White collared short-sleeved jerseys, blue shorts, black socks with white tops.


38th, W 21 - D 9 - L 8 - F 101 - A 59.

⁴³
Capt:
Billy Wright³
42nd W 25 - D 8 - L 9 - F 104 - A 59.⁹⁰
Manager:
Walter Winterbottom, 41 (31 March 1913), appointed as FA national director of coaching/team manager on 8 July 1946;


60th match, W 38 - D 12 - L 10 - F 178 - A 80

, one abandoned.

¹³⁹

Trainer: Jimmy Trotter (Charlton Athletic FC)

Team chosen by Selection Committee, headed by Harold Shentall, on Tuesday, 11 May.

England Lineup
record post-war eight changes to the previous match (Merrick, Wright & Dickinson remain)

FINAL league positions

(FL1 26 April, FL2/3N 29 April)

Merrick, Gilbert H.
32
110 days

26 January 1922

G
Birmingham City FC

(FL2 7th)

19

30ᵍᵃ

first to 30ᵍᵃ
2
Staniforth, Ronald
30
33 days
13 April 1924
RB
Huddersfield Town AFC

(FL 3rd)

2
0
3
Byrne, Roger W.
24
250 days
8 September 1929
LB
Manchester United FC

(FL 4th)

2
0
4
Wright, William A.
30
99 days
6 February 1924
RHB
Wolverhampton Wanderers FC

(FL CHAMPIONS)

57
3

most apps

1952-54

731
5
Owen, Sydney W.
31
229 days
29 September 1922
CHB
Luton Town FC

(FL2 6th)

1
0
the fifth Town player to represent England
6
Dickinson, James

W.

29
22 days
24 April 1925
LHB
Portsmouth FC

(FL 14th)

34
0
7
Finney, Thomas
32
41 days
5 April 1922
OR
Preston North End FC

(FL 11th)

50
23
the second and oldest player to reach the 50-app milestone
8
Broadis, Ivan A.
31
149 days
18 December 1922
IR
Newcastle United FC

(FL 15th)

10
5
9
Allen, Ronald
25
121 days
15 January 1929
CF
West Bromwich Albion FC

(FL RU)

3
1

10

Nicholls, John
23
43 days
3 April 1931
IL
West Bromwich Albion FC

(FL RU)

2
1
11
Mullen, James
31
130 days
6 January 1923
OL
Wolverhampton Wanderers FC

(FL CHAMPIONS)

11
5
unused substitutes:
Ray King (Port Vale FC

(FL3N TOP)

), Stan Willemse (Chelsea FC

(FL 8th)

), Bill McGarry (Huddersfield Town FC

(FL 3rd)

), Peter Harris (Portsmouth FC

(FL 14th)

) and Jackie Sewell (Sheffield Wednesday FC

(FL 19th)

)
team notes:
Syd Owen becomes the eightieth different player to be fielded by Winterbottom.
Staniforth, Byrne and Nicholls become the 59th-61st players to be re-used (make a second appearance)
records:
For the first time, England have conceded fifteen goals in a single season.
2-3-5
Merrick -
Staniforth, Byrne -
Wright, Owen, Dickinson -
Finney, Broadis, Allen, Nicholls, Mullen

Averages

:

Age
30 years 48 days
Appearances/Goals

17.4

3.5
Match Report

by Mike Payne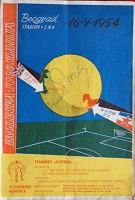 As a build-up for the forthcoming World Cup, England embarked on a short continental tour with games against formidable opponents Yugoslavia and Hungary.

The first of these games took place in front of a capacity crowd who saw a desperate defensive performance by England which almost succeeded but was dealt a bitter blow just three minutes from the end.

It was certainly a day of celebrations for the Yugoslavs. They won both this game plus a 'B' international played in Ljubljana. That match was won by 2-1 with Bedford Jezzard scoring England's consolation goal.

The match here was virtually dominated by the home side throughout with England relying on the occasional swift breakaway to try and catch out the Yugoslav defenders. The England honour were almost totally confined to the defenders. Billy Wright was an inspirational skipper who worked tirelessly and defended magnificently.

Roger Byrne, Ron Staniforth, Jimmy Dickinson and especially Sid Owen also came out with much credit but for the rest it was a disappointing story.

Ivor Broadis tried hard to get his forwards moving as a unit but too often Ronnie Allen was left to plough a lonely furrow down the middle. Always he met the daunting figure of Milovanov who was outstanding and dominated at the heart of the Yugoslav defence. Most of England's best efforts came in the first half and in one particular spell midway through the half they were on top.

Beara made a brilliant tip over save to deny Jimmy Mullen's header after Broadis and Tom Finney had set up the chance. The goalkeeper also had to save well from both Allen and Johnny Nicholls.

Unfortunately, this spell of pressure was to last for only a short while as Yugoslavia, playing a typical continental style of game, began to move very sweetly. Luckily for England their finishing did not match their approach play and when Dvornić missed a simple chance he was quickly substituted, a decision that puzzled the England contingent as the new FIFA rule was to allow substitutes for injuries only.

The second half saw wave after wave of Yugoslav attacks. Bobek, Vukas and Mitić all saw shots graze the uprights as the pressure increased. Čajkovski inspired most of Yugoslavia's best moves and little was seen of England's attack in this half. Indeed, their defence was sometimes forced into desperate measures with Byrne, Owen and Wright all saving Gil Merrick with goal-saving clearances.

It looked as if all this valiant defending would earn England an honourable draw but, right at the end, the Yugoslavs snatched victory. Only three minutes remained when the Austrian referee awarded a dubious free-kick against the unlucky Byrne.

It was a decision which cost England the match. Stanković fired the free-kick low and hard into the packed penalty area and the ball rebounded off a defender straight to the feet of Mitić standing only six yards from goal. He could hardly miss. . .and he didn't! The crowd went wild with delight and although it was a cruel twist for England nobody could deny Yugoslavia's right to the result.

Match Report

by Norman Giller
Syd Owen, of Luton Town, was the eleventh centre-half tried since the defection of Neil Franklin to the outlawed Colombian league. England concentrated on a deep defence and a counter-attacking policy, and almost got away with a draw. Jimmy Mullen, Ronnie Allen and Johnny Nicholls had shots saved during breakaway raids, but the Yugoslavs were generally in control. They were always the sharper side and deserved their winning goal three minutes from the end when a 35-yard free-kick was deflected by Owen into the path of Mitic, who scored from six yards. This was Tom Finney's fiftieth international for England, and England wanted so much to get at least a draw to mark the occasion. Tom was arguably the finest player to wear the England shirt in the early post-war years. Stanley Matthews was the people's favourite, but most of the professionals would have given Tom the nod just ahead of Stanley because there was so much to his game. He was comfortable in any forward position, could dribble almost as well as Stanley and was as brave as a lion. The defeat in Yugoslavia did little to help our confidence as England went on to Budapest for the return match with Hungary.

Match Report
as appears in the F.A. Yearbook 1954-55, pages 28-29
Even if it had no illusions as to the strength of the opposition, it was a reasonably optimistic England side that entered the packed Partisan stadium at Belgrade for the first of two full internationals of the Spring Tour. But once again it turned out to be another case of 'backs to the wall', and without the sterling qualities of England's defenders the Yugoslav score might well have been a good deal higher. Wright, who had a magnificent game, Owen the newcomer to the position of centre-half, Byrne, Staniforth, Dickinson, and Merrick all showed heroic qualities. But apart perhaps from Broadis, the forward line only seldom got going, seemed unable to co-ordinate itself, and as well as being ragged frequently lacked accuracy and aim when passing.
The Yugoslavs played an accurate and skilful game, but were by no means so good as to have prevented a more assertive England from winning. The decisive goal did not come until three minutes from the end: Byrne, some 35 yards from goal, tackled Milutinovic and a free-kick was awarded; Stankovic, the Yugoslav captain, sent it straight towards the packed goalmouth where after bubbling about it fell at the feet of Mitic, the inside-right, who had no difficulty in kicking it into the net.

Source Notes
TheFA.com
Original newspaper reports
Official matchday programme
Reprezentacija.rs
The Complete Book of the British Charts

Rothman's Yearbooks


Mike Payne's England: The Complete Post-War Record


Norman Giller, Football Author


British Pathé
cg