Match Summary
Officials from Netherlands

England

Type

Yugoslavia

Referee (black) - Karel Louis van der Meer
45 (29 July 1905), Den Haag

.

Linesmen - W.B. Ausum (red flag) and K. Shipper (yellow flag).

If the light had deteriorated sufficiently, then the Arsenal Stadium floodlights would have been used.

The Continental ruling of allowing a substitute to replace an injured player prior to the 44th minute, and a goalkeeper at any time, is in place.

Goal Attempts
Attempts on Target
Hit Bar/Post
Corner Kicks Won
Offside Calls Against
Fouls Conceded
Possession

England Team
Rank:

No official ranking system established;
ELO rating 4th
Colours:
The 1949 home uniform - White collared jerseys, blue shorts, black socks with white tops.
Capt:
Alf Ramsey, second captaincy
Manager:
Walter Winterbottom, 37 (31 March 1913), appointed director of coaching on 8 July 1946, and team manager in May 1947;
35th match, W 25 - D 4 - L 6 - F 112 - A 38.


Team chosen by Selection Committee headed by Arthur Drewry, the morning after the Wales match on 16 November 1950.

England Lineup
Williams, Bert F.
30
31 January 1920
G
Wolverhampton Wanderers FC
13

15

GA

2
Ramsey, Alfred E.
30
22 January 1920
RB
Tottenham Hotspur FC
11
0
3
Eckersley, William
25
16 July 1925
LB
Blackburn Rovers FC
2
0
4
Watson, Willie
30
7 March 1920
RHB
Sunderland AFC
4
0
5
Compton, Leslie H.
38
71 days
12 September 1912
CHB
Arsenal FC
2
0
6
Dickinson, James

W.

25
24 April 1925
LHB
13
0
7
Hancocks, John
31
30 April 1919
OR
Wolverhampton Wanderers FC
3
2
8
Mannion, Wilfred J.
32
16 May 1918
IR
Middlesbrough FC
24
11

9

Lofthouse, Nathaniel
25
27 August 1925
CF
Bolton Wanderers FC
1
2

10

Baily, Edward F.
25
6 August 1925
IL
Tottenham Hotspur FC
4
4
11
Medley, Leslie D.
30

3 September 1920

OL
Tottenham Hotspur FC
2
0

unused substitutes:

Ted Ditchburn (Tottenham Hotspur FC), Stan Mortensen (Blackpool FC ) and Henry Cockburn (Manchester United FC)

team notes:

This is the least experienced team since England's first post-war season.
2-3-5
Williams -
Ramsey, Eckersley -
Watson, Compton, Dickinson -
Hancocks, Mannion, Lofthouse, Baily, Medley

Averages:

Age
29.2
Appearances/Goals
7.2
1.7

Yugoslavia Team
Rank:

No official ranking system established;
ELO rating 10th
Colours:
Blue jerseys, white shorts, red socks.
Capt:
Rajko Mitić
Manager:
International Selection Committee, headed by Milorad Arsensjević, 36th match in charge
Yugoslavia Lineup
Beara, Vladimir
22
2 November 1928
G
HNK Hajduk Split SDD
3

3

GA

2
Stanković, Branko
29
31 October 1921
RB
Fk Crvena zvezda
28
1
3
Čolić, Ratko
32
17 March 1918
LB
Fk Partizan
10
0
4
Čajkovski, Zlatko
26
24 November 1923
RHB
Fk Partizan
34
3
5
Horvat, Ivan
24
16 July 1926
CHB
nk Dinamo Zagreb
22
0
6
Đajić, Predrag
28
1 May 1922
LHB
Fk Crvena zvezda
14
0
7
Orgjanov, Tihomir
23
2 March 1927
OR
Fk Crvena zvezda
8
2
8
Mitić, Rajko
28
19 November 1922
IR
Fk Crvena zvezda
27
22
9
Živanović, Todor
23
27 September 1927
CF
OFK Belgrade
5
3

10

Bobek, Stjepan
26
3 December 1923
IL
Fk Partizan
35
19
11
Vukas, Bernard
23
1 May 1927
OL
HNK Hajduk Split SDD
13
2

unused substitutes:

not known

team notes:

The seventeen-man party were set up in Hendon prior to this match, using the Hendon FC ground to train on.
Colić replaced original choice left-back Miodrag Jovanović.
This is the most experienced team England have faced post-war, so far.
2-3-5
Beara -
Stanković, Colić -
Cajkovski, Horvat, Djajic -
Ognjanov, Mitić, Živanović, Bobek, Vukas.

Averages:

Age
25.8
Appearances/Goals
18.1
4.6
Match Report by Mike Payne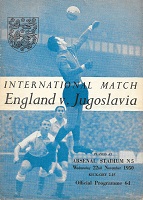 England's unbeaten home record against continental opposition remained intact, but they all but threw away this game after, at one time, being in a commanding position.

After a slow start, the big crowd was lulled into a false sense of security as England worked themselves into a convincing 2-0 lead after 35 minutes.

The home forwards forced the Yugoslav defenders into errors with their positive play and both Johnny Hancocks and Les Medley had the beating of their markers. The Yugoslavian goalkeeper, Beara, once a ballet dancer, was soon showing his agility.

In the 28th minute he made an unbelievable point-blank save from the debutant Nat Lofthouse after Medley had just previously hit the far post, but a minute later England deservedly took the lead. A long pass by Eddie Baily bounced beyond Stanković for Medley to sweep the ball into the middle where Lofthouse left Beara helpless.

Five minutes later it was 2-0. Jimmy Dickinson fed Hancocks on the right and there was Lofthouse again to play his part with a glorious header into the far corner from a perfect cross. It seemed all over at this stage but how wrong that assumption was.

With only five minutes of the second half gone, the first hint of what lay ahead arrived. Willie Watson, dallying with the ball on his own goal-line, was robbed by Orgjanon. His cross seemed harmless enough but alas Leslie Compton, in trying to shield Bert Williams, only succeeded in diverting the ball into his own net for an unnecessary goal which unfortunately was to completely change the course of the game.

In the next minute Živanović forced Williams into a fine diving save. England then tried desperately to reaffirm their first-half superiority and but for Beara's performance in goal they would have done. Three times in as many minutes he made flying saves from Wilf Mannion and how he kept out Lofthouse's header from a Hancock's centre defied belief.

With half an hour to play, the England team faded. Inspired by Beara's saves the Yugoslavia side suddenly took control. With the outstanding Bobek pulling all the strings and good support coming from Cajkovski and Djajić they were making full use of their fine footwork.

In the 78th minute they finally scored their deserved equalizer. Again England's defence was badly at fault with Bobek's first shot needlessly blocked by Alf Ramsey when Williams was in position behind him. The rebound went straight to Živanović and in a flash it was 2-2.

Only Dickinson, Bill Eckersley, Hancocks and the impressive Lofthouse looked their true selves and the second half had been a real struggle for England. To their credit, though, they almost snatched victory near the end only to find man-of-the-match Beara once again barring the way.

Match Report by Norman Giller
Bolton centre-forward Nat Lofthouse announced his arrival on the international stage with two goals. It was the first time in post-war football that England had gone into action without either Matthews or Finney. Leslie Compton deflected the ball into his own net, and Yugoslavia forced a late equaliser to become the first Continental side to avoid defeat in England in a full international. Lofty scored his two goals in a five minute spell midway through the first-half. The Yugoslavs fought back bravely and their equalizer in the 72nd minute was reward for a battling performance against an England team that wasted at least five good scoring chances. Their goalkeeper, Beara, a former ball dancer, pulled off three blinding saves as England stormed forward in vain search of a late winner.


Source Notes
"Jugoslavia, now putting up a bold show in the World Cup will play England at Highbury on November 22. This was announced at the F.A. Council meeting at St. Anne's-on-Sea yesterday. It was also decided that England's World Cup team will meet a Canadian touring side for charity on September 20 or 21. This will take the place of the annual match between the Cup-winners and League champions. The game will be in London, probably at Stamford Bridge." - Thursday, 29 June 1950, Daily Herald.

TheFA.com
Reprezentacija.rs
Original newspaper reports
Rothman's Yearbooks
Mike Payne's England: The Complete Post-War Record (Breedon Books Publishing Company, Derby, U.K., 1993)
Norman Giller, Football Author
____________________

CG