"ENGLAND FORWARDS WERE SUPERB"
Daily Herald
Officials

England
UK ruling on substitutes
Wales

Referee


John Alexander Mowat
43/44 (1906), Rutherglen

"The gates will be opened at 12.45 and for the first time in England, the Football Association's new flag, designed by the Heraldry Office, will be flown at Roker Park" -

The Sunderland Echo, Tuesday, 14 November 1950
Linesmen
Ian C. Inglis


Edinburgh

William H. Quinn


Dumfries

England Team
Rank:

No official ranking system established;
ELO rating 4th
Colours:
The 1949 home uniform - White collared jerseys, blue shorts, black socks with white tops.


15th, W 11 - D 0 - L 4 - F 44 - A 21.

⁴³
Capt:

Alf Ramsey


first, W 1 - D 0 - L 0 - F 4 - A 2.

³

Manager:
Walter Winterbottom, 37 (31 March 1913), appointed as FA national director of coaching/team manager on 8 July 1946;


34th match, W 25 - D 3 - L 6 - F 110 - A 36

.

¹³⁹
Trainer: George Gray (Sunderland AFC)

Team chosen by Selection Committee headed by Arthur Drewry, on Tuesday, 7 November, in London.

England Lineup
six changes to the previous match (Aston, Wright, Chilton, Matthews, Lee & Langton out)

league position

(7 November)

Williams, Bert F.
30
288 days
31 January 1920
G
Wolverhampton Wanderers FC

(FL 6th)

12

13ᵍᵃ

2
Ramsey, Alfred E.
30
297 days
22 January 1920
RB
Tottenham Hotspur FC

(FL 4th)

10
0
699
3
Smith, Lionel
30
84 days
23 August 1920
LB
Arsenal FC

(FL TOP)

1
0
the 20th/21st Arsenal player to represent England
4
Watson, Willie
30
253 days
7 March 1920
RHB
Sunderland AFC

(FL 16th)

3
0
700
5
Compton, Leslie H.
38
64 days
12 September 1912
CHB
Arsenal FC

(FL TOP)

1
0

oldest outfield debutant

the 20th/21st Arsenal player to represent England
6
Dickinson, James

W.

25
205 days
24 April 1925
LHB
Portsmouth FC

(FL 14th)

12
0
7
Finney, Thomas
28
224 days
5 April 1922
OR
Preston North End FC

(FL2 10th)

29
18
8

Mannion, Wilfred J.
32
183 days
16 May 1918
IR
Middlesbrough FC

(FL 3rd)

23
11
9

Milburn, John E.T.
26
188 days
11 May 1924
CF
Newcastle United FC

(FL 2nd)

9
7
10

Baily, Edward F.
25
101 days
6 August 1925
IL
Tottenham Hotspur FC

(FL 4th)

3
4
701
11
Medley, Leslie D.
30
73 days
3 September 1920
OL
Tottenham Hotspur FC

(FL 4th)

1
0
the 19th Hotspur player to represent England
reserves:
Willie Watson and Nat Lofthouse (Bolton Wanderers FC

(FL 11th)

). Watson was not replaced.
"The English Selectors will not call upon another reserve. Should the unexpected occur there are enough top-class players in the Sunderland, Newcastle and Middlesbrough areas to call upon at the last moment." - The Press and Journal, Tuesday, 14 November 1950.
team notes:
Billy Wright (Wolverhampton Wanderers FC

(FL 6th)

), original captain and right-half, was in line to win his record 34th consecutive appearance, until he received a strained back in his team's match against Burnley. Despite treatment, he was withdrawn on Monday, 13th. Watson took his place the day before the match.
Following the debuts of Smith, Compton and Medley, the International Selection Committee, in the Winterbottom era, have now used fifty different players.
records:
This is England's sixth victory in 1950, a record-equaling achievement.
England team were set up at the Seaburn Hotel in Whitley Bay and trained on the North Shields ground, prior to this match.
2-3-5
Williams -
Ramsey, Smith -
Watson, Compton, Dickinson -
Finney, Mannion, Milburn, Baily, Medley

Averages:

Age
29 years 346 days
Appearances/Goals

9.5

3.3

Wales Team
Rank:

No official ranking system established;
ELO rating 25th
Colours:
Made by Umbro - Red jerseys with white collars, white shorts, red socks with white tops.
Capt:
Wally Barnes

Selecto

r:
Selection Committee
on Monday, 30 October 1950
led by the secretary, Herbert Powell
Wales Lineup
Hughes, Iowerth
25
173 days
26 May 1925
G
Luton Town FC
1

4ᵍᵃ

2
Barnes, Wallace
30
303 days
16 January 1920
RB
Arsenal FC

, England

12
0
3
Sherwood, Alfred T.
27
2 days
13 November 1923
LB
Cardiff City FC
15
0
4
Paul, Roy
30
211 days
18 April 1920
RHB
Manchester City FC

, England

11
1
5
Daniel, W. Raymond
22
13 days
2 November 1928
CHB
Arsenal FC

, England

1
0
6
Lucas, William H.
32
304 days
15 January 1918
LHB
Swansea Town FC
7
0
final app 1948-50
7

Griffiths, W. Malwyn
31
252 days
8 March 1919
OR
Leicester City FC

, England

7
1
8
Allen, Brynley W.
29
237 days
23 March 1921
IR
Coventry City FC

, England

2
0
final app 1950
9

Ford, Trevor
27
45 days
1 October 1923
CF
Sunderland AFC

, England

16
12
=mst gls

10

Allchurch, Ivor J.
20
334 days
16 December 1929
IL
Swansea Town FC
1
0
11
Clarke, Royston J.
25
167 days
1 June 1925
OL
Manchester City FC

, England

6
1
reserves:
Ron Stitfall (Cardiff City). Billy Lucas (Swansea Town FC) was asked to be a travelling reserve a couple of days prior.
team notes:
On the day of the match, Ron Burgess (Tottenham Hotspur FC) had to withdraw because of injury (swollen right calf muscle), his place going to Lucas, who had been called up as a travelling reserve the day before.
Ray Daniels, the Arsenal FC reserve centre-half, had only played in seven league matches over the past three seasons.
Trevor Ford becomes the first Sunderland player to play for Wales since 1910, thirteen days after signing for the Wearside club.
Prior to this match, the Welsh team were training on Newcastle United's St. James' Park.
2-3-5
Hughes -
Barnes, Sherwood -
Paul, Daniel, Lucas -
Griifiths, Allen, Ford, Allchurch, Clarke.

Averages:

Age
27 years 220 days
Appearances/Goals

7.2

1.0
Match Report

by Mike Payne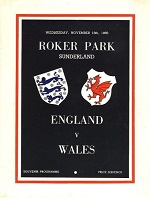 This was undoubtedly the best Welsh performance against England since the war and the fact that England, at times, had to be at their most brilliant best says it all. On a treacherous surface and on a bitterly cold day, the football served up warmed the crowd to fever pitch as the excitement grew.

Excellent precision passing by Wilf Mannion, Eddie Baily, Jackie Milburn, Les Medley and Tom Finney had given England a bright opening. However, the Welsh terriers were continually snapping at their heels with Daniel, Paul and Lucas working tirelessly in the midfield battle. Gradually though the extra class began to show and three of the four England goals were pure genius.

Wales had the ball in the net on the half-hour but Clarke's shot was ruled out for offside. A few seconds later, England took the lead as a long controlled clearance by Lionel Smith, who had a good game, reached Baily on the edge of the penalty area. The Spurs player flicked the ball up with his right foot and crashed it into the net with his left for a wonderful goal.

The England attack, well prompted by Willie Watson and Jimmy Dickinson, then began to flow superbly. The ball was moving forward quickly and smoothly.

Five minutes before half-time England scored their second. Again it was a shot by Baily that did the trick when he finished off a splendid round of passing by Finney, Mannion, Watson and Mannion again. It seemed that the 2-0 interval lead had put England clear but with Allchurch and Ford showing some tremendous play it was far from over.

Indeed, with only three minutes of the second half gone Wales pulled a goal back. Griffiths put over a fine centre which landed between Leslie Compton and Bert Williams, and before either could react, Ford nipped in smartly to flick the ball in with his head.

It was end to end stuff now as both sides searched for another goal. Ford forced two brilliant saves out of Williams and then Baily saw his 20-yard shot strike the Welsh crossbar. A scramble on the England goal-line almost produced an equaliser before, on 66 minutes, the home side engineered the next crucial goal. Again it was a super strike. Mannion was the man on target this time, cleverly flicking the ball past Hughes after Watson and Milburn had created the opening.

Still Wales refused to lie down and five minutes later it was 3-2. Once more the combination of Griffiths and Ford gave the centre-forward the chance to touch the ball past Williams with the other England defenders off balance. So the excitement continued until the dying seconds, after another flowing move between Finney, Mannion, Baily and Milburn, the England number-nine shot home from an acute angle. That put the final stamp on England's extra quality and authority and was the last action of a magnificent afternoon's football.

Match Report

by Norman Giller
Injured Billy Wright missed his first after 33 successive matches. Alf Ramsey took over as skipper. Eddie Baily, nicknamed the 'Cheeky Chappie' because of his impersonation of comedian Max Miller, repeated his two-goal act. Arsenal centre-half Leslie Compton made his England debut at the age of thirty-eight alongside County cricketing colleague Willie Watson. Leslie remains the oldest player ever to have made an England debut. Les Medley partnered his Tottenham team-mate Baily on the left wing. Lionel Smith, converted from centre-half by Arsenal, came in at left-back. Goalkeeper Bert Williams kept his place in goal to maintain the Wolves record of having at least one player in the England team in every international match since the war. Trevor Ford, playing for Wales in front of his Sunderland fans, scored twice in the second half to give the Welsh the hope of a championship point. It was not until Jackie Milburn scored in the final seconds that England could feel confident that they had the match won.

Match Report
as appears in the F.A. Yearbook 1951-52, page 23
For England's next match, against Wales at Roker Park, Sunderland, there were several changes from the team that beat Ireland; Finney, Milburn, and Medley replacing Matthews, Lee and Langton in the forward line, and Smith, Watson and Compton (L) replacing Aston, Wright and Chilton in defence.
This was one of the best International matches seen since the war, with both sides playing superb football. England's first goal came in the 30th minute, after a claim for a Welsh goal had been disallowed: it was Baily who scored with a classic left-foot shot after a pass from Smith. Five minutes before the interval, Baily scored again after Finney, Mannion and Watson had taken part in a complicated round of passing.
Though Wales were two-down at half-time, they kept up the fight to the end, Ford, their centre-forward particularly distinguishing himself. Three minutes after the interval, Griffiths pitched a perfect centre between Compton and Williams, and Ford flicked the ball into the net. Wales then went into the attack and there were some awkward moments for England. But after 21 minutes England went further ahead with a fine goal by Mannion after Watson and Milburn had made an opening. Wales still refused to accept defeat, and five minutes later the score was 2-3, Ford again scoring with a fast low shot from a pass by Griffiths. In the last seconds, Milburn was successful with an acute angle shot after a clever movement by Finney, Mannion and Baily, and set the seal on England's victory.

Source Notes
TheFA.com
Original newspaper reports
Wales' Complete Who's Who since 1946


Drew Herbertson, Scottish FA historian

Rothman's Yearbooks


Mike Payne's England: The Complete Post-War Record
Norman Giller, Football Author
British Pathé
cg