286 vs. Yugoslavia
~ b15 vs. Yugoslavia
~ b16 vs. Switzerland
287
288 vs. Belgium
289 vs. Switzerland
290 vs. Uruguay

Sunday, 23 May 1954
End-of-Season East-European Tour Match

Hungary 7 England 1 [3-0]


Népstadion, Istvánmezõ, Budapest
Attendance: 92,000;

Receipts: about Ł42,000; Kick-off:

5.30pm CEST & BST
Second half live on the BBC Light Programme

Hungary - Mihály Lantos (twenty-yard driven free-kick 8), Ferenc Puskás (close range shot after first shot was blocked on the line 22, twelve-yard strike running onto a perfect Hidegkuti through-ball 73), Sándor Kocsis (eight-yard left-footed half volley 31, seven yard strike from a long Czibor dribble down the left 56), József Toth (from close range netting a loose ball after Merrick saved his initial shot 60), Nándor Hidegkuti (eighteen-yard low strike 62)


England

- Ivor Broadis (seventeen-yard right-footed half volley after a Dickinson free-kick was headed away into his path 69)
Match Summary
Hungary Party
England Party
Results 1950-1955

Hungary won the toss, England kicked-off. ? minutes (? & ?).
Match Summary
Officials

Hungary

Type

England

Referee (black blazer) - Bernardi Giorgio
x (-), Italy.

Linesmen - tbc

Only an injured goalkeeper maybe substituted. This is a compromise between the UK rule and the Continental ruling on allowing substitutes.


Goal Attempts
Attempts on Target
Hit Bar/Post
Corner Kicks Won
Offside Calls Against
Fouls Conceded
Possession

Hungary Team
Rank:

No official ranking system established;
ELO rating 1st
Colours:
Cherry red v-necked short-sleeved jerseys, white shorts, green socks
Capt:
Ferenc Puskás
Manager:


Trainer: Gyula Mandi

Selection Committee headed by Gusztáv Sebes
Team chosen on Thursday, 20 May 1954.
Hungary Lineup
1
Grosics, Gyula, off 77th min.
28
4 February 1926
G
Budapest Honvéd SE
31

22

GA

2
Buzánszky, Jenő
29
4 May 1925
RB
Dorogi FC
23
0
3
Lantos, Mihály
25
29 September 1928
LB
Vörös Lobogó SE
30
2
4
Lóránt, Gyula
31
6 February 1923
CHB
Budapest Honvéd SE
24
0
5
Bozsik MP, József
28
28 November 1925
CM
Budapest Honvéd SE
48
4
6
Zakariás, József
30
25 March 1924
CHB
Vörös Lobogó SE
31
0
7
Tóth, József
25
16 May 1929
OR
Budapesti Dózsa SE
2
1
8
Kocsis, Sándor P.
24
21 September 1929
CF
Budapest Honvéd SE
36
37
9
Hidegkuti, Nándor
32
3 March 1922
AM
Vörös Lobogó SE
36
26
10
Puskás, Ferenc
27
1 April 1927
CF
Budapest Honvéd SE
55
65
11
Czibor, Zoltán
24
23 August 1929
OL
Budapest Honvéd SE
22
6
Hungary Substitutes
1
Géller, Sándor, on 77th min. for Grosics
28
12 July 1925
born in Romania
G
Vörös Lobogó SE
5

1

GA

reserves:

-

team notes:

The Hungarian's were set up at their headquarters on Margaret Island, in the Danube, near Budapest.
Lantos' opening free-kick goal was only the fourth time England have conceded a direct free-kick, the first time England have conceded a direct free-kick for over twenty-two years.
Despite agreeing only to substitute an injured goalkeeper, Grosics' substitution appeared to defy this ruling. Both goalkeepers wore black jerseys with the number one on their backs.


Ferenc Puskás extends his tallies of Hungarian record appearances and goalscoring.

2-3-3-2(5)
Grosics (Geller) -
Buzánszky, Lantos -
Lóránt, Bozsik, Zakariás -
Toth, Hidegkuti, Czibor -
Kocsis, Puskás.

Averages:

Age
27.5
Appearances/Goals
30.7
12.2

England Team
Rank:

No official ranking system established;
ELO rating 4th
Colours:
The 1949 home uniform - White collared short-sleeved jerseys, blue shorts, black socks with white tops.
Capt:
Billy Wright, 43rd captaincy
Manager:
Trainer: Jimmy Trotter (Charlton Athletic FC)
Walter Winterbottom, 41 (31 March 1913), appointed director of coaching on 8 July 1946, and team manager in May 1947;


61st match, W 38 - D 12 - L 11 - F 179 - A 87

, one abandoned. Team chosen by Selection Committee, headed by Harold Shentall, on Thursday, 20 May 1954.
England Lineup
Merrick, Gilbert H.
32

26 January 1922

G
Birmingham City FC
20

37

GA

2
Staniforth, Ronald
30
13 April 1924
RB
Huddersfield Town AFC
3
0
3
Byrne, Roger W.
24
8 September 1929
LB
Manchester United FC
3
0
4
Wright, William A.
30
6 February 1924
RHB
58
3
5
Owen, Sydney W.
31
29 September 1922
CHB
Luton Town FC
2
0
6
Dickinson, James

W.

29
24 April 1925
LHB
35
0
7
Harris, Peter P.
28
19 December 1925
OR
Portsmouth FC
2
0
8
Sewell, John
27
24 January 1927
IR
Sheffield Wednesday FC
6
3
9
Jezzard, Bedford A.G.
26
19 October 1927
CF
Fulham FC
1
0
10
Broadis, Ivan A.
31
18 December 1922
IL
Newcastle United FC
11
6
11
Finney, Thomas
32
5 April 1922
OL
51
23

reserves:

Ted Burgin (Sheffield United FC), Jackie Mansell (Portsmouth FC), Ken Armstrong (Chelsea FC), John Haynes (Fulham FC), Jimmy Mullen (Wolverhampton Wanderers FC).

team notes:

Billy Wright extends his record appearance tally.
2-3-5
Merrick -
Staniforth, Byrne -
Wright, Owen, Dickinson -
Harris, Sewell, Jezzard, Broadis, Finney.

Averages:

Age
29.1
Appearances/Goals
17.5
3.1
Match Report by Mike Payne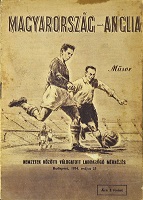 Six months earlier at Wembley, England were given a football lesson by the magnificent Hungarian side. It was the first time they had been beaten on home soil by a continental team and it was hoped that many lessons would be learned from the experience. Sadly, on this performance against that same Hungarian side, few would believe that they have learned any.

England were once again totally outclassed. Hungary simply tore them apart with some devastating football and scored virtually at will. The old fashioned tactics that England employed were shown up to be woefully inadequate by the slick pattern of the Hungarian formation. Quick, accurate short passing was coupled with lethal long passes which totally bemused overworked defenders. One of the most obvious differences between the two sides was in the teamwork. Whereas England played as a group of individuals doing their own jobs the Hungarians moved as one unit with Puskás, especially, pulling the strings.

The trouble began in the tenth minute when Jimmy Dickinson was somewhat harshly penalised for a foul on Hidegkuti 20 yards from goal. Puskás summoned up the powerful Lantos from the back to take the free-kick and before you could say 'Hidegkuti' the ball crashed into the England net. It was the beginning of the end for the visitors and 12 minutes later they went 2-0 down when Puskás lashed home a rebound from close range after Ron Staniforth had blocked a sharp cross by Kocsis.

The lean and skilful inside-right Kocsis was having a fine game and on the half-hour he scored a brilliant goal volleying home a pass from Puskás. Kocsis had just come back on to the field after having running repairs to an injury. How England had wished he had stayed off!

For the remainder of the half Hungary turned on the full exhibition of their skills and it was a bemused and bedraggled bunch of England players that trooped off at half-time 3-0 down. Only a good shot by Ivor Broadis which brought the best out of Grosics had given them any encouragement.

At the start of the second half England made a brief spirited reply when Peter Harris saw a shot blocked on the Hungarian goal-line but alas it was only a token gesture as within 20 minutes of the restart Hungary had conjured up some more magic to score three more goals. Kocsis, Tóth and the incomparable Hidegkuti all added to the goal tally with splendid strikes rounding off marvellous passing movements. Gil Merrick hardly knew what had hit him and he had little chance.

The 92,000 crowd loved every minute of this superb performance and watched in delight as each of the goals were created following some super play.

England battled gamely on. Billy Wright, Dickinson and Staniforth all worked themselves into the ground but Roger Byrne was their best player with a cultured display despite all that went on around him. Jackie Sewell and Tom Finney also worked hard although Finney in fact missed a sitter in one attack. In the end, though, the England players were willing the referee to end their misery. Before teh final whistle though they did manage to salvage some pride when Broadis met a Dickinson free-kick to pull a goal back. Hungary were not amused by this and immediately struck again with goal number seven.

This time, appropriately perhaps, it was Puskás who advanced on to a defence splitting pass by Hidegkuti to fire home the last humiliating nail into the England coffin. In the remaining minutes Hungary totally dominated and even a substitution of Grosics in goal had little effect on an England display which is best forgotten. Unfortunately, the fact that this ranks as England's biggest-ever defeat will probably mean that it will never be forgotten.

Match Report by Norman Giller
This was the biggest defeat in England's 90-year football history (and continues to be so to this day). Just four of the England team had survived from the 6-3 slaughter at Wembley in November: Merrick, Wright, Dickinson and Finney. Fulham centre-forward Bedford Jezzard made a best-forgotten debut, while the unfortunate Peter Harris was winning his second and last cap after a gap of five years. His first cap came in the 2-0 home defeat by the Republic of Ireland in 1949. Puskas and Kocsis scored two goals each. The Hungarians, leading 3-0 at half-time, were six goals clear and cantering before Ivor Broadis opened the scoring for England. Hungary immediately replied with their seventh goal, scored by Puskas from a pass by Hidegkuti. Hungary's scorers were Puskas (2), Kocsis (2), Lantos, Toth and Hidegkuti. Billy Wright came off with his face as white as his shirt, and looking like a man who had seen a ghost come back to haunt him. As hard as this giant-hearted man tried, he could not get near to suppressing the irrepressible Puskas.


Source Notes
"HUNGARIAN SEASON HALTED FOR ENGLAND GAME.
"All league and championship football will be halted temporarily in Hungary from May 9th to give the Hngarian players, who meet England in Budapest on May 23rd, a spell of uninterrupted training. This was announced yesterday by the Hungarian Deputy Minister of Sports, Gustav Sebes, according to Budapest Radio." - Thursday, 22 April 1954, The Lancashire Evening Post.

TheFA.com
Magyarfutball.hu
Original newspaper reports
Rothman's Yearbooks
Mike Payne's England: The Complete Post-War Record (Breedon Books Publishing Company, Derby, U.K., 1993)
Norman Giller, Football Author
____________________

CG