"DISASTER ON THE DANUBE"
Daily Mirror
Officials

Hungary
FIFAB ruling on substitutes
England Party
Referee (black blazer)
Giorgio Francesco Valentino Bernardi
36 (16 May 1912), Bologna, Italy
Only an injured goalkeeper maybe substituted. This is a compromise between the IFAB rule and the FIFA ruling on allowing substitutes.
Linesmen
tbc

tbc
"HUNGARIAN SEASON HALTED FOR ENGLAND GAME.
"All league and championship football will be halted temporarily in Hungary from May 9th to give the Hungarian players, who meet England in Budapest on May 23rd, a spell of uninterrupted training. This was announced yesterday by the Hungarian Deputy Minister of Sports, Gustav Sebes, according to Budapest Radio." - Thursday, 22 April 1954, The Lancashire Evening Post.

Hungary Team
Rank:

No official ranking system established;
ELO rating 1st
Colours:
Cherry red v-necked short-sleeved jerseys, white shorts, green socks
Capt:
Ferenc Puskás
Manager:
Selection Committee headed by Gusztáv Sebes
Team chosen on Thursday, 20 May 1954.
Trainer: Gyula Mándi
Hungary Lineup
1
Grosics, Gyula, off 77th min.
28
108 days
4 February 1926
G
Budapest Honvéd SE
31

22ᵍᵃ

2
Buzánszky, Jenő
29
19 days
4 May 1925
RB
Dorogi FC
23
0
4
Lóránt, Gyula
31
106 days
6 February 1923
RCB
Budapest Honvéd SE
24
0
6
Zakariás, József
30
59 days
25 March 1924
LCB
Vörös Lobogó SE
31
0
3

Lantos, Mihály
25
236 days
29 September 1928
LB
Vörös Lobogó SE
30
2
5
Bozsik MP, József
28
176 days
28 November 1925
DM
Budapest Honvéd SE
48
4
9

Hidegkuti, Nándor
32
81 days
3 March 1922
AM
Vörös Lobogó SE
36
26
7

Tóth, József
25
7 days
16 May 1929
OR
Budapesti Dózsa SE
2
1
8

Kocsis, Sándor P.
24
244 days
21 September 1929
IR/F
Budapest Honvéd SE
36
37
10

Puskás, Ferenc
27
52 days
1 April 1927
IL/F
Budapest Honvéd SE
55
65
most apps & goals
11

Czibor, Zoltán
24
273 days
23 August 1929
OL
Budapest Honvéd SE
22
6
Hungary Substitute

scoreline:

Hungary 7 England 1
1
Gellér, Sándor, on 77th min. for Grosics
28
315 days
12 July 1925
in Veseuş, Romania
G
Vörös Lobogó SE
5

1ᵍᵃ

result:

Hungary 7 England 1

unused substitut

es:
not known
team notes:
Despite agreeing only to substitute an injured goalkeeper, Grosics' substitution appeared to defy this ruling. Both goalkeepers wore black jerseys with the number one on their backs.
substitute notes:

"After 77 minutes the Hungarians took advantage of their agreemen

t with the England officials to change their goalkeeper, but it was generally understood by the British Press that this was to only operate in the event of the goalkeeper being injured. Grosics appeared to have nothing wrong with him when he retired and the reserve goalkeeper, Geller, took his place."

records:
Lantos' opening free-kick goal was only the fourth time England have conceded a direct free-kick, the first time England have conceded a direct free-kick for over twenty-two years.
The Hungarian's were set up at their headquarters on Margaret Island, in the Danube, near Budapest.
4-(1-1)2-4
Grosics (Gellér) -
Buzánszky, Lóránt, Zakariás, Lantos -
Bozsik -
Hidegkuti -
Tóth, Kocsis, Puskás, Czibor.

Averages:

(start)




(finish)

Age

27

years 325 days
27 years 343 days
Appearances/Goals

30.7

12.2

most experienced opposing side

so far

England Team
Rank:

No official ranking system established;
ELO rating 4th
Colours:
The 1949 home uniform - White collared short-sleeved jerseys, blue shorts, black socks with white tops.


39th, W 21 - D 9 - L 9 - F 102 - A 66.

⁴³
Capt:
Billy Wright³
43rd W 25 - D 8 - L 10 - F 105 - A 66.⁹⁰
Manager:
Walter Winterbottom, 41 (31 March 1913), appointed as FA national director of coaching/team manager on 8 July 1946;


61st match, W 38 - D 12 - L 11 - F 179 - A 87

, one abandoned.

¹³⁹

Trainer: Jimmy Trotter (Charlton Athletic FC)

Team chosen by the Selection Committee, headed by Harold Shentall, on Friday, 21 May.

England Lineup
three changes to the previous match (Harris, Sewell & Jezzard>Allen, Nicholls, Mullen)

FINAL league positions

(FL1 26 April, FL2 29 April)

Merrick, Gilbert H.
32
117 days
26 January 1922
G
Birmingham City FC

(FL2 7th)

20

37ᵍᵃ

the 26th player to reach the 20-app milestone

first to 37

ᵍᵃ

2
Staniforth, Ronald
30
40 days
13 April 1924
RB
Huddersfield Town AFC

(FL 3rd)

3
0
3
Byrne, Roger W.
24
257 days
8 September 1929
LB
Manchester United FC

(FL 4th)

3
0
4
Wright, William A.
30
106 days
6 February 1924
RHB
Wolverhampton Wanderers FC

(FL CHAMPIONS)

58
3

most apps

1952-54

5
Owen, Sydney W.
31
236 days
29 September 1922
CHB
Luton Town FC

(FL2 6th)

2
0
6
Dickinson, James

W.

29
29 days
24 April 1925
LHB
Portsmouth FC

(FL 14th)

35
0
7
Harris, Peter P.
28
155 days
19 December 1925
OR
Portsmouth FC

(FL 14th)

2
0
final app 1954
8
Sewell, John
27
119 days
24 January 1927
IR
Sheffield Wednesday FC

(FL 19th)

6
3
final app 1954
732
9
Jezzard, Bedford A.G.
26
216 days
19 October 1927
CF
Fulham FC

(FL2 8th)

1
0
the sixth Fulham player to represent England
10

Broadis, Ivan A.
31
156 days
18 December 1922
IL
Newcastle United FC

(FL 15th)

11
6
11
Finney, Thomas
32
48 days
5 April 1922
OL
Preston North End FC

(FL 11th)

51
23
unused substitutes:
Ted Burgin (Sheffield United FC

(FL 20th)

), Jackie Mansell (Portsmouth FC

(FL 14th)

), Ken Armstrong (Chelsea FC

(FL 8th)

), John Haynes (Fulham FC

(FL2 8th)

), Jimmy Mullen (Wolverhampton Wanderers FC

(FL CHAMPIONS)

).

record

s:
The result marks a new low in England's records, this being their new heaviest defeat. They had not conceded seven goals since 1878. Third time, post-war, they have suffered two back-to-back defeats.
Not since 1878 have England suffered three friendly defeats in a row.
This is just the fifth time England have lost three matches in a single season.
For the first time, England have conceded 22 goals in a single season.
2-3-5
Merrick -
Staniforth, Byrne -
Wright, Owen, Dickinson -
Harris, Sewell, Jezzard, Broadis, Finney.

Averages:

Age
29 years 170 days
Appearances/Goals

17.5

3.1
Match Report

by Mike Payne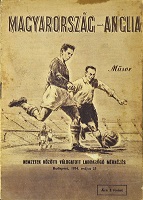 Six months earlier at Wembley, England were given a football lesson by the magnificent Hungarian side. It was the first time they had been beaten on home soil by a continental team and it was hoped that many lessons would be learned from the experience. Sadly, on this performance against that same Hungarian side, few would believe that they have learned any.

England were once again totally outclassed. Hungary simply tore them apart with some devastating football and scored virtually at will. The old fashioned tactics that England employed were shown up to be woefully inadequate by the slick pattern of the Hungarian formation. Quick, accurate short passing was coupled with lethal long passes which totally bemused overworked defenders. One of the most obvious differences between the two sides was in the teamwork. Whereas England played as a group of individuals doing their own jobs the Hungarians moved as one unit with Puskás, especially, pulling the strings.

The trouble began in the tenth minute when Jimmy Dickinson was somewhat harshly penalised for a foul on Hidegkuti 20 yards from goal. Puskás summoned up the powerful Lantos from the back to take the free-kick and before you could say 'Hidegkuti' the ball crashed into the England net. It was the beginning of the end for the visitors and 12 minutes later they went 2-0 down when Puskás lashed home a rebound from close range after Ron Staniforth had blocked a sharp cross by Kocsis.

The lean and skilful inside-right Kocsis was having a fine game and on the half-hour he scored a brilliant goal volleying home a pass from Puskás. Kocsis had just come back on to the field after having running repairs to an injury. How England had wished he had stayed off!

For the remainder of the half Hungary turned on the full exhibition of their skills and it was a bemused and bedraggled bunch of England players that trooped off at half-time 3-0 down. Only a good shot by Ivor Broadis which brought the best out of Grosics had given them any encouragement.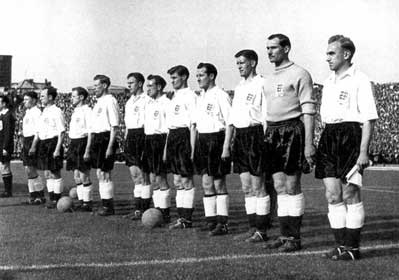 At the start of the second half England made a brief spirited reply when Peter Harris saw a shot blocked on the Hungarian goal-line but alas it was only a token gesture as within 20 minutes of the restart Hungary had conjured up some more magic to score three more goals. Kocsis, Toth and the incomparable Hidegkuti all added to the goal tally with splendid strikes rounding off marvellous passing movements. Gil Merrick hardly knew what had hit him and he had little chance.

The 92,000 crowd loved every minute of this superb performance and watched in delight as each of the goals were created following some super play.

England battled gamely on. Billy Wright, Dickinson and Staniforth all worked themselves into the ground but Roger Byrne was their best player with a cultured display despite all that went on around him. Jackie Sewell and Tom Finney also worked hard although Finney in fact missed a sitter in one attack. In the end, though, the England players were willing the referee to end their misery. Before the final whistle though they did manage to salvage some pride when Broadis met a Dickinson free-kick to pull a goal back. Hungary were not amused by this and immediately struck again with goal number seven.

This time, appropriately perhaps, it was Puskás who advanced on to a defence splitting pass by Hidegkuti to fire home the last humiliating nail into the England coffin. In the remaining minutes Hungary totally dominated and even a substitution of Grosics in goal had little effect on an England display which is best forgotten. Unfortunately, the fact that this ranks as England's biggest-ever defeat will probably mean that it will never be forgotten.

Match Report

by Norman Giller
This was the biggest defeat in England's 90-year football history (and continues to be so to this day). Just four of the England team had survived from the 6-3 slaughter at Wembley in November: Merrick, Wright, Dickinson and Finney. Fulham centre-forward Bedford Jezzard made a best-forgotten debut, while the unfortunate Peter Harris was winning his second and last cap after a gap of five years. His first cap came in the 2-0 home defeat by the Republic of Ireland in 1949. Puskas and Kocsis scored two goals each. The Hungarians, leading 3-0 at half-time, were six goals clear and cantering before Ivor Broadis opened the scoring for England. Hungary immediately replied with their seventh goal, scored by Puskas from a pass by Hidegkuti. Hungary's scorers were Puskas (2), Kocsis (2), Lantos, Toth and Hidegkuti. Billy Wright came off with his face as white as his shirt, and looking like a man who had seen a ghost come back to haunt him. As hard as this giant-hearted man tried, he could not get near to suppressing the irrepressible Puskas.

Match Report
as appears in the F.A. Yearbook 1954-55, pages 29-30
Several changes were made before the return match in Budapest, Harris and Jezzard being incorporated into the forward line for the first time. The only change in the Hungarian's Wembley team was that Toth replaced Budai on the right wing. Assessment of a teams ability is always a relative matter and it is not making excuses to say that England might have made a better showing in different company; as it was, they were dwarfed at the side of a team staffed by at least five geniuses and in which the rest were all first class. The Hungarian prowess was if anything greater than that shown at Wembley; they played football of a supreme order.
The first goal which came in the 10th minute, seemed to discourage England from the start: Dickinson was penalised 4 yards outside the area, yet Lantos's free-kick somehow passed through the line-up and beat Merrick. The Hungarians then went after the ball with incredible zest: goals came from Puskas and Kocsis to make the score 3-0 at the interval.
After the change of ends England at first rallied, but then came another spell of Hungarian exuberance: between the 12th and 17th minute Merrick was beaten by shots from Kocsis, Toth, and Hidegkuti, the entire forward line participating in the movements that led to the goals. England's only goal came from Broadis following a free-kick taken by Dickinson, but this was very soon matched by a further goal by Puskas. And so to the sounds of ra-ra-hajra - the Hungarian equivalent of hip-hip-hurrah - the match ended with the score at 7-1.

Source Notes
TheFA.com
Original newspaper reports
Official matchday programme
Magyarfutball.hu
labdarugo.be

Rothman's Yearbooks


Mike Payne's England: The Complete Post-War Record
Norman Giller, Football Author
The Complete Book of the British Charts
British Pathé
cg