The England Party for the pre-World Cup East European Tour

May 1954

Player

Birthdate

Age

Pos

Club

starts
subs
App
G
Capt
Allen, Ronald
15 January 1929
25
OR
West Bromwich Albion FC
3
0
3
1
0
Armstrong, Kenneth
3 June 1924
29
RHB
Chelsea FC
0
0
0
0
0
Ball, John
13 March 1925
29
RB
Bolton Wanderers FC
0
0
0
0
0
Ball was omitted from the final party.

Barlow, Raymond J.

17 August 1926
27
LHB
West Bromwich Albion FC
0
0
0
0
0
Barlow was omitted from the final party.
Bell, Eric
27 November 1929
24
LHB
Bolton Wanderers FC
0
0
0
0
0
Broadis, Ivan

A.

18 December 1922
31
IR
Newcastle United FC
10
0
10
5
0
Burgin, Edward
29 April 1927
27
G
Sheffield United FC
0
0
0

0ᵍᵃ

0
Byrne, Roger W.
8 September 1929
24
LB
Manchester United FC
2
0
2
0
0

Clarke, Henry A.

23 February 1923
31
CHB
Tottenham Hotspur FC
1
0
1
0
0
Clarke was omitted from the final party.
Dickinson, James

W.

24 April 1924
30
LHB
Portsmouth FC
34
0
34
0
0

Ditchburn, Edward G.

24 October 1921
32
G
Tottenham Hotspur FC
3
0
3

6ᵍᵃ

0
Ditchburn was omitted from the final party.
Dugdale, James R.
15 January 1932
22
CHB
West Bromwich Albion FC
0
0
0
0
0
Eckersley, William
16 July 1925
28
LB
Blackburn Rovers FC
17
0
17
0
0
Eckersley was omitted from the final party.
Edwards, Duncan
1 October 1936
17
LHB
Manchester United FC
0
0
0
0
0
Edwards was added to the squad as a replacement for Slater, on 29 April.
Finney, Thomas
5 April 1922
32
OR
Preston North End FC
50
0
50
23
0
Green, Kenneth
27 April 1924
30
RB
Birmingham City FC
0
0
0
0
0
Harris, Peter

P.

19 December 1925
28
OR
Portsmouth FC
1
0
1
0
0
Harris was added to the final party on 22 April
Haynes, John N.
17 October 1934
19
IL
Fulham FC
0
0
0
0
0
Hooper, Harry
14 June 1933
20
OR
West Ham United FC
0
0
0
0
0
Jezzard, Bedford A.G.
15 January 1929
25
CF
Fulham FC
0
0
0
0
0
King, Raymond
15 August 1924
29
G
Port Vale FC
0
0
0

0ᵍᵃ

0
Lofthouse, Nathaniel
27 August 1925
28
CF
Bolton Wanderers FC
19
0
19
20
0
Lofthouse was omitted from the final party.
McGarry, William

H.

10 June 1927
26
RHB
Huddersfield Town AFC
0
0
0
0
0
Mansell, John
22 August 1927
26
LB
Portsmouth FC
0
0
0
0
0
Mansell was added to the final party on 22 April
Merrick, Gilbert

H.

26 January 1922
32
G
Birmingham City FC
19
0
19

30ᵍᵃ

0
Mullen, James
6 January 1923
31
OL
Wolverhampton Wanderers FC
10
1
11
5
0
Nicholls, John
3 April 1921
23
IL
West Bromwich Albion FC
2
0
2
1
0
Owen, Sydney

W.

29 September 1922
31
CHB
Luton Town AFC
1
0
1
1
0
Pilkington, Brian
12 February 1933
21
OL
Burnley FC
0
0
0
0
0
Pilkington was omitted from the final party.
Quixall, Albert
9 August 1933
20
IF
Sheffield Wednesday FC
3
0
3
0
0
Quixall was added to the final party on 22 April
Revie, Donald G.
10 July 1927
26
IR
Manchester City FC
1
0
1
0
0
Revie was omitted from the final party.
Robb, George
1 June 1926
27
OL
Tottenham Hotspur FC
1
0
1
0
0
Robb was added to the final party on 22 April
Sewell, John
24 January 1927
27
IL
Sheffield Wednesday FC
5
0
5
3
0

Slater, William J.

29 April 1927
27
LHB
Wolverhampton Wanderers FC
0
0
0
0
0
Slater was added to the final party on 22 April, but withdrew before the party left England
Staniforth, Ronald
13 April 1924
30
RB
Huddersfield Town AFC
2
0
2
0
0
Taylor, Thomas
29 January 1932
22
IL
Manchester United FC
3
0
3
2
0
Taylor withdrew from the party on 11 May because of injury.
Thompson, George

H.

15 September 1926
27
G
Preston North End FC
0
0
0

0ᵍᵃ

0
Thompson was added to the final party on 22 April
Willemse, Stanley

B.

23 August 1924
29
LB
Chelsea FC
0
0
0
0
0
Wilshaw, Dennis

J.

11 March 1926
28
IL
Wolverhampton Wanderers FC
1
0
1
2
0
Wilshaw was added to the final party on 22 April
Wright, William A.
6 February 1924
30
RHB
Wolverhampton Wanderers FC
57
0
57
3
42
All information is complete to and including England's last match, the sixth of the 1953-54 season, against Yugoslavia on 16 May 1954.
Diary
Wednesday, 8 April 1954 - The Football Association announce a party of 32 players who are under consideration for the two full England international games and two 'B' Internationals. England are to play Yugoslavia at Belgrade on 16 May and Hungary at Budapest on 23 May. The B team are to play Yugoslavia B, also on 16 May, in Zagreb, and Greece in Athens, also on 23 May. The final selection will not be made before 21 April. The 32 players named were in the forefront for consideration for one or other of the tours and their travel documents were being put into readiness.
There is nothing to preclude players not included in the list issued yesterday from being among those eventually selected, and inclusion in the list of 32 does not necessarily mean automatic selection.

Thursday, 22 April 1954 - The Football Association have today announced the names of 31 players who will take part in two continental tours next month. The two separate parties, full and 'B', will be classified at a later date.
Preston North End's goalkeeper George Thompson is one of seven new players who have been added. Along with Peter Harris, Jack Mansell, Albert Quixall, George Robb, Bill Slater and Dennis Wilshaw. The eight that have dropped out are Jack Ball, Ray Barlow, Harry Clarke, Ted Ditchburn, Bill Eckersley, Nat Lofthouse, Brian Pilkington and Don Revie.
The new party of 31 players are due to begin a spell of training at The Saffrons in Eastbourne from the 4th to the 6th May. Then after a couple of days at home, the party, by now, split in two, will reassemble in London and leave for the Continent on 14th May.
The nine additional players to make up the forty for the World Cup Finals are Stan Matthews, Nat Lofthouse, Jack Ball, Allenby Chilton, Duncan Edwards, Ron Greenwood, Roy Bentley, Stan Rickaby and Les Shannon.

Thursday, 29 April 1954 - Duncan Edwards, the 17 year old Manchester United left-half, who was nominated as one of the forty possibles, has been chosen to deputise for Bill Slater in the list of 31 players selected for the tour next month. Slater, on the physical training staff at Birmingham University, cannot obtain leave. Manchester City's Don Revie takes Edwards place in the list of 'nine additional players'.

Tuesday, 4 May 1954 - A battery of Press photographers and BBC Television cameramen greeted 22 England players as they arrived at the Saffrons this morning for training. Captain Billy Wright was immediately asked to appear before television for a personal interview.

Wednesday, 5 May 1954 - The Mayor, Alderman EC Martin, and other officials of Eastbourne Corporation were present at a lunch today with the footballers at the Albion Hotel, Eastbourne. The morning's training session was overshadowed by an injury to West Ham's Harry Hooper, he collided with iron seats at one end of the training ground and has returned to London for treatment. His right knee is swollen and is expected to be fit in a couple of days. Gil Merrick sat out training, as he was undergoing treatment for a back strain.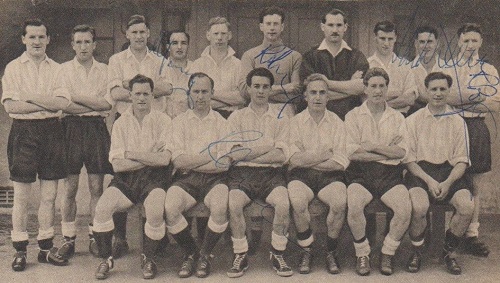 Tuesday, 11 May 1954 - The Selectors have chosen their teams for the Full International against Yugoslavia in Belgrade on Sunday, as well as the 'B' team that will face their Yugoslavia equivalents in Ljubljana on the same day. Manchester United's Tommy Taylor has withdrawn from the party because of injury and he will not be replaced.
Because of the recent earthquakes in Greece, the fixture due to take place on the 23rd May in Athens has now been postponed. Instead the 'B' team will meet the Swiss 'B' team in Basel. The entire party of thirty will now travel together, leaving London on Friday 14th and returning on 24th. After which, the final list of 22 players to represent England at the World Cup Finals in Switzerland next month, will be decided.

Friday, 14 May 1954 - The England party leave for Yugoslavia. The Full team have left for Belgrade on board the Elizabethan, a specially chartered airliner from London airport, while at the same time, the party making up the 'B' team, fly from Blackbushe Airport.

Saturday, 15 May 1954 - The England Full team have an early training session, before being received by the Lord Mayor of Belgrade, alongside Sir Stanley Rous, the secretary of the FA. Afterwhich, they attended a reception given by John Shattock, British Charge d'Affairs, in the absence of the Ambassador, Sir Ivor Mallet.

Sunday, 16 May 1954 - Yugoslavia, scoring four minutes from the end, defeated England by 1-0 at Belgrade, and so preserved their unbeaten record against England. Mitic scoring the only goal. Ronnie Allen suffered slight concussion but is expected to be available for the match against Hungary. If he is unfit, Jezzard is the natural replacement, as the same time in Ljubljana, about 300 miles to the west, Yugoslav's 'B' team defeated England 'B' team by two goals to one after a blank first half, Jezzard scoring England's goal, so that it was an unhappy day for English football.

Tuesday, 18 May 1954 - The party is split into two teams once more, the First team consists of sixteen players and will leave for Budapest. The fourteen making up the B team will leave for Basel. It is thought that the selectors are not likley to change the Full team's defence, but the forward line maybe totally reformed. Both parties leave for their destinations tomorrow.

Wednesday, 19 May 1954 - The England Full team arrive at the Budapest airport, where the Hungarian captain, Ferenc Puskás, presented his English counterpart, Billy Wright, with a bouquet of red roses. The England party should have gone to their lakeside resort in Balaton, but in view of the cloudy conditions, they remained in the city overnight.

Thursday, 20 May 1954 - England's players trained and practised for a full hour in the cold, wet, squally weather, by the shores of Balaton. Meanwhile, the Hungary team that has been chosen to face England, had a practise match against the Danube shoemakers factory team (9-0). England have indeed, changed their forward line to play Hungary. Peter Harris, who last played for England against Republic of Ireland in 1950, comes in. Jackie Sewell gets his first match of the tour, and Bedford Jezzard earns his first cap.

Friday, 21 May 1954 - The England B party are training on their Basle ground where they will play the Swiss on Sunday, after which the team is chosen. There are five changes to the side that were beaten by Yugoslavia B team. King, McGarry, Edwards, Allen and Wilshaw replace Burgin, Armstrong, Bell, Jezzard and Haynes.

Saturday, 22 May 1954 - England will travel to Budapest and stay in a hotel two miles outside of the city. They spend the morning training at the Nepstadion in Budapest.
England Form: last six games
W

D

W

L

W

L

f

18

:a 15 success: 58%
281
10 October 1953 - Wales 1

England 4

[1-1]
Ninian Park, Cardiff (61,000)
Allchurch


Wilshaw

(2),

Lofthouse

(2)

BC/




WCP

AW
282
21 October 1953 -
England 4 Rest of the World 4 [2-3]
Empire Stadium, Wembley (97,000)
Mortensen, Mullen (2), Ramsey (pen)


Kubala (2 (1 pen))

,

Boniperti (2)

Fr
HD
283
11 November 1953 - England 3

Ireland 1

[1-0]
Goodison Park, Liverpool (70,700)
Hassall (2), Lofthouse
Merrick OG

BC/




WCP

HW
284
25 November 1953 - England 3

Hungary 6

[2-4]
Empire Stadium, Wembley (100,000)
Sewell, Mortensen, Ramsey (pen)


Hidegkuti (3), Puskás (2), Bozsik

Fr
HL
285
3 April 1954 - Scotland 2 England 4 [1-1]
Hampden Park, Glasgow (134,554)

Brown, Ormond




Broadis, Nicholls,

R.Allen, Mullen

BC/




WCP

AW
286
16 May 1954 - Yugoslavia 1 England 0 [0-0]
Stadion JNA, Beograd (59,000)
Miti

ć

tour
AL