Match Summary
Officials from Netherlands

England

Type

Hungary
Referee (

"clad in a grey suit"

) - Leonard Horn
x (-).

Linesmen - Charles Schipper (flame flag) and Jon Bronkhorst (orange flag)

Teams presented to the Earl of Athlone, the FA President.

The Continental ruling of allowing a substitute to replace an injured player prior to the 44th minute, and a goalkeeper at any time, is in place.

Goal Attempts
Attempts on Target
Hit Bar/Post
Corner Kicks Won
Offside Calls Against
Fouls Conceded
Possession

England Team
Rank:

No official ranking system established;
ELO rating 3rd to 4th
Colours:
The 1949 home uniform - White collared jerseys, blue shorts, black socks with white tops.
Capt:
Billy Wright, fortieth captaincy
Manager:
Walter Winterbottom, 40 (31 March 1913), appointed director of coaching on 8 July 1946, and team manager in May 1947;


58th match, W 37 - D 12 - L 9 - F 174 - A 77

, one abandoned. Team chosen by Selection Committee headed by Harold Shentall on Thursday, 19 November 1953.
England Lineup
Merrick, Gilbert H.
31
303 days

26 January 1922

G
Birmingham City FC
17

27

GA

2
Ramsey, Alfred E.
33
307 days
22 January 1920
RB
Tottenham Hotspur FC
32
3
3
Eckersley, William
28
132 days
16 July 1925
LB
Blackburn Rovers FC
17
0
4
Wright, William A.
29
292 days
6 February 1924
RHB
55
3
5
Johnston, Harry
34
60 days
26 September 1919
CHB
Blackpool FC
10
0
6
Dickinson, James

W.

28
215 days
24 April 1925
LHB
32
0
7
Matthews, Stanley
38
297 days
1 February 1915
OR
Blackpool FC
36
10
8
Taylor, Ernest
28
84 days
2 September 1925
IR
Blackpool FC
1
0
9
Mortensen, Stanley H.
32
183 days
26 May 1921
CF
Blackpool FC
25
23
10
Sewell, John
26
305 days
24 January 1927
IL
Sheffield Wednesday FC
5
3
11
Robb, George
27
177 days
1 June 1926
OL
Tottenham Hotspur FC
1
0

unused substitutes:

Bert Williams (Wolverhampton Wanderers FC), Joe Kennedy (West Bromwich Albion FC) and Harold Hassall (Bolton Wanderers FC).

team notes:

Tom Finney (Preston North End FC) was the original named outside-left, a groin injury forced his withdrawal on 22 November. He was replaced by Robb the day after. Either player would make this team the oldest starting XI since 1920, adding 61 days to the existing record.
The England team were set up in their Hendon headquarters prior to this match, training on Chelsea FC's Stamford Bridge ground.... at the same time as the dog-racing trials, and at the Bank of England ground at Roehampton the day before the match.
Billy Wright extends his record appearance tally, in another match that now equals the most-experienced post-war England side, but for the first time, has an average of over 30 years old.
Ernie Taylor and George Robb become the 74th & 75th players to be fielded by Winterbottom, they also become the 89th and 90th to be named onto the teamsheets.
2-3-5
Merrick -
Ramsey, Eckersley -
Wright, Johnston, Dickinson -
Matthews, Taylor, Mortensen, Sewell, Robb.

Averages:

Age
30.4

(214 days)

Appearances/Goals
21.0
3.5

Hungary Team
Rank:

No official ranking system established;
ELO rating 2nd to 1st
Colours:

"Cherry Red"

buttoned-up collared jerseys, white shorts, white socks with green/red tops
Capt:
Ferenc Puskás
Manager:
Selection Committee headed by Gusztáv Sebes
Team chosen in London on Monday, 23 November 1953.
Hungary Lineup
1
Grosics, Gyula, injured off 83rd min.
27
4 February 1926
G
Budapest Honvéd SE
28

21

GA

2
Buzánszky, Jenő
28
4 May 1925
RB
Dorogi FC
20
0
3
Lantos, Mihály
25
29 September 1928
LB
Vörös Lobogó SE
27
1
4
Lóránt, Gyula
30
6 February 1923
CHB
Budapest Honvéd SE
22
0
5
Bozsik MP, József
27
28 November 1925
CM
Budapest Honvéd SE
45
4
6
Zakariás, József
29
25 March 1924
CHB
Vörös Lobogó SE
28
0
7
Budai, László
25
19 July 1928
OR
Budapest Honvéd SE
19
7
8
Kocsis, Sándor P.
24
21 September 1929
CF
Budapest Honvéd SE
33
35
9

Hidegkuti, Nándor
31
3 March 1922
AM
Vörös Lobogó SE
33
24
10
Puskás, Ferenc
26
1 April 1927
CF
Budapest Honvéd SE
52
61
11
Czibor, Zoltán
24
23 August 1929
OL
Budapest Honvéd SE
26
6
Hungary Substitutes
Gellér, Sándor, on 83rd min. for Grosics
28
12 July 1925
born in Romania
G
Vörös Lobogó SE
4
1

GA

unused substitutes:

Imre

Kovács (Vörös Lobogó SE)

, Lajos Csordás (Budapesti Vasas SE), Péter Palotás and Károly Sándor (both Vörös Lobogó SE), Mihály Tóth and Pál Várhidi (Budapesti Dózsa SE).

team notes:

Ferenc

Puskás

extends his record appearance and goal tallies.
Grosics was eventually replaced after 83 minutes because of an arm injury he sustained in attempting to save Ramsey's penalty.
This is the most experienced side Enland have faced so far. At an average of over thirty appearances each, it breaks the previous post-war record by over eleven appearances each.
2-3-3-2(5)
Grosics (Geller) -
Buzánszky, Lantos -
Lóránt, Bozsik, Zakariás -
Budai, Hidegkuti, Czibor -
Kocsis, Puskás.

Averages:

Age
26.9
Appearances/Goals
30.3
12.0
Match Report by Mike Payne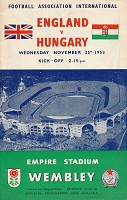 There can be no words to adequately describe the feelings of the 100,000 people present at Wembley Stadium on this dull and grey November afternoon. The game, which was talked about for as long as football is played, produced one of the most exciting and breathtaking team performances the world has ever seen.

The disappointment that was felt by England, at last losing their long and distinguished unbeaten home record against forein opposition, was certainly tempered by the knowledge that the record was finally taken by such a superb team. The current Olympic champions were simply magnificent!

Hungary tore through the home defence almost at will and the goal tally in no way flattered them. Indeed, England had a rude awakening to the true realities of world football. Many regular supporters had realised before the game that the writing had been on the wall for some time. Recent performances had not been good but the sheer devastation of this result will take some getting over.

Hungary scored after only 60 seconds. A forceful burst by Bozsik, Zakariás and Hidegkuti ended with the centre-forward selling the England defence a perfect dummy before crashing home a firece shot.

England were stunned and never really fully recovered. To be fair they did have their moments and they equalised after 15 minutes play. Just before that goal, though, Hungary produced a brilliant move between Czibor and the marvellous Puskás which was finished off by Hidegkuti. Thankfully, from England's point of view, it was disallowed by the Dutch referee for offside, but if it had counted it would have been one of the greatest goals ever. As it was, England came away and somehow snatched an equalizer.

This too came following a splendid move. Harry Johnstone picked the ball up in his own half and fed a good pass forward for Stan Mortensen to run on to. He, in turn, found Jackie Sewell and the inside-left scored with a lovely left-foot shot wide of the driving Grosics. Any thoughts England had of victory were soon nipped in the bud as within 13 devastating minutes Hungary had forged a 4-1 lead.

They ripped open the heart of the England defence with some scintillating football. On 20 minutes superb play by Puskás, Czibor and Kocsis gave Hidegkuti the chance to score from close range, Straight after that, Kocsis sent Czibor away down the right. Bill Eckersley had no answer to his skills and the winger passed inside to Puskás. The podgy inside-forward then produced a piece of sheer magic, a drag back that totally fooled Billy Wright, and enabled hime to drill home a ferocious left-foot shot into the roof of the net between Gil Merrick and the near post.

Minutes later, Bozsik took a free-kick and the ball flew past Merrick off of Puskás heel. England were in total disarray, having no answer to the cherry red shirted marvels. To their credit and mainly due to the skills of Stanley Matthews and Mortensen they managed a slight rally which brought them a second goal. George Robb forced Grosics into a spectacular save and then Mortensen sped through after receiving a throw-in to score with a glorious shot. The crowd rose to that goal and it was reminiscent of earlier glory days of English football.

Alas, it was the only glimpse the crowd would get this day of England at their beast as after the break the Hungarians put the finishing touch to their famous victory. Only ten minutes of the second half had gone when the score was 6-2. First Boszik hit a tremendous rising shot for number five and then Hidegkuti completed his personal treble when he volleyed home after a lob by Puskás.

Although England had the last say in the goalscoring they never looked like producing the miracle they needed to come back from such a scoreline. The final goal came from the penalty spot after Mortensen was brought down on the hour. Alf Ramsey was the scorer.

England's proud record was shattered. They were beaten in every aspect of the game and history must now be rewritten. Hungary had everything and their game was made up of long and short passing with absolutely lethal finishing. The capacity crowd would never forget them.

Match Report by Norman Giller
This was England's first defeat by foreign opponents on home territory, and the match that changed the face of English football. The Hungarians, Olympic champions and on a run of twenty-nine successive matches without defeat, played to a flexible 4-2-4 formation and made England's 2-3-5 pattern seem about as outdated as a hansom cab on a motorway. Nandor Hidegkuti, a deep-lying centre-forward, nipped in for a hat-trick as two-goal Ferenc Puskas pulled the defence inside out. England were flattered by the 6-3 scoreline. Alf Ramsey, Bill Eckersley, Harry Johnston, Ernie Taylor, Stan Mortensen and George Robb never played for England again. Taylor and Robb were making their debuts. Hungary had given just a taste of what was to come in the first minute when Hidegkuti collected a through ball from Puskas, deceived centre-half Johnston with a distracting dummy and then fired the ball high into the net from twenty yards. Gil Merrick was left flapping at mid-air. Moments after Sewell had equalised in the fifteenth minute England were flattened by a thirteen minute burst of Magyar magic. Two goals from the purist Puskas and another from the elusive Hidegkuti made it England 1, Hungary 4. The 100,000 Wembley spectators could not believe their eyes. Stan Mortensen pulled it back to 4-2 by half-time. But any hope England had of getting back into the game died within ten minutes of the second half. First the cultured Jozef Bozsik scored with a rising drive, and then Hidegkuti completed his hurricane hat-trick when he put the finishing touch to a dazzling succession of passes that ripped the England defence apart. Alf Ramsey scored a late penalty after his Tottenham team-mate George Robb, a schoolmaster, was pulled down by goalkeeper Grosics. The final scoreline could easily have read 10-3 to the Hungarians. Billy Wright had never been given such a chasing in all his life as the one he got from Ferenc Puskas.

Match Report by Glen Isherwood
Hungary were the Olympic Champions. They had beaten England 2-1 in 1934 in Budapest but had suffered heavy defeats in all their other meetings. England still held their proud unbeaten home record against foreign opposition (discounting the mainly British-based players of the Republic of Ireland in 1949 at Goodison Park) but the Hungarians had built a formidable side and they showed it in the opening minute when Nandor Hidegkuti's dummy took Johnston out of the way and enabled him to shoot past Merrick into the top corner.

Hungary kept on the pressure but England broke away to equalise when Johnston intercepted a Hungarian attack and ran upfield, eventually releasing a perfect pass to Mortensen, who provided Jackie Sewell with a chance to drive a low shot past Grosics. This was merely a stay of execution.

Within the next quarter of an hour, England were ripped to shreds by an overwhelming display of world-class skill and finishing. A Czibor cross was flicked on by Kocsis for Hidegkuti to score again. Ferenc Puskas made Wright look amateurish when he pulled the ball back as the defender committed himself and then smashed it into the roof of the net in the same movement. Five minutes later, a Bozsik free-kick was diverted past Merrick by the heel of Puskas.

England, typically, refused to lie down. Stan Mortensen forced his way through to score England's second before the interval but Hungary were just too good for them. A Czibor header was pushed onto the post by Merrick but Jozsef Bozsik drove home the rebound and then Puskas lobbed the ball up from Hidegkuti to complete his hat-trick with a volley.

Fifty six minutes had gone. England were 6-2 down and beginning to face up to the fact that Hungary were in a different class to them.

Alf Ramsey scored a penalty for England four minutes later after Robb had been brought down by Grosics, who went off injured ten minutes from time but the scoreline flattered England and the manner of their defeat made them realise that they would have to change their attitude and approach to succeed in world football.

The Hungarians emphasised their superiority by thrashing Englamd 7-1 in Budapest six months later.
They went to the World Cup in Switzerland as odds-on favourites, but after being unbeaten for four years lost the final to West Germany despite being two goals up after eight minutes.

The

Top Twelve UK Music Chart by New Musical Express
On Friday, 15 November 1952, The New Musical Express published the first ever singles chart in the UK. However, a year later, when England lost their home record when they were beaten by Hungary, Frankie Laine's version of Answer Me was the best selling single. When the chart of Friday, 20 November 1953 was published, there were ten surviving songs from the last chart when England played:-
1.

(=)

Answer Me

-

Frankie Laine (Philips)

7.

Vaya Con Dios

-

Les Paul & Mary Ford

(Capitol)

2

.

(=)

Answer Me

-

David Whitfield (Decca)

8

.

(11)
Wish You Were Here

-

Eddie Fisher (HMV)

3.

(5)
Swedish Rhapsody

-

Mantovani (Decca)

9

.

(8)
Chicka Boom - Guy Mitchell (Philips)

4.

(7)

I Believe

-

Frankie Laine (Philips)
10

.

(3)
Look At That Girl - Guy Mitchell (Philips)

5.

(6)

Poppa Piccolino

-

Diana Decker (Colombia)

11

.

Crying In The Chapel -

Lee Lawrence (Decca)

6

.
(4)

Hey Joe

-

Frankie Laine (Philips)

12.
(9)
Where The Winds Blow

-

Frankie Laine (Philips)

♪Most weeks at number one when England played:


Frankie Laine five, Guy Mitchell two, Al Martino, Lita Roza and David Whitfield one each

Source Notes
TheFA.com
Magyarfutball.hu
Original newspaper reports
Rothman's Yearbooks
Mike Payne's England: The Complete Post-War Record (Breedon Books Publishing Company, Derby, U.K., 1993)
Glen Isherwood's Wembley: The Complete Record (SportsBooks Ltd, 2006)
Norman Giller, Football Author
officialcharts.com singles chart
____________________

CG