412 vs. Wales
413
414 vs. Spain

Saturday, 15 April 1967
Home International Championship 1966-67 (72nd) Match &
UEFA/FIGC II Campeonato d'Europa per Nazioni Coppa Henri Delauney Group Eight Qualification Match

England 2 Scotland 3 [0-1]


Match Summary
England Squad
Scotland Squad

Empire Stadium, Wembley, Brent, Greater London


Attendance: 98,283/99,063;

Receipts: £83,491 (a new record); Kick-off:

3.00pm BST
Recorded highlights only by STV, shown on that evening and following afternoon

Scotland - Denis Law (initially shot against Banks following a Wallace freekick but flicked in the rebound 27), Bobby Lennox (pivoted then a low fifteen yard smash 78), Jim McCalliog (hard right-footed shot from a Wallace pass 88)
England - Jackie Charlton (stuck out a foot onto Ball's cross in off the post 86), Geoff Hurst (looping header from a Bobby Charlton cross 89)
Results 1965-1970

England won toss, Scotland kicked-off. ? minutes (49 & ?).
Match Summary
England

Type

Scotland

Referee (-) - Gerhard Schulenberg
x (-).

Linesmen - E. Schafer and U. Wolf

Teams presented to the Guest of Honour, The Duke of Norfolk.

Goal Attempts
Attempts on Target
Hit Bar/Post
Corner Kicks Won
Offside Calls Against
Fouls Conceded
Possession

England Team
Current World Champions
Colours:
The 1965 Umbro home uniform - White crew necked jerseys, blue shorts, white socks.

Rank:

No official ranking;
EFO ranking
ELO rating 1st
Capt:
Bobby Moore, 34th captaincy
Manager:
Sir Alfred Ernest Ramsey, 47 (22 January 1920), appointed 25 October 1962, effective part-time 31 December, full from May 1963.


48th match, W 31 - D 10 - L 7 - F 115 - A 56

.
team chosen on Wednesday, 5 April 1967.
England Lineup
1
Banks, Gordon
G
Stoke City FC
37
36ᵍᵃ
2
Cohen, George
RB
Fulham FC
34
0
3
Wilson, Ramon
32
17 December 1934
LB
Everton FC
55
0
4
Stiles, Norbert P.
24
18 May 1942
RM
Manchester United FC
24
1
5
Charlton, John, injured 12th min.
CHB
Leeds United AFC
26
4
6
Moore, Robert F.C.
26
12 April 1941
CHB
West Ham United FC
51
2
7
Ball, Alan J.
OR
Everton FC
18
1
8
Greaves, James
IR
Tottenham Hotspur FC
55
43
most goals

1964-67

9
Charlton, Robert
AM
Manchester United FC
78
41
10
Hurst, Geoffrey
OL
West Ham United FC
12
8
11
Peters, Martin S.
23
8 November 1943
LM/CH
West Ham United FC
12
3

reserves:

Substitute goalkeeper:- Peter Bonetti (Chelsea FC). Reserves:- Keith Newton (Blackburn Rovers FC) and Roger Hunt (Liverpool FC)

team notes:

Manager Alf Ramsey played against Scotland in four matches from 1950 until 1953.
Jackie Charlton was injured (broken toe) in the twelfth minute of this match following a collision with Bobby Lennox, he returned after thirteen minutes treatment. Jimmy Greaves (bruised ankle), Ray Wilson (damaged heel), Geoff Hurst (bruised calf) and George Cohen (bruised knee) were also carrying injuries.

records:

This defeat ended a sequence eleven matches unbeaten at the Empire Stadium - equalling the record originally set in 1962.
4-3-3
Banks -
Cohen, J.Charlton (Peters), Moore, Wilson -
Stiles, R.Charlton, Peters -
Ball, Greaves, Hurst.


notes: Peters covered Jackie Charlton at centre-half after he was injured. Charlton went to outside-right, then outside-left for the second half.

Averages:

Age
-
Appearances/Goals
-
-

Scotland Team
Rank:

No official ranking;
EFO ranking
ELO rating 19th to 16th
Colours:
Made by Umbro - blue crew necked jerseys with white collars/cuffs, white shorts, blue socks with red tops.
Capt:
John Greig
Manager:


Trainer: Walter McRae (Kilmarnock FC)

Robert Brown, 44 (19 March 1923), appointed 6 February 1967,
first match, W 1 - D 0 - L - 0 - F 3 - A 2.
team chosen on Monday, 10 April 1967.
Scotland Lineup
Simpson, Ronald C.
36
11 October 1930
G
The Celtic FC
1

2ᵍᵃ

2
Gemmell, Thomas
23
18 October 1943
RB
The Celtic FC
4
0
3
McCreadie, Edward G.
27
15 April 1940
LB
Chelsea FC

, England

10
0
4
Greig, John
24
11 September 1942
CHB
Rangers FC
21
3
5
McKinnon, Ronald
26
20 August 1940
CHB
Rangers FC
9
0

6

Baxter, James C.
27
29 September 1939
DM
Sunderland AFC, England
32
3
7
Wallace, William

S.B.

26
23 June 1940
OR
The Celtic FC
4
0
8
Bremner, William

J.

24
9 December 1942
RM
Leeds United AFC, England
10
0
9
McCalliog, James
20
23 September 1946
LM
Sheffield Wednesday FC

, England

1
1
10
Law, Denis
27
24 February 1940
CF
Manchester United FC

, England

37
27
11
Lennox, Robert
23
30 August 1943
OL
The Celtic FC
2
2

reserves:

Substitute goalkeeper:- Ferguson (Kilmarnock FC). Travelling reserves:- Frank McLintock (Arsenal FC, England) and Stephen Chalmers (The Celtic FC).

team notes:

Manager Bobby Brown played for Scotland against England in April 1952.
The Celtic FC's Jimmy Johnstone injured his right thigh in his club's European Cup match against Dulka Prague on Wednesday, 12 April, a day later, he withdrew, and replaced with Wallace.
4-3-3
Simpson -
Gemmell, Greig, McKinnon, McCreadie -
Bremner, Baxter, McGalliog -
Wallace, Law, Lennox.

Averages:

Age
25.7
Appearances/Goals
11.9
3.0
Match Report by Mike Payne
Match Report by Norman Giller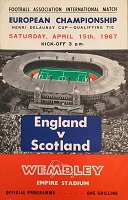 Scotland claimed they were world champions after handing England their first defeat in twenty matches, but it was something of a hollow victory against a team reduced to eight fit players. Jack Charlton hobbled at centre-forward for much of the match with a broken toe, Ray Wilson was a limping passenger after getting a kick on the ankle, and Jimmy Greaves was reduced to half pace by a knock in his comeback match. Denis Law was at his tormenting best and gave Scotland the lead after twenty-eight minutes, and it remained at 1-0 until a four-goal rush in the last twelve minutes. Celtic winger Bobby Lennox made it 2-0 before Jack Charlton bravely pulled one back. Gordon Banks was beaten at the near post by Jim McCalliog and then Hurst headed home a Bobby Charlton cross. Nobby Stiles, Denis Law's Manchester United team-mate, said later: 'I knew the Scots were taking it very seriously when Denis came on to the pitch wearing shinpads. I had never seen him wear them before.' Four of the Scottish team helped Celtic become the first British club to win the European Cup the following month. The newly knighted Sir Alf Ramsey said: 'Scotland deserved their victory, but I hope they will accept it as a fact rather than an excuse when I say were were heavily handicapped by injuries.'


Source Notes
TheFA.com
UEFA.com
LondonHearts.com
Original newspaper reports
Rothman's Yearbooks
Mike Payne's England: The Complete Post-War Record (Breedon Books Publishing Company, Derby, U.K., 1993)
Norman Giller, Football Author
____________________

CG