Robert Evans

Sheffield United FC

4 appearances, 1 debut goal

P 4 W 3 D 1 L 0 F 8: A 2
88% successful
1911-12

captain: none
minutes played: 360

Timeline

Robert Ernest Evans
Birth
19 October 1885 at 15 Crane Bank, Chester, Cheshire [registered in Chester, December 1885].
Baptism
4 November 1885 at Holy Trinity church in Chester

According to the 1891 census, Robert is the only son and third child of five to Robert and Jane. They live at 7 Mold Junction in Saltney Ferry (which is within the Welsh border), Chester, along with the Rhoden children. His father was a loco engine driver.

According to the 1901 census, Robert is a cabinet maker, still living with his parents and now six sisters, and his Rhoden cousins. They all live at 67 Ewart Street in the Saltney area of Chester. His father is still a railway engine driver.

Marriage
to Lily Agnes May Harvey, 2 November 1908 at Christ Church in Chester [registered in Chester, December 1908]. Robert was stated as being a professional footballer, living at 771 Eccles Old Road in Sheffield, Lily was living at 46 St. Anne Street in Chester.

According to the 1911 census, Robert is a professional footballer now married to Lily with a six-month old daughter, also Lily, living at 31 Niell Road in Ecclesall Bierlow, Sheffield.
On 12 June 1915, Evans was admitted to the Trade Union.

According to the 1921 census, Robert, a joiner for W.Williams Builders, is still married, and has three more children, Ernest, Irene and Robert. They live on the High Street in Saltney.
According to the 1939 register, Robert, a wood-joiner, and Lilly Agnes May are still married and living at 12 Hampton Road, back in Chester, with their son Ernest.
Death
28 November 1965 at 12 Hampton Road, Buddicom Park, Saltney, aged 80 years 40 days [registered in Chester, December 1965]. Left £2000 to his widow, Lily.

Source

Douglas Lammings' An English Football Internationalist Who's Who [1990] &

Playing Career

Club(s)
Began playing local football with Saltney Carriage Works FC and made one league appearance as an inside-left for Chester FC in 1904, before signing for Wrexham AFC in 1905, who played in the Birmingham & District League. Evans was spotted by Aston Villa FC, whom he signed for on 27 March 1906 for £300, (or £500, depending on which newspaper report), and after sixteen league appearances, on which he scored four goals, Sheffield United FC signed him on 2 October 1908 for £1100+player, Peter Kyle. After 204 league appearances, scoring 39 times, Evans retired during WWI. Although he did appear for Crichtons Athletic FC of the Cheshire County League.
Club honours
Football League Division One runners-up 1907-08; FA Cup winner 1914-15;
Individual honours
None
Distinctions
None
Height/Weight
5' 10¾", 11st. 7lbs [1908]. 5' 11", 11st. 5lbs [1913].

Source

Douglas Lammings' An English Football Internationalist Who's Who [1990].

England Career

Player number
One of four who became the 352nd players

(355)

to appear for England.
Position(s)
Outside-left
First match
No. 108, 11 February 1911, England 2 Ireland 1, a British Championship match at The Baseball Ground, Shaftesbury Crescent, Derby, aged 25 years 115 days.
Last match
No. 112, 11 March 1912, Wales 0 England 2, a British Championship match The Racecourse, Mold Road, Wrexham, aged 26 years 144 days.
Major tournaments
British Championship 1905-06, 1906-07, 1907-08, 1908-09, 1909-10 (all for Wales), 1910-11, 1911-12;
Team honours
British Championship winners 1906-07 (for Wales), 1910-11, shared 1911-12;
Individual honours
Wales (ten appearances, two goals, four times against England)
Distinctions
The second England player to play for another country, the first being Jack Reynolds.
Died five days after Jack Fort.

England vs. Wales

"ENGLAND AND WELSH ASSOCIATIONS ARE AT LOGGERHEADS OVER ROBERT EVANS.
"The choosing of R. Evans (Sheffield United) to be outside left for the 'Whites' in the international trial match at Tottenham on Monday next is likely to lead to complications. Evans played for Wales against England in 1906-7-8-10, against Scotland in 1906-8-9-10, and against Ireland in 1906-10. Thus the possessor of ten Welsh appearances has at last been chosen to play for his place in an English side. The ground for this action is the belated discovery that Evans was born in Chester, which is on the border of Wales. In the International Board agreements it is stated—'In international matches the qualification of players shall be birth. In the case of British subjects born abroad their nationality shall be decided by the nationality of their fathers.' According to custom, then, Evans is an Englishman. He has played four times against his own country. The doubt now is whether he will be able to play for Wales again." - The Courier, Thursday, 19 January 1911.
"A few days ago the secretary of the Welsh Football Association received from Mr Wall a letter drawing attention to the fact that R. Evans had been selected to play in the English Trial match at Tottenham, and adding that he had noticed from the newspapers that he had also been selected to play for Wales against Ireland at Belfast. Mr Wall further stated:—'We have a certificate of Evans' birth, which shows that he was born at 15 Crane Bank Street, Chester, and he is not therefore entitled to play for Wales.' The following reply was sent by Mr T. Robbins, the secretary of the Welsh Association:—


"Dear Sir—Your letter of the 17th inst. has been laid before a committee of this Association, and inquiries have been made as to Evan's birthplace. Of course, the certificate of his birth must be accepted as conclusive, but up to present no doubt has existed in the minds of the members of the council of this Association that Evans had not the necessary qualifications to play for Wales. This Association regrets that the English Association should at this juncture lay claim to Evans as an English player, being already aware that he had played in ten international matches for Wales. True, you intimated last March that it had been represented to you that Evans did not possess this qualification, but inquiries then made confirmed us in our previous conviction, Evans stating to our president at Cardiff that he had been born in Wales, and he had stated so on his registration form. Nothing more being said from that time, we thought the question had dropped, and accordingly selected him to play for us against Ireland. Our astonishment was great, therefore, to find later that your Selection Committee had chosen him to play for one of the teams in your trial match. This, of course, induced us to make further inquiries, with the result that we find he was born a short distance out of Wales. This shows your contention to be technically correct; but in all other respects we believe he is a Welshman. We are informed that he lived a short period in Chester (three weeks), and then lived in Saltney Ferry, Mold Junction, which is in Wales. He played for Saltney, and in 1905, for Wrexham, when he signed a professional form, upon which he stated that his birthplace was Saltney Ferry, Wales'"

"- The Evening Telegraph and Post, Tuesday, 24 January 1911.
"With regard to the inclusion of Evans, in the England team to meet Ireland on Saturday, Mr Wall, has written to the Welsh Football Association, pointing out it is now admitted that Evans was born in England, and that as long as the rule with regard to birth qualification remains, the Football Association feel justified in asking for its oberservance" - The Manchester Courier, Thursday, 9 February 1911.


"T

he Welsh F.A., who met at Oswestry last night, decided to join issue with the English Association in the matter of R. Evans, who after playing ten international matches for Wales, was objected to and played by England. A letter was read from the English Association stating that the inquiries made as to Evans' qualification by the Welsh Council were not very exhaustive, and that Evans denied that he told the Welsh president that he was born in Wales, and, further, that he informed two members of the Welsh F.A. of his birth at Chester, one of the Councillors telling him to stick to Wales and he would be all right.


"A spirited discussion arose when the letter was read, and it was immediately decided to proceed further with the matter. The statements made by Evans were emphatically denied by Mr John Davies, president of the Welsh Association, and by Messrs Robert Jones and Nunnerley, members of the Council, and it was agreed to write fully to the English Association suggesting a course of action, which will be made known when Mr F. J. Wall has received the communication." - The Evening Telegraph and Post, Thursday, 16 February 1911.
"Mr T. Robbins has sent a reply to the letter of Mr Wall, of the 8th inst. respecting the case of R. Evans. The Welsh President, and also Mr W. Nunnerley, a previous secretary, and Mr Robert Jones, all deny that Evans told them that he was born in Chester, and the Welsh Council ask for an inquiry as early as possible to clear up the matter." - Sheffield Daily Telegraph, Saturday, 18 February 1911.

Beyond England

Evans later worked for the ShellMex Oil company at Ellesmere Port and turned out for their [football] team.

-

An English Football Internationalists' Who's Who. Douglas Lamming (1990). Hatton Press, p.95.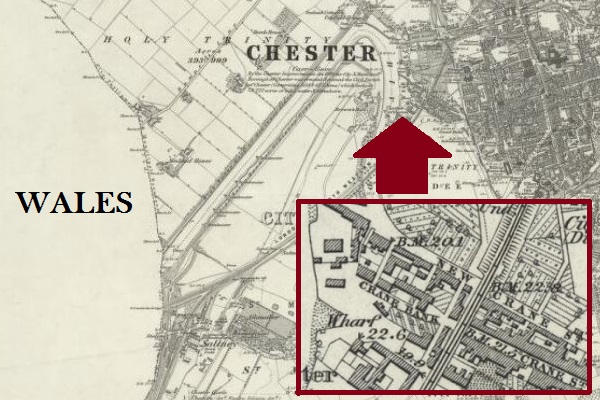 Evans was born in Crane Bank, showing how close to the Welsh border it actually is.
The map is dated 1892.
Robert Evans - Career Statistics
Squads
Apps
comp. apps
Mins.
goals ave.min
comp. goals
Capt.
Disc.
4
4
4
360
1
360 min
1
none
none
minutes are an approximation, due to the fact that many matches rarely stick to exactly ninety minutes long, allowing time for injuries and errors.
Robert Evans - Match Record - All Matches - By Type of Match
Type
P
W
D
L
F
A
GD
FTS
CS
FAv
AAv
Pts %
W/L
Home
3
2
1
0
6
2
+4
0
1
2.00
0.667
83.3
+2
Away
1
1
0
0
2
0
+2
0
1
2.00
0.00
100.0
+1
All - British Championship
4
3
1
0
8
2
+6
0
2
2.00
0.50
87.5
+3
Robert Evans - Match Record - Tournament Matches
British Championship Competition
Type
P
W
D
L
F
A
GD
FTS
CS
FAv
AAv
Pts%
W/L
BC 1910-11
3
2
1
0
6
2
+4
0
1
2.00
0.667
83.3
+2
BC 1911-12
1
1
0
0
2
0
+2
0
1
2.00
0.00
100.0
+1
BC All
4
3
1
0
8
2
+6
0
2
2.00
0.50
87.5
+3
All Competition
Type
P
W
D
L
F
A
GD
FTS
CS
FAv
AAv
Pts%
W/L
BC
4
3
1
0
8
2
+6
0
2
2.00
0.50
87.5
+3
All
4
3
1
0
8
2
+6
0
2
2.00
0.50
87.5
+3
Notes

____________________ CG