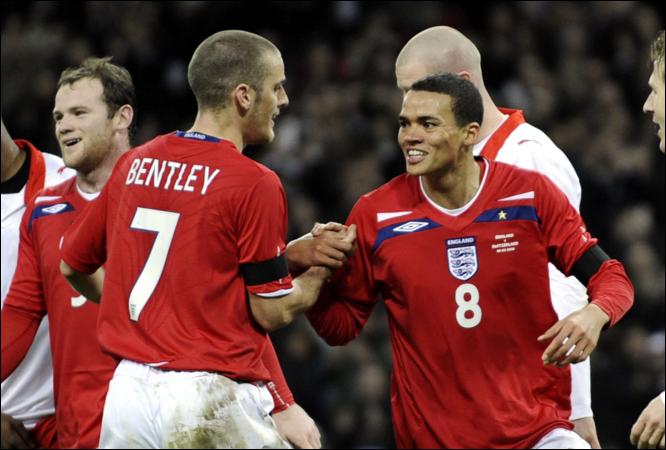 With all the anticipation and hype that always walks hand in hand with the launch of the now-yearly England kit launch, confusion gave this years' launch something new to ponder. Worn for the first time in the friendly against Switzerland, in Fabio Capello's first match, but not available to buy for another month, 12th March 2008.
Another name, same concept, the new 'trilogy' fabric, and something in the replica shirts that allows you to access something via your WAP on your mobile phone. It wouldn't be a decent result, would it? Was it well received - well, this was the first e-mail I received regarding it....
Another new England kit and yet another disappointment. The design reminds me of the old Admiral kit back in the early 80's although now we still have to put up with the "ENGLAND" bar over the crest (why, when the whole football world knows what the Three Lions represent) and that stupid lone gold star. I sit in hope that the new white strip next year will go back to the traditional red numbers on the back and ditch the ENGLAND bar and gold star but no doubt Umbro's "designers" will continue to have "artistic licence" and bring out some other rubbish. It's funny how TOFFS England shirts were selling so well until Umbro inflicted their own "retro" version on the market (and on TOFFS under licence). Sorry about the moan Chris but a new Umbro England kit launch never fails to disappoints me and other "old farts" like me.
I rest my case....
Let the jury decide.... or the results.
"This is not just a football shirt. This is a statement of belief. Determination and intent. This is a declaration of support and pride. This is the England shirt."
This is bollocks! This shirt will never see the light of any tournament and every England shirt will remain so until such a time that the 'Umbro' people at their cosy desks decide to put such determined slogans into the hearts and minds of the damn Englishmen who wear them... until then...try somewhere other than JJB to purchase it!
For the World Cup qualification fixtures, England wore the SOUTH AFRICA 2010 FIFA WORLD CUP logo heat-pressed onto the upper right arm.