Match Summary
England

Type

Netherlands
Referee (green/black) - Anders Frisk
38 (18 February 1963), Göteborg, FIFA-listed 1991.

Assistant Referees - Kenneth Petersson, 36 (6 September 1964) and Ingemar Larsson, 40 (4 May 1961).

Fourth official - Robert Styles, 36 (21 April 1964), Waterlooville, Hampshire.

Former Tottenham Hotspur and England player Gary Mabbutt was guest of honour.
The match was the first England have ever played in August.
7
Goal Attempts
12
4
Attempts on Target
5
0
Hit Bar/Post
1
4
Corner Kicks Won
6
3
Offside Calls Against
2
11
Fouls Conceded
12
-
Possession
-

England Team
Rank:

FIFA (18 July 2001) =14th
EFO ranking
ELO rating 7th to 9th
Colours:
The 2001 Umbro home uniform - White shadow striped v-neck jersey with navy collar/cuffs/piping and single red vertical stripe down left side, navy shorts with red vertical stripe down right side, white socks with navy/white tops.
Capt:
David Beckham, seventh captaincy.
Gareth Southgate, second half
Head Coach:
Sven-Göran Eriksson, 53 (5 February 1948), appointed 30 October 2000, took post 12 January 2001.
6th match, W 5 - D 0 - L 1 - F 14 - A 4.
England Lineup
1
Martyn,

A.

Nigel

, off 46th min.

35
11 August 1966
G

Leeds United AFC

17

12

GA

2
Neville, Gary A., off 46th min.
26
18 February 1975
RB
Manchester United FC
45
0
Neville cautioned in the 38th min. for Unsporting Behaviour, after a dangerous two-footed challenge on Bronckhurst.
3
Cole, Ashley

, off 46th min.

20
20 December 1980
LB
Arsenal FC
4
0
4
Carragher, James

L.D.

23
28 January 1978
CM

Liverpool FC

4
0
Carragher cautioned in the 44th min. for Unsporting Behaviour.
5
Brown, Wesley

M., off 46th min.

21
13 October 1979
CD
Manchester United FC
4
0
6
Keown, Martin

R., off 50th min.

35
24 July 1966
CD
Arsenal FC
39
2
7
Beckham, David

R.J., off 46th min.

26
2 May 1975
RM

Manchester United FC

43
4
8
Scholes, Paul

, off 46th min.

26
16 November 1974
CM
Manchester United FC
36
13
9
Cole, Andrew

A., off 69th min.

29
15 October 1971
F

Manchester United FC

14
1

10

Fowler, Robert

B., off 46th min.

26
9 April 1975
F
Liverpool FC
19
4
11
Hargreaves, Owen

L., off 46th min.

20
20 January 1981


born in Canada

LM
FC Bayern München eV, Germany
1
0
England Substitutes
13
James, David B., on 46th min. for Martyn. injured off 48th min.
31
1 August 1970
G
West Ham United FC
5
1 GA
12
Powell, Christopher

G., on 46th min. for Ashley Cole

31
8 September 1969
LB

Charlton Athletic FC

4
0
14
Mills, Daniel

J., on 46th min. for Neville

24
18 May 1977
RB
Leeds United AFC
2
0
15
Southgate, Gareth

, on 46th min. for Brown

31
3 September 1970
CD

Middlesbrough FC

43
1
17
Carrick, Michael

, on 46th min. for Beckham

20
28 July 1981
RM
West Ham United FC
2
0
18
Lampard, Frank

J., on 46th min. for Scholes

23
20 June 1978
CM
Chelsea FC
3
0
19
Barmby, Nicholas

J., on 46th min. for Hargreaves

27
11 February 1974
LM

Liverpool FC

20
4
20
Owen, Michael

J., on 46th min. for Fowler

21
14 December 1979
F
Liverpool FC
30
10
22
Wright, Richard

I.

, on 48th min. for James

23
5 November 1977
G
Arsenal FC
2
1 GA
15
Ehiogu, Ugochuku

, on 50th min. for Keown

28
3 November 1972
CD

Middlesbrough FC

3
1
21
Smith, Alan

, on 69th min. for Andrew Cole

20
28 October 1980
F
Leeds United AFC
3
0

unused substitutes:

none

team notes:

Substitute keeper David James lasted just three minutes, he was injured whilst making a save from a Hasselbaink shot. Teammate Keown, who had been running back shadowing Hasselbaink, collided with James, his shin colliding with his knee. Thus ensuring that England break their own substitute record and use eleven substitutes, only Jamie Carragher survived the cull.
Right-back Gary Neville, and withdrawn squad member, Phil, are brothers.
4-4-2
Martyn (James (Wright)) -
G.Neville (Mills), Keown (Ehiogu), Brown (Southgate), Ashley Cole (Powell) -
Beckham (Carrick), Scholes (Lampard), Carragher, Hargreaves (Barmby) -
Andrew Cole (Smith), Fowler (Owen).

Averages:

Age
26.1
Appearances/Goals
-
-

Netherlands Team
Rank:

FIFA (18 July 2001) 10th
EFO ranking
ELO rating 4th
Colours:
Made by Nike - Orange v-necked jerseys with black collars/cuffs, black shorts, orange socks with black trim.
Capt:
Phillip Cocu, first captaincy.
Edgar Davids 81st min.
Manager:
Aloysius

Paulus Maria

van Gaal,

50 (8 August 1951), appointed 7 July 2000.


10th match, W 6 - D 3 - L 1 - F 25 - A 9.
Netherlands Lineup
1
van der Sar, Edwin, off 46th min.
30

29 October 1970

G

Fulham FC, England

61

GA

2
Reiziger, Michael J.
28
3 May 1973
RB
FC Barcelona

, Spain

50
1
3
Stam, Jakob

, off 46th min.

29
17 July 1972
CD
Manchester United FC

, England

40
3
4
Hofland, Ke

vin

22
7 June 1979
CD

Philips Sport Vereniging

3
0
5
van Bronckhorst, Giovanni C.
26
5 February 1975
LB
Arsenal FC

, England

22
2
6
van Bommel, Mark M.P.G., off 72nd min.
24
22 April 1977
LM
Philips Sport Vereniging
8
2
7
Zenden, Boudewijn, off 46th min.
25
15 August 1976
F

Chelsea FC, England

31
5
8
Cocu, Phillip

J.W., off 81st min.

30
29 October 1970
RM
FC Barcelona

, Spain

56
4
9
van Nistelrooij, Rutgerus J.M., off 46th min.
25
1 July 1976
CF

Manchester United FC, England

13
5
10
Kluivert, Patrick S., off 89th min.
25
1 July 1976
AM
FC Barcelona

, Spain

55
33
Kluivert cautioned in the 55th min. for Unsporting Behaviour.
11
Overmars, Marc

, off 46th min.

28
29 March 1973
F
FC Barcelona

, Spain

68
15
Netherlands Substitutes
13
Melchiot, Mario D.P., on 46th min. for Stam
24
4 November 1976
D
Chelsea FC

, England

5
0
15
Makaay, Rudoplus

A., on 46th min. for Zenden

26
9 March 1975
F
RC Deportivo La Coruña SAD, Spain
13
0
16
Waterreus, Ronald

K.M.

, on 46th min. for van der Sar

30
25 August 1970
G
Philips Sport Vereniging
1
0

GA

18
Davids, Edgar

S., on 46th min. for Overmars

28
13 March 1973
born in Suriname
M
Juventus FC SpA, Italy
42
4
19
Hasselbaink, Jerrel Floyd

, on 46th min. for van Nistelrooij

29
27 March 1972
born in Suriname
F
Chelsea FC

, England

14
6
14
Landzaat, Denny

D., on 72nd min. for van Bommel

25
6 May 1976
M
Willem II Tilburg
2
0
12
Oude Kamphuis, Niels, on 81st min. for Cocu
23
14 November 1977
M
FC Gelsenkirchen-Schalke 04 eV, Germany
1
0
17
van Hooijdonk, Pierre F.J., on 89th min. for Kluivert
21
29 November 1969
F
Feyenoord Rotterdam
25
9

unused substitutes:

none
4-3-3
van der Sar (Waterreus) -
Reiziger, Stam (Melchiot), Hofland, van Bronckhurst -
Cocu (Oude Kamphuis), Kluivert (van Hooijdonk), van Bommel (Landzaat) -
Zenden (Makaay), van Nistelrooij (Hasselbaink), Overmars (Davids).

Averages:

Age
-
Appearances/Goals
-
-
Match Report by Josh Benn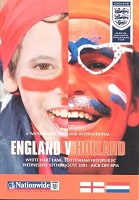 Sven-Göran Eriksson's fine run of five consecutive wins came to an emphatic end at White Hart Lane as Holland produced 45 minutes of masterful, stylish and penetrative football to outclass a lacklustre England.

Two opportunistic goals inside two minutes midway through the first half were enough to finally separate the sides but given the number of opportunities that the Dutch had, a scoreline of more than double that would not have flattered their efforts.

The first international of the season is traditionally a tricky game for England to negotiate and so it proved on a balmy evening in North London as Holland metered out a harsh footballing lesson to their hosts. Both Eriksson and the Dutch coach Louis Van Gaal had made it clear that this match was a friendly in name only and both regarded it as an important stepping stone towards respective - and vital - World Cup qualifiers on September 1. "Winning is important for the team - even in friendly games" - A serious face ensuring that Eriksson's pre-match sentiment was clearly communicated to the media.



Holland have always proved to be worthy and dangerous opponents for the national side and apart from the memorable Euro 96 encounter often have the upper hand in these contests.



England fielded only five players even likely to start in Munich and Eriksson kept faith with two starting strikers, Andrew Cole and Robbie Fowler, who are both currently out of favour with their respective club sides. The absence of Steven Gerrard offered Liverpool's Jamie Carragher the opportunity to demonstrate his combative midfield ability and in defence Martin Keown and Wes Brown deputised for the probable first choice absent pairing of Rio Ferdinand and Sol Campbell. Nigel Martyn, the perennial understudy to David Seaman, got a rare start in goal and Ashley Cole and Gary Neville filled the left and right back positions respectively. The increasingly influential David Beckham and his team-mate - Paul Scholes provided the real hub of quality in midfield.



Eriksson has also made clear his penchant for new boy Owen Hargreaves. He has called him a "star of the future" and regular England fans waited with anticipation to see the Bayern Munich player make his senior debut along side the Premiership regulars. Hargreaves, making a step-up from club football to the international stage, found it difficult to find rhythm and touch. Although regarded by many as a utility player potentially capable of playing in a variety of positions, Hargreaves looked out of position wide on the left - and at times a little out of his depth. His debut, while not particularly noteworthy, has to be seen in the context of an all-round poor performance by the whole team.



The Dutch, determined to get the most out of this game by way of preparation, fielded the strongest side available to them and the attacking partnership of Ruud Van Nistelrooy and Patrick Kluivert probably ranks among the best in Europe. The inclusion of Edgar Davids on the bench - currently suspended from competitive games for testing positive for the banned substance Nandrolone - raised more than a few eyebrows in the media. With Edwin Van Der Sar in goal, the exciting Bedouin Zenden on the right and Giovanni Van Bronckhorst in an unfamiliar left-back role the Dutch team may have had liberal Premiership representation but only Jaap Stam actually has any league games under his belt.



Transport delays around White Hart Lane delayed the kick-off by 15 minutes as supporters dribbled into the ground.

The game started brightly and on 7 minutes Zenden, getting behind Ashley Cole on the right wing crossed into the six-yard area to Nistelrooy. Only an excellent challenge from Keown prevented a disastrous start for England.



Two minutes later Holland, having by now found a passing rhythm and control, well above that of England, were moving the ball around with ease. Van Bommel, holding a central midfield position, delivered a devastatingly penetrative through ball past Carragher and between Keown and Brown to the on-side Van Nistelrooy in abundant space. Only an excellent block by Martyn prevented a certain opener and Kluivert's follow-up was thankfully skewed wide. The ease with which England's defence was bisected was worrying - all the more so as the replay showed Gary Neville failing to move up with the line and clearly playing Van Nistelrooy on-side.

England's only early opportunity initially came from a wonderful cross-field pass from Hargreaves to Beckham on the right hand edge of the penalty area. Beckham's subsequent cross appeared to be handled by Van Bronckhorst - but the muted appeal was turned down - Beckham, retrieving the ball for a second time, turned Van Bronckhorst three times in a mazy run into the penalty area and shot low at Van De Sar - who saved comfortably. It was the first time England had applied pressure to the visitors in the game. Half-chances for Fowler (a lob) and Scholes (a shot) were about as close as England could come to breaking the deadlock.



On 26 minutes a deft interchange between Van Nistelrooy and Kluivert found Cocu in the penalty area. Ashley Cole's brutal challenge was as close to a penalty as one is likely to witness and the referee, well placed to decide, waved away the concerted Dutch protests - to England's relief.



With Zenden, a constant threat down the right and Overmars, a little quieter on the left - Holland had the potential to attack from both wings. England, with probably their best pressure of the half, saw good close control and a weak shot from Andrew Cole - kicked away by Van De Sar and a blistering drive from Gary Neville acrobatically turned over the bar on 34 minutes. Hero Neville turned villain minutes later as he was booked for a dangerous, and unnecessary, two-footed tackle.



Two minutes later the game was all but over as Holland, with two pieces of outstanding opportunism, put paid to England's ambition and Eriksson's record.



With 39 minutes gone, Marc Van Bommel, with more space than he is likely to find in his local park on a Sunday morning, let fly a scorching drive from 35 yards out. Martyn, initially unsighted, could do nothing to keep out a ball travelling at 70mph into the top corner. One wonders if Steven Gerrard would have given Van Bommel quite as much space as Carragher did.



A failing, evident in the first half and highlighted by Eriksson after the game was that England showed far too much respect to the opposition and Carragher's inability to close down Van Bommel before the first goal was precisely symptomatic of that observation.



If one goal wasn't bad enough, a second goal was hot on its heels. Kluivert, turning Carragher inside out, set up Zenden for a superb central strike at England's goal. Although Martyn's fine parry prevented a goal - the predatory Van Nistelrooy pounced to dispatch the rebound into the back of the net for Holland's second. England were rocking at this point and only poor finishing from Jaap Stam moments later - when his free header was pushed well wide - prevented England going three goals adrift.



Holland's performance in the first half was already equalling one of the best by any visiting side in recent years and just before the break an exquisite example of breathtaking individual brilliance from van Nistelrooy almost threatened to knock England out cold. His elegant chip over a statuesque Martyn was only denied by the thickness of the crossbar. For a moment, the whole game seemed to be in suspended animation.



Holland continued to stroke the ball around and a frustrated challenge by Jamie Carragher on Zenden results in a caution for the Liverpool player. The half-time break was as welcome for England as it was unwelcome for the Dutch.



Eriksson is beginning to explore a different approach to friendly matches from any of his predecessors. By agreeing wholesale and unlimited substitutions during a match he can at once both satisfy club demands to 'go easy' on players with other domestic and European priorities as well as having the opportunity to look at as many players as he can in a competitive fixture. It almost has the ring of an 'A' and 'B' international rolled into one.



With a combined total of thirteen changes made by both sides during the interval the overall assessment of the game is muddied considerably. Only Keown, Carragher and Andrew Cole retain their places at the start of the second half. Five changes for the opposition, including the departure of the Manchester United complement, and arrival of the Chelsea pair Hasselbaink and Melchiot merely adds to the disjointed picture.



Holland appear to have picked up where they left off when Hasselbaink running onto an intelligent through ball from Edgar Davids forces an excellent block from the new West Ham signing David James. In making the save, James and Keown collide - knee to knee - and both are substituted, making James' substitution probably one of the quickest on record at 58 seconds. The new Arsenal No. 2 Richard Wright replaces James in goal and the Middlesbrough defender Ugo Ehiogu replaces Keown to form an early pre-season club partnership with Gareth Sougthgate at the back. Only Alan Smith remains on the bench as England's last potential substitution.



The home nation offer sterner resistance during the opening exchanges of the second period and the additional arrival of Nicky Barmby, Frank Lampard, Michael Carrick, Danny Mills, Chris Powell and Michael Owen does much to alter the complexion and psychology of the game. Holland, without the dangerous wingers Zenden and Overmars - find their options limited to more centrally focussed attacks.



Davids, roundly booed by the White Hart Lane crowd looked composed and experienced in the midfield and linked up well with the intelligent Kluivert. Despite this, the visitors make virtually no chances, content instead to try and frustrate England in their attempts to redeem something from the match.



With the inevitable arrival of Alan Smith (Andrew Cole giving way) a new and aggressive element is introduced. Smith, partly by example and partly by reputation - does much to fire up the crowd and raise the tempo of the game - rather in same way that someone like Duncan Ferguson does. His touches and tackles are straight and often painfully to the point.



Danny Mills, reminiscent of Steve Stone from a few years back, was workmanlike down the right and had made some headway in trying to cross into the danger area.



Up front, Michael Owen has a number of half chances - none of which were taken. With better service, Owen has the potential to turn a game in a few seconds - his best attribute being his often frightening pace. Jaap Stam, in his recently publicised biography, made derisory remarks about Owen, calling him "over-rated" and "having poor control". Owen had the clearest opportunity to put Stam in his place and salvage at least something from the game when he intercepted a poor back pass by Melchiot, turned inside Hofland and blasted an excellent scoring chance over substitute 'keeper Waterhreus and over the bar. Stam one, Owen nil.



One of the tests of a new manager is how he reacts after a defeat and for Eriksson it was noticeable how calm he was. Never one to show emotions at either ends of the scale - his analysis was thoughtful and reasoned. While lamenting the poor display by England - gently criticising them for showing too much respect for the Dutch by playing too deep and giving them a lot of space in which to play - he was also proportionately complimentary about the Dutch and their performance.



Although, it may appear that the Dutch coach Van Gaal got more from the game in preparation for the upcoming World Cup Qualifier - it should not be overlooked that Eriksson - and his England players - may have been able to learn more about their vulnerabilities than the Dutch did.



It was refreshing to see that most the media were fairly forgiving of Eriksson's first defeat - concentrating instead on admiring the talents of the Dutch and raising the stakes for the Germany game. Such is the unpredictability of football that Holland are struggling to even qualify for a World Cup play-off berth while England are still angling for an automatic top-spot.



No-one in world football will fail to take notice of the game in Munich on September 1st and England have a score to settle like no other. Despite this defeat, England are clearly a side on the up and the game in three weeks looks as open now as it ever did. A victory for Eriksson would undoubtedly cement his acceptance as national coach and reinforce the belief that he can take England further forward than any coach in the last 35 years.

Source Notes
England coach Sven Goran Eriksson's brave new world suffered its first setback at the hands of masterly Holland at White Hart Lane. Louis Van Gaal's Dutch masters wrecked Eriksson's perfect record of five wins out of five with a performance of pedigree and passing of the highest calibre. Eriksson conducted a complete revamp of his early line-ups to give members of the England undercard an opportunity ahead of the crucial World Cup qualifier in Germany on 1 September. And it was a brutal lesson in the harsh reality of international football for inexperienced youngsters like debutant Owen Hargreaves as England were outclassed in the opening 45 minutes. England held on unconvincingly until the Dutch struck twice inside a minute shortly before half-time, courtesy of a long-range thunderbolt from Mark van Bommel and a poacher's goal from Manchester United's 19m new boy Ruud van Nistelrooy.

Eriksson will not be too distressed despite the defeat, knowing he will field a virtually unrecognisable line-up for the World Cup showdown in Munich. It was, in some respects, a timely reminder of the steep learning curve England must still climb to move back into world football's elite group. Holland, in contrast, confirmed that reports of their demise have been hugely exaggerated and they will pose a massive threat to the Republic of Ireland in their important qualifier next month. Eriksson's England were given the severest test of the Swede's reign so far in a first half that had the Dutch trademark passing style stamped all over it. England's experimental line-up had little time to settle as the were outflanked - literally at times by the brilliant wide pair of Boudewijn Zenden and Marc Overmars - and outmanoeuvred.

The Dutch posted the warning signs as early the eighth minute when Van Nistelrooy escaped a disjointed England offside trap and forced a fine save from Nigel Martyn. England finally got themselves into the game midway through the first half - but it was simply the cue for a period of Dutch devastation that brought two goals. Eriksson's side showed signs of shaking Van Gaal's side out of their imperious stride when Andy Cole brought a desperate save from Edwin van der Sar with his feet after 33 minutes. Fulham's new import from Juventus was in action again seconds later, brilliantly palming Gary Neville's drive over the bar as it looked bound for the top corner. Holland had hinted at their superiority, and confirmed it with a lethal double strike inside a minute. Van Bommel was first on target after 38 minutes, picking up a harmless looking pass and taking advantage of England's invitation to shoot by sending a rising 35-yard drive past a stunned Martyn. It was a stunning counter-punch - and England were on the canvas when Van Nistelrooy doubled the Dutch advantage seconds later.

Martyn could only palm out Zenden's long range drive, and the marksman Manchester United hope will help bring another title to Old Trafford this season was on hand to score from the rebound. The striker's United team-mate Jaap Stam then headed narrowly off target, before Van Nistelrooy produced a piece of skill that even had the disappointed England fans applauding. He delivered a brilliant chip which left Martyn stranded, but as he turned to celebrate the ball bounced to safety of the bar. The game took on an unreal atmosphere after the break when a total of 13 substitutes - including eight England replacements - were sent on. Chelsea's 7.5m new boy Zenden will have provided a worry for watching coach Claudio Ranieri by sitting on the sidelines with an ice pack on his ankle after a tackle from Jamie Carragher. And two were involved within seconds when West Ham new boy David James made a brilliant one-handed stop from Chelsea's Jimmy Floyd Hasselbaink.

The save came at some cost as James suffered a knee injury in a collision with Martin Keown as he attempted to cover Hasselbaink. The England duo were both substituted - with Arsenal's 6m signing Richard Wright and Middlesbrough's Ugo Ehiogu coming on. It meant the second period was little more than a training exercise with both coaches trying out new faces and the game occasionally being reduced to walking pace. England were able to limit the damage that Holland threatened to inflict on them in that blistering first half. Michael Owen had England's best chance of the game in injury time - but Liverpool's in-form striker blazed wildly over the bar. And while Eriksson will be disappointed to have tasted defeat for the first time, it is unlikely the coach will believe it will have a significant effect on his World Cup planning.

TheFA.com
BBC Football
Original newspaper reports
Rothman's Yearbooks
F.A. Yearbooks
ESPN Classic
____________________

CG/PY/JB