Not worn in play

Description

Purple shirt, with shadow pattern of pale-blue crosses, each made up of a horizontal line, comprising four rows of 22 pale-blue squares, and a vertical line, comprising four columns of 14 pale-blue squares, covering the front and reverse of the shirt, but excluding the sleeves. Striped v-neck, overlapping from left to right, bordered on both sides with a purple stripe, with two inner stripes, from the neck down, of yellow, and pale blue. Large embroidered yellow emblem on left breast. Embroidered yellow star above the emblem. Two embroidered yellow concentric diamonds on right breast. Plain white number one on reverse and on right breast below the Umbro logo. Surname in capitalised white lettering above number on reverse, in same font as the numbers. Purple shorts, with white drawstring. Plain white number on left thigh in same font as on shirt, with two embroidered yellow concentric diamonds underneath. Yellow emblem on right thigh. Purple socks, with two yellow hoops around the tops.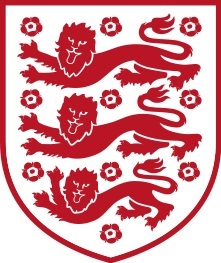 This kit was a purple version of the red kit introduced in February 2012. It first appeared in an England youth international, and then on Rachel Brown, the England women's goalkeeper.
The kit never made it to the full international side, but Jack Butland wore the shirt pictured above in both legs of the Euro 2013 Under-21 Championship play-off against Serbia.
The two photos of Butland's shirt appear by kind permission of the National Football Shirt Collection (England Match Shirts), also part of the Neville Evans Collection (curator Simon Shakeshaft).
____________________

CG/GI