P 12 W 7 D 3 L 2 F 31:A 12
71% successful
6 clean sheets

Description

Red shirt, with shadow pattern of pale-red crosses, each made up of a horizontal line, comprising four rows of 22 pale-red squares, and a vertical line, comprising four columns of 14 pale-red squares, covering the front and reverse of the shirt, but excluding the sleeves. Striped v-neck, overlapping from left to right, bordered on both sides with a darker red, with two inner stripes of a lighter and darker shade of red. Large embroidered white emblem on left breast. Embroidered white star above the emblem. Lower-case 'v' in white below the emblem. A white scroll, outlined in white, below the 'v', with the opponent's name in capitalised white lettering within it, and the year in white below the scroll. Two embroidered white concentric diamonds on right breast. Plain white number one on reverse and on right breast below the Umbro logo. HART in capitalised white lettering above number on reverse, in same font as the numbers. Red shorts, with white drawstring. Small hooped triangle at the bottom of each seam, containing two hoops of a darker shade of red. Plain white number on left thigh in same font as on shirt, with two embroidered white concentric diamonds underneath. White emblem on right thigh. Red socks, with two dark red hoops around the tops.
Variations

For the three European Championship fixtures, England had logos embroidered onto the upper sleeves. The UEFA EURO 2012 logo was on the right sleeve and the UEFA RESPECT logo was on the left sleeve.

For the five World Cup qualification fixtures, England had the 2014 FIFA WORLD CUP BRAZIL QUALIFIERS logo embroidered onto the right sleeve and the MY GAME IS FAIR PLAY FIFA logo on the left sleeve.

The names of England's opponents, as they appeared in the scrolls, were BELGIUM, BRAZIL, HOLLAND, ITALY, MOLDOVA, POLAND, SAN MARINO, SWEDEN and UKRAINE.

Appearances

12 - Joe Hart

Clean Sheets

6 - Joe Hart

Penalties Conceded

Joe Hart (four in a shootout)

Penalties Missed

1 - Joe Hart (plus one in a shootout)

Montolivo fired Italy's second penalty wide.

Hart got down low to his left to block Ronaldinho's penalty, and then, most impressively, as the great Brazilian (whose goal put England out of the World Cup, eleven years earlier), raced in to knock the rebound into the open net, Hart, somehow, managed to scramble up, turn and block the effort with his right hand.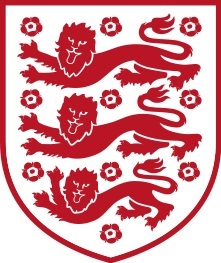 With the outfield players aligning to the white and red colour scheme of St. George in their kit, this all-red outfit was designed to complement it.
The period saw Joe Hart cement his place as England's number one with some assured performances, and Roy Hodgson continued to select him for all of England's competitive games.
Matches in Which England Wore the 2012 Red Goalkeeper Uniform
Season 2011-12

x

Stuart Pearce
Friendlies
903
29 February 2012 - England 2 Netherlands 3 [0-0]
The National Stadium, Wembley (76,283)
Joe Hart wore this uniform alongside

England's 2012 all-white kit

, against the Netherlands' all-black kit.

x

905
2 June 2012 - England 1 Belgium 0 [1-0]
The National Stadium, Wembley (85,091)
Joe Hart wore this uniform alongside

England's 2012 all-white kit

, against Belgium's all-black kit.

European Championship Finals in Poland/Ukraine

907
15 June 2012 - Sweden 2 England 3 [0-1]


Natsional

'

nyî Sportyvnyî

Kompleks, Kyiv

(48,876)
Joe Hart wore this uniform alongside England's 2011 all-blue kit, against Sweden's yellow shirts, blue shorts and yellow socks.
908
19 June 2012 - England 1 Ukraine 0 [0-0]
Donbass Arena, Donetsk (51,504)
Joe Hart wore this uniform alongside

England's 2012 all-white kit

, against Ukraine's all-blue kit.
909
24 June 2012 - England 0 Italy 0 [0-0]
AET [0-0] & Penalties [2-4]


Natsional

'

nyî Sportyvnyî

Kompleks, Kyiv

(56,500)
Joe Hart wore this uniform alongside

England's 2012 all-white kit

, against Italy's all-blue kit.
Season 2012-13
World Cup Preliminaries
911
7 September 2012 - Moldova 0 England 5 [0-3]


Zimbru Stadium, Chişinău

(10,400)
Joe Hart wore this uniform alongside

England's 2012 all-white kit

, against Moldova's all-blue kit.
912
11 September 2012 - England 1 Ukraine 1 [0-1]


The National Stadium, Wembley

(68,102)
Joe Hart wore this uniform alongside

England's 2012 all-white kit

, against Ukraine's all-blue kit.
913
12 October 2012 - England 5 San Marino 0 [2-0]


The National Stadium, Wembley

(85,654)
Joe Hart wore this uniform alongside

England's 2012 all-white kit

, against San Marino's all-blue kit.
914
17 October 2012 - Poland 1 England 1 [0-1]


Stadion Narodowy,

Warszawa (43,000)
Joe Hart wore this uniform, with galaxy-blue shorts, alongside England's 2011 blue kit, against Poland's white shirts, red shorts and white socks.
Friendly
915
14 November 2012 -

Sweden

4 England 2 [1-2]
Nationalarenan Friends Arena, Stockholm (49,967)
Joe Hart wore this uniform alongside England's 2012 all-white kit, against Sweden's yellow shirts, blue shorts and yellow socks.
Friendly - FA 150th Year Anniversary
916
6 February 2013 - England 2 Brazil 1 [1-0]


The National Stadium, Wembley

(87,453)
Joe Hart wore this uniform alongside

England's 2012 all-white kit

, against Brazil's yellow shirts, and blue shorts and socks.
World Cup Preliminary
917
22 March 2013 - San Marino 0 England 8 [0-5]


Stadio Olimpico, Serravalle

(6,952)
Joe Hart wore this uniform alongside

England's 2012 all-white kit

, against San Marino's all-blue kit.

England's (and Joe Hart's) Record wearing the 2012 Red Goalkeeper Uniform
Type
P
W
D
L
F
A
GD
FTS
CS
FAv
AAv
Pts %
W/L
Home
5
3
1
1
11
5
+6
0
2
2.20
1.00
70.0
+2
Away
5
3
1
1
17
5
+12
0
3
3.40
1.00
70.0
+2
Neutral
2
1
1
0
3
2
+1
1
1
1.50
1.00
75.0
+1
Total
12
7
3
2
31
12
+19
1
6
2.583
1.00
70.8
+5

____________________

CG/GI