P 6 W 3 D 1 L 2 F 9:A 7
58% successful
1 clean sheet

Description

Green shirts with recurring bands of ten thin shadow hoops, navy blue collar trim/cuffs trim, with navy blue Umbro diamond and England crest. Navy blue shorts and socks.
Most Appearances

Clean Sheets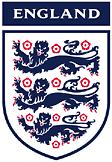 Another goalkeeper's jersey that caused confusion when trying to determine its colour. This one appears turquoise under lights, but in daylight, looks to be teal (a shade of green). Teal is a close cousin of turquoise in the colour spectrum (or so I'm told). Let's go with green.
For the game against Romania, England once again adorned sewn-on logos; UEFA's Fair Play badge on the left arm and the Euro 2000 tournament logo on the right arm (see below).
The jersey in the photos above was worn by Nigel Martyn in the ill-fated clash with Romania in Charleroi, as England were eliminated from the European Championship, after a last-minute penalty winner. It appears here by kind permission of the National Football Shirt Collection (England Match Shirts), also part of the Neville Evans Collection (curator Simon Shakeshaft).
Matches in Which England Wore the 1999 Green Goalkeeper Uniform
Season 1998-99

x

Friendlies
762
10 October 1999 - England 2 Belgium 1 [1-1]
Stadium of Light, Sunderland (40,897)

David Seaman wore this uniform,

alongside England's 1999 red uniform

, against Belgium's white shirts and white shorts.

766
27 May 2000 - England 1 Brazil 1 [1-1]
Wembley Stadium, Wembley (73,956)

David Seaman wore this uniform,

alongside England's 1999 red uniform

, against Brazil's yellow shirts and light-blue shorts.

767
31 May 2000 - England 2 Ukraine 0 [1-0]
Wembley Stadium, Wembley (55,975)

Nigel Martyn wore this uniform,

alongside England's 1999 red uniform

, against Ukraine's yellow shirts and blue shorts.

European Championship Finals in The Lowlands
771
20 June 2000 - England 2 Romania 3 [2-1]
Stade Communal, Charleroi (27,000/30,000)

Nigel Martyn wore this uniform,

alongside England's 1999 white uniform

, against Romania's yellow shirts and yellow shorts.

Season 2000-01
World Cup Preliminaries
773
7 October 2000 - England 0 Germany 1 [0-1]
Wembley Stadium, Wembley (76,377)
David Seaman wore this uniform, alongside England's 1999 red uniform, against Germany's white shirts and black shorts.
777
24 March 2001 - England 2 Finland 1 [1-1]
Anfield Road, Liverpool (44,262)
David Seaman wore this uniform, alongside England's 1999 red uniform, against Finland's white shirts and blue shorts.

England's Record wearing the 1999 Green Goalkeeper Uniform
Type
P
W
D
L
F
A
GD
FTS
CS
FAv
AAv
Pts %
W/L
Home
5
3
1
1
7
4
+3
1
1
1.40
0.80
70.0
+2
Neutral
1
0
0
1
2
3
-1
0
0
2.00
3.00
00.0
-1
Total
6
3
1
2
9
7
=0
1
1
1.50
1.167
58.3
+1

____________________

GI/BD/CG