P 11 W 3 D 6 L 2 F 17:A 13
55% successful
4 clean sheets

Description

Light-blue shirt with navy blue panel along shoulders, edged with thin red line, continuing onto navy blue outer sleeves. V-neck, edged with thin navy blue line, overlapping from left to right. Light-blue collar around back of neck, with English flag in middle, extending from one collarbone to the other. Light blue inner forearms, with abstract navy blue pattern and navy blue cuffs. Silver inner upper sleeves, continuing down each side down towards the hips, edged with navy blue line that continues beyond the silver panel. Embroidered emblem on left breast, with 'ENGLAND' in capitalised white lettering inside a navy blue panel above the emblem. Two embroidered navy blue concentric diamonds on right breast, with a registered trademark in navy blue, placed underneath the gap between the left point of each diamond. Navy blue number one on reverse and in centre of chest, in same font as outfield shirts. Surname in an arc in capitalised navy blue lettering above number on reverse in same font as the numbers. Match details embroidered in navy blue underneath number on chest in following format:

ENGLAND

v

PORTUGAL

7򊷲002

Navy blue shorts. Broad light-blue stripe down top half of each seam, including waistband, bottom edge of stripe sloping diagonally towards the front. Seam bordered on each side by a thin red stripe, running full length on reverse, but ending on the front, slightly beyond the light-blue stripe. Two embroidered white concentric diamonds on left thigh, directly beneath red stripe. White number, in the same font as on the shirt, above the Umbro logo on left thigh, but to the right of red stripe. Embroidered emblem on right thigh, with 'ENGLAND' in capitalised white lettering inside a navy blue panel above the emblem, directly beneath red stripe. Navy blue socks, with light-blue hoop across tops, and English flag just below it, extending all around the hoop. Two large white concentric diamonds on calf.

Variations

Nigel Martyn wore number 13 and David James wore number 22 against Cameroon.
Against Nigeria, England had the 2002 FIFA WORLD CUP KOREA JAPAN logo sewn onto the right sleeve.
Paul Robinson wore number 13 against Australia and Denmark.
For the last five games in which this kit was worn, the font for the names, numbers and match details were changed to match the new 2003 white outfield kit. The names and numbers had a white border, the surname on the reverse was no longer in an arc and the match details were re-positioned to the bottom of the shirt, centrally, just above the hem, as per the outfield shirt.
The names of England's opponents, as they appeared in the match details, were AUSTRALIA, CAMEROON, DENMARK, MACEDONIA, NIGERIA, PARAGUAY, PORTUGAL and TURKEY. England were named first in the home fixtures (against Australia, Denmark, Macedonia, Paraguay, Portugal and Turkey). In the other five fixtures, England's name appeared second.

Appearances

5.5 - David James

4 - David Seaman

1 - Paul Robinson

0.5 - Nigel Martyn

Clean Sheets

2 - David James, David Seaman

Penalties Conceded

1 - David James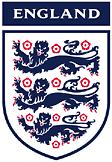 This outfit saw David Seaman's 75th and last appearance for England, after wearing 17 different goalkeeping kit designs in 14 years, more than any other England custodian.
It was not a happy occasion, as England dropped home points to Macedonia in a European Championship qualifier and Seaman conceded direct from a corner which went over his head, with memories of Ronaldinho's World Cup quarter-final winner still fresh from four months earlier.
Nigel Martyn's international career also came to an end, earlier in the same year, after 23 caps. David James took over from Seaman as first choice, with Paul Robinson stepping up to reserve.
The kit was actually due to appear for the first time in the game against Italy, alongside the new red change kit, three weeks earlier than the game against Paraguay, but a mix-up meant that it was replaced by the black kit at the last minute (see photos at the bottom of the page).
Matches in Which England Wore the 2002 Blue Goalkeeper Uniform
Season 2001-02

x

Friendlies
788
17 April 2002 - England 4 Paraguay 0 [1-0]
Anfield Road, Liverpool (42,713)
David Seaman wore this uniform, alongside England's 2001 all-white kit, against Paraguay's red-and-white striped shirts, with red sleeves and blue shorts and socks.
790
26 May 2002 - England 2 Cameroon 2 [1-1]


Kobe Universiade Memorial Stadium, Kobe City

(36,424)
Nigel Martyn and David James wore this uniform,

alongside England's 2002 red uniform,

against Cameroon's green shirts, red shorts and yellow socks.
World Cup Finals in Japan & Korea
793
12 June 2002 - Nigeria 0 England 0 [0-0]
Ōsaka-shi Nagai Rikujō Kyōgijō, Ōsaka-shi (44,864)

David Seaman wore this uniform,

alongside England's 2002 red uniform,

against Nigeria's all-green kit.

Season 2002-03
Friendly
796
7 September 2002 - England 1 Portugal 1 [1-0]
Villa Park, Birmingham (40,058)

David Seaman wore this uniform,

alongside England's 2001 white uniform

,

against Portugal's red shirts, green shorts and red socks.

European Championship Preliminary
798
16 October 2002 -
England 2 Macedonia FYR 2 [2-2]


The Friends Provident St Mary's Stadium, Southampton

(32,095)

David Seaman wore this uniform,

alongside England's 2001 white uniform

,

against Macedonia's all-red kit.

Friendly
799
12 February 2003 - England 1 Australia 3 [0-2]
Boleyn Ground, Upton Park (34,590)

David James and Paul Robinson wore this uniform,

alongside England's 2002 red uniform,

against Australia's green shirts, with gold sleeves and shorts, and green socks.

European Championship Preliminaries
801
2 April 2003 - England 2 Turkey 0 [0-0]
Stadium of Light, Sunderland (47,667)

David James wore this uniform,

alongside England's 2003 white uniform,

against Turkey's all-red kit.

Season 2003-04
806
6 September 2003 -
Macedonia FYR 1 England 2 [1-0]
Gradski Stadion, Skopje (20,500)

David James wore this uniform,

alongside England's 2003 white uniform,

against Macedonia's all-red kit.

808
11 October 2003 - Turkey 0 England 0 [0-0]


Sükrü Saracoglu

Stadyumu, İ

stanbul

(42,000)

David James wore this uniform,

alongside England's 2003 white uniform,

against Turkey's

all-red kit

.

Friendlies
809
16 November 2003 - England 2 Denmark 3 [2-2]
Old Trafford, Manchester (64,159)

David James and Paul Robinson wore this uniform,

alongside England's 2003 white uniform,

against Denmark's red shirts, white shorts and red socks.

810
18 February 2004 - Portugal 1 England 1 [0-0]
Estádio Algarve, Almancil (27,000)

David James wore this uniform,

alongside England's 2003 white uniform,

against Portugal's red shirts, green shorts and red socks.

England's Record wearing the 2002 Blue Goalkeeper Uniform
Type
P
W
D
L
F
A
GD
FTS
CS
FAv
AAv
Pts %
W/L
Home
6
2
2
2
12
9
+3
0
2
2.00
1.50
50.0
=0
Away
3
1
2
0
3
2
+1
1
1
1.00
0.667
66.7
+1
Neutral
2
0
2
0
2
2
=0
1
1
1.00
1.00
50.0
=0
Total
11
3
6
2
17
13
+4
2
4
1.545
1.182
54.5
+1

David James' Record wearing the 2002 Blue Goalkeeper Uniform
Type
P
W
D
L
F
A
GD
FTS
CS
FAv
AAv
Pts %
W/L
Home
2
1
0
2
4
4
=0
0.5
1
2.00
2.00
33.3
-1
Away
3
1
2
0
3
2
+1
1
1
1.00
0.667
66.7
+1
Neutral
0.5
0
1
0
1
1
=0
0
0
2.00
2.00
50.0
=0
Total
5.5
2
3
2
8
7
+1
1.5
2
1.455
1.273
50.0
=0

David Seaman's Record wearing the 2002 Blue Goalkeeper Uniform
Type
P
W
D
L
F
A
GD
FTS
CS
FAv
AAv
Pts %
W/L
Home
3
1
2
0
7
3
+4
0
1
2.333
1.00
66.7
+1
Neutral
1
0
1
0
0
0
=0
1
1
0.00
0.00
50.0
=0
Total
4
1
3
0
7
3
+4
1
2
1.750
0.750
62.5
+1

Paul Robinson's Record wearing the 2002 Blue Goalkeeper Uniform
Type
P
W
D
L
F
A
GD
FTS
CS
FAv
AAv
Pts %
W/L
Home
1
0
0
2
1
2
-1
0.5
0
1.00
2.00
0.0
-2
Total
1
0
0
2
1
2
-1
0.5
0
1.00
2.00
0.0
-2

Nigel Martyn's Record wearing the 2002 Blue Goalkeeper Uniform
Type
P
W
D
L
F
A
GD
FTS
CS
FAv
AAv
Pts %
W/L
Neutral
0.5
0
1
0
1
1
=0
0
0
0.50
0.50
50.0
=0
Total
0.5
0
1
0
1
1
=0
0
0
0.50
0.50
50.0
=0

This shirt, part of Richard Clarke's 'Three Lions - England Match Worn Shirts' Facebook Collection, was actually issued to David James for the game against Italy in 2002, but it was never worn, because it clashed with Italy's blue kit. The mistake must have been realised late in the day, as this shirt had the embroidered match details and the black shirt that was worn against Italy, did not.

____________________

GI/BD/CG