"WEMBLEY ROAR IS STILLED BY SECOND PENALTY"
Daily Mirror
Officials

from Scotland

England Party
FIFA ruling on substitutes
Austria

Referee

(black)


John Alexander Mowat MBE


44/45 (1906), Rutherglen

The Continental ruling of allowing a substitute to replace an injured player prior to the 44th minute, and a goalkeeper at any time, is in place.

Teams are presented to the Guest of Honour, Jules Rimet, President of FIFA

red flag

Linesmen

yellow flag

C. Gibson


England

Paulo de Oliveira


Portugal

original linesmen were named as Peter.Fitzpatrick and Douglas Gerrard (Scotland)

England Team
Rank:

No official ranking system established;
ELO rating 4th
Colours:
The 1949 home uniform - White collared jerseys, blue shorts, black socks with white tops.


22nd, W 13 - D 4 - L 5 - F 60 - A 33.

⁴³

Capt:

Billy Wright³
24th, W 15 - D 3 - L 6 - F 59 - A 30.⁹⁰

Manager:
Walter Winterbottom, 38 (31 March 1913), appointed as FA national director of coaching/team manager on 8 July 1946;


42nd match, W 28 - D 7 - L 7 - F 128 - A 49.

¹³⁹
Trainer: Jimmy Trotter (Charlton Athletic FC)
Team chosen by Selection Committee headed by Arthur Drewry, on Monday, 19 November, in London, revised on Monday, 26 November.
England Lineup
five changes to the previous match (Smith, Barrass, Finney, Sewell & Phillips out)

league position

(19 November)

Merrick, Gilbert H.
29
306 days
26 January 1922
G
Birmingham City FC

(FL2 11th)

2

2ᵍᵃ

15th keeper to face a penalty kick

2
Ramsey, Alfred E.
31
310 days
22 January 1920
RB
Tottenham Hotspur FC

(FL 4th)

18
1


¹

14th successful penalty kick

(25th overall)

oldest to take & score a penalty

16 July 1925
3
Eckersley, William
26
135 days
LB
Blackburn Rovers FC

(FL2 22nd bottom)

6
0
4
Wright, William A.
27
295 days
6 February 1924
RHB
Wolverhampton Wanderers FC

(FL 15th)

39
3
5

Froggatt, Jack
29
11 days
17 November 1922
CHB
Portsmouth FC

(FL TOP)

4
1
6
Dickinson, James

W.

26
218 days
24 April 1925
LHB
Portsmouth FC

(FL TOP)

16
0

713

7
Milton, C. Arthur
23
263 days
10 March 1928
OR
Arsenal FC

(FL 2nd)

1
0
the 22nd Arsenal player to represent England
only app 1951

714

8
Broadis, Ivan A.
28
345 days
18 December 1922
IR
Manchester City FC

(FL 10th)

1
0
the 16th City player to represent England
9

Lofthouse, Nathaniel
26
93 days
27 August 1925
CF
Bolton Wanderers FC

(FL 3rd)

4
5

10

Baily, Edward F.
26
114 days
6 August 1925
IL
Tottenham Hotspur FC

(FL 4th)

6
5
11
Medley, Leslie D.
31
86 days
3 September 1920
OL
Tottenham Hotspur FC

(FL 4th)

6
1
final app 1950-51
unused substitutes:
Ted Burgin (Sheffield United FC

(FL2 2nd)

), Jackie Milburn (Newcastle United FC

(FL 4th)

) and Ray Barlow (West Bromwich Albion FC

(FL 13th)

). Milburn replaced original reserve, Wilf Mannion (Middlesbrough FC

(FL 16th)

) and Burgin replaced Bert Williams (Wolverhampton Wanderers FC

(FL 15th)

) as reserve goalkeeper.
pre-match notes:

The team and original reserves met in Manchester on 20 November and practiced over two days on the Maine Road ground.

team notes:
"This is a game labelled match of the century, which may rightly decide the football championship of the old world" - Wednesday, 21 November 1951, Birmingham Gazette
There were numerous changes to the starting XI, Lionel Smith (Arsenal FC

(FL 2nd)

), Bill Nicholson (Tottenham Hotspur FC

(FL 4th)

), Tom Finney (Preston North End

(FL 5th)

) and Stan Mortensen (Blackpool FC

(FL 14th)

) all picked up injuries and had to be replaced.
records:
For the first time, England have recorded three draws in a single season. But for the second time, have recorded three draws in a single calendar year.

goalscoring

records:
Two players ended 1951 as top goalscorer with just three goals, a new post-war record low. Jackie Milburn and Nat Lofthouse both played in three matches.
2-3-5
Merrick -
Ramsey, Eckersley -
Wright, Froggatt, Dickinson -
Milton, Broadis, Lofthouse, Baily, Medley.

Averages:

Age
28 years 0 days
Appearances/Goals

9.4

1.3

Austria Team
Rank:

No official ranking system established;
ELO rating 11th
Colours:

'flame red'

collared jerseys with white collars/cuffs, white shorts, red socks with two white thin hoops.
Capt:
Leopold Gernhardt
Manager:
Walter Nausch, 44 (5 February 1907), appointed September 1948. Team chosen on Monday, 19 November 1951.
Austria Lineup
1
Zeman, Walter
24
211 days
1 May 1927
G
SK Rapid Wien
30

58ᵍᵃ

4
Hanappi, Gerhard
22
285 days
16 February 1929
RB
SK Rapid Wien
21
3
2
Röckl, Rudolf
24
320 days
12 January 1927
RCB
Wiener SC
11
0
3

Happel, Ernst F.H.
25
364 days
29 November 1925
LCB
SK Rapid Wien
28
0
6
Brinek, Theodor
30
203 days
9 May 1921
LB
SC Wacker Wien
10
2
9
Huber, Adolf
28
268 days
5 March 1923
RHB
FK Austria Wien
7
6
5

Ocwirk, Ernst
25
266 days
7 March 1926
LHB
FK Austria Wien
31
2
7

Melchior, Ernst
31
155 days
26 June 1920
OR
FK Austria Wien
30
16
8

Gernhardt, Leopold
31
257 days
16 March 1920
IR
SK Rapid Wien
26
0

10

Stojaspal, Ernst
26
318 days
14 January 1925
IL
FK Austria Wien
23
9
tenth penalty against scored

(20th overall)

11
Körner, Alfred
25
287 days
14 February 1926
OL
SK Rapid Wien
17
6
reserves:
Goalkeeper Franz Pelikan, full-back Karl Kowanz, half-back Walter Schleger and forward, Theodor Wagner.
Selector and trainer, Walter Nausch, played for Austria against England on three occasions, in 1930, 1932 and 1936. He was also the captain in their 1936 victory.
Prior to the match, the Austrians trained in Paris, and then made full use of Griffin Park, Brentford FC's home ground.
4-2-4


'Ocwirck' formation

Zeman -
Hanappi, Röckl, Happel, Brinek -
Huber, Ocwirk -
Melchior, Gernhardt, Stojaspal, Körner

Averages

:

Age
27 years 54 days
Appearances/Goals

21.3

3.8

most experienced opposition post-war team so far
Match Report

by Mike Payne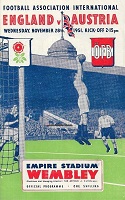 At last England produced a much better performance than of later against a very good Austrian side. It made for an excellent international match and notable for two different styles. England, quick and incisive, did everything at top speed. Austria, meanwhile, remained slow, precise and deliberate in their build up before producing some dangerous through balls.

But this was undoubtedly England's best display for some time and they could and should have won. Unfortunately they failed to punish some bad defensive errors by the Austrian defence although it must be said that the ball did not run too kindly at times for the England players.

Shining brightest amongst all the talent on show was a remarkable performance by the Austrian goalkeeper Zemen. His agility and handling was superb and he continually thwarted the eager home forwards. As early as the fourth minute he made a brilliant save from Ivor Broadis after Arthur Milton had put the Manchester City man through. The fact that England did not get that early goal, so vital against the Continental sides, probably had a large bearing on the final result as Austria improved as the game went on.

England certainly had the better chances in the first half. Billy Wright, Jack Froggatt and Jimmy Dickinson worked tirelessly for them and the impressive Stojaspal and Ocwirk did the same for the visitors. Broadis had that early chance quickly followed by another, and then Milton and Nat Lofthouse, twice, saw good efforts saved. At the other end Huber forced Gil Merrick into an excellent save before Bill Eckersley did well to block another Huber effort.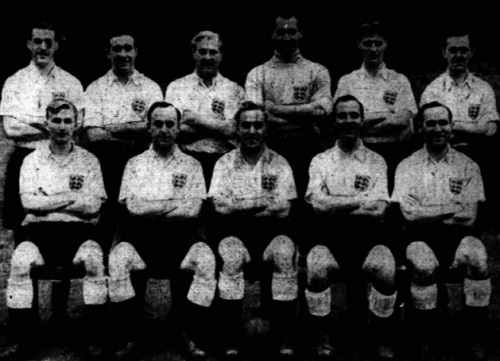 Despite this good football producing umpteen goal attempts the scoreline was still blank at the interval.

Only two minutes into the second half England suffered a shock when the Austrians took the lead. Ocwirk placed a deep free-kick into the penalty area and caught the home defence flat-footed. In a flash Melchior cut in from the left to leave Merrick helpless with a fine shot.

Now it really was a test for England but they rose to the challenge splendidly. Wave after wave of relentless attacks swept forward and after 70 minutes they gained their reward. Eddie Baily was sent sprawling in the area by Ocwirk's tackle and the referee awarded a penalty which the ice-cool Alf Ramsey calmly slotted past Zeman. The Wembley crowd really got behind England at this stage and they went wild with excitement when their team took the lead with 14 minutes to go. This time Ramsey took a free-kick and placed the ball perfectly for Lofthouse to run in and head home.

The action never let up and in the 88th minute Huber fired in a header which beat Merrick but was pushed away by Eckersley's hand. Another penalty! Stojaspal capped a fine personal display by showing Ramsey's coolness by tucking away the spot-kick. It was no less than Austria deserved for a thrilling display.

It was iconic that despite such a fine football match all the goals had come from set situations.

Match Report

by Norman Giller
An injury to Tom Finney forced yet another permutation by the selectors, with Gloucester cricketer and Arsenal forward Arthur Milton partnering Ivor Broadis on the right wing. Austria, under the baton of the remarkable Ernst 'Clockwork' Ocwirk, took the lead in the forty-seventh minute after a first half of cut-and-thrust football of the highest quality. Ocwirk sent a precision free-kick into the penalty area where Melchior forced it wide of goalkeeper Gil Merrick. England equalised in the seventieth minute when the ice-cool Alf Ramsey scored from the penalty spot after his Spurs team-mate Eddie Baily had been sent sprawling. Six minutes later Ramsey made a goal for Nat Lofthouse with a pin-pointed free-kick which the Bolton centre-forward steered high into the net with a powerful header. Austria, rated one of the best sides in Europe and fresh from becoming the first overseas team to beat Scotland at home, saved the match two minutes from the end with a penalty by Stojaspal. There was some breath-taking attacking movements by both teams, yet all the goals came from set-piece play. Milton was the last player capped by England at cricket and football. When Eddie Baily was fouled for the penalty, he picked himself up and said to his Spurs team-mate Alf Ramsey, "I've done all the hard work winning the blankety blank penalty, now make sure you score." Alf tucked the penalty away as coolly as if in a training session.

Match Report

by Glen Isherwood
England were battling with Wales to regain the British Championship. Austria had not competed in the previous year's World Cup and had beaten England only once in six meetings, 2-1 n Vienna in 1936. They had lost 4-3 on their only previous visit to England at Stamford Bridge in 1932.
All the goals came in the second half. First an Ocwirk free kick cleared the England defence for Ernst Melchior to run in and beat Merrick.
England equalised with a quarter of the game remaining. Ocwirk brought down Baily in the area and Alf Ramsey stepped up to score from the penalty. Seven minutes later a Ramsey free kick was headed in by Nat Lofthouse on his first Wembley appearance, but three minutes from the end Austria levelled from an Ernst Stojaspol penalty after Eckersley had handled a goal-bound header from Huber.
England went on to share the British Championship with Wales and then went to Vienna the following year and beat Austria 3-2. Nat Lofthouse earned the nickname 'Lion of Vienna' after being knocked unconscious when scoring the winner and then returning for the last five minutes. Lofthouse was Footballer of the Year in 1953 and scored 30 goals for England.

The Penalty Kick
Alf Ramsey
"THE RAMSEY PENALTY...
"In newspaper reports of the game they said I appeared the most cool and collected person on the field, but I can assure you that my heart was beating madly, and as I bent down to place the ball on the spot the goal seemed to have shrunk to about half its normal size. Maybe I appeared to take a long time to place the ball on the spot, but during practise I discovered that if you kick a football with the lacing facing the sky it invariably rises. After making some experiments, I came to the conclusion that the best way to place the ball for a spot-kick is to have the lace facing the goalkeeper. I did this against the Austrians, got it to my liking, stepped back a few paces and then walked once more towards the ball as the referee indicated his permission for the kick to be taken. My legs felt like rubber, and just before my right foot made contact I noticed Zemen move slightly to his right, At once, like a boxer going in for the 'kill', I side-footed the ball to the other side of the goal. Now I'll make a confession. I did not hit the ball quite so hard as I intended, but the Wembley turf is so accurate the ball slid gracefully into the goal with Zeman realising his error too late to make amends. Take it from me, I was the happiest man in the world s the crowd roared. Then I had a sudden reaction and began wondering what would have happened if I had missed that all-important penalty-kick!"

Match Report
as appears in the F.A. Yearbook 1952-53, page 26
The selectors were faced with a difficult task to field the right team not only to withstand the much-heralded Austrians but also defeat them at Wembley on November 28th. The most menacing weapon in the Austrian armoury was Ocwirk, the roving centre-half, and thus arose the controversy over the decision to combat him by playing Wright as a defensive inside-left. But injuries settled the matter, the plan had to be dropped, and five changes were made from the team which played Ireland. Broadis and Milton, new caps, formed the right-wing, Eckersley returned to left-back and Baily to inside-left, whilst Froggatt was preferred to Barass at centre-half.
The match afforded an intriguing contrast between two quite different styles. England were in fine fettle and played their best match of the season to date, the agile Zemen having a far busier afternoon than Merrick.
The Austrians approach was highly scientific and gave rise to many long passages of precise, calculated interpassing, yet it seemed to lack the penetrative power of the more orthodox English attack. The English retreating defence was also an effective answer to most of the Austrian forward moves.
The first half was rich in entertainment, if barren of goals, though there were several lost opportunities. Then, two minutes after the changeover, a free-kick from Ocwirk was seized on by Melchior to put the visitors one up. England rose magnificently to the challenge, but it was only as the outcome of a penalty that Ramsey shot the equaliser.
The struggle was now intense, and within seven minutes two more goals followed. First, Ramsey placed a free-kick perfectly near the far post for Lofthouse to head home. Then, two minutes later, the Austrians were given a penalty, and Stojaspal made the score 2-2. England's unbeaten home record remained.

Source Notes
TheFA.com
ÖFB.at
Original newspaper reports
Glen Isherwood's Wembley: The Complete Record


Rothman's Yearbooks


Mike Payne's England: The Complete Post-War Record
Norman Giller, Football Author


Billy Wright's The World is My Football Pitch


British Pathé
cg