England Football Online
Under 23 Results
Page Last Updated 10 July 2022
Nederland
previous senior match (119 days)
337 vs. Northern Ireland
previous match (14 days)
'U23' 20 vs. Scotland


int21
next senior match (24 days)
338 vs. Scotland

'U23' 22 vs. GDR





















5.55 News 6.10 Roving Report 6.30 Bandstand 7 Rawhide 7.55 Spot the Tune
8.25 Football: England vs. Holland
9.25 Headlines 9.30 PM Broadcasts

Wednesday

,

16 March 1960




International Friendly Intermediate Match





England 5

Netherlands 2 [1-1]


Hillsborough, Leppings Lane, Owlerton, Sheffield, South Riding of Yorkshire




Kick-off (GMT): 7.45pm
Attendance:

'21,163';

(floodlights)

unknown kicked-off


[1-1]George Eastham penalty 21


'

hit it coolly and leisurely into the net

'


(Greaves fouled)



[0-1] Co Prins 7


'

took a return pass from Groot and hammered a peach of a shot past Macedo

'



[2-1] Jimmy Greaves free-kick 49


'

Setters shaped as if to take it, but ran over the ball and Greaves slammed it into the net

'
(Baker fouled)
[3-1] Joe Baker header 50


'a back header from ten yards which the goalkeeper should have saved.'

from a Terry Paine cross


[4-2] Joe Baker 58
'Paine danced away on the right and turned the ball back to George Eastham perfectly, who looking one way, and passing another, found Baker for a right-foot cannonball shot'
[5-2] Terry Paine 80


'a fine shot taken on the run'




Henk Janssen injured: ten men








Netherlands return to full compliment

[3-2] Co Prins 52
'a great shot that Macedo got a hand to but could not prevent from trckling in.'

Second half live only -

commentators: Gerry Loftus and Peter Lloyd


"Young England triumph"
Daily Mirror
Officials

from England

England
FIFA ruling on substitutes
Netherlands
Referee
Arthur Holland


43 (26 November 1916), Barnsley, Yorkshire

red flag

Linesmen

yellow flag

John Tracey


Huddersfield

William M. Holian


36 (1923), Chesterfield

England Intermediate Team
Rank:

No official ranking system established;
Colours:
The 1959 Bukta home uniform - White v-necked short-sleeved continental jerseys, dark blue shorts, red socks with white calf hoop.
Capt:
Maurice Setters


fifth match, W 2 - D 2 - L 1 - F 13 - A 9.

Manager:
Ronald Greenwood,

38

(11 November 1921), appointed over the 1959 summer, also assistant manager of Arsenal FC;


fifth intermediate match, W 2 - D 2 - L 1 - F 13 - A 9.

trainer: Fred Ford
Team chosen by the Intermediate Selection Committee, headed by Frank Adams, on Wednesday, 9 March.
England Lineup

five changes

from the previous U23 match

league position

(9 March)

Macedo, Eliot
22
23 days
22 February 1938
in Gibraltar
G
Fulham FC

(FL 8th)

5

5ᵍᵃ

2
Cohen, George R.
20
146 days
22 October 1939
RB
Fulham FC

(FL 8th)

4
0
3
McNeil, Michael
20
38 days
7 February 1940
LB
Middlesbrough FC

(FL2 3rd)

2
0
4
Setters, Maurice E.
23
91 days
16 December 1936
RHB
Manchester United FC

(FL 12th)

13
0
most apps

1960

5
Swan, Peter
23
160 days
8 October 1936
CHB
Sheffield Wednesday FC

(FL 4th)

3
0

final u23 app

59-60

6
Kay, Anthony H.
22
308 days
13 May 1937
LHB
Sheffield Wednesday FC

(FL 4th)

4
1
79
7

Paine, Terence L.
20
359 days
23 March 1939
OR
Southampton FC

(FL3 TOP)

1
1
8

Eastham, George E.
23
175 days
23 September 1936
IR
Newcastle United FC

(FL 9th)

3
2
9

Baker, Joseph H.
19
243 days
17 July 1940
CF
Hibernian FC, Scotland

(SL 7th)

4
3
10

Greaves, James P.
20
25 days
20 February 1940
IL
Chelsea FC

(FL 15th)

11
11

=most goals

58-60

11

Holliday, Edwin
20
283 days
7 June 1939
OL
Middlesbrough FC

(FL2 3rd)

2
0
reserves:
Alan Humphreys (Leeds United AFC

(FL 21st)

), Brian Labone (Everton FC

(FL 19th)

), Dave B

urnside

(West Bromwich Albion FC

(FL 6th)

)
2-3-5
Macedo -
Cohen, McNeil -
Setters, Swan, Kay -
Paine, Eastham, Baker, Greaves, Holliday.

Averages:

Age
21 years 201 days
Appearances/Goals
4.7
1.2

Netherlands Intermediate Team
Rank:

No official ranking system established;
Colours:
"Gold shirts, shorts and stockings"
Capt:
Jan Kraay

Selecto

r:
not known
Team chosen on Sunday, 13 March 1960
Netherlands Lineup
1
Jongbloed, Jan
19
112 days
25 November 1940
G
Door Wilskracht Sterk
2
de Groot, Piet
19
264 days
26 June 1940
RB
Hermes Door Vereniging Sterk
3
Renders, Johannes

Henricus

22
34 days
11 February 1938
LB
Philips Sport Vereniging
4
Haak, Augustinus

Wilhemus

22
334 days
17 April 1937
RHB
Alles Door Oefening Den Haag
5
Kraay, Johannes
23
154 days
14 October 1936
CHB
VV Door Oefening Sterk
6
Muller, Ben
21
215 days
14 August 1938
LHB
Amsterdamsche FC Ajax
7
Swart, Jesaia
21
257 days
3 July 1938
OR
Amsterdamsche FC Ajax

8



Groot, Hendrik
21
329 days
22 April 1938
IR
Amsterdamsche FC Ajax
9
Janssen, Henk
22
264 days
26 June 1937
CF
IJVV Stormvogels
10

Prins, Jacobus

Theodorus Wilhelmus

21
285 days
5 June 1938
IL
Amsterdamsche FC Ajax
11
Heijnen, Harry
19
151 days
17 October 1940
OL
Venlos VV
unused substitutes:
Harry Custers (Fortuna '54), Gerrit Borghois (Gelders VVV)
team notes:
The Dutch team had to create a team without any of the Sparta Rotterdam team, who were playing in a vital European Cup Quarter-final second leg match tonight.
Reserve Jongbloed then replaced Rob van Heeswijk (Blauw Wit) in goal. Heinan replaced Frans Bouwmeister (NAC)
Co Prins would go on to star in Escape To Victory in 1981 as Pieter Van Beck.
2-3-5
Jongbloed -
de Groot, Renders -
Haak, Kraay, Muller -
Swart, Groot, Janssen, Prins, Heijnen.

Averages:

Age
21 years 185 days
Appearances/Goals
1.8
0.1
Match Report
by Derek Wallis, Daily Mirror, Thursday, 17 March 1960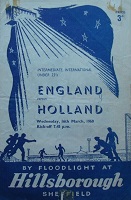 GEORGE EASTHAM, frail looking inside right, smoothed the way for England with a stream of choice passes that ought to have scattered the Dutch defence in this Under-23 international at Hillsborough last night. England commanded the first half, but the Dutch defence covered superbly. And in breakaway attacks their inside trio, passing quickly and cleverly, often left the England halves floundering. It was from just such a slashing move after seven minutes that Holland took the lead. England's defence was ripped wide open when in a few rapid strides, inside left Prins took a return pass from Groot and hammered a peach of a shot past Macedo. In twenty-one minutes, England won a penalty when Jimmy Greaves, speeding through the area, was brought down as two Dutch defenders closed in. Eastham took the spot kick and hit it coolly and leisurely into the net.

Greaves put England in the lead from a free-kick in the forty-ninth minute. Captain Maurice Setters shaped as if to take it, but ran over the ball and Greaves slammed it into the net. One minute later, centre forward Joe Baker made it 3—1 with a back header which Jongbloed, the Dutch goalkeeper, should have saved. But Holland scored in the very next minute through Prins. Then, in the fifty-eighth minute, another goal by baker made it 4-2 to England.

Paine scored England's final goal.

Match Report
as appears in the F.A. Yearbook 1960-61 page 36
Prins opened the scoring for the Netherlands after 7 minutes, and a quarter of an hour later Eastham equalised from a penalty kick. Goals from Baker (2) and Greaves, with another from Prins in between, gave England a 4-2 lead early in the second half, which Paine increased near the end, Setters and Cohen both excelled, while Greaves was a menace in attack, though he never reached the form he had shown at Ibrox. Once again Baker did well at centre-forward, Eastham was a clever schemer, and Paine, introduced at outside-right, certainly justified his choice. Macedo could not be faulted.

Football League

Division One




Wolverhampton Wanderers 3
Preston North End 3


Molineux Stadium, Wolverhampton

(28,000)




Stobart, Broadbent

(2) ~
Farrell, Dagger, Taylor


Football League Division Three


York City 1 Norwich City 2


Bootham Crescent, York

(6,458)


Farmer ~ Larkin (2)


Football League Division Four


Aldershot 2 Watford 2


Recreation Ground, Aldershot

(8,400)


Stepney, Howfield ~ Holton (2)

Crew Alexandra 5 Southport 1


Gresty Road, Crewe

(5,759)


Riley (3), Coleman, Barnard OG ~ Jepson

FA Cup

Sixth Round Replay




Blackburn Rovers 2 Burnley 0ᴭᵀ


Ewood Park, Blackburn (53,839)
Dobing, McLeod

winners to play Sheffield Wednesday
Source Note
Official matchday programme
FA Yearbook 1960-61

Rothman's Yearbooks




Original newspaper reports
cg