"OUR LADS TRIUMPH IN BATTLE OF BERLIN"
Daily Mirror
Officials

from Czechoslovakia

GDR
FIFA ruling on substitutes
England Party
Referee
Antonín Vrbovec
48,49 (1911)

Linesmen

Rvsicks
Pazkovsky

German Democratic Republic Intermediate Team
Rank:

No official ranking system established;
Colours:
not known, but probably blue jerseys and white shorts
Capt:
not known

Head Selecto

r:
Fritz Godicke, 40 (21 October 1919)
'team picked by a squad of national trainers headed by Godicke'
final selection two hours before kick off
GDR Lineup
1
Heinsch, Jürgen
19
316 days
4 July 1940
G
SC Empor Rostock
2
Kalinke, Peter
23
146 days
21 December 1936
RB
ASK Vorwärts Berlin
3
Krampe, Hans-Dieter
23
130 days
6 January 1937
LB
ASK Vorwärts Berlin
4
Kubisch, Günter
21
42 days
3 April 1939
RHB
SC Aufbau Magdeburg
5
Marx, Heinz
20
229 days
29 September 1939
CHB
SC Motor
6
Liebrecht, Kurt
23
143 days
24 December 1936
LHB
BSG Lokomotive Stendal
7
Gase, Werner
20
169 days
28 November 1939
OR
SC Lok Leipzig
8

Riese, Günter
22
101 days
4 February 1938
IR
ASK Vorwärts Berlin
1
9
Bauchspieß, Bernd
20
218 days
10 October 1939
CF
BSG Chemie Zeitz
10
Erler, Dieter
20
353 days
28 May 1939
IL
SC Wismut Larl-Marx-Stadt
11
Klingbiel, Wilfried
20
329 days
21 June 1939
OL
SC Dynamo Berlin
unused substitutes:
not known
team notes:
The German had a seventeen-player strong party to choose from, four of them full internationals; Mullbaccher, Krampe, Klingbiel and Erier.
2-3-5
Heinsch -
Kalinke, Krampe -
Kubisch, Marx, Liebrecht -
Gase, Riese, Bauchspieß, Erler, Klingbiel

Averages:

Age
21 years 198 days
Appearances/Goals

England Intermediate Team
Rank:

No official ranking system established;
Colours:
not known, but possibly the home uniform
Capt:
Maurice Setters


sixth match, W 3 - D 2 - L 1 - F 17 - A 10.

Manager:
Ronald Greenwood,

38

(11 November 1921), appointed over the 1959 summer, also assistant manager of Arsenal FC;


sixth intermediate match, W 3 - D 2 - L 1 - F 17 - A 10.

trainer: Fred Ford
Party chosen by the Intermediate Selection Committee, headed by Frank Adams, on Wednesday, 20 April, the team was chosen on Thursday. 12 May.
England Lineup

four changes

from the previous U23 match

league position

(20 April)

Macedo, Eliot
22
83 days
22 February 1938
in Gibraltar
G
Fulham FC

(FL 10th)

6

6ᵍᵃ

2
Angus, John
21
256 days
2 September 1938
RB
Burnley FC

(FL 3rd)

2
0
3
McNeil, Michael
20
98 days
7 February 1940
LB
Middlesbrough FC

(FL2 3rd)

3
0
4
Setters, Maurice E.
23
151 days
16 December 1936
RHB
Manchester United FC

(FL 8th)

14
0
most apps

1960

80
5
Miller, G. Brian
23
117 days
19 January 1937
CHB
Burnley FC

(FL 3rd)

1
0
6
Kay, Anthony H.
23
2 days
13 May 1937
LHB
Sheffield Wednesday FC

(FL 4th)

5
1
7

Paine, Terence L.
21
53 days
23 March 1939
OR
Southampton FC

(FL3 TOP)

2
1

8

Eastham, George E.
23
235 days
23 September 1936
IR
Newcastle United FC

(FL 6th)

4
2
9

Pointer, Raymond
23
218 days
10 October 1936
CF
Burnley FC

(FL 3rd)

3
3
10

Dobing, Peter A.
21
166 days
1 December 1938
IL
Blackburn Rovers FC

(FL 17th)

3
1
11

Holliday, Edwin
20
343 days
7 June 1939
OL
Middlesbrough FC

(FL2 3rd)

3
2
reserves:
David Gaskell (Manchester United FC

(FL 8th)

), George Cohen (Fulham FC

(FL 10th)

), Brian Labone (Everton FC

(FL 16th)

), Freddie Hill (Bolton Wanderers FC

(FL 7th)

), Gerry Mannion (Wolverhampton Wanderers FC

(FL TOP)

), John Fantham (Sheffield Wednesday FC

(FL 4th)

).
2-3-5
Macedo -
Angus, McNeil -
Setters, Miller, Kay -
Paine, Eastham, Pointer, Dobing, Holliday.

Averages:

Age
22 years 90 days
Appearances/Goals
4.2
0.5
Match Report
by Ken Jones, Daily Mirror, Monday, 16 May 1960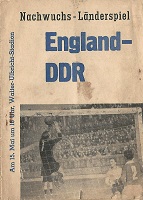 A BATTALION-STRONG contingent of British troops cheered their way out of the Walter Ulbricht Stadium here tonight after Young England had battled to a rugged, rip-roaring win over East Germany.
And they had plenty to cheer! For this was not the half-pace canter that most of us had expected against an experimental German line up. It was a game that had to be won with skill, determination, and often just PLAIN GUTS. Every one of the Germans came out fighting—and I mean fighting. I have seldom seen a side get away with so much so often. I counted six tackles—two in particular on slim inside right George Eastham and left winger Eddie Holliday—that would have meant a certain sending off in Britain. That was on top of the usual body checking that hindered touchline raiders Terry Paine and Holliday.
But Czech referee Vrbovec dismissed them all with a casual wave of his long arms.
So once again an English team were up against Continental-type tactics that put them in a near impossible position. Thankfully, they kept their heads and stuck to the rules as we know them in a successful fight back after being a goal down in seventeen minutes.
And if some of our tackling got a bit rugged, who could really blame the English lads?
Fortunately only one player was really hurt—German right back, Kalinke, who went off for ten minutes near the end. Young England skipper Maurice Setters, who drove his side to the limit in stamina-sapping heat, can take a special bow. Setters was cut down three times by clogging tackles, but he never lost command of the situation. And the way in which he rapped orders and encouragement across the pitch enhanced his chances of promotion to full England status. It's a pity that only a meagre 12,000 fans turned up for this game in a period of decline for English soccer. Because I am proud to report a battling England performance. These youngsters all pitched in after inside right Hans Riese dived in to nod the Germans into a shock 17th minute lead. But England were level three minutes later. Goalkeeper Tony Macedo punted a long ball through the middle. And from inside left Peter Dobing's header, Burnley centre forward Ray Pointer hooked home the equaliser. Macedo became an England hero when he pulled off a superb split-second save from a free-kick which would have put the Germans ahead again. And the Fulham 'keeper was there again with another couple of dazzling efforts in the second half. Then in the fifty-fourth minute Holliday got one of the coolest goals I have seen for a long time. As Paine's inch-perfect right-wing corner kick dropped at Holliday's feet, the British soldier fans on the terraces roared for the Middlesbrough winger to hit first time.
But Holliday calmly brought the ball down, picked his spot and belted it into the roof of the net.
That made it 2—1, but it was not until the eighty-eight minute that Dobing made the game safe for England with a header from Pointer's cross. Then in the dying seconds Holliday got his second goal and England's fourth by snapping up a loose ball and crashing it home.
A German official told me afterwards that they thought this was a hard, tough and skilful English side.
And if the Germans had any ideas about playing it tough, they met a bunch of lads who were not prepared to give an inch.

Match Report
as appears in the F.A. Yearbook 1960-61 pages 37 & 38
Before only 12,000 in East Berlin the Under-23 team began their tour with a splendid 4-1 victory. Germany opened the scoring after 17 minutes but it was soon clear that the hard-tackling England team were eager to seize every opportunity and they soon equalised. As the game progressed they became increasingly its masters, even though they had to wait until the last minutes before scoring their final two goals. During the second ha;f Macedo made many five saves. England's goals came from Holliday (2), Pointer, and Dobing; Riese scored for Germany.

Source Note
Official matchday programme
FA Yearbook 1960-61

Rothman's Yearbooks




Original newspaper reports
cg