320 vs. Yugoslavia





previous match

(32 days)


338 vs. Scotland


339


389 vs. Yugoslavia

Wednesday

,

11 May 1960


End of Season Friendly Match

England 3 Yugoslavia 3

[1-1]




Empire Stadium, Empire Way, Wembley Park, Wembley, Middlesex


Kick-off (BST): 3.00pm


Attendance: '60,000';


[1-1] Bryan Douglas 41
'A free kick by Wilson is flicked across the goal by Joe Baker and Douglas turned it in'

[0-1]

Milan Galić 27
'Branko Zebec put in a deadly free kick which deceived Swan and Galić applied the finish.'

2 News 2.5 Schools: Science & Life 2.30 Watch With Mother
2.45 Football: England vs. Yugoslavia
5 Little Jimmy 5.10 Experiment 5.25 Great Expectations 6 News

[2-1] Jimmy Greaves 48
'a left wing move by Charlton and Greaves saw Jerkovic try turn the ball back to his keeper. Joe Baker pushed it back to Greaves who shot in.'





[2-3] Joe Baker crashed a shot against the bar

89


[3-3] Johnny Haynes header 89
'...leapt to head in the rebound after Greaves' centre.'


[3-3] Joe Baker beat the keeper but hit the post

90






[2-2]

Milan Galić

58
'Željko Perušić pushed the ball through for Galić, who with a wiggle, lost Armfield.'
[2-3] Bora Kostić 80
'with a pass flicked on to him by Milan Galić'
Commentator: Kenneth Wolstenholme


"LAST-GASP GOAL SAVES ENGLAND"
Daily Mirror
Officials from

Scotland

England Party
FIFA ruling on substitutes
Yugoslavia

Referee

(black)
Robert Holley Davidson
31 (19 July 1928), Airdrie

THE FACTS as reported in the Daily News...
Fouls—by England 14, by Yugoslavia 8. Corners—to England 7, to Yugoslavia 7. Off-side—by England 4, by Yugoslavia 4.
Shots—England 16: first half 7 second half 9 (Flowers 3, Douglas 1, Haynes 2, Baker 3, Greaves 5, Charlton 2); Yugoslavia 17: first half 10, second half 7 (Durkovic 1, Zanetic 1, Lipusinovic 3, Jerkovic 3, Galic 4, Kostic 5).

flame flag

Linesmen

orange flag

John M. Wallace


Grangemouth

Ronald Gordon


Glasgow

England Team
Rank:

No official ranking system established;
ELO rating 9th
Colours:
The 1959 Bukta home uniform - White v-necked short-sleeved continental jerseys, blue shorts, white socks with red/white/blue calf hoop.


fourth match, W 1 - D 2 - L 1 - F 7 - A 7.

³⁵
Capt:

Ronnie Clayton


fifth, W 1 - D 3 - L 1 - F 9 - A 9.

⁵

Manager:
Walter Winterbottom, 47 (31 March 1913), appointed as FA national director of coaching/team manager on 8 July 1946;
113th match, W 63 - D 28 - L 22 - F 307 - A 162, one abandoned.¹³⁹

Trainer: Harold Shepherdson
The team chosen by the Selection Committee, headed by Joe Mears, on Tuesday, 19 April, in London.
England Lineup

four changes

from the previous match (Slater, Connelly, Roadbent & Parry out)

league position

(20 April)

Springett, Ronald

D.

24
294 days
22 July 1935
G
Sheffield Wednesday FC

(FL 4th)

3

5ᵍᵃ

2
Armfield, James C.
24
233 days
21 September 1935
RB
Blackpool FC

(FL 11th)

6
0
3
Wilson, Ramon
25
146 days
17 December 1934
LB
Huddersfield Town AFC

(FL2 7th)

2
0
4
Clayton, Ronald
25
280 days
5 August 1934
RHB
Blackburn Rovers FC

(FL 17th)

35
0

final app

1955-60

791
5
Swan, Peter
23
216 days
8 October 1936
CHB
Sheffield Wednesday FC

(FL 4th)

1
0
the 35th Wednesday player to represent England
6
Flowers, Ronald
25
288 days
28 July 1934
LHB
Wolverhampton Wanderers FC

(FL TOP)

13
2
7

Douglas, Bryan
25
350 days
27 May 1934
OR
Blackburn Rovers FC

(FL 17th)

13
2
8

Haynes, John N.
25
207 days
17 October 1934
IR
Fulham FC

(FL 10th)

34
14
9

Baker, Joseph H.
19
299 days
17 July 1940
CF
Hibernian FC, Scotland

(SL2 7th)

3
1
10

Greaves, James P.
20
81 days
20 February 1940
IL
Chelsea FC

(FL 12th)

6
3
11
Charlton, Robert
22
213 days
11 October 1937
OL
Manchester United FC

(FL 8th)

16
13
reserves:
Alan Hodgkinson (Sheffield United FC

(FL2 5th)

), Don Howe (West Bromwich Albion FC

(FL 5th)

), Tony Knapp (Leicester City FC

(FL 13th)

), Bobby Robson (West Bromwich Albion FC

(FL 5th)

), Peter Brabrook (Chelsea FC

(FL 12th)

), Denis Viollet (Manchester United FC

(FL 8th)

).
team notes:
John Connelly (Burnley FC

(FL 3rd)

) was the original named reserve outside right. He dropped out to undergo an operation and was replaced with Peter Brabrook.
Bryan Douglas was a doubt after suffering a groin strain in the FA Cup Final. Ray Wilson then injured himself in the two hour training session on Monday.
Peter Swan is the 140th player to make an appearance under Walter Winterbottom/ISC/post-war, and Ray Wilson becomes the 115th player, in the same period, to make a second appearance.
2-3-5
Springett -
Armfield, Wilson -
Clayton, Swan, Flowers -
Douglas, Haynes, Baker, Greaves, Charlton.

Averages:

Age

24

years 5 days
Appearances/Goals

12.0

2.9

Yugoslavia Team
Rank:

No official ranking system established;
ELO rating 12th to 11th
Colours:
Blue wing-collared jerseys, white shorts, red socks with white thin band.
Capt:
Luka Lipošinović


first, W 0 - D 1 - L 0 - F 3 - A 3.

Chief Selector:
Aleksandar Tirnanić, 48 (15 July 1911) since 1955.


Team chosen on Tuesday, 10 May.

Yugoslavia Lineup
Šoškić, Milutin
22
132 days
31 December 1937
G
Fk Partizan
11
15ᵍᵃ
2
Durković, Vladimir
22
187 days
6 November 1937
RB
Fk Crvena zvezda
12
0
3
Jusufi, Fahrudin
20
155 days
8 December 1939
LB
Fk Partizan
8
0
4
Žanetić, Ante
23
175 days
18 November 1936
RHB
Hnk Hajduk Split
6
1
5

Zebec, Branko
30
359 days
17 May 1929
CHB
Fk Crvena zvezda
61
17
6

Perušić, Željko
24
49 days
23 March 1936
LHB
nk Dinamo Zagreb
6
0
7
Lipošinović, Luka
23
364 days
12 May 1933
OR
nk Dinamo Zagreb
13
3
final app 1954-60
8
Jerković, Dražan, injured off 41st min
23
279 days
6 August 1936
IR
nk Dinamo Zagreb
1
0
9

Galić, Milan
22
64 days
8 March 1938
CF
Fk Partizan
17
4
10
Šekularac, Dragoslav
22
162 days
30 November 1937
IL
Fk Crvena zvezda
6
0
11

Kostić, Borivoje
29
332 days
14 June 1930
OL
Fk Crvena zvezda
18
11
Yugoslavia Substitutes
Mujić, Muhamed, on 41st min. for Jerkovic
28
16 days
25 April 1932
IR
Fk Velež
21
9
reserves:
not known
team notes:
The Yugoslavs have been together since 4 April, embarking on a four-country tour, Israel, Greece and Portugal, before the climax at Wembley. Only four of their 22 players are over 25 years of age.
They arrived at London Airport from Lisbon on Monday afternoon, 9 May.
Dragoslav Šekularac was the original named centre-forward, he swapped with Milan Galić just before the start.
One of the team selectors, Ljubomir Lovrić, made his Yugoslav debut in goal as an eighteen year-old

against England in May 1939

2-3-5
Šoškić -
Durković, Jusufi -
Žanetić, Zebec, Perušić -
Lipošinović, Jerković (Mujić), Galić, Šekularac, Kostić.

Averages:

(start)
(finish)
Age

24

years 170 days


24

years 312 days
Appearances/Goals

14.5


16.3

2.7
Match Report
by Mike Payne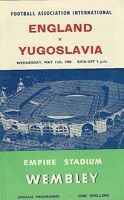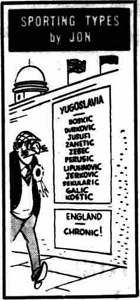 A CROWD of 70,000 saw this thrilling international at Wembley and enjoyed a late revival which saw then draw level and all but snatch victory. Once again, though, an Iron Curtain country came to this stadium and produced a typical brand of close-passing football which, at times, had the home side tied up in knots.

Both teams had early chances. Jimmy Greaves and Bobby Charlton for England Lipošinović for the Slaves all failed to take advantage when well placed in front of goal. With Šekularac the main tormentor, ably assisted by Perušić, Galić and Kostić, Yugoslavia began to take control and on the half-hour they took the lead. Zebec took a free-kick andb Jerković outjumped Peter Swan to glance the ball sideways for Galić to shoot home.

Just before half-time, Yugoslavia brought on a substitute when Mujic replaced Jerkovic but it did them little good as even nearer the break England found an equaliser. It was a similar goal to the earlier one, this time Joe Baker heading down Ray Wilson's free-kick for Bryan Douglas to flick the ball past Šoškić.

After the interval, England had their best spell. For 15 minutes, with Johnny Haynes pulling all the strings, they controlled proceedings. In the 48th minute, Greaves latched on to a fine pass by Charlton and made for goal. Baker played his part by pulling defenders out of position with some unselfish running, whilst Greaves continued to run on before shooting a fine goal wide of their goalkeeper.

At this stage it looked as though England would go on to win, but it was not to be as the Yugoslavs suddenly stepped up a gear. With half an hour to go, Perušić set up Galić with a lovely through pass and the inside-left scored his second to square things up at 2-2. That goal was cue for the visitors to turn on the style and it was keep-ball play for several minutes. This frustrated the home fans and they were drawn into the slow hand-clap.



In the 80th minute, a fine goal by Kostić, after a cheeky back-heel by Galić gave the Slavs the lead again, and it looked all over for the England team. Other chances were created by the talented Yugoslavian players but solid work by the excellent full-back pairing of Jimmy Armfield and Wilson held the team together and enabled England to make a barnstorming finish.

Greaves put in a cross from the left and Baker hit a tremendous volley against the crossbar. Before the disappointment of that could hit the crowd, Haynes popped up to head home the rebound to equalise yet again. Then in the final seconds, Baker was desperately unlucky to see his header from Charlton's centre strike the Yugoslav upright and bounce clear.

That could so easily have given England a sensational victory in a match that could just as easily lost.

Match Report
by Norman Giller
England were trailing 3-2 with 90 seconds to go when Joe Baker crashed the ball against the bar, and Johnny Haynes swept in the rebound. Straight from the kick-off an England attack ended with Baker again heading against the bar but this time there was nobody able to turn the ball back into the goal. An England victory would have been an injustice to a Yugoslavian side that played some excellent football, with two-goal Galić continually turning the defence inside out. England led 2-1 after 48 minutes following neatly taken goals either side of half-time by Bryan Douglas and Jimmy Greaves after the Yugoslavs had taken a 30th minute lead. It was a tough debut for the latest candidate for the No. 5 shirt, Peter Swan of Sheffield Wednesday. He replaced Bill Slater, who heard that he was dropped just a few minutes before being told that he had been elected 'Footballer of the Year'. Swan was stranded as Yugoslavia equalised on the hour, and a clever back heel by Galić gave Kosctic the chance to make it 3-2 with 10 minutes to go. This set up the dramatic climax to one of the most exciting international matches witnessed at Wembley.

Match Report
by Glen Isherwood
England's only victory in five meetings with Yugoslavia had been at Wembley in 1956. Yugoslavia had reached the World Cup quarter-finals in 1958 before losing to West Germany just a month after thrashing England 5-0 in Belgrade, They had also reached the quarter-finals of the first European Championship and, three days earlier , had lost the first leg, 2-1 to Portugal in Lisbon.
After half an hour the visitors took the lead when Jerkovic headed on a free kick from Zebec for Milan Galic to knock in the opener. England equalised just before the interval with a similar goal. A free kick from Wilson was headed on by Baker for Bryan Douglas to level. Just after half-time Charlton put Jimmy Greaves through to beat Soskic from a narrow angle but Yugoslavia drew level after an hour's play. Galic getting his second from a pass by Perusic. In the 80th minute Galic created another with a clever back-heel to Borije Kostic who shot past Springett. Defeat stared England in the face but with just two minutes left Baker hit the bar from Greaves' cross and Johnny Haynes rescued a draw with a header.

Match Report
as appears in the F.A. Yearbook 1960-61 page 37
The visit of Yugoslavia to Wembley recalled the previous meeting in Belgrade in 1958 when England was defeated 5-0. During the two-year interval, however, Yugoslav football, like our own, has been in a state of transition, and they had recently lost surprisingly to Israel and Portugal, England made several changes: Swan had his début at centre-half in place of Slater; Douglas was recalled to the right wing, with Haynes as his partner; Greaves replaced Parry at inside-left. It was a dull afternoon with intermittent drizzle and the youthful England team, while playing some forceful football, lacked cohesion. In contrast Yugoslavia were dainty and confident, their passing was precise and their ball-play careful, but they were bad finishers with the exception of outside-left Kostic. Swan was disappointing, Springett below his best and, though both backs were sound, a mistake by Armfield enabled Yugoslavia to equalise in the second half. Only Haynes and Greaves approached their best form in attack, though Charlton showed several fine bursts of speed in his unaccustomed place on the left-wing. Goals were scored by Galic (2) and Kostic for Yugoslavia; by Douglas, Greaves, and Baker for England.

Source Notes
TheFA.com
Original newspaper reports
Official Matchday Programme
Reprezentacija.rs


Drew Herbertson, Scottish FA historian

Rothman's Yearbooks




Mike Payne's England: The Complete Post-War Record


Norman Giller, Football Author


The Complete Book of the British Charts
cg