"GREAT SHOW BY GREAVES"
Daily Mirror
Officials

from Wales

Scotland
FIFA ruling on substitutes
England
Referee
Clifford William Kingston


44 (8 April 1915), Newport, Monmouthshire

Linesmen
J. Hawkins


Rhyl

R.E. Wright


Wrexham

Scotland Intermediate Team
Rank:

No official ranking system established;
Colours:
Made by Umbro - Dark blue continental jerseys with white v-neck collars/cuffs, white shorts, blue socks with red tops.
Capt:
Denis Law
Selector:
Scottish 2nd XI FA Selection Committee
Team chosen on Wednesday, 24 February 1960
Scotland Lineup
1
Blacklaw, Adam

Smith

22
182 days
2 September 1937
G
Burnley FC, England
2
5ᵍᵃ
final u23 app 59-60
2

Mackay, Duncan
22
232 days
14 July 1937
RB
The Celtic FC
3
1
3
Riddell, Ian

Girvan

22
298 days
9 May 1938
LB
St Mirren FC
1
0
4

Gabriel, James
19
144 days
10 October 1940
RHB
Everton FC, England
2
0
chosen as a Dundee FC player, signed for Everton FC before the match
5
Martis, John
19
338 days
30 March 1940
CHB
Motherwell FC
1
0
only u23 app 1960
6
Higgins, Billy
19
353 days
15 March 1940
LHB
Heart of Midlothian FC
2
0
7
Hunter, William
20
17 days
14 February 1940
OR
Motherwell FC
2
0
8

Cousin, Alan
21
361 days
7 March 1938
IR
Dundee FC
2
2
9

St John, John
21
269 days
7 June 1938
CF
Motherwell FC
1
2
10
Law, Denis
20
7 days
24 February 1940
IL
Huddersfield Town FC, England
2
0
11
Weir, Andrew

Best

22
108 days
15 November 1937
OL
Motherwell FC
2
0
unused substitutes:
not known
team notes:
Rangers' Alex Scott was the original outside-right, his place going to Hunter.
Left-back, Ian Riddell, is the father of actor, Derek Riddell (Strathblair, No Angels, The Book Group & State of Mind, also Doctor Who, Inspector George Gently, Casualty, Taggart, amongst others)
2-3-5
Blacklaw -
Mackay, Riddell -
Gabriel, Martis, Higgins -
Hunter, Cousin, St John, Law, Weir.

Averages:

Age
21 years 41 days
Appearances/Goals
1.8
0.1

England Intermediate Team
Rank:

No official ranking system established;
Colours:
The 1959 Bukta home uniform - White v-necked short-sleeved continental jerseys, blue shorts, red socks with white calf hoop.
Capt:
Maurice Setters


fourth match, W 1 - D 2 - L 1 - F 8 - A 7.

Manager:
Ronald Greenwood,

38

(11 November 1921), appointed over the 1959 summer, also assistant manager of Arsenal FC;


fourth intermediate match, W 1 - D 2 - L 1 - F 8 - A 7.

trainer: Fred Ford
Team chosen by the Intermediate Selection Committee, headed by Frank Adams, on Monday, 22 February.
England Lineup

five changes

from the previous U23 match

league position

(22 February)

6
Marshall, Gordon
20
244 days
2 July 1939
G
Hearts of Midlothian FC, Scotland

(SL TOP)

1
4ᵍᵃ
78
only u23 app 1960
2
Cohen, George R.
20
132 days
22 October 1939
RB
Fulham FC

(FL 7th)

3
0
3
Allen, Anthony
20
96 days
27 November 1939
LB
Stoke City FC

(FL2 10th)

7
0
final u23 app 58-60
4
Setters, Maurice E.
23
77 days
16 December 1936
RHB
Manchester United FC

(FL 12th)

12
0
=most apps

1960

5
Swan, Peter
23
146 days
8 October 1936
CHB
Sheffield Wednesday FC

(FL 4th)

2
0
6

Kay, Anthony H.
22
294 days
13 May 1937
LHB
Sheffield Wednesday FC

(FL 4th)

3
1
7
Crowe, Christopher
20
265 days
11 June 1939
OR
Leeds United AFC

(FL 20th)

2
1
8

Eastham, George E.
23
161 days
23 September 1936
IR
Newcastle United FC

(FL 9th)

2
1

9

Charlton, Robert
22
143 days
11 October 1937
CF
Manchester United FC

(FL 12th)

5
5
10

Greaves, James P.
20
11 days
20 February 1940
IL
Chelsea FC

(FL 15th)

10
10
England's third U23 hat-trick

=most goals

58-60

11

Sydenham, John
20
169 days
15 September 1939
OL
Southampton FC

(FL3 TOP)

2
0
final u23 app 59-60
reserves:
Alan Humphreys (chosen as a Shrewsbury Town FC

(FL3 8th)

, Leeds United AFC

(FL 20th)

on matchday), Tony Knapp (Leicester City FC

(FL 18th)

), Peter Dobing (Blackburn Rovers FC

(FL 10th)

)
On 29 February, half-back Jackie Bell (Newcastle United FC

(FL 9th)

) was drafted in as a reserve, replacing Knapp, who had to withdraw because of injury.
team notes:
Just hours after the announcement of the Intermediate side on 22 February, goalkeeper Alan Humphreys was transferred to Leeds United AFC for a £5,000 transfer fee.
Two changes from the original named team. Cohen was brought in to replace John Angus (Burnley FC

(FL 2nd)

), who was required by his club for a vital league match against Tottenham Hotspur FC, and Greaves was drafted in to replace Joe Baker (Hibernian FC, Scotland

(SL 5th)

).
For the first time, three English-born Scots are chosen - Gordon Marshall, Joe Baker and Chris Crowe. Although Baker had to drop out to play for his club...It could have been the first time two Scottish-based players were chosen for an England side.
pre-match notes:
The England party were situated in Leeds before their match with Scotland. They played a practice match against Leeds United AFC on 29 February. The result ended in a 2-2 draw (Sydenham and Greaves scoring for the U23's). They had another practice match a day later, 1 March, in which Setters injured an ankle, but recovered in time to take his place.
2-3-5
Marshall -
Cohen, Allen -
Setters, Swan, Kay -
Crowe, Eastham, Charlton, Greaves, Sydenham.

Averages:

Age
21 years 224 days
Appearances/Goals
4.5
1.4
Match Report
by Jimmy Stevenson, Daily Mirror, Thursday, 3 March 1960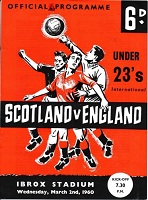 WHAT a night for wing half Jimmy Gabriel! Shortly before he turned out for Scotland's Under-23 team here at Ibrox, Gabriel was transferred from Dundee to Everton for £22,500. A matter of minutes later Gabriel began the move that led to Scotland's first goal. By half-time, he had helped the Scots to a 3—1 lead. The game was barely started when skipper Maurice Setters announced his presence with a crunching tackle on Denis Law, the Scots captain.
That was a mistake! Denis tumbled head over heels on the wet turf, rose, shook himself, and then set about the Englishmen.
He sprayed passes to all points of attack. He sized up weaknesses unerringly, pin-pointing English left back Tony Allen as a weak link. He went back deep in defence when needed. He tackled vigorously and profitably. The first goal came in the twenty-fifth minute. Gabriel lobbed, Law jumped with goalkeeper Gordon Marshall and harried him into fumbling. The ball dropped to the ground and St John netted. In the thirty-eighth minute, Cousin dashed through on a St John pass and scored a second goal. A minute later, Law baffled Setters with a sudden thrust of his body and moved off towards goal.
But he was pulled up sharply by the fingers of the Englishman holding on to his jersey. A penalty!
Duncan Mackay converted smoothly. Just before half-time, Jimmy Greaves, in a one-man foray that carried him swerving past three opponents in a dazzling run, scored a goal for England. Gabriel made Scotland's fourth goal, too. He crossed a free-kick into the goalmouth, and St John headed it in. Then Jimmy Greaves, the Chelsea match-winner, who was at Ibrox only because Joe Baker couldn't be there, scored the second England goal.
It was a replica of his first—a race through the middle, and a swerve past defenders, even the goalkeeper.
It seemed he had run too far, but his deft finishing touch from an acute angle completed a wonderful goal. Eighteen minutes from the end, Greaves completed his hat-trick, and George Eastham headed a sensational equaliser ten minutes from the finish.

Match Report
as appears in the F.A. Yearbook 1960-61 page 36
For long periods pla was dominated by Scotland who at one stage took a 4-1 lead. Goals were scored by St John, Cousins, and McKay. Then Greaves, at his best, scored the first of three great individual goals. St John made it 4-1, but then England was allowed to fight back and eventually equalise with the two further goals by Greaves and one by Eastham. For Scotland, Law was outstanding, but England, with the exception of Greaves, were below form.

Football League

Division Two




Brighton & Hove Albion 2
Bristol Rovers 2


Goldstone Ground, Hove (10,451)
Tiddy, Curry ~

Biggs, Bradford

Rotherham United 0 Sheffield United 0


Millmoor, Rotherham

(16,793)

European Cup

Quarter-final Second Leg




Wolverhampton Wanderers 2 Barcelona 5


Molineux Stadium, Wolverhampton (55,000)
Murray, Mason ~ Kocsis (4), Villaverde
Source Note
Official matchday programme
FA Yearbook 1960-61
Fitbastats.co.uk

Rothman's Yearbooks




Original newspaper reports
cg