Match Summary
Officials

from Italy

Germany

Type

England

Referee (yellow) - Gianluca Rocchi
42 (25 August 1973), Firenze, FIFA-listed 2008.

Assistant Referees - Lorenzo Manganelli, 41 (22 December 1974), Montevarchi, and Filippo Meli 38/39 (1977), Parma.

Fourth official - Paolo Valeri, 37 (16 May 1978), Roma, FIFA-listed 2011.

Black armbands are worn in respect of Johan Cruyff, the Dutch legend who died on 24 March.
A minute's silence held beforehand for those killed in the Belgium terrorist attack on 22 March.

10
Goal Attempts
19
2
Attempts on Target
6
0
Hit Bar/Post
0
5
Corner Kicks Won
7
Offside Calls Against
12
Fouls Conceded
13
63%
Possession
37%

Germany Team
Current World Champions

Colours:
Made by Adidas - Dark grey crew necked jerseys with black hoops/cuffs/collar and dark green sleeves, white adidas side trim, off-white shorts, off-white socks with black/green band/white vertical Adidas trim.

Rank:

FIFA (3 March 2016) 4th
EFO ranking Group Two
ELO rating 1st
Capt:
Sami Khedira
Manager:
Joachim Löw, 56 (3 February 1960), appointed Head Coach on 13 July 2006.
128th match, W 85 - D 22 - L 21 - F 312 - A 127.
Germany Lineup
1
Neuer, Manuel P.
29
27 March 1986
G
FC Bayern München eV
64
58 GA
14
Can, Emre
22
12 January 1994
RB
Liverpool FC, England
4
0
Emre Can cautioned in the 39th minute for Unsporting Behaviour for a foul on Danny Welbeck
3
Hector, Jonas M.
25
27 May 1990
LB
1 FC Köln 01/07 eV
11
0
16
Rüdiger, Antonio
23
3 March 1993
CD
AS Roma SpA, Italy
8
0
5
Hummels, Mats J., off 46th min.
27
16 December 1988
CD
BSV Borussia 09 eV Dortmund
45
4
6
Khedira, Sami
28
4 April 1987
M
Juventus FC SpA, Italy
58
5
18
Kroos, Toni
26
4 January 1990
M
Real Madrid FC, Spain
63
10
8
Özil, Mesut
27
15 October 1988
M
Arsenal FC, England
71
18

13

Müller, Thomas, off 75th min
26
13 September 1989
M
FC Bayern München eV
69
31
23
Gómez Garcia, Mario, off 79th min.
30
10 July 1985
F
Besiktas JK, Turkey, on loan from ACF Fiorentina, Italy
62
26
11
Reus, Marco, off 64th min
26
31 May 1989
M
BSV Borussia 09 eV Dortmund
28
9
Germany Substitutes
scoreline: Germany 1 England 0
25
Tah, Jonathan G., on 46th min. for Hummels
20
11 February 1996
CD
Bayer 04 Leverkusen
1
0
scoreline: Germany 2 England 1
9
Schürrle, André H., on 64th min.

(63:25)

for Reus
25
6 November 1990
M
VfL Wolfsburg eV
50
20
scoreline: Germany 2 England 2
10
Podolski, Lukas J., on 75th min.

(74:35)

for Muller
30
4 June 1985
born in Poland
M
Galatasaray SK, Turkey
127
48
19
Götze, Mario, on 79th min

(78:59)

for Gomez
23
3 June 1992
M
FC Bayern München eV
49
16
result: Germany 2 England 3

unused substitutes:

2-Shkodran Mustafi, 4-Sebastian Rudy, 12-Bernd Leno, 15-Matthias Ginter, 20-Christoph Kramer, 21-Julian Draxler, 22-Marc-Andre ter Stegen, 24-Karim Bellarabi, 26-Kevin Trapp, 27-Kevin Volland.
4-2-3-1
Neuer -
Can, Rüdiger, Hummels (Tah), Hector -
Kroos, Khedira -
Muller (Podolski), Ozil, Reus (Schurrle) -
Gómez (Gotze).

Averages (Starting XI):

Age
26.3
Appearances/Goals
43.9
9.2

England Team
Rank:

FIFA (3 March 2016) 9th
EFO ranking Group 4
ELO rating 8th to 5th
Colours:
The Nike 2016 away uniform

-

Red v-necked jerseys with crimson sleeves with royal blue collared trim/

side stripe, red shorts with royal blue side trim, blue socks.
Capt:
Gary Cahill, second captaincy
Manager:
Roy Hodgson, 68 (8 August 1947), appointed 1 May 2012,
48th match, W 29 - D 13 - L 6 - F 99 - A 36.
England Lineup
1
Butland, Jack, injured 43rd min.

(45:24)

23
10 March 1993
G
Stoke City FC
4
2 GA
2
Clyne, Nathaniel E.
24
5 April 1991
RB
Liverpool FC
10
0
3
Rose, Daniel L.
25
2 July 1990
LB
Tottenham Hotspur FC
1
0
4
Dier, Eric J.E.
22
15 January 1994
RM
Tottenham Hotspur FC
3
1
Eric Dier cautioned in the 80th min. for Unsporting Behaviour for a foul on Emre Can.
5
Cahill, Gary J.
30
19 December 1985
CD
Chelsea FC
41
3
6
Smalling, Christopher

L.

26
22 November 1989
CD
Manchester United FC
22
0

7

Lallana, Adam D., off 71st min.
27
10 May 1988
RF
Liverpool FC
20
0
8
Henderson, Jordan B.
25
17 June 1990
LM
Liverpool FC
23
0
9
Kane, Harry E.
22
28 July 1993
CF
Tottenham Hotspur FC
9
4
10
Alli, Bamidele J.
19
11 April 1996
AM
Tottenham Hotspur FC
5
1

11

Welbeck, Daniel

N.T.M., off 71st min.
25
26 November 1990
LF
Arsenal FC
34
14
England Substitutes
scoreline: Germany 1 England 0
13
Forster, Fraser

G.

, on 45th+1

(45:07)

for Butland
28
17 March 1988
G
Southampton FC
4
4 GA
scoreline: Germany 2 England 1
19
Vardy, Jamie R., on 71st min.

(70:20)

for Welbeck
29
11 January 1987
F
Leicester City FC
5
1
20
Barkley, Ross, on 71st min.

(70:25)

for Lallana
22
5 December 1993
LM
Everton FC
20
2
result: Germany 2 England 3

unused substitutes:

12- Kyle Walker, 14-Theo Walcott, 15-John Stones, 16-Phil Jagielka, 17-James Milner, 18-Danny Drinkwater, 21-Daniel Sturridge, 22-Tom Heaton.

team notes:

Manager Roy Hodgson had coached Switzerland against Germany in a Centenary friendly in June 1995 (1-2).
Only the fifth time England have won the match from being 2-0 down. First since against Italy, June 1976.
4-3-3
Butland (Forster) -
Clyne, Smalling, Cahill, Rose -
Dier, Alli, Henderson -
Lallana (Barkley), Kane, Welbeck (Vardy)

Averages (Starting XI):

Age
24.4
Appearances/Goals
15.6
1.9
Match Report by Mike Payne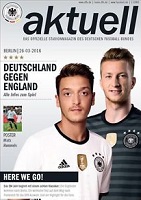 What an exhilarating football match this friendly against our arch-rivals, and current World Champions turned out to be! Right from the start the England players were full of confidence and pressed the Germans to a point where they were not comfortable at all. To see a German side constantly give the ball away during spells of England dominance was a joy for all England fans, and it was all down to the terrific work-rate of this young England team.





In the first chance for the visitors Gary Cahill's header from a corner went wide and shortly afterwards a Danny Rose run and cross just eluded Deli Alli as the ball flew across goal. It was a promising start by England, but Germany quickly, and typically, responded with Mario Gomez heading wide, Jack Butland punching away when danger threatened, and Marco Reus shooting wide. Alli was in the thick of things and his play was outstanding, this 19-year-old was pulling many of the strings in midfield and on 15 minutes he hit a terrific shot just over the bar. England were closing the Germans down well and Alli almost sent Kane through on goal with a fine pass. After 20 minutes the Germans had one of their good spells as they probed around the England defensive set-up. There was a narrow squeak for England when Gomez netted with a good shot, only for a very late linesman's flag to rule out the goal for a tight offside decision.





Some of the German late challenges went unpunished and Alli, Adam Lallana and especially Danny Welbeck were all brought down with cynical fouls. It was certainly a sign that the Germans were rattled though and all good news for England.





On 37 minutes England should have taken the lead. Great work by Harry Kane, as he worked the ball to Welbeck, but the Arsenal player was too slow in making his mind up to shoot, but as the ball was taken off his feet it ran loose to Lallana who shot over when it seemed easier to score. The Germans were still struggling to make any impact and Liverpool's Emre Can was finally booked after his umpteenth foul. On 40 minutes another Rose cross was only just cleared from the eager England forwards.





With two minutes of the half remaining the inevitable happened. Butland had obviously done something to his ankle when gathering a ball, but after he kicked clear the Germans put in a strong attack which left Toni Kroos attacking down the inside-left channel. For once England were slow to close him down and he just let fly from 25 yards, spotting that Butland was struggling. Nine times out of ten the goalkeeper would have saved the shot, albeit a good one, but this time the ball beat him at the near post. Butland's injury was treated but he had to leave the field on a stretcher, a sad way for his big chance to end. The goal gave the Germans a lift and the remainder of the half was a bit fraught for the England defence, especially with replacement Fraser Forster trying to find his feet. The half-time score was a travesty for England and they could consider themselves unlucky to be one down at the break.





There was a certain arrogance about the early second-half play by the Germans as they strutted their stuff, with possession and pressing being the order of their game. England started to give away some needless free-kicks and a centre from Reus bounced high and needed a tip-over from Forster.





The match started to become a bit more stretched as play swung from end to end. England tried hard to continue with the attacking mentality of their earlier dominance and Manuel Neuer made a fine diving save from another Alli effort. The excitement continued and Kane was so nearly through, again from Alli's prompting. On 55 minutes England were so unlucky not to equalise as Welbeck chased down a lost cause, gained possession and teed up Jordan Henderson. He seemed certain to score but the ball clipped a defender and flew over the top. Two minutes later and it was disaster for England. Poor defending allowed Gomez a free header, and this time Forster was well beaten. Both Cahill and Nathaniel Clyne were at fault for the goal but seeing a scoreline of 2-0 to Germany at that time seemed ridiculously unfair on England, who had played very well. It made what happened next all the more remarkable.





England were really up against it now and for a short spell Germany dominated, but on the hour mark England gave themselves a lifeline with a magnificent goal from Kane. A corner was half-cleared by Germany but Kane gathered possession moving away from goal. A superb turn took out two German defenders and Kane doesn't need any prompting to shoot, his fierce cross-shot beating Neuer all ends up as it went in off the far post. The goal lifted England for the last quarter of the match and the pace and excitement continued. Alli so nearly scored the goal his play deserved when, after a fine passing move, he hit a low shot which Neuer blocked with his outstretched left foot. England then made two substitutions as Jamie Vardy and Ross Barkley came on for Welbeck and Lallana. It was to make a memorable difference.





Just four minutes after coming on the Leicester front man scored his first goal for England, and what a stunner it was. Barkley sent Clyne scampering down the right at pace and when his cross came in Vardy nipped in front of the defender to score with a wonderful backheel that again gave Neuer no chance.





Rose made one superb tackle as Germany tried to come back, and the full-back can be very pleased with his debut. On the other side Clyne, too, had played well, and yet another good run and cross gave England another corner. Eric Dier was booked as the action became fast and furious and then on 84 minutes came the miss of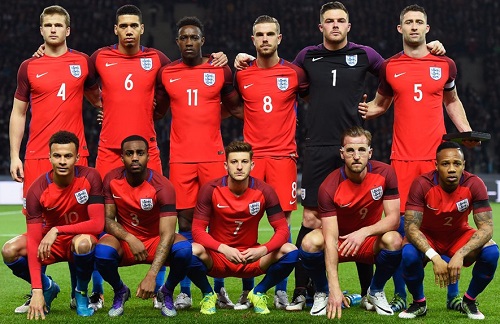 the match. The ever-alert Vardy spotted that a casual pass out from Neuer was not going to reach its target, and in he darted to gain possession before teeing up Alli for what seemed a certain goal. To the Tottenham player's obvious anguish, and to every England fan's too, Alli hit his shot too high! What a let-off for the Germans that was, but was it the end? Not likely.





With Germany and England both pushing for a winner, the clock ticked past 90 minutes. England won a corner in the first of the extra added on minutes and Henderson's cross to the near post was met majestically by Dier who crashed a header past the static Neuer. The comeback was complete!





This was a superb international match that had everything. England performed so well throughout and they thoroughly deserved their victory. The Germans were stunned at the end and although they will obviously be a force, as usual, at the Euro finals, this has given England so much confidence to take forward. I suppose we must not get too carried away, but I'm afraid I can't help it! This was a wonderful night for English football and to see the arrogance wiped off the German faces for once was a joy for all committed England fans. "They don't like it up 'em, Captain Mainwaring!"

Source Notes
BBC Sport
TheFA.com
RateTheRef.com
Mike Payne - football historian and contributor
____________________

CG