Match Summary
Officials

from Germany

England Squad

Type

Wales Squad
Referee (salmon pink) - Dr. Felix Brych
40 (3 August 1975), München, FIFA-listed 2007.

Assistant Referees - Mark Borsch, 39 (16 March 1977), Monchengladbach and Stefan Lupp, 37 (9 September 1978).
Fourth official - Matej Jug, 35 (25 September 1980), Slovenia, FIFA-listed 2007.



Additional assistant referees - Bastian Dankert

, 35 (9 June 1980) Schwerin, and Marco Fritz, 38 (3 October 1977) Korb.
Reserve Official - Robert Vukan, 39 (18 August 1976), Apace, Slovenia.
21
Goal Attempts
7
4
Attempts on Target
2
0
Hit Bar/Post
0
9
Corner Kicks Won
3
1
Offside Calls Against
1
10
Fouls Conceded
9
64%
Possession
36%

England Team
Rank:

FIFA (2 June 2016) 11th
EFO ranking Group 4
ELO rating 8th
Colours:
The Nike 2016 home uniform

-

White v-necked jerseys with light blue sleeves and ice blue collared tri

m/side stripe and white cuffs, white shorts with ice blue side trim, red socks.
Capt:
Wayne Rooney
(18th

(22)

captaincy (1

3)

)
Manager:
Roy Hodgson, 68 (9 August 1947), appointed 1 May 2012,
54th match, W 33 - D 14 - L 7 - F 108 - A 42.
England Lineup
1

Hart,

C.

Joseph

J.

29
58 days
19 April 1987
G
Manchester City FC
61
42ᵍᵃ
concedes his fourth direct free-kick
2
Walker, Kyle A.
26
19 days
28 May 1990
RB
Tottenham Hotspur FC
18
0
5
Cahill, Gary J.
30
180 days
19 December 1985
CD
Chelsea FC
45
3
6
Smalling, Christopher

L.

26
207 days
22 November 1989
CD
Manchester United FC
27
1
3
Rose, Daniel L.
25
350 days
2 July 1990
LB
Tottenham Hotspur FC
6
0
20
Alli, Bamidele J.
20
66 days
11 April 1996
RM
Tottenham Hotspur FC
10
1
17
Dier, Eric J.E.
22
153 days
15 January 1994
CM
Tottenham Hotspur FC
9
2

10

Rooney, Wayne M.
30
236 days
24 October 1985
LM
Manchester United FC
113
51
mst gls
8
Lallana, Adam D., off 73rd min.
28
37 days
10 May 1988
RF
Liverpool FC
25
0
9
Kane, Harry E., off 46th min.
22
324 days
28 July 1993
CF
Tottenham Hotspur FC
14
5
7
Sterling, Raheem S., off 46th min.
21
191 days
8 December 1994
in Kingston, Jamaica
LF
Manchester City FC
25
2
England Substitutes

scoreline:

England 0 Wales 1

15
Sturridge, Daniel A., on 46th min. for Sterling
26
289 days

1 September 1989

LF


Liverpool FC
19
12
6

7
the 87th goal to be scored by a substitute

a Liverpool player has now scored at the last 9 Tournaments

11
Vardy, Jamie R., on 46th min. for Kane
29
157 days
11 January 1987

CF


Leicester City FC

9


5
4

4
the 86th goal to be scored by a substitute
22
Rashford, Marcus, on 73rd min.

(72:36)

for Lallana
18
229 days
31 October 1997
RF
Manchester United FC
2
1
1
youngest to appear in ECF by five days
1

result:

England 2 Wales 1

unused substitutes:
4-James Milner, 12-Nathaniel Clyne, 13-Fraser Forster, 14-Jordan Henderson, 16-John Stones, 18-Jack Wilshere, 19-Ross Barkley, 21-Ryan Bertrand, 23-Tom Heaton.
team notes:
This is the first time England have kept an unchanged teamsheet since the opening matches of the 2014 World Cup Finals.
records:
A record eight goals have been scored by substitutes in a single season, breaking the previous record of six. The fifth Finals tournament to include scoring substitutes.
4-3-3
Hart -
Walker, Cahill, Smalling, Rose -
Alli, Dier, Rooney -
Lallana (Rashford), Kane (Vardy), Sterling (Sturridge).

Averages

(Starting XI)

:

Age
25 years 300 days
Appearances/Goals

32.1

6.0

Wales Team
Rank:

FIFA (2 June 2016) 26th
EFO ranking n/a
ELO rating 44th to 46th
Colours:
Made by Adidas - Grey and Charcoal hooped v-neck jersey with green collar/Adidas sleeve trim, charcoal shorts with green Adidas sidetrim, charcoal socks with green tops.
Capt:
Ashley Williams
Manager:
Christopher Patrick Coleman, 46 (10 June 1970), appointed 19 January 2012.
34th match, W 12 - D 7 - L 15 - F x - A x.
Wales Lineup
1
Hennessey, Wayne R.
29
144 days
24 January 1987
G
Crystal Palace FC, England
58

49ᵍᵃ

2
Gunter, Christopher R.
26
331 days
21 July 1989
RB
Reading FC, England
69
0
3
Taylor, Neil J.
27
130 days
7 February 1989
LB
Swansea City FC
30
0
4
Davies, Benjamin T.
23
53 days
24 April 1993
CD
Tottenham Hotspur FC, England

22

0


61st min. for a foul on Adam Lallana

(60:33),

trodding on his ankle.

5
Chester, James G.
27
146 days
23 January 1989
in Warrington, England
CD
West Bromwich Albion FC

, England

13
0
6
Williams, Ashley E.
31
298 days

23 August 1984


in Wolverhampton, England
CD
Swansea City FC
61
1

10

Ramsey, Aaron J.
25
173days
26 December 1990
RM
Arsenal FC

, England

41
10
16
Ledley, Joseph C., off 67th min.
29
146 days
23 January 1987
CM
Crystal Palace FC

, England

63
4
7
Allen, Joseph M.
26
94 days
14 March 1990
LM
Liverpool FC

, England

27
0

9

Robson-Kanu, T. Henry A., off 72nd min.
27
26 days
21 May 1989
in Acton, England
RF
Reading FC

, England

32
3
11
Bale, Gareth F.
26
336 days
16 July 1989
LF
Real Madrid CF

, Spain

57
21
Wales Substitutes

scoreline:

England 0 Wales 1

14
Edwards, David A., on 67th min.

(66:34)

for Ledley
30
134 days
3 February 1986
in Pontesbury, England
M
Wolverhampton Wanderers FC

, England

34
3
20
Williams, Jonathan P., on 72nd min.

(71:05)

for Robson-Kanu
22
251 days

9 October 1993


in Pembury, England
M
Crystal Palace FC

, England

14
0

result:

England 2 Wales 1

unused substitutes:
8-Andy King, 12-Owain Fon Williams, 13-George Williams, 15-Jazz Richards, 17-David Cotterill, 18-Sam Vokes, 19-James Collins, 21-Danny Ward, 22-David Vaughan, 23-Simon Church.
records:
Gareth Bale's opening free-kick is the third conceded by England in a Major Final Tournament, the thirtieth overall. The tenth in all competition (non-BC), making him the first Welshmen to score against England since Mark Hughes in 1984.
He has scored twice directly from a free-kick at Euro 2016, the first player since Germany's Thomas Haßler in 1992
Coach Chris Coleman was sold by Roy Hodgson when he was at Blackburn Rovers FC, to Fulham FC on 1 December 1997, breaking the third-tier transfer fee record.
5-3-2
Hennessey -
Gunter, Chester, A.Williams, Davies, Taylor -
Ramsey, Allen, Ledley (Edwards) -
Robson-Kanu

(J.Williams)

, Bale.

Averages

(Starting XI)

:

Age
27 years 139 days
Appearances/Goals

43.0

3.5
Match Report by Mike Payne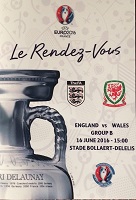 The match dubbed 'The Battle of Britain' turned out to be a cracking game with an explosive ending, with a final result that sees England top of the group. There was a lively start with both sides quickly settling into their game plans. Wales defending deeply and looking to catch England on the break, whilst the English looked more towards going forward at every opportunity. In the first few seconds Harry Kane charged down an attempted clearance by Ashley Williams and the ball could have fallen for the Spurs striker, but luckily for Wales they managed to clear.

The first clear chance also fell England's way, and they should have scored. After seven minutes Kane sent the lively Adam Lallana scampering away down the right and he hit a perfect cross into the path of the sprinting Raheem Sterling. It seemed certain he would score but instead, he blazed his shot over the crossbar. It really was a golden chance that should have been taken, and the England fans were left with a feeling of 'here we go again' after remembering the chances missed in the Russian match.





For Wales, Gareth Bale continued to be their main attacker and he did force a corner after one dangerous burst into the box. But in the main the play saw England probing for a way through and Wales content to soak up the pressure. Wayne Rooney tried a shot from 25 yards which also flew over the top, and there were plenty of meaty challenges flying in, in what was a typical British game. There was also a great deal of cat and mouse.





England were gradually getting on top and on 22 minutes a promising free-kick was wasted as Kane fired well over, then Kyle Walker and Lallana combined well, although nothing came of that. Danny Rose was then felled on the edge of the box and Rooney's free-kick was met with a backward header by Gary Cahill, but Wayne Hennessey got down well to gather. Walker was having a brilliant game down the right and his energy and control was superb for the whole 90 minutes. Another fabulous run won another corner for England. It was Rooney taking all the England corners in this game, so the many cases of 'expert advice' that was given had been heeded by the management as Kane was excused that particular duty. Having said that, Kane was again in the mix with a header, and there was a definite case of a penalty as the ball clearly struck Ben Davis's hand, unless of course you listened to Robbie Savage's version of the incident.





On 35 minutes another Rooney corner was met by Chris Smalling and his header had Hennessey groping as it flew just the wrong side of the post. There was no doubt England were having much the better of the game at this stage, but their problem was in the last third of the pitch as Wales were comfortably holding them. With three minutes to go to the break England were caught by the ultimate sucker punch. Rooney gave away a free-kick, some 25 yards out, and of course, that man Bale lined up his kick. The shot was on target but seemed to take an age to get there, so what Joe Hart was thinking about goodness only knows. By the time he woke up the ball had squirmed away from his dive and grasp. There was bedlam at the Welsh end as their fans went wild, but Geoff Boycott would have saved that with his Mum's stick of rhubarb!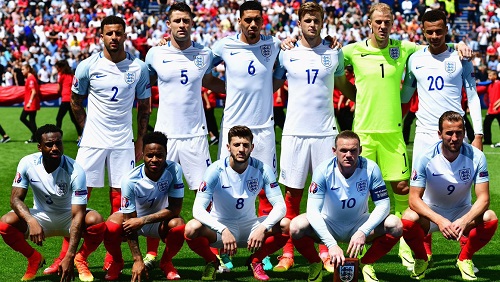 So, the half-time break came with England so much on top, and yet, they were a goal down! It was all very frustrating, but credit to Roy Hodgson because after the break he pulled off a very brave piece of management. On came Jamie Vardy and Daniel Sturridge and off went the ineffective Sterling and Kane. Immediately England were on the front foot again, and this time there was more speed and purpose about their attacking play. Walker won another corner and Sturridge shot over, whilst at the other end the hard-working Aaron Ramsey saw his shot safely gathered by Hart.





On 55 minutes Rooney tried a low curler, but Hennessey was down smartly to tip the ball around the post. From the corner the ball was scrambled away but fell to Sturridge on the left, he quickly chipped it back into the mix and the heads went up. Somehow the ball dropped at the feet of Vardy and he bundled it over the line from what seemed a certain offside position. But all credit to the officials because what they had seen and most of the rest of us hadn't seen was that the ball reached Vardy off the head of Ashley Williams!





Walker, playing like a man possessed, then made yet another lung-busting run down the right and sent over a terrific cross, Lallana's shot was blocked as were several others as the Welsh defenders somehow scrambled the ball away. Sturridge had another good run and shot but always that last final pass was breaking down for England, even though it seemed just a matter of time before that next goal would come. As the game zoomed towards its crescendo, Wales made substitutions and then Hodgson sent on young Marcus Rashford to add to England's firepower. At the other end though Bale continued to be a danger and one header after he outjumped Rose flew wide. It was all very, very tense!





Welsh substitute Jonathan Williams was given space for a clear shot but the ball flew over the top of Hart's goal, a rare attack from Wales at this stage. At the other end England were trying all they knew to try and unlock the tough and determined Welsh defence. Walker tried his luck with a fierce drive and then Cahill's header was deflected for a corner. Three minutes were added by the referee and in the second of those England, finally, gained their deserved reward. Sturridge picked up possession just outside the left-hand side of the box. A quick flick of his foot passed the ball towards Deli Alli and a dart forward onto Alli's deft return flick and Sturridge somehow squirted a shot under Hennessey and in to the back of the net. If the agony was Russia's late equaliser in the last game, then the ecstasy was definitely this moment of a pulsating clash. Wonderful stuff by England and no-one could begrudge them their victory, except perhaps a few crestfallen Welsh fans. We know how they felt, but this time we were the ones celebrating a last second goal.





Even then the ever-present threat from Bale had English hearts in their mouth as his flying header flew just wide of the goal. Phew, and phew again. Don't you just love watching England play football!





I have to end this report with another mention of Kyle Walker as I have never seen a better, more brilliant and clever piece of wing-back play in over 50 odd years of watching football. I had my doubts about the player before the tournament but he has been an absolute star so far and my hat goes off to him for a breathtaking performance.


Source Notes
TheFA.com
BBC Sport
UEFA.com


Mike Payne - football historian and contributor
cg