Rank:

FIFA (16 July 2020)

16th


EFO ranking Group Five


ELO rating

16th

Colours:
Made by Hummel - Red v-necked jerseys with white sleeve chevrons/collar trim, white shorts with red side chevrons, red socks with white tops.
Capt:
Kasper Schmeichel
Head Coach:
Kasper Hjulmand, 48 (9 April 1972), appointed 12 June 2020, effective 1 July 2020,
second match, W 0 - D 1 - L 1 - F 0 - A 2.
Denmark Lineup
1
Schmeichel, Kasper P.
33
308 days
5 November 1986
G
Leicester City FC, England
55
44ᵍᵃ
18
Wass, Daniel
31
100 days
31 May 1989
RB
Valencia CF, Spain
22
0
13
Jørgensen, Mathias J
30
138 days
23 April 1990
RCD
Fenerbahçe SK, Turkey
30
2
6
Christensen, Andreas B.
34
151 days
10 April 1986
LCD
Chelsea FC, England
33
1
7
Skov, Robert
24
111 days
20 May 1996
in Marbella, Spain
LB
TSG 1899 Hoffenheim, Germany
6
3
15
Nørgaard, Christian T., off 73rd min.
26
121 days
10 May 1994
RM
Brentford FC, England
1
0
10
Eriksen, Christian D.
28
207 days
14 February 1992
CM
FC Internazionale Milan, Italy
97
31
8
Delaney, Thomas J., off 76th min.
29
5 days
3 September 1991
LM
Bsv Borussia 09 Dortmund, Germany
45
5
20
Poulsen, Yussuf Y.
26
85 days
15 June 1994
RF
RB Leipzig, Germany
44
7
12
Dolberg Rasmussen, Kasper
22
338 days
6 October 1997
CF
Olympique Gymnast Club de Nice, France
19
5
9
Braithwaite Christensen, Martin, off 83rd min.
29
95 days
5 June 1991
LF

FC Barcelona, Spain

41

7

52nd min. following a bad foul on Harry Kane in the attacking half
Denmark Substitutes
23
Højbjerg, Pierre-Emile K., on 73rd min.

(72:15)

for Nørgaard
25
34 days
5 August 1995
M
Tottenham Hotspur FC, England
35
3
11
Falk Jensen, Rasmus, on 76th min.

(75:35)

for Delaney
29
237 days
15 January 1992
AM
FC København
2
0
4
Kjær, Simon T., on 82nd min

. (82:26) for Braithwaite

31
166 days
26 March 1989
D
AC Milan, Italy
97
3

result:

Denmark 0 England 0

unused substitutes:

3-Jannik Vestergaard, 5-Joakim Mæhle, 14-Henrik Dalsgaard, 16-Jonas Lössl, 17-Anders Christiansen, 19-Jacob Bruun Larsen, 21-Andreas Cornelius, 22-Frederick Rønnow

.

records:

Denmark have kept six clean sheets in their last eight matches, conceding three goals in the other two matches.
4-3-3
Schmeichel -
Wass, Jørgensen, Christensen, Skov -
Nørgaard (Højbjerg), Eriksen, Delaney (Falk) -
Poulsen, Dolberg, Braithwaite (Kjær).

Averages (Starting XI):

Age
28 years 285 days
Appearances/Goals

35.7

5.5
Rank:

FIFA (16th July 2020) 4th
EFO ranking Group One (2nd)
ELO rating =9th
Colours:
The Nike 2020 home shirt

-

White crew-necked jerseys

with navy blue

collar and side trim, navy blue shorts with pale blue side stripe, white socks.
Capt:
Harry Kane ²⁵
26th, W 16 - D 5 - L 5 - F 64 - A 24.
Manager:
Gareth Southgate, 50 (3 September 1970), appointed caretaker manager on 27 September 2016, appointed as permanent manager on 30 November 2016.
43rd match, W 25 - D 10 - L 8 - F 88 - A 33.
England Lineup
1
Pickford, Jordan L.
26
185 days
7 March 1994
G
Everton FC
26
23ᵍᵃ
tenth most apps
2
Alexander-Arnold, Trent

J.

, off 87th min.
21
337 days
7 October 1998
RWB
Liverpool FC
11
1
3
Trippier, Kieran J..
29
352 days
19 September 1990
LWB
Club Atlético de Madrid, Spain
21
1

1249

4
Coady, Conor D.

27
196 days
23 February 1993
CD

Wolverhampton Wanderers FC
1
0
36th Wolves player first since Matt Jarvis in 2011
5
Gomez, Joseph D.
23
108 days
23 May 1997
RD
Liverpool FC
10
0
6
Dier, Eric J.E.
26
237 days
15 January 1994
LD
Tottenham Hotspur FC
42
3

1250

7
Phillips, Kalvin M., off 76th min.
24
281 days
2 December 1995
RM
Leeds United AFC
1
0
32nd United Player first since Alan Smith in 2004
8
Rice, Declan
21
238 days
14 January 1999
LM
West Ham United FC
9
0
9
Kane, Harry E.

27


42 days
28 July 1993
CF
Tottenham Hotspur FC
47
32
10
Sterling, Raheem S.
25
275 days
8 December 1994
in Kingston, Jamaica
LF
Manchester City FC
58
13

11

Sancho, Jadon M., off 60th min.
20
167 days
25 March 2000
RF
Bsv Borussia 09 Dortmund, Germany
13
2

England

Substitutes
18
Mount, Mason T., on 60th min.

(59:37)

for Sancho
21
242 days
10 January 1999
RF
Chelsea FC
7
2
0
5
1251
17
Grealish, Jack P., on 76th min

(75:35)

for Phillips
24
363 days
10 September 1995
RAM
Aston Villa FC
1
0

the 75th Villa player to represent England

94

15
Maitland-Niles, Ainsley C., on 87th min

. (86:18)

for Alexander-Arnold
23
10 days
29 August 1997
RWB
Arsenal FC
1
0
1252

the 64th Arsenal player to represent England

result:

Denmark 0 England 0

unused substitutes:

12-Tyrone Mings, 13-Nick Pope, 14-Michael Keane, 16-James Ward-Prowse, 19-Tammy Abraham, 20-Danny Ings, 22-Dean Henderson.

team notes:

Harry Kane and Jordan Pickford are the only two to have featured in all eight Nation League matches.
Jack Grealish's great great grandfather,

Billy

Garraty, also played for England in 1903.
The last four fixtures against Denmark have come under four different managers:- Eriksson (2005), Capello (2011), Hodgson (2014) and now Southgate.

records:

England have not beaten Denmark in a qualification match since 1979.
Four players have debuted together in a competitive match for first time since 1971 against Malta.
It is the the first time Gareth Southgate has given debuts to four players in one match.

manager Gareth Southgate was an unused sub against Denmark in the 2002 WCF, and had to withdraw from the squad in November 2003.

3-4-3
Pickford -
Gomez, Coader, Dier
Alexander-Arnold (Maitland-Niles), Phillips (Grealish), Rice, Trippier
Sancho (Mount), Kane, Sterling


notes: Grealish replaced Mount as the attacking midfielder

Averages (Starting XI):

Age
25 years 22 days
Appearances/Goals
21.7

4.7
Whenever I write these reports for this brilliant website, I try so hard to concentrate on the positives and forget about this, that, and in some cases, the other, that goes on around the team. Gareth Southgate had a tough time in the short build up to the two matches that had to be played before our season starts, and two clean sheets, a win and a draw seems a fair return given all that has gone on. However, in describing the game itself, I cannot find too many positives to record.





In the first ten minutes there was very little happening, with neither side showing much in the way of attacking intent. Southgate gave two players, Conor Coady and Kalvin Phillips, their International debuts, and one more debutant came on as a substitute, more of that later. Coady, especially, slotted in well and carried his good form shown with Wolves all last season, straight into the higher grade of football with ease.





Kieran Trippier worked a training ground move from an England corner in the 11th minute but Raheem Sterling scuffed his shot. Both sides were poor on quality, although one better move down the right for England ended with Trent Alexander-Arnold's cross being well cut out by Leicester's Kasper Schmeichel in the home goal. Then we had the first dangerous move forward by Denmark on 18 minutes as Kasper Dolberg made a probing run before ending with a good shot just over Jordan Pickford's crossbar. That was the best chance of the match so far. Sadly, the soporific mood of the play continued for much of the first-half. Eric Dier's overhit free-kick was typical of the lacklustre England attempts, and there was little spark coming from the midfield. Phillips didn't do anything wrong, he just didn't do very much at all, like several of his teammates.





Just after the half-hour Denmark came close to an opening goal. Martin Braithwaite chested the ball down well and fired in a 25 yard shot that flew just wide of Pickford's left-hand post. England responded with Declan Rice putting a good pass to Alexander-Arnold, but the chance was missed without testing Schmeichel. Sterling again looked England's most likely attacker, but unfortunately he was rarely given a decent pass. England were then grateful to Pickford when Denmark had their best chance so far. A terrific turn by Christian Eriksen took his old teammate Dier out of the game, and his pass found Dolberg again, but Pickford made an excellent save from the striker's fierce shot.





This led to a better spell for the Danes, forcing several corners, but Coady showed his calmness under pressure as he marshalled the defence well. A late free-kick by Alexander-Arnold came to nothing and the very disappointing half predictably ended goalless. If we thought it was bad against Iceland then this match was on a par, at the least.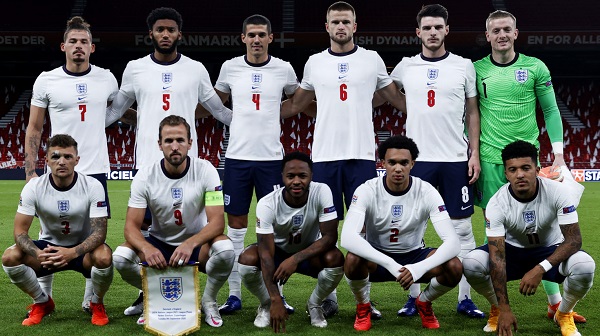 The second-half started with a shot by Eriksen being blocked by Dier but there was still no real urgency in the game. Braithwaite picked up a yellow card for a foul on Harry Kane and then, in the 59th minute, Pickford easily gathered a low shot by Thomas Delaney. It was time for a change or two, and on the hour Mason Mount came on for the ineffective and disappointing Jadon Sancho. This led to a better spell by England.





First, a good move involving Joe Gomez, saw Alexander-Arnold cross dangerously from the right, with ball going across goal to Trippier out on the left. He centred back in to the middle where Kane headed just over. The ball was just a fraction too high but at least it was an effort on goal. With 20 minutes left Sterling's shot was paddled around the post by Schmeichel, but the corner came to nothing. Mount's introduction had livened England up a little and on 75 minutes, long overdue in many people's eyes, Jack Grealish was finally given a chance to make an impact, coming on for Phillips. Denmark also made changes before Sterling, Mount and Rice combined to set up Grealish. The Aston Villa star was crowded out as he burst into the box but at least he was being very positive, something that had been lacking all through the game.





In the 82nd minute Denmark so nearly broke the deadlock, and really should have done. A high ball into the box was headed down by Yussuf Poulsen, right into the path of the inrushing Eriksen. A goal seemed certain, but the former Tottenham man sent his shot over the bar, with a lunge by Gomez probably affecting his attempt.





Now listen, us reporters are finding writing reports on England hard enough with all these double-barrelled names joining the team, so the last thing we wanted was another one coming on for a debut as a substitute. Ainsley Maitland-Niles came on, and to be fair he replaced Alexander-Arnold, which at least helped us a little bit.





Ainsley was soon in the action and almost set up Kane for a goal, although substitute Simon Kjaer responded with a clear header from Robert Skov's free-kick. Thankfully the Dane headed over the bar. England's late goal in Iceland won that game, so surely they couldn't do it again with another last second goal, well yes, they nearly did just that. A mistake by Schmeichel allowed Kane to touch the ball past him to give himself a chance from a tight angle. Kane hit the ball well, and on target, but at the last moment Mathias Jorgensen came from nowhere to clear the ball off the line.





To be honest, England didn't deserve victory, but then, nor did Denmark. It was that sort of game. Onwards to the next group match

.