In magnificent weather the international football match, England v. Ireland, took place on Saturday at Belfast. The attendance of spectators was larger than has been seen at any previous match, and the ground was in capital order. The English team arrived on Friday, and after a day's rest turned up in splendid condition. After having been photographed the teams took to the field at 3.40, and England having won the toss Shutt, of Stoke, who replaced Bailey, kicked off against the wind and hill. In about 15 minutes Williams took the first and only goal for Ireland. This was a complete surprise for all parties concerned, and immediately the visitors took up the offensive, the result being that by their magnificent passing, which was admired by all, two goals were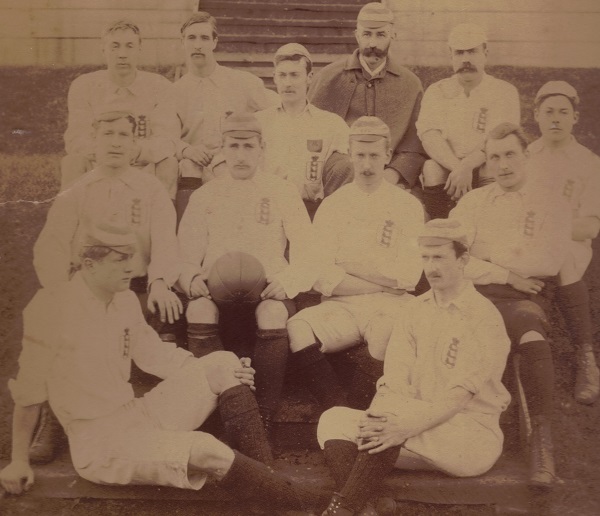 secured by Spilsbury before half time. After the change of ends the Englishmen still had the best of the play, and although the Irish goal keeper did his very best to defend his position, the visitors would not be denied. Their splendid passing was everywhere loudly praised; indeed it must be said that it completely demoralised the home team. Several exceedingly brilliant attempts were made by the Irish forwards to retrieve their position, but it was all in vain. The Englishmen steadily added to their score, and when time was called the game stood six goals to one in favour of the visitors. Of these, Spilsbury obtained four, Dewhurst one, and Lindley one. Throughout the game it was easy to see that the Englishmen had the best of it, but the prevailing feeling was that Ireland should have made a better stand, seeing that the team chosen was about the best that could have been picked. It is hardly necessary to state that Rose, as a goalkeeper, could not be excelled, and that the play of Shutt, Spilsbury, Lindley, and Dewhurst, was of a high-class character; while on the Irish side Gillespie, Watson, Johnson, Hastings, M'Clatchey, Molyneux, and Crone was all that the most fastidious could desire. The English team was certainly the strongest one, and it is no disgrace to the Irishmen that they have been again beaten so decisively on their own ground.

Blackburn Rovers defeated Swifts, 2-1, at Derby, in the F.A. Cup semi-final. Swifts' goal was netted by Charlie Bambridge, who had scored eleven times for England, including the equaliser against Scotland, the previous year. In the final, Blackburn were to complete a hat-trick of victories in the competition, the last occasion that the trophy has been won by the same club in three consecutive years.
The rugby union international between Scotland and England, delayed by a week because of heavy snow, ended scoreless in Edinburgh.
It was on 13 March 1886 that the Prime Minister, William Gladstone finally revealed his plans for an Irish parliament in Dublin. The Home Rule Bill, which followed, was to split the Liberal party and bring down the government, four months later.