England Football Online
Under 23 Results
Page Last Updated 26 June 2022
Deutschland
previous senior match (26 days)
329 vs. Scotland
previous match (three days)
'U23' 16 vs. Italy


int

17
'U23' 18 vs. Hungary

Sunday

,

10 May 1959




End of Season Tour of Europe Intermediate Match





West Germany 2 England 2

[1-1]




Stadion Bochum, Castropher Straße, Bochum, Arnsberg, Nordrhein-Westfalen.


Kick-off (CET & BST): 1.00pm
Attendance:

'22,000 watched the match';

'25,000';
unknown kicked-off

[1-1] Dieter Backhaus 14


'

cracking the ball past Macedo as the keeper advanced'

[0-1] Tony Kay 13
'Albert Scanlon went through to lay on a great pass for Kay to take on and hit home.

'

[2-1] Maurice Setters own goal 75


'a harmless 30-yard toe-punt from Backhaus struck Setters on the foot, glanced ten yards off course, and rolled into the net past a helpless Macedo.'


The Mirror reports it was John Angus clearing


[2-2] Jimmy Robson 81
'Tony Allen broke up ann attack; came through with the ball and placed a perfect pass for Robson to run on to and score

'

There is no Television or Radio coverage


"REF TRIES TO STOP SIZZLER"
Daily Mirror
Officials

from Netherlands

West Germany
FIFA ruling on substitutes
England Party
Referee
Johannes Heinrich Martens


44/45 (1914), Zeist

Linesmen
tbc
tbc

West Germany Intermediate Team
Rank:

No official ranking system established;
Colours:
white crew necked jerseys with black colla

r/cuffs

, black shorts, green socks with white tops.
Capt:
not known

Manage

r:
Joséf Herberger, 62 (28 March 1897), appointed in June 1955.

trainer:

Giovanni Ferrari

West Germany Lineup
1
Ewert, Fritz
22
90 days
9 February 1937
G
1. FC Köln
3
3ᵍᵃ
2
Giesemann, Willi
21
250 days
2 September 1937
RB
VfL Wolfsburg
2
0
final u23 app 58-59
3
Rausch, Friedel
19
72 days
27 February 1940
LB
Meidericher Sv 02 Duisburg
3
0
4
Schulz, Willi
20
218 days
4 October 1938
RHB
Sv Union Günigfeld 1911
1
0
only u23 app 1959
5
Jäger, Günter
23
140 days
21 December 1935
CHB
Düsseldorfer TSv Fortuna 1895
3
0
final u23 app 57-59
6
Lowin, Heinz
20
136 days
25 December 1938
LHB
VfL Bochum
1
0
7
Kuster, Ernst
19
140 days
25 January 1940
OR
Sg Eintracht Gelsenkirchen
1
0
only u23 app 1959

8

Hermann, Günter
19
249 days
2 September 1939
IR
Karlsruher SC
2
1
final u23 app 1959
9
Kölbl, Rudolf
21
333 days
11 June 1937
CF
TSv München 1860
1
0
only u23 app 1959
10
Höher, Heinz
20
272 days
11 August 1938
IL
Bayer 04 Leverkusen
1
0
11

Backhaus, Dieter
22
40 days
31 March 1937
OL
VfL Bochum
1
1
unused substitutes:
not known
2-3-5
Ewert -
Giesemann, Rausch -
Schulz, Jäger, Lowin -
Kuster, Hermanns, Kölbl, Höher, Backhaus

Averages:

Age
21 years 7 days
Appearances/Goals
1.7
0.1

England Intermediate Team
Rank:

No official ranking system established;
Colours:
Red v-necked short-sleeved continental jerseys with red/white/blue trimmed collar/cuffs, navy blue shorts, white socks with red and blue cadet stripes
Capt:
Maurice Setters


first, W 0 - D 1 - L 0 - F 2 - A 2.

acting-manager:
Ronald Greenwood, 37 (11 November 1921), also assistant manager of Arsenal FC;


first intermediate match, W 0 - D 1 - L 0 - F 2 - A 2.

trainer: Fred Ford
Team chosen by the Intermediate Selection Committee, headed by Frank Adams, on Monday, 20 April.
England Lineup

four changes

from the previous U23 match

league position

(20 April)

Macedo, Eliot
21
77 days
22 February 1938
in Gibraltar
G
Fulham FC

(FL2 2nd)

2

2ᵍᵃ

66
2
Angus, John
20
250 days
2 September 1938
RB
Burnley FC

(FL 5th)

1
0
3

Allen, Anthony
19
164 days
27 November 1939
LB
Stoke City FC

(FL2 6th)

5
0
4

Setters, Maurice E.
22
145 days
16 December 1936
RHB
West Bromwich Albion FC

(FL 8th)

9
0
67
5
Pacey, David
22
220 days
2 October 1936
CHB
Luton Town FC

(FL 18th)

1
0
only u23 app 1959
6

Kay, Anthony H.
21
362 days
13 May 1937
LHB
Sheffield Wednesday FC

(FL2 TOP)

2
1
7
Brabrook, Peter
21
183 days
8 November 1937
OR
Chelsea FC

(FL 13th)

7
1
68
8

Robson, James
20
107 days
23 January 1939
IR
Burnley FC

(FL 5th)

1
1
only u23 app 1959
69

9

Dobing, Peter A.
20
160 days
1 December 1938
CF
Blackburn Rovers FC

(FL 9th)

1
0

10

Parry, Raymond A.
23
114 days
19 January 1936
IL
Bolton Wanderers FC

(FL 4th)

4
1
final U23 app 57-59
11

Scanlon, Albert Joseph
23
212 days
10 October 1935
OL
Manchester United FC

(FL 2nd)

5
0
final U23 app 58-59
reserves:
Peter Wakeham (Sunderland AFC

(FL2 14th)

), John Connelly (Burnley FC

(FL 5th)

).
team notes:
The managership of this match fell to the assistant and trainer, Ron Greenwood, as the manager, Walter Winterbottom, had left the tour to embark on the senior team's tour of South America.
Centre-forward Peter Dobing was a doubt before the match. But injuries elsewhere necessitated him having injections for a viral disease. He still was not match-fit.
2-3-5
Macedo -
Angus, Allen -
Setters, Pacey, Kay -
Brabrook, Robson, Dobing, Parry, Scanlon.

Averages:

Age
21 years 214 days
Appearances/Goals
3.5
0.2
Match Report
by Bill Holden, Daily Mirror, Monday, 11 May 1959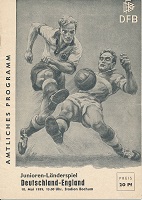 WITH the temperature sizzling in the nineties in the sun, Dutch referee Peter Martens amazed the players by trying to stop this Under-23 international here today. Five minutes before the end he went over to Maurice Setters, the West Bromwich right-half, captaining Young England for the first time, and said:
"It's too hot to play on. How about calling it off?"
Setters replied: "We'll keep going. We want to win if we can."
Later the England team boss Ron Greenwood told me: "I think the lads did well in view of the extreme heat. It must have been murder out there." The England youngsters had the ability to whip the pants off this German team, but in the conditions neither side ever gave one hundred percent effort all through. When they did, England delighted the 4,000 British troops, who came here to cheer them on. Waving Union Jacks sounding hooters and chanting "Who do we appreciate?" they almost turned it into a home game. It blazed into life in the thirteenth minute. Outside left Albert Scanlon went through to lay on a great pass for red-headed Tony Kay, Sheffield Wednesday left-half to take on and hit home. But a minute later German outside-left Dieter Backhaus equalised, cracking the past Tony Macedo as the Fulham goalkeeper advanced. Backhaus, a local boy from Bochum's own club, was the German star. It was he who put them ahead in the seventy-ninth minute, when big John Angus, the Burnley right back, helped the ball into the net trying to clear.
Urged on anxiously and ardently by every Britisher here, England saved the match with just nine minutes left.
Tony Allen, the Stoke full back, broke up an attack; came through with the ball and placed a perfect pass for Burnley's Jimmy Robson to run on to and score. Then these English lads fought desperately. In the last few minutes, Peter Brabrook, Chelsea's right-winger, was brought down for what seemed an obvious penalty, but it wasn't allowed. In the last sixty seconds they forced two corners, but it was too late—AND TOO HOT.

Match Report
as appears in the F.A. Yearbook 1959-60 page 35
Once again the Under-23 team played well to draw with Germany in a match played in a fierce battle in Bochum. Several changes had to be made from the side that beat Italy, owing to injury and to calls to the full team, but England took the lead early on with a goal from Kay. A minute later Backhaus equalised, and in the second half Germany took the lead when Setters deflected a Backhaus shot into his own goal. In the closing stages England fought back strongly, and Robson deservedly made the scores level. Macedo played well in goal, and Allen, Setters, Kay, and Robson could scarcely be faulted.

Source Note
Official matchday programme
FA Yearbook 1959-60

Rothman's Yearbooks




Original newspaper reports
cg