Match Summary
England Squad

Type

Lithuania Squad

Referee (red) - Pavel Královec
37 (16 August 1977), Domazlicich,

FIFA listed 2005.

Assistant Referees - Roman Slyško PhD, 41 (4 August 1973), Šal'a, Slovakia and Martin Wilczek, 44 (23 May 1970).
Fourth official - Tomáš Mokrusch, 33 (5 January 1982).

Additional Assistant Referees - Radek Príhoda, 41 (25 March 1974), and Michal Paták, 39 (28 October 1975).
UEFA Referee Observer - Kaj Natri, Finland
UEFA Delegate - Benny Jacobsen, Denmark

29
Goal Attempts
3
20
Attempts on Target
0
2
Hit Bar/Post
0
8
Corner Kicks Won
1
0
Offside Calls Against
1
11
Fouls Conceded
13
68%
Possession
32%

England Team
Rank:

FIFA (12 March 2015) 17th
EFO ranking Group 3
ELO rating 9th
Colours:
The Nike 2014 home uniform

-

White v-necked jerseys with shadowed pinstripes and silvery white trim, white shor

ts with silvery white trim, white socks.
Capt:
Wayne Rooney


(ninth

(22)

captaincy

(

9)

)


Gary Cahill, 72nd minute.
Manager:
Roy Hodgson, 67 (9 August 1947), appointed 1 May 2012,
38th match, W 22 - D 11 - L 5 - F 77 - A 29.
England Lineup
1

Hart,

C.

Joseph

J.

27
3432days
19 April 1987
G
Manchester City FC
49
34ᵍᵃ
2
Clyne, Nathaniel E.
23
356 days
5 April 1991
RB
Southampton FC
3
0
3
Baines, Leighton J.

30


106 days
11 December 1984
LB
Everton FC
30
1

the 109th player to reach the-30 app milestone

final 2010-15
4

Henderson, Jordan B., off 71st min.
24
283 days
17 June 1990
RM
Liverpool FC
19
0
5
Cahill, Gary J.
29
98 days
19 December 1985
CD
Chelsea FC
34
3
6
Jones, Philip A.
23
34 days
21 February 1992
CD
Manchester United FC
14
0
7

Sterling, Raheem S.
20
109 days
8 December 1994
in Kingston, Jamaica
RF
Liverpool FC
14
1

80th min. after he lost the ball and collided into and injuring Andriuškevićius.

8
Carrick, Michael
33
242 days
28 July 1981
CM
Manchester United FC
32
0
9
Welbeck, Daniel

N.T.M., off 77th min.
24
121 days
26 November 1990
LF
Arsenal FC
33
14
10

Rooney, Wayne M., off 72nd min.
29
154 days
24 October 1985
CF
Manchester United FC
102
46

scored in four successive comp. matches

11
Delph, Fabian
25
126 days
21 November 1989
LM
Aston Villa FC
4
0

Eng

land Substitutes
scoreline: England 3 Lithuania 0
20
Barkley, Ross, on 71st min.

(70:26)

for Henderson
21
112 days
5 December 1993
RM
Everton FC
11
2
0
9
1206
18
Kane, Harry E., on 72nd min

(71:10)

for Rooney
21
242 days

28 July 1993

CF

Tottenham Hotspur FC
1
1


78th substitute goal scored

the 72nd Hotspur player to represent England
scoreline: England 4 Lithuania 0
14
Walcott, Theo J., on 77th min.

(76:36)

for Welbeck
26
11 days
16 March 1989
LF
Arsenal FC
37
26
5
11
result: England 4 Lithuania 0
unused substitutes:
12-Chris Smalling, 13-Jack Butland, 15-Phil Jagielka, 16-James Milner, 17-Andros Townsend, 19-Ryan Mason, 21-Kieran Gibbs, 22-Kyle Walker, 23-Rob Green.

team notes:

Kane waited 7 minutes on the sidelines before coming onto the pitch, and scoring 79 seconds later.

records:

England have now gone 24 qualification matches unbeaten

(W17 D7).


Rooney became the first England player since June 2010 to hit the woodwork twice in the same match.
His record of scoring in four competitive matches in a row equals a feat he achieved two years ago. But still remains one behind the record set by Beckham in April 2003.
England record their bester start to a season, seven wins out of seven.
This is England's 25th match on a Friday, P 25 W 17 D 5 L 3 - F 66: A 15

substitute records:

The sixteenth goal by a substitute at the new National Stadium. The 25th goal scored by a substitute in qualification history. Kane is the ninth player to score on his debut as a substitute.

National Stadium records:

Wayne Rooney has now made 31 appearances in 45 England's home matches at the National Stadium, equal with Steven Gerrard.
Rooney also extends his tally as the record goalscorer at the National Stadium, now seventeen. And as he becomes the first player to score in four consecutive matches at the Stadium, Danny Welbeck becomes the fourth to score in three consecutive matches.
4-3-3
Hart -
Clyne, Cahill, Jones, Baines -
Henderson (Barkley), Carrick, Delph -
Sterling, Rooney (Kane), Welbeck (Walcott).

Averages

(Starting XI)

:

Age
26

years

214

days

Appearances/Goals

30.4

5.7

oldest starting XI in 2014-15

Lithuania Team
Rank:

FIFA (12 March 2015) 94th
EFO ranking n/a
ELO rating =96th to 99th
Colours:
Made by Hummel - Yellow crew neck jerseys with black trimmed collar/side flashes and green Hummel zip sleeve trim, pale green shorts with white Hummel zip side trim, yellow socks.
Capt:
Tadas Kijanskas
Manager:
Igoris Pankratjevas, 55 (9 August 1960), appointed caretaker manager 13 September 2013, permanently on 21 December 2013;
14th match, W 4 - D - 4 - L 6 - F 10 - A 17.
Lithuania Lineup
1
Arlauskis, Giedrius
27
116 days
1 December 1987
G
FC Steaua Bucuresti, Rumania
20
0
3
Freidgeimas, Georgas
27
198 days
10 September 1987
RB

VMFD Zalgiris

16
0
4
Kijanskas, Tadas
29
202 days
6 September 1985
CD
Hapoel Haifa FC, Israel
41
1
6
Zaliukas, Marius
31
137 days
10 November 1983
CD
Rangers FC, Scotland

26

1


41st min. after he prevented a Delph through-ball reaching Rooney with his hand

23

Andriuškevićius, Vytautas, injured off 83rd min.
24
170 days
8 October 1990
LB
SC Cambuur, Netherlands
17
0
13
Mikoliunas, Saulius, off 88th min
30
329 days
2 May 1984
RM
FK Shakhtsyor Salihorsk, Belarus
71
5
7
�ulpa, Artūras
24
290 days
10 June 1990
CM
FC Aktobe, Kazakhstan
9
0
5
Mikuckis, Tomas, off 66th min
32
73 days
13 January 1983
CM
FK Torpedo Moskva, Russia
11
0
15
Chvedukas, Karolis
23
340 days
21 April 1991
LM

FK Suduva

10
0
22
Černych, Fedor I.
23
310 days
21 May 1991
in Moscow, USSR
AM
GKS Górnik Leczna, Poland
16
1
9
Matulevičius, Deivydas
25
353 days
8 April 1989
CF
CS Pandurii Lignitul Târgu Jiu, Romania
19
5
Lithuania Substitutes
scoreline: England 3 Lithuania 0
19
Stankevićius, Simonas, on 66th min

(65:53)

for Mikuckis
19
175 days
3 October 1995
AM
Leicester City FC, England
9
0
scoreline: England 4 Lithuania 0
17
Slavićkas, Vaidas, on 83rd min.

(82:26)

for Andriuškevićius
29
29 days
26 February 1986
LB
FC Ceahlaul Piatra Neamt, Rumania
5
0
11
Kazlauskas, Donatas, on 88th min

(87:09)

for Mikoliunas
20
361 days
31 March 1994
AM
KS Lechia GSA, Poland

3

0


91st min. for kicking the ball away after he had fouled Sterling outside penalty area

result: England 4 Lithuania 0
unused substitutes:

2-Gediminas Vičius, 8-Egidijus Vaitkunas, 10-Gratas Sirgedas, 12-Emilijus Zubas, 14-Vytautas Lukša, 16

-

Ricardas Beniušis, 18-Mindaugas Panka, 20-Valdemar Borovskij, 21-Vytautas Cerniauskas.

4-4-1-1
Arlauskis -
Andriu�kevićius (Slavićkas), Kijanskas, Zaliukas, Freidgeimas -
Mikoliunas, �ulpa, Mikuckis (Stankevićius), Chvedukas -
Černych -
Matulevičius (Kazlauskas).

Averages

(Starting XI)

:

Age
27

years

164

days

Appearances/Goals

23.3

1.2
Match Report by Mike Payne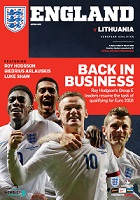 Once again England were faced with inferior opposition at Wembley in this, the latest group match, on their journey to the European Championships in France next year. England still had to negotiate this hurdle though, and in the end they despatched Lithuania clinically and efficiently and will now move on to the next challenge.

England were on the front foot from the start of the match and as early as the fourth minute they so nearly took the lead. Fabian Delph prodded the ball forward and it set Wayne Rooney free of the defence, as the goalkeeper, Giedrius Arlaukis came out, Rooney side-footed the ball past him. Unfortunately the ball hit the inside of a post and trickled along the line and out for a goal-kick. Just three minutes later though, Raheem Sterling was challenged and Danny Welbeck pounced on to the loose ball. He surged towards goal before unleashing a fierce shot which Arlaukis parried upwards only to see the alert Rooney following up to head home a very well-taken goal.





Play settled down for a while with England in control and on 19 minutes they created another chance. This time Sterling found Welbeck and a fine run and cross to the far post saw Rooney there again. His looping header back across goal beat the keeper but cannoned back of the angle of bar and post. Jordan Henderson could only shoot over from the rebound. Before this match Rooney just needed three [ed:four] goals to reach Bobby Charlton's goals record total of 49, and here we were on 20 minutes and Rooney had already scored once and hit the woodwork twice.





The game went into a quiet spell over the next 20 minutes with England in total control and with Lithuania's attacking ideas limited to just one left-wing cross taken off Deivydas Matulevičius's toes by a block by Phil Jones. England, meanwhile, did not create too much during this period either, although both Henderson and Leighton Baines scuffed decent chances.





As the half drew to a close, Rooney saw a low free-kick well gathered by Arlaukis and then from another free-kick the lively Welbeck drove forward to curl a good shot just over. At this stage the crowd were getting just a little restless at England's inability to finish off Lithuania, but the mood was lifted when England finally added a second goal just before the break. Welbeck, who had just had a penalty appeal turned down, was in the middle as Henderson drove in another low cross. Welbeck stooped low to glance a header goalwards and the ball went in off of a defender.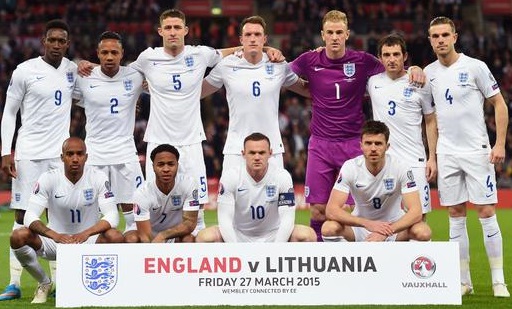 The second half began with England still pushing forward and dominating the game. Only an outstanding save from Arlaukis kept out an excellent volley by Delph, following a fine Rooney cross. The pace of Sterling, Rooney and especially Welbeck caused the Lithuanian defence all sorts of problems throughout, and Welbeck again went down in the area after what appeared to be a trip. Again the referee would have none of it though. On 58 minutes Rooney burst down the right and he fired in the perfect low cross which Sterling sprinted on to, scoring with a close range effort, his first goal for his country. An identical move a minute later so nearly brought another goal, but this time a defender managed a touch to clear the danger. As Lithuania visibly tired it was only a matter of time before England would score again. The other question that remained unanswered was exactly when Roy Hodgson would bring on man of the moment, Harry Kane for his first taste of England action. Both of those questions were answered on 70 minutes when first Ross Barkley replaced Henderson, and then Kane came on for the England captain Rooney. The tumultuous welcome that greeted the Tottenham man must have been a real tonic for the youngster and he responded as only he could.

England continued to dominate play, and when Michael Carrick found Sterling down the left, the Liverpool man jinked his way to the bye-line before sending over a tantalising cross to the far post. And would you believe it, who should be there waiting, but Harry Kane, and he powered a downward header past the goalkeeper's despairing dive and the stadium erupted! Kane had been on from between 78 to 80 seconds, depending which clock you believe, but his prolific season continued with yet another goal to add to his collection.





In the final minutes Matulevicius cleared off the line from man-of-the-match Welbeck, the striker's last action before being substituted by Theo Walcott, and then Delph again came close to scoring with a shot just wide. England saw out the remaining minutes with ease and Lithuania seemed delighted in keeping the home side to just the four goals. England won this match with plenty to spare and now hold a handsome lead at the top of the group. In some ways it is good to see England so dominant, but a word of caution was being offered all round for the stiffer task the team might face when they play the finals next year, as they surely will. The next game in Italy will be a much more interesting test to see how far we have come since the poor showing in the World Cup.


Source Notes
TheFA.com
BBC Sport


RateTheRef.com


LFF.lt
Mike Payne - football historian and contributor
cg