Match Summary
Slovenia

Type

England

Referee (dark blue) - Alberto Undiano Mallenco
41 (8 October 1973), Pamplona, FIFA listed 2004.

Assistant Referees - Raúl Cabañero Martínez, 33 (29 August 1981),Murcia, and Ángel Nevado Rodríguez, 33 (17 November 1981), Badajoz.
Fourth official - Javier Aguilar Rodríguez (1973).

Additional Assistant Referees - Carlos Clos Gómez, 41 (30 June 1972), Zaragoza & Juan Martínez Munuera, 34 (13 July 1982), Benidorm.
UEFA Referee Observer - Murat Ilgaz, Turkey
UEFA Delegate - Per Svärd, Sweden

7
Goal Attempts
22
3
Attempts on Target
6
0
Hit Bar/Post
0
1
Corner Kicks Won
3
5
Offside Calls Against
3
12
Fouls Conceded
15
42%
Possession
58%

Slovenia Team
Rank:

FIFA (4 June 2015) 48th
EFO ranking n/a
ELO rating 53rd
Colours:
Made by Nike - White v-necked jerseys with Mount Triglav graphic outlined in green/blue across front with a visualised echo, white shorts, white socks.
Capt:
Boštjan Cesar
Manager:
Srečko Katanec, 51 (16 July 1963 in Yugoslavia), appointed 31 December 2012, took charge 4 January 2013.
21st match, W 9 - D 0 - L 12 -
Slovenia Lineup
1
Handanović, Samir
30
335 days
14 July 1984
G
FC Internazionale Milano, Italy
76

83

GA

2
Brečko, Mišo
31
44 days
1 May 1984
RB
1.FC Köln 01/07, Germany
75
0
5
Cesar, Boštjan
32
340 days
9 July 1982
CD
AC Chievo Verona, Italy
83
6
most apps
6

Ilić

, Branko
32
128 days
6 February 1983
CD

FK Partizan, Serbia

59

1

56th minute following Wilshere's equalising goal
13
Jokić, Bojan
29
28 days
17 May 1986
LB
Villareal CF , Spain
69
1
7
Iličić, Josip, off 61st min.
27
136 days
29 January 1988
in Prijedor, Yugoslavia
RM
ACF Fiorentina, Italy
29
2
22
Mertelj, Aleš
28
84 days
22 March 1987
RDM
NK Maribor
16
0
8
Kurtić, Jasmin, off 79th min.
26
155 days
10 January 1989
LDM
ACF Fiorentina, Italy
25
1
17
Kirm, Andraž
30
281 days
6 September 1984
LM
AC Omonia Nicosia, Cyprus
38
6

20

Kampl, Kevin
24
248 days

9 October 1990


in Solingen, West Germany
AM

BV Borussia 09 Dortmund

, Germany

17

2

92nd minute for disputing with the referee's decision that he had fouled Rooney
11
Novaković, Milivoje
36
27 days
18 May 1979
CF
Nagoya Grampus Eight, Japan
69
30
Slovenia Substitutes
scoreline: Slovenia 1 England 1
10
Birsa, Valter, on 61st min

(60:23)

for Iličić
28
311 days
7 August 1986
RM
AC Chievo Verona, Italy
72
5
19
Pečnik, Nejc, on 72nd min. (71:07) for Kirm
29
162 days
3 January 1986
LM
JEF United Ichihara Chiba, Japan
28
5
scoreline: Slovenia 1 England 2
14
Lazarević, Dejan, on 79th min.

(78:08)

for Kurtic
25
119 days
15 February 1990
DM
US Sassuolo Calcio, Italy
16
1
result: Slovenia 2 England 3
unused substitutes:
3-

Siniša Anđelković

, 4-Miral Samardžić, 9-Robert Berić,12-Jan Oblak, 16-Nejc Vidmar, 18-Rajko Rotman, 21-Martin Milec, 23-Benjamin Verbič.
Coach Srečko Katanec played twice against England for Yugoslavia, in November 1986 and November 1987, scoring their only goal in the second match. He also managed FYR Macedonia in the 2006 matches against England.
4-2-3-1
Handanović -
Brečko,

Ilić

, Cesar, Jokić -
Mertelj, Kurtić (

Lazarević

) -
Iličić (Birsa), Kampl, Kirm (

Pečnik

) -
Novaković

Averages

(Starting XI)

:

Age
30 years 0 days
Appearances/Goals

50.5

4.4

oldest opposing XI in 2014-15
most experienced opposing XI in 2014-15

England Team
Rank:

FIFA (4 June 2015) 15th
EFO ranking Group 3
ELO rating 10th
Colours:
The Nike 2014 away uniform

-

Red crew necked jerseys with shadowed pinstripes, red shorts

, red socks.
Capt:
Wayne Rooney


(12th

(22)

captaincy

(

10

)

)

Manager:
Roy Hodgson, 67 (9 August 1947), appointed 1 May 2012,
41st match, W 23 - D 13 - L 5 - F 81 - A 32.
England Lineup
1

Hart,

C.

Joseph

J.

28
56 days
19 April 1987
G
Manchester City FC
52
37ᵍᵃ
2
Jones, Philip A., injured off 46th min.
23
113 days
21 February 1992
RB
Manchester United FC
17
0
3
Gibbs, Kieran J.R.
26
261 days
26 September 1989
LB
Arsenal FC
8
0
4
Henderson, Jordan B.
24
362 days
17 June 1990
RM

/RB

Liverpool FC
22
1
5
Cahill, Gary J.
29
177 days
19 December 1985
CD
Chelsea FC
36
3
6
Smalling, Christopher

L.

25
204 days
22 November 1989
CD
Manchester United FC
18
0
7

Wilshere, Jack A.G.
23
164 days
1 January 1992
CM
Arsenal FC
28
2
8
Delph, Fabian, off 84th min.
25
205 days
21 November 1989
LM
Aston Villa FC
6
0
9
Sterling, Raheem S.
20
188 days
8 December 1994
in Kingston, Jamaica
LF
Liverpool FC
16
1
10
Rooney, Wayne M.
29
233 days
24 October 1985
CF
Manchester United FC
105
47

scored in five successive competitive matches



now scored in a record 38 matches
11
Townsend, Andros D., off 74th min.
23
333 days
16 July 1991
RF
Tottenham Hotspur FC
9
3
England Substitutes
scoreline: Slovenia 1 England 0
17

Lallana, Adam D., on 46th min. for Jones
27
35 days
10 May 1988
LM
Liverpool FC
15
8
0
7
scoreline: Slovenia 1 England 2
14

Walcott, Theo J., on 74th min.

(73:50)

for Townsend
26
90 days
16 March 1989
RF
Arsenal FC
40
27
5
13

the 78th player to reach this milestone

scoreline: Slovenia 2 England 2
22
Clyne, Nathaniel E., on 84th min.

(83:53)

for Delph
24
70 days
5 April 1991
RB
Southampton FC
5
4
0
1
result: Slovenia 2 England 3
unused substitutes:
12-Ryan Bertrand, 13-Rob Green, 15-Phil Jagielka, 16-James Milner, 18-Charlie Austin, 19-Tom Cleverley, 20-Ross Barkley, 21-Jamie Vardy, 23-Tom Heaton.

records:

England have now gone 25 qualification matches unbeaten (W18 D7).
They have also gone through an entire season unbeaten for first time since 1990-91.
Rooney's record of scoring in five competitive matches in a row equals a record set by David Beckham in April 2003.
4-3-3
Hart -
Jones (Lallana), Cahill, Smalling, Gibbs -
Henderson, Wilshere, Delph (Clyne) -
Townsend (Walcott), Rooney, Sterling
notes: When Lallana replaced Jones, Henderson went right-back.
Clyne was then brought on as right-back, allowing Henderson to regain his midfield position.

Averages

(Starting XI)

:

Age
25 years 177 days
Appearances/Goals
28.8
4.9
Match Report by Mike Payne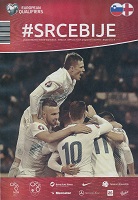 After the Dustcart, comes the Lord Mayor's Show! After the awful match in Dublin the previous weekend, we were treated to a terrific game, and a super England victory that takes them a step nearer to qualification for the European Championships next summer. Right from the first whistle England were sharp, positive and played with a real sense of purpose. It wouldn't be England if there wasn't a few stumbles along the way, and there were a couple during this match, but overall the win was richly deserved.





As early as the fourth minute Raheem Sterling had a wonderful chance to open the scoring, when a fine pass from Wayne Rooney gave the under pressure Liverpool youngster the perfect chance to answer his critics. Unfortunately, in trying to lob the goalkeeper, Sterling hit the ball a fraction too hard and the ball cleared the crossbar. To the lad's great credit the miss never affected him and he was a thorn in Slovenia's side for the whole game. Four minutes later a terrific move of one-touch football only ended when Kieran Gibbs saw his cross deflected. The positive start was encouraging and England dominated possession for long periods. Another fine pass saw a good shot by Sterling deflected wide and it seemed only a matter of time before England would take the lead.





Fabian Delph's powerful running and Jordan Henderson's link-up play was perfectly complemented by a thrilling display from Jack Wilshere. His touch and vision was excellent throughout and he was involved again when Rooney fired in a shot only to see Samir Handanovic make a wonderful one-handed save. England were getting closer, as Andros Townsend then put in a good cross that was saved. At the other end, only a free-kick by Milivoje Novakovic troubled Joe Hart, but the shot was an easy save. A draw or a defeat would be of no use to Slovenia and they pressed forward when they could, But England held all the aces at this stage. Sterling was tripped when almost through and then Townsend saw another effort saved. The only worry was that England had had all the pressure but could not find a route to goal. Then, on 37 minutes, the unthinkable happened.





A lapse in concentration at the back, which stemmed from a bad throw-in from Phil Jones, saw England's defence exposed as Josep Llicic was able to pass through Chris Smalling and Gary Cahill to send Novakovic on an unchallenged run at goal. To the veteran's credit he took his chance brilliantly as Hart tried to narrow the angle, slipping the ball wide of the keeper and in off the post. It was a bitter blow for England and for a few moments they lost their composure. To be losing at half-time was a travesty if truth be told, but it just goes to show it is no good having oodles of possession if you don't make it pay with goals.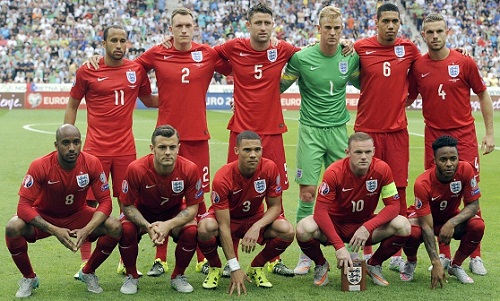 The break gave Roy Hodgson the chance to have a word with his players, and at the restart the manager replaced the injured Jones with Adam Lallana, pushing Henderson to right-back. On the surface this seemed a strange move, especially with specialist right-back Nathaniel Clyne on the bench. As it turned out though the substitute played a big part in the fightback by England. From the restart England went onto the front foot. A good break ended because no England player wanted to shoot, and then Henderson hit a shot well wide. It seemed that Slovenia, at this point, were happy to hold what they had, but eventually the pressure told and on 57 minutes England finally equalised. An attack down the right saw Lallana in the thick of the action and when the ball was half-cleared there was Wilshere, following up, to lash home a tremendous shot from the edge of the penalty area. It was his first goal for England and emphasised a brilliant performance by the Arsenal player.





England were now in the ascendency, and a minute later a superb run by Sterling set up Rooney for what seemed a certain goal. Somehow the skipper contrived to miss the target when it seemed easier to score. And then another minute into the game Townsend great pull back to Rooney presented the striker with anen easier chance. Again Rooney was found wanting, but it was also good to see England stepping on the gas. Surely the chances would continue to come. Delph, Lallana and Townsend all had efforts at goal before, finally, England deservedly took the lead, and what a cracking goal it was. A superb move down the right involving Henderson and Townsend saw the ball fed towards Lallana. A clever back flick from the Liverpool man laid the ball into the path of Wilshere, who took one touch before unleashing an unstoppable shot to make it 2-1 to England.





Theo Walcott was immediately sent on for Townsend as England looked to exploit some tired home legs with a burst of pace. Bostjan Cesar was extremely lucky not to receive a straight red card when he went in on Rooney with, what amounted to, a forearm smash that Mick McManus would have been proud of! Cesar didn't even receive a yellow for that one.





England had looked good offensively in this match, but there were still doubts at the back. The back four all looked a little shaky at times and there was no dominant figure taking control. This was to prove costly in the 84th minute as a move down the left gave the impressive Bojan Jokic the chance to send over a wonderful cross to the far post where Nejc Pecnik outjumped the flatfooted Gibbs to head home. It was a good header, well taken, but woeful defending by England.





Just as it seemed that England's unblemished record in the group matches had come to an end there was time for one last twist in the tale. On 86 minutes Henderson passed towards Walcott but it was intercepted by a defender, only for the ball to run into the path of Rooney. The striker had missed several glorious opportunities earlier, but this time there was no mistake as he side-footed wide of the crestfallen goalkeeper for his 48th [ed:47th] England goal. It takes Rooney level with [ed:one behind] Gary Lineker and just one [ed:two] behind Bobby Charlton's all-time record.





As there always is with England after an international, there is plenty to put right and problem areas of the team. But you cannot fault a perfect six out of six wins and an unbeaten run that has stretched throughout the whole season. Let us spend the summer focusing on the positives on what was an entertaining and exciting England victory. Oh, and one other thing, please wrap Jack Wilshere up in cotton wool, because more performances like this one could make him a serious contender for England legend status.




Source Notes
TheFA.com
BBC Sport


RateTheRef.com



Mike Payne - football historian and contributor
cg