Match Summary
Officials

from Portugal

England

Type

Brazil

Referee (salmon pink) - Artur Manuel Ribeiro Soares Dias
38 (14 July 1979), Vila Nova de Gaia, FIFA-listed 2010.

Assistant Referees - Rui Lic�nio Barbosa Tavares, 43 (1 August 1974), and Paulo Alexandre Santos Soares, 41 (31 August 1976).
Fourth official - Carlos Miguel Taborda Xistra, 43 (2 January 1974), Covilh�, FIFA-listed 2009.
4
Goal Attempts
13
2
Attempts on Target
3
0
Hit Bar/Post
1
0
Corner Kicks Won
2
1
Offside Calls Against
5
Video Assistant Referee: Tiago

Bruno Lopes

Martins




Assistant Video Assistant Referee:

Jo�o

Carlos dos

Santos

Capela
20
Fouls Conceded
15
34%
Possession
66%

England Team
Rank:

FIFA (16 October 2017) 12th
EFO ranking Group 4
ELO rating 7th
Colours:
The Nike 2016 home uniform

-

White v-necked jerseys with light blue sleeves and ice blue collared tri

m/side stripe and white cuffs, white shorts with ice blue side trim, red socks.
Capt:
Eric Dier
(second (5) captaincy)
Manager:
Gareth Southgate, 47 (3 September 1970), appointed caretaker manager on 27 September 2016, appointed as permanent manager on 30 November 2016.
fourteenth match, W 7 - D 5 - L 2 - F 21 - A 9.
England Lineup
1

Hart,

C.

Joseph

J.

30
209 days
19 April 1987
G
West Ham United FC, on loan from Manchester City FC
75

48

GA

final app
2008-17
third goalkeeper to reach 75 apps
2
Walker, Kyle A.
27
170 days
28 May 1990
RWB
Tottenham Hotspur FC
32

0
3
Bertrand, Ryan D., off 80th min.

28


101 days
5 August 1989
LWB
Southampton FC
19
1
final app
2012-17
4
Gomez, Joseph D.
20
175 days
23 May 1997
RD
Liverpool FC
2

0
5
Stones, John
23
170 days
28 May 1994
CD
Manchester City FC
22

0
6
Maguire, J. Harry
24
254 days
5 March 1993
LD
Leicester City FC
3

0
7
Livermore, Jake

C.L.

, off 90th min.
28
14 November 1989
LAM
West Bromwich Albion FC
7
0
final app
2012-17
Livermore cautioned in the 54th min. for a foul, after he tripped Neymar on touchline, close to the halfway line.
8
Dier, Eric J.E.
23
303 days
15 January 1994
CM
Tottenham Hotspur FC
23
3

1
9
Vardy, Jamie R., off 75th min.
30
307 days
11 January 1987
RF
Leicester City FC
19

6
10
Loftus-Cheek, Ruben I., injured off 35th min
21
295 days
23 January 1996
RAM
Crystal Palace FC, on loan from Chelsea FC
2

0

11

Rashford, Marcus, off 75th min.
20
14 days
31 October 1997
LF
Manchester United FC
15

2

England

Substitutes
20
Lingard, Jesse E., on 35th min.

(34:01)

for Loftus-Cheek
24
334 days
15 December 1992
RAM
Manchester United FC
8
3

0
5
22
Solanke-Mitchell, Dominic A., on 75th min.

(74:40)

for Vardy

20


61 days
14 September 1997
RF
Liverpool FC
1
0
only app
2017
the 73rd Liverpool player to represent England
21
Bakumo-Abraham, K.O. Tamaraebi, on 75th min.

(74:50)

for Rashford
20
43 days
2 October 1997
LF
Swansea City FC, on loan from Chelsea FC
2
1

0
1
18
Young, Ashley

S.

, on 80th min.

(79:52)

for Bertrand
32
128 days
9 July 1985
LWB
Manchester United FC
31
17

7
14
14
Rose, Daniel L., on 90th min.

(89:04)

for Livermore
27
135 days
2 July 1990
LM
Tottenham Hotspur FC
14
12

0
2

result:

England 0 Brazil 0
unused substitutes:
12-Kieran Trippier, 13-Jordan Pickford, 15-Gary Cahill, 16-Michael Keane, 17-Jack Cork, 19-Lewis Cook, 23-Angus Gunn.

team note

s:
Ruben Loftus Cheek appears to have injured himself in a tackle on Neymar (26:10), unable to run the injury off, he requested to be substituted (30:50).
records:
Never before have eleven BME players being involved in an England match. They make up nearly 69% of this team, also another new record.
In his final match, Joe Hart's 37th appearance in England's 58 home matches at the National Stadium is a new record, beating the previous record of 36 by Wayne Rooney.
Manager Gareth Southgate played for England against Brazil in the final Le Tournoi defeat in Paris, 1997. He was then an unused substitute twice, in the 2000 friendly draw, and the 2002 World Cup Finals quarter-final defeat.
3-5-2
Hart -
Gomez, Stones, Maguire -
Walker, Loftus-Cheek (Lingard), Dier, Livermore (Rose), Bertrand (Young) -
Vardy (Solanke), Rashford (Abraham)

Averages

(Starting XI)

:

Age
25 years 150 days
Appearances/Goals

19.9

1.1

Brazil Team
Rank:

FIFA (16 October 2017)

2nd


EFO ranking Group One


ELO rating

first

Colours:
Made by Nike - Varsity maize yellow v-necked jerseys with pine green collared trim/side stripe, blue shorts, white socks.
Capt:
Dani Alves
Manager:
Tite

Adenor Leonardo Bacchi

, 56 (25 May 1961), appointed Head Coach on 17 June 2016.
seventeenth match, W 13 - D 3 - L 1 - F 38 - A 5.
Brazil Lineup
1
Becker, Alisson R.
25
43 days
2 October 1992
G
AS Roma, Italy
22
11

GA

2
da Silva, Daniel Alves
34
192 days
6 May 1983
RB
Paris Saint-Germain FC, France
105
7
Dani Alves cautioned in the 56th min. for a foul after he chopped down Ryan Bertrand, who was receiving a Hart clearance.
13
Marquinhos
23
184 days
14 May 1994
CD
Paris Saint-Germain FC, France
24
0
3
de Souza Filho, Jo�o Miranda
33
68 days
7 September 1984
CD
FC Internazionale Milano, Italy
43
1
12
Vieira da Silva Júnior, Marcelo
29
186 days
12 May 1988
LB
Real Madrid CF, Spain
50
6
15
Paulinho
29
135 days
25 July 1988
RM
FC Barcelona, Spain
46
11
5
Casemiro
25
264 days
23 February 1992
CM
Real Madrid CF, Spain
20
0
8
de Oliveira Augusto, Renato S., off 68th min.
29
279 days
8 February 1988
LM
Běijīng Zhōngh� Gu�'ān

, China

27
5
11
Coutinho Correia, Philippe, off 68th min.
25
155 days
12 June 1992
RF
Liverpool FC, England
32
8
10
Fernando de Jesus, Gabriel, off 76th min.
20
225 days
3 April 1997
CF
Manchester City FC, England
13
8
9
da Silva Santos Júnior, Neymar
25
282 days
5 February 1992
LF
Paris Saint-Germain FC, France
83
53
Brazil Substitutes
19
Borges da Silva, Willian, on 68th min

. (67:07)

for Philippe Coutinho

29


97 days
9 August 1988
RF
Chelsea FC, England
53
8
17
Fernandinho, on 68th min.

(67:19)

for Renato Augusto

32


194 days
4 May 1985
LM
Manchester City FC, England
41
2
21
Barbosa de Oliveira, Roberto Firmino, on 76th min

(75:14)

for Gabriel Jesus

26


43 days
2 October 1991
CF
Liverpool FC, England
18
5

result:

England 0 Brazil 0

unused substitutes:
4-Jemerson, 6-Alex Sandro, 7-Douglas Costa, 14-Thiago Silva, 16-C�ssio, 18-Giuliano, 20-Diego, 22-Danilo, 23-Ederson, 24-Taison, 25-Diego Souza.
4-3-3
Alisson -
Dani Alves, Marquinhos, Miranda, Marcelo -
Paulinho, Casemiro, Augusto (Fernandinho) -
Coutinho (Willian), Jesus (Roberto Firmino), Neymar.

Averages

(Starting XI)

:

Age
27 years 183 days
Appearances/Goals

42.9

9.0
Match Report by Mike Payne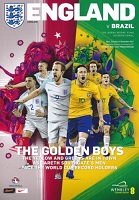 England followed up their attractive friendly with Germany with another match against high calibre opposition. Of course, with several top England players unavailable, it would not be a true test for the home side. However, Gareth Southgate's makeshift line-up were very determined and in the end they gained a very honourable draw. Brazil came to Wembley with Neymar, Philippe Coutinho et al, so they were out to win against England for the first time since 2009.





The match started as predicted, with Brazil having all the possession, but apart from a fourth minute off target shot by Daniel Alves, Joe Hart was more troubled by his own kicking than by the opposition. Brazil immediately showed the swagger and arrogance that we come to expect from them, but England held firm with some good organisation and some excellent defending. England did make a couple of swift breaks but they came to nothing. Then on nine minutes a long ball from Harry Maguire almost found Marcus Rashford, but the Manchester United forward was not positive enough to win the ball. Two minutes later Neymar fired in a shot that went way over the bar and then Gabriel Jesus headed goalwards but Hart saved with ease. The first quarter of an hour was poor with England easily holding a lacklustre Brazil attack. The expectation of the crowd towards the South Americans was not matched by the performances on the pitch of the players. It is all very well keeping possession and pass, pass, pass, but if it gets you nowhere then why not try something else?





England's first shot on target came from Rashford on 18 minutes, but his effort was easily saved by goalkeeper Alisson. The star of the German game, Reuben Loftus-Cheek, was rarely in this match and rarely touched the ball. Brazil retained possession as effectively as usual but there was little penetration, although Paulinho did shoot well wide on one occasion. On 22 minutes Neymar showed a glimpse of his undoubted talent with a wonderful pass to Jesus, but the Manchester City striker was ruled offside. The Brazilians are adept at winning cheap free-kicks and several times their players went down very easily when English challenges came in. Neymar had another shot, which again went way over the bar, and this time much higher! After 34 minutes Loftus-Cheek was taken off with an injury and replaced by Jesse Lingard.





England's back three, superbly marshalled by John Stones, were all having splendid games, with Joe Gomez particularly impressive. Maguire was also effective and he is certainly settling in to international football well. Lingard was soon in the action and won a free-kick for England. But this came to nothing and the game meandered along with very little incident to warm the big crowd. If this wasn't England v Brazil, it would have been rated a very poor game, but Brazil are always seen through rose-coloured spectacles whenever we play them. Quite frankly though, this was poor entertainment for the crowd. Before the half ended Paulinho headed woefully wide and Neymar's pull back from the byeline was easily saved by Hart. And that was it for a half that won't linger long in the memory.





Unfortunately, the second half continued very much in the same vein. It took until the 53rd minute for any semblance of a chance for England, but Maguire was pulled up for a foul when heading Rashford's free-kick at goal. Jake Livermore was then booked for tripping Neymar, as was Alves, following a late challenge on Ryan Bertrand. Just before the hour mark Coutinho shot from an angle, it was actually more of a hard cross, but Hart easily saved it anyway. There was no doubting the work going into the play of both England and Brazil but from a spectacle point of view, play was scrappy and there was little goalmouth action to excite the fans. Gomez continued to shine at the back for England, and his quick and decisive defending really caught the eye.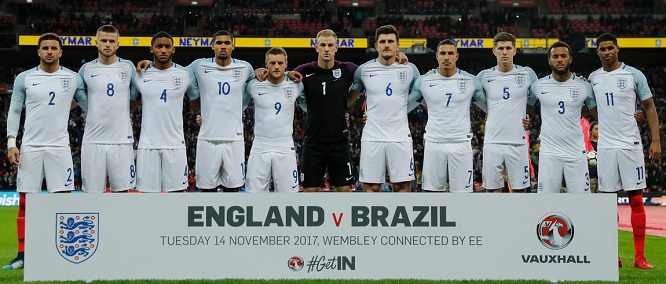 A raft of substitutions then started with Brazil bringing on Willian and Fernandinho, whilst for England Dominic Solanke and Tammy Abraham came on for Jaime Vardy and Rashford. Fernandinho was soon in the action as his good shot from 20 yards clipped the outside of the far post. Solanke, too, was soon making his mark with a powerful run into the Brazilian penalty area, and then Eric Dier curled a free-kick wide. These goal attempts makes it sound like the game had livened up, it hadn't. Bertrand was then replaced by Ashley Young and the Old Trafford star did really well to track back and block Willian as the Brazilian threatened the England goal.





Gomez then also made a couple of fine interceptions and Stones was very dominant alongside him. When England played the ball forward though, it was easy for the Brazilian defenders, with not enough being done by the home attackers to put those defenders under pressure. Two late chances then almost settled the match. On 85 minutes, following their most penetrative attack of the game, Paulinho fired in a fierce shot from an angle, for which Hart stood tall. Strangely, Hart saved it with his chest as he deflected the ball wide. Four minutes later, at the other end, England nearly snatched it. Young put in a tantalising cross which flicked the head of a defender and landed at Solanke's feet. The Liverpool player couldn't quite react quickly enough and Allison was out smartly to smother the shot.





The final half-chance fell to Neymar, the man the bulk of the crowd had come to see. But on the night he certainly didn't bring his shooting boots with him as this final shot went well wide of Hart's goal. And that was it. A very poor game overall, with the plusses being the performance of England's defence, and the display of Gomez in particular. And who knows, the next time we play Brazil it might be in the World Cup Final next year?

I can dream can't I?




Source Notes
TheFA.com
BBC Sport
Andre do Nascimento Pereira and Dennis Wood
Mike Payne - football historian and contributor

cg