Match Summary
Australia Squad

Type

England Squad
Referee (black) - Barry Arthur Tasker
x (-), Wellington, New Zealand.

Linesmen - tbc

Goal Attempts
Attempts on Target
Hit Bar/Post
Corner Kicks Won
Offside Calls Against
Fouls Conceded
Possession

Australia Team
Rank:

No official ranking;
EFO ranking
ELO rating 33rd to 34th
Colours:
Made by Kingroo - Gold and green of various shades abstracted brush strokes v-necked jersey with black collar, green shorts with gold side panel, green socks with gold trim.
Capt:
Paul Wade
Manager:
Eddie Thomson, 44 (25 February 1947 in Rosewell, Scotland), appointed 1990.
Australia Lineup
1
Zabica, Robert
27
53 days
9 April 1964
G
Adelaide City FC
8

GA

15
Vidmar, Antony
20
332 days
4 July 1970
RB
Adelaide City FC
2
0
3
Duraković, Mehmet
25
231 days
13 October 1965
in Titograd, Yugoslavia
LB
South Melbourne FC
6
0
4
Zelic, Nedjeljko
19
332 days
4 July 1971
CD
Sydney Croatia FC
2
0
5
Tobin, Alexander

H.

25
210 days
3 November 1965
CD
Adelaide City FC
11
1
17
Gray, Ian
27
314 days
22 July 1963
M
Marconi Stallions FC
10
1
the 32nd own goal scored for England
7
Wade, Paul
29
73 days
20 March 1962
in Altrincham, England
M
South Melbourne FC
41
4
8
Petersen, Michael
26
26 days
6 May 1965
M
South Melbourne FC
18
1
9
Arnold, Graham

J.

27
302 days
3 August 1963
F
SV Roda Juliana Combinaatsiejoeën Kirchroa, Netherlands
35
14

16

Tapai, Ernie

, off 72nd min.

24
107 days
14 February 1967
in Subotica, Yugoslavia
M
Adelaide City FC
4
0
11
Vidmar, Aurelio
24
118 days
3 February 1967
M
Adelaide City FC
5
1
Australia Substitutes

scoreline:

Australia 0 England 1
20
Brown, Greg, on 72nd min. for Tapai
28
307 days
29 July 1962
in Manchester, England
F
Parramatta FC
3
0

result:

Australia 0 England 1

unused substitutes:

10-David Lowe, 12-Andrew Marth, 14-Milan Blagojević, 21-Branko Milošević, 22-John Filan.

team notes:

Aurelio and Antony Vidmar are brothers
-
-

Averages:

Age
25 years 125 days
Appearances/Goals
12.9
2.0

England Team
Rank:

No official ranking;
EFO ranking
ELO rating 3rd
Colours:
The 1990 Umbro home shirt - White collared jersey with shadowed diamonds and navy collar/cuff, white shorts with blue and red triangle, white socks with navy tops.
Capt:
Gary Lineker
(sixth captaincy

(18) (

5)

)
Manager:
Graham Taylor,

46

(15 September 1944), appointed 23 July 1990,
9th match, W 6 - D 3 - L 0 - F 14 - A 5.
England Lineup
1
Woods, Christopher C.E.
31
199 days
14 November 1959
G
Rangers FC

, Scotland

21

6ᵍᵃ

2
Parker, Paul A.
27
58 days
4 April 1964
RB
Queen's Park Rangers FC
15
0
3
Pearce, Stuart
29
38 days
24 April 1962
LB
Nottingham Forest FC
38
1
4
Batty, David
22
181 days
2 December 1968
LM
Leeds United AFC
3
0
5
Walker, Desmond S.
25
187 days
26 November 1965
CD
Nottingham Forest FC
33
0
6
Wright, Mark
27
304 days
1 August 1963
CD
Derby County FC
38
1
7
Platt, David A.
24
356 days
10 June 1966
CM
Aston Villa FC
19
7
8
Thomas, Geoffrey R.
26
300 days
5 August 1964
RM
Crystal Palace FC
4
0
9
Clough, Nigel H.
25
74 days
19 March 1966
RF
Nottingham Forest FC
3
0

10

Lineker, Gary W., off 81st min.
30
183 days
30 November 1960
CF
Tottenham Hotspur FC
66
40
1027
11
Hirst, David, off 46th min.
23
176 days
7 December 1967
LF
Sheffield Wednesday FC
1
0
the 39th Wednesday player to represent England
England Substitutes

scoreline:

Australia 0 England 1

17

16
Salako, John A., on 46th min. for Hirst
22
110 days
11 February 1969
in Ibadan, Nigeria
M
Crystal Palace FC
1
0
1028
29th foreign-born player
the eighth Palace player to represent England
15
Wise, Dennis F., on 81st min. for Lineker
24
167 days
16 December 1966
M
Chelsea FC
3
2
1
1

result:

Australia 0 England 1

unused substitutes:

12-Tony Dorigo, 13-Nigel Martyn, 14-Ian Wright.

substitute notes:

John Salako is the 56th player to debut for England as a substitute.
4-3-3
Woods -
Parker, Walker, Wright, Pearce -
Thomas, Platt, Batty -
Clough, Lineker, Hirst

Averages:

Age
26 years 288 days
Appearances/Goals
21.9
4.5
Match Report by Mike Payne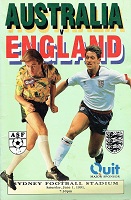 Despite all the arguments and the questions on the wisdom of an exhausting tour of Australia at the end of a long and hard domestic season. England duly arrived in Sydney to play this match and fulfill their obligations. Just as England found eight years earlier the 'Socceroos', as Australia were affectionately known, produced a high level of skill and effort to frustrate the 'Poms'. In fact England had to be thankful that Chris Woods was in fine form in goal.

Early on England were on top and they created several good chances, Mark Wright, Gary Lineker and David Platt all went close in the space of three minutes but the best chance probably fell to Nigel Clough. Alas, his shot from 12 yards was pulled wide. Despite England's overall dominance the Aussies refused to capitulate to the pressure and, indeed, they were quite dangerous in the breakaways. A mistake by David Batty left Arnold with a clear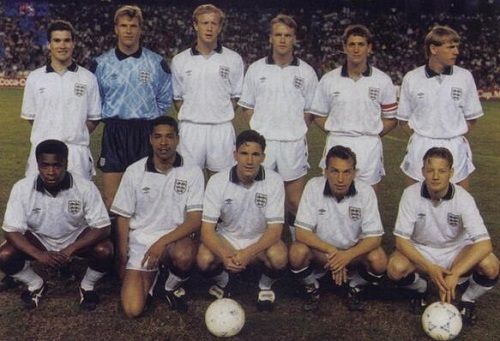 opening and only a tremendous save by Woods prevented a goal. Almost immediately the goalkeeper produced an even better save to foil Gray's goalbound header.

On 40 minutes, though, England took the lead. A Stuart Pearce free-kick was drilled into the area and in a scramble to clear the ball Gray put through his own goal. The goal was little fortuitous, but none the less deserved for England's first-half superiority.

The second half was not a particularly good one. England remained mostly in control, although Australia did produce good efforts from A.Vidmar and Gray as they both came close to wiping out England's lead. Another chance fell to Tapai and he looked a certain scorer as he strode clear of England's defence. But a brilliantly-timed tackle by Paul Parker saved the situation and England were never really threatened again.

Unfortunately England did not look like scoring in this half either and they created not one chance worthy of the name, especially after Lineker had to go off with a leg injury. But the win gave Graham Taylor his ninth unbeaten result since he took charge of the team, a record equalling Don Revie's start in 1974-75.


Source Notes

TheFA.com
BBC Sport


Official Teamsheet

OzFootbal.net
Original newspaper reports
Rothman's Yearbooks
Mike Payne - football historian and contributor
cg