675




FINAL MEETING vs. NEW ZEALAND

Saturday

,

8 June 1991




NZFA Centenary Celebration Match by Winfield





New Zealand 0 England 2

[0-1]


Athletic Park, Newtown, Wellington




Kick-off (NZST): 2.30pm 3.30am BST


Attendance: 12,000

[0-1] Stuart Pearce 12
picked up a loose Salako ball to score left-footed low to Schofield's right from 15 yards
[0-1] David Platt scores with acrobatic kick: offside 21
[0-2] Mike McGarry strike cleared off the line by Walker
[0-1] Ian Wright strike cleared off the line by Gray
[0-2] David Hirst 50


rounded the keeper from 6 yards following a Charles short cross

Highlights on BBC Grandstand Commentator: John Motson with Trevor Brooking
Match Summary
New Zealand Squad

Type

Referee (black) - Richard Renald Lorenc
39 (3 December 1951), West Ryde.

Linesmen - Barry Arthur Tasker, Wellington, New Zealand, and Dave Fellows

Fourth Official - Trevor Allesbrook

Goal Attempts
Attempts on Target
Hit Bar/Post
Corner Kicks Won
Offside Calls Against
Fouls Conceded
Possession

New Zealand Team
Rank:

No official ranking;
EFO ranking
ELO rating 57th to 59th
Colours:
Made by Pony - Red mottled collared jerseys with white collars, red shorts, red socks.
Capt:
Malcolm Dunford
Manager:
Ian Doyle Marshall, 48 (27 April 1942 in Glasgow, Scotland), appointed June 1989, effective January 1990.
sixth match, W 2 - D 0 - L 4 - F 4 - A 7.
New Zealand Lineup
16
Schofield, Grant R.
27
not known
G
Wellington FC
1

2ᵍᵃ

2
Ridenton, Michael E.
23
72 days
28 March 1968
D
Mount Wellington AFC
36
14
3
Gray, Rodger G.
25
33 days
6 May 1966
CD
Waitakere City FC
7
2
4
Dunforn, Malcolm P.
28
149 days
10 January 1963
CD
Miramar Rangers FC
36
5
5
Evans, Ceri L.
27
249 days
2 October 1963
D
Oxford United FC, England
49
2
6
Ironside, Robert
23
292 days
20 August 1967
M
Sydney Olympic FC
47
10
7
McGarry, Michael D.
26
22 days
17 May 1965
AM
Christchurch United FC
31
12
8
Halligan, Daniel R.
26
111 days
17 February 1965
M
Christchurch United FC
28
3
9
Edge, Declan J.
25
263 days
18 September 1965
in Malacca Town, Malaysia
F
Waikato FC
26
1
12
Ferris, Antony
29
247 days
4 October 1961
in Northern Ireland
M
Mount Maunganui FC
13
0
11
de Jong, Frederick S.J.
27
64 days
5 April 1964
F
Fortuna Sittard

, Netherlands

17
1
New Zealand Substitutes

scoreline:

New Zealand 0 England 2
15
Edge, Thomas A., on 62nd min. for D. Edge
21
63 days
6 April 1970
M
Waitakere City FC
3
0

result:

New Zealand 0 England 2

unused substitutes:

1-Clint Gosling, 10-Noel Barkley, 13-Vaughan Coveney, 14-Carl Jorgensen.

team notes:

captain Malcolm Dunford is the only member of the squad that played against the England B team in 1984
-
-

Averages:

Age
26 years 110 days


(based on ten players)

Appearances/Goals
26.4
4.5

England Team
Rank:

No official ranking;
EFO ranking
ELO rating 2nd
Colours:
The 1990 Umbro home uniform - White collared jersey with shadowed diamonds and navy collar/cuff, navy shorts with white panel and red triangle, white socks with navy tops.
Capt:
Stuart Pearce
(first captaincy (10)

(

1

)

)
Manager:
Graham Taylor,

46

(15 September 1944), appointed 23 July 1990,
11th match, W 8 - D 3 - L 0 - F 17 - A 5.
England Lineup
1
Woods, Christopher C.E.
31
206 days
14 November 1959
G
Rangers FC

, Scotland

23

6ᵍᵃ

21

2
Charles, Gary A.
21
56 days
13 April 1970
RB
Nottingham Forest FC
1
0
1032
the 34th Forest player to represent England
3
Pearce, Stuart
29
45 days
24 April 1962
LB
Nottingham Forest FC
40
2
4
Wise, Dennis F.
24
174 days
16 December 1966
M
Chelsea FC
5
1
5
Walker, Desmond S.
25
194 days
26 November 1965
CD
Nottingham Forest FC
35
0
6
Wright, Mark
27
311 days
1 August 1963
CD
Derby County FC
39
1
7
Platt, David A.
24
363 days
10 June 1966
M
Aston Villa FC
21
7
8
Thomas, Geoffrey R.
26
307 days
5 August 1964
RM
Crystal Palace FC
6
0
9
Deane, Brian C., off 46th min.
23
121 days
7 February 1968
CF
Sheffield United FC
2
0

10

Wright, Ian E.
27
217 days
3 November 1963
F
Crystal Palace FC
4
0
11
Salako, John A.
22
117 days
11 February 1969
in Ibadan, Nigeria
LM
Crystal Palace FC
3
0
England Substitutes

scoreline:

New Zealand 0 England 1
15
Hirst, David, on 46th min. for Deane
23
183 days
7 December 1967
F
Sheffield Wednesday FC
2
1
1
1
the 22nd goal for England to be scored by the substitute

result:

New Zealand 0 England 2

unused substitutes:

12-Earl Barrett, 13-Nigel Martyn, 14-Nigel Clough, 16-David Batty.

substitute notes:

Sheffield Wednesday provide only their second player as an England substitute. The first being Albert Quixall in May 1955.

records:

The fourth time that a player already capped scores his first goal as a substitute.
-
-

Averages:

Age
25 years 326 days
Appearances/Goals
16.3
0.9
Match Report by Mike Payne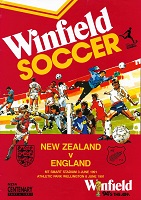 Graham Taylor's winning sequence as England's manager continued with another hard fought win against New Zealand in the second of these commemorative games. This was by far the best performance of the three tour games so far and was all the better when one considered the awful conditions that the city of Welllington offered. A howling gales made good football very difficult, but all-in-all it was not a bad match.

Showing far more pace than in earlier games, England were soon attacking Schofield's goal. An indication of the poor conditions came when the goalkeeper's first goal-kick blew back and landed on the edge of his own area. The early pressure that England exerted paid off for the visitors when they took a 12th-minute lead. John Salako, who played well throughout, made a determined run down the right and centred low and hard. Brian Deane dummied the cross ad it left stand-in skipper Stuart Pearce the chance to lash home a fierce shot from just inside the penalty area.

Salako seemed to be involved in every English attack and her certainly looked to have that something extra that an international needs. On 21 minutes he set up David Platt for an acrobatic kick which sent the ball flashing into the net again. Unfortunately the referee had spotted an offside and the goal was ruled out. Minutes later, Ian Wright put in a wind-assisted cross which Schofield somehow scrambled around a post.

The second half was also controlled by England and only poor finishing prevented them fro running up a rugby score, and appropriate idea considering that this is the home of the famous All Blacks!

A great run by Geoff Thomas gave Dennis Wise an easy chance which he squandered and Ian Wright's following up attempt was cleared off the line by Gray. England kept up the pressure and on 50 minutes deservedly increased their lead. Full-back Gary Charles, who made a confident debut, outpaced the home defenders before driving a low cross to the near post. David Hirst controlled the ball brilliant before turning sharply to shoot under Schofield's diving body. It was an excellent goal for the substitute, who had replaced Deane at half-time.

The only threats that England had to their lead came when Charles sent a dreadful back-pass straight to McGarry. The New Zealander's shot beat Chris Woods but Des Walker saved Charles's blushes with a frantic clearance. The other chance fell to Declan Edge just after England's second goal, but he blasted the ball over the bar with only Woods to beat.

In the final seconds, another tremendous burst by Salako almost produced another goal. His run and shot was brilliant. Schofield pushed the ball on to a post and the goalkeeper watched in disbelief as Thomas, following up, somehow managed to screw his shot wide of an open goal.

Tour Report by Norman Giller
Like his predecessor Bobby Robson, Graham Taylor reluctantly inherited a 'Down Under' tour that did little for him apart from provide some fresh scenery. An own goal five minutes before half-time gave England victory over Australia in Sydney, and an injury-time goal by Gary Lineker saved blushes in the first match against New Zealand in Auckland. A goal in each half by Stuart Pearce and David Hirst gave England a 2-0 victory in the return match in Wellington. Hirst was one of six players awarded their first caps during the tour, along with John Salako, Earl Barrett, Brian Deane, Mark Walters and Gary Charles.


Source Notes

TheFA.com
BBC Sport


Ultimate NZ soccer

Original newspaper reports
Rothman's Yearbooks


Norman Giller, Football Author


Mike Payne - football historian and contributor
cg