FIRST MEETING vs. NEW ZEALAND




674

Monday

,

3 June 1991




NZFA Centenary Celebration Match by Winfield





New Zealand 0 England 1

[0-0]


Mount Smart Stadium, Penrose, Auckland


Kick-off (NZST): 2.30pm 3.30am BST


Attendance: 17,520

[0-0] John Salako strikes crossbar from 6 yards 89
[0-1] Gary Lineker 90

+3




beat Gosling to a low Parker cross to score right-footed from 3 yards

Highlights on BBC Sportsnight Commentator: John Motson with Trevor Brooking
Match Summary
New Zealand Squad

Type

Referee (black) - Dennis Voutsinas
x (-), Australia.

Linesmen - Kenneth Wallace, 40 (18 October 1950), New Zealand, and Derek Rugg, 28 (21 March 1963), Auckland, New Zealand
Fourth Official - Gary Lake

Goal Attempts
Attempts on Target
Hit Bar/Post
Corner Kicks Won
Offside Calls Against
Fouls Conceded
Possession

New Zealand Team
Rank:

No official ranking;
EFO ranking
ELO rating 57th
Colours:
Made by Pony - White crew necked jerseys with black collar and diagonal stripes across chest, white shorts, white socks.
Capt:
Malcolm Dunford
Manager:
Ian Doyle Marshall, 48 (27 April 1942 in Glasgow, Scotland), appointed June 1989, effective January 1990.
fifth match, W 2 - D 0 - L 3 - F 4 - A 5.
New Zealand Lineup
1
Gosling, Clint C.
31
33 days
1 May 1960
in Liverpool, England
G
Sydney Olympic FC
30

GA

2
Ridenton, Michael E.
23
67 days
28 March 1968
D
Mount Wellington AFC
35
14
3
Gray, Rodger G.
25
28 days
6 May 1966
CD
Waitakere City FC
6
2
4
Dunford, Malcolm P.
28
144 days
10 January 1963
CD
Miramar Rangers FC
35
5
5
Evans, Ceri L.
27
244 days
2 October 1963
D
Oxford United FC, England
48
2
6
Ironside, Robert
23
287 days
20 August 1967
M
Sydney Olympic FC
46
10
7
McGarry, Michael D.
26
17 days
17 May 1965
AM
Christchurch United FC
30
12
8
Halligan, Daniel R.
26
106 days
17 February 1965
M
Christchurch United FC
27
3
9
Edge, Declan J.
25
258 days
18 September 1965
in Malacca Town, Malaysia
F
Waikato FC
25
1
12
Ferris, Antony
29
242 days
4 October 1961
in Northern Ireland
M
Mount Maunganui FC
12
0

10

de Jong, Frederick S.J.
27
59 days
5 April 1964
F
Fortuna Sittard

, Netherlands

16
1

unused substitutes:

10-Noel Barkley, 13-Vaughan Coveney, 14-Carl Jorgensen, 15-Thomas Edge, 16-Grant Schofield

team notes:

captain Malcolm Dunford is the only member of the squad that played against the England B team in 1984
-
-

Averages:

Age
26 years 269 days
Appearances/Goals
28.2
4.5

England Team
Rank:

No official ranking;
EFO ranking
ELO rating 3rd
Colours:
The 1990 Umbro away shirt - Red collared jersey with shadowed diamonds and navy collar/white cuffs, navy shorts with white/red triangle, red socks with white tops.
Capt:
Gary Lineker
(seventh captaincy

(18) (

6)

)
Manager:
Graham Taylor,

46

(15 September 1944), appointed 23 July 1990,
10th match, W 7 - D 3 - L 0 - F 15 - A 5.
England Lineup
1
Woods, Christopher C.E.
31
201 days
14 November 1959
G
Rangers FC

, Scotland

22

6ᵍᵃ

2
Parker, Paul A.
27
60 days
4 April 1964
RB
Queen's Park Rangers FC
16
0
3
Pearce, Stuart
29
40 days
24 April 1962
LB
Nottingham Forest FC
39
1
4
Batty, David, off 46th min.
22
183 days
2 December 1968
M
Leeds United AFC
4
0
5
Walker, Desmond S.
25
189 days
26 November 1965
CD
Nottingham Forest FC
34
0

18

6
Barrett, Earl D.
25
36 days
28 April 1967
CD
Oldham Athletic FC
1
0
1029
fourth Athletic player (first since 1929) to represent England
7
Platt, David A.
24
358 days
10 June 1966
A/CM
Aston Villa FC
20
7
8
Thomas, Geoffrey R.
26
302 days
5 August 1964
RM
Crystal Palace FC
5
0
9
Wise, Dennis F.
24
169 days
16 December 1966
M
Chelsea FC
4
1
10
Lineker, Gary W.
30
185 days
30 November 1960
CF
Tottenham Hotspur FC
67
41

19

11
Walters, Mark E., off 70th min.
27
1 day
2 June 1964
LM
Rangers FC

, Scotland

1
0
1030
the fifth Rangers player to represent England
only app 1991
England Substitutes

20

15
Deane, Brian C., on 46th min. for Batty
23
116 days
7 February 1968
CF
Sheffield United FC
1
0
1031
the 35h United player (first since 1975) to represent England
16
Salako, John A., on 70th min. for Walters
22
112 days
11 February 1969
in Ibadan, Nigeria
M
Crystal Palace FC
2
0
0
2

result:

New Zealand 0 England 1

unused substitutes:

12-Gary Charles, 13-Tony Coton, 14-Ian Wright

substitute notes:

Brian Deane is the 57th player to debut for England as a substitute.

records:

This is England's first friendly match on a Monday since June 1953.
-
-

Averages:

Age
26 years 258 days
Appearances/Goals
19.4
4.4
Match Report by Mike Payne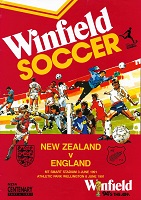 Jet lag and a dramatic climatic change did not help England's cause in this match in Auckland. It was therefore hardly surprising that the game was a very disappointing one. The match had been arranged as one of two to help celebrate the New Zealand Football Association's Centenary. England, with three new caps in the side, never really got going and their best moments were reserved for the final five minutes.

New Zealand offered plenty of spirit and courageously battled away for every loose ball. Goal attempts on this cold and windy day were few and far between and the nearest anyone came to a goal in the first-half was when Chris Woods dropped a corner. The ball fell for Dunford, only three yards from goal, but somehow he shot over the crossbar. To be fair it looked as though Woods had been impeded but having said that it looked also as though the referee would have given a goal. It certainly was a lucky escape.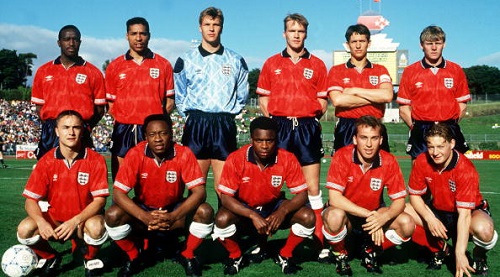 Dennis Wise, again looking a little out of his depth in an international jersey, Paul Parker, giving a careless display and Earl Barrett, often struggling, gave England an uninspiring look about them, and but for a fine tackle by Des Walker, De Jong might have scored.

In the second half New Zealand continued to work hard to frustrate England and the visitors found it difficult to break the Kiwis down. But with only five minutes of a drab game remaining, the visitor's attack flickered into action. John Salako, making another lively appearance as substitute, as he had done in Sydney, hit the bar with a good shot. It looked as though that effort would be England's best of the match, but three minutes into injury time. Wise sent Parker away and Lineker anticipated the cross brilliantly to sprint in front of his marker to sweep home the last-gasp winner. The goal saw Lineker at his best and was a wonderful piece of opportunism.

It ruined the New Zealand party but set a new record from Graham Taylor as the tenth match without defeat since he replaced Bobby Robson as manager.


Source Notes
TheFA.com
BBC Sport


Ultimate NZ soccer

Original newspaper reports
Rothman's Yearbooks
Mike Payne - football historian and contributor
cg