Rank:

FIFA (22nd October 2020) 4th
EFO ranking Group One (2nd)
ELO rating 11th to =9th
Colours:
The Nike 2020 away uniform

-

Mega blue and royal blue collared jersey and shorts. Abstract three-lions pattern throughout with challenge red sidestripes. Mega blue socks with a thin challenge red/sport royal blue hoop.
Capt:
Harry Maguire ¹


only, W 1 - D 0 - L 0 - F 3 - A 0

Manager:
Gareth Southgate, 50 (3 September 1970), appointed caretaker manager on 27 September 2016, appointed as permanent manager on 30 November 2016.


47th match, W 28 - D 10 - L 9 - F 96 - A 35

124th known (61st post-war) captain

England

Lineup

1
Pope, Nicholas

D.

, off half time
28
212 days
14 April 1992
G
Burnley FC
4
0ᵍᵃ
2
James, Reece T.
20
340 days
8 December 1999
RWB
Chelsea FC
4
0
3
Saka, Bukayo A.T.
19
68 days
5 September 2001
LWB
Arsenal FC
2
0
4
Keane, Michael V.
27
306 days
11 January 1993
RD
Everton FC
12
1

final app

2017-20

5

Maguire, J. Harry
27
252 days
5 March 1993
CD
Manchester United FC
29
2
6
Mings, Tyrone

D.

, off 61st min.
27
244 days
13 March 1993
LD
Aston Villa FC
5
0
7
Mount, Mason T., off 73rd min.
21
307 days
10 January 1999
RCM
Chelsea FC
11
2
8

Winks, Harry B.
24
284 days
2 February 1996
LCM
Tottenham Hotspur FC
8
1
9
Calvert-Lewin, Dominic N., off 63rd min.
23
241 days

16 March 1997

CF

Everton FC
4
2


¹

94th penalty-kick scored

(128)

the 100th goal scored by an Everton player
10

Sancho, Jadon M.
20
232 days
25 March 2000
RF
Bsv Borussia 09 Dortmund, Germany
16
3
11

Grealish, Jack P., off 61st min.
25
63 days
10 September 1995
LF
Aston Villa FC
3
0

England Substitutes

scoreline:

England 2 Republic of Ireland 0
114
13

Henderson, Dean B.

, on half time for Pope

23
245 days
12 March 1997
G


Manchester United FC

1
0ᵍᵃ
1257

the 69th United player to represent England

only app

2020

scoreline:

England 3 Republic of Ireland 0
16
Maitland-Niles, Ainsley C., on 61st min

(60:15)

for Mings
23
75 days
29 August 1997
CD
Arsenal FC
4
1
0
3
18
Foden, Philip W., on 61st min

(60:20)

for Grealish
20
168 days
28 May 2000
LM
Manchester City FC
2
1
0
1
15
Bakumo-Abraham, K.O. Tamaraebi, on 63rd min.

(62:18)

for Calvert-Lewin
23
41 days
2 October 1997
CF
Chelsea FC
5
1
1
4

98

17

Bellingham, Jude V.W., on 73rd min.

(72:54)

for Mount
17
136 days
29 June 2003
RM


Bsv Borussia 09 Dortmund, Germany
1

0

1258

England's 66th teenager, third youngest

youngest foreign-based player

the second Dortmunder to represent England




result:

England 3 Republic of Ireland 0

unused substitutes:

14-Declan Rice, 19-Harry Kane, 20-Eric Dier, 21-Ben Chilwell, 22-Jordan Pickford, 23-Jordan Henderson.

team notes:

Jude Bellingham becomes England's youngest player at Wembley.
Jack Grealish's great great grandfather,

Billy

Garraty, also played for England in 1903.

records:

Fiftieth victory at the new National Stadium marks England's first victory over Ireland since 1985.
Fifth match on this date, with five wins out of five.
Manchester United players are now one behind (32) Tottenham players (33) in the goalscorers lists.
Of the 94 successful penalty-kicks - more have been scored in the 55th-60th minute period (9) than any other.
England last won six friendly matches in a row in 1990-91.
This is the fourth time that England have kept five friendly clean sheets in a row (1966-67, 1990-91 & 1996-97).
3-4-3
Pope (Henderson) -
Keane, Maguire, Mings (Maitland-Niles) -
James, Mount (Bellingham), Winks, Saka -
Sancho, Calvert-Lewin (Abraham), Grealish (Foden)

Averages (Starting XI):

Age
24 years 133 days
Appearances/Goals
8.8
0.7
Rank:

FIFA (22nd October 2020) 36th
EFO ranking

Group Ten
ELO rating 43rd
Colours:

Made by Umbro

- White v-necked jerseys with white/orange collar and green cuffs, green shorts with white panel on hem, white socks with green tops/thin calf hoop.
Capt:
Shane Duffy
Head Coach:
Stephen Kenny

,

49 (30 October 1971), appointed manager on 4 April 2020


6th match, W 0 - D 3 - L 3 - F 1 - A 6

Republic of Ireland

Lineup

23
Randolph, Darren E.A.
33
184 days
12 May 1987
G
West Ham United FC, England
48
0
12
Christie, Cyrus S.F., off 61st min.
28
43 days
30 September 1992
in Coventry, England
RB
Nottingham Forest FC, England
26
2
4
Duffy, Shane P.M.
28
316 days
1 January 1992
in Derry, Northern Ireland
CD
Celtic FC, Scotland, on loan from Brighton & Hove Albion FC, England
39
4
5
Egan, John, injured off 14th min.
28
23 days
20 October 1992
CD
Sheffield United FC, England
12
0
2
Doherty, Matthew J.
28
301 days
16 January 1992
LB
Tottenham Hotspur FC, England
15
1
7
Browne, Alan J.
25
211 days
15 April 1995
RDM
Preston North End FC, England
11
1
6
Hourihane, Conor, off 71st min.
29
284 days
2 February 1991
LDM
Aston Villa FC, England
21
1
17
Horgan, Daryl J., off 60th min.
28
94 days
10 August 1992
RM
Wycombe Wanderers FC, England
9
0
13
Hendrick, Jeffrey P.
28
286 days
31 January 1992
AM
Newcastle United FC, England
59
2
15
O'Dowda, Callum J.R., off 61st min.
25
203 days
23 April 1995
in Kidlington, England
LM
Bristol City FC, England
22
0
9
Idah, Adam, off 71st min.
19
275 days
11 February 2001
CF
Norwich City FC, England
4
0

Republic of Ireland

Substitutes

20
O'Shea, Dara, on 14th min.

(13.15)

for Egan
21
253 days
4 March 1999
CD
West Bromwich Albion FC, England
2
0

scoreline:

England 3 Republic of Ireland 0
10
Brady, Robert, on 60th min

. (59:57)

for Horgan
28
303 days
14 January 1992
RM
Burnley FC, England
52
8
14
Long, Kevin F., on 61st min.

(60:06)

for Christie
30
86 days
18 August 1990
RB
Burnley FC, England
15
1
11
McLean, James J., on 61st min

. (60:18)

for O'Dowda
31
204 days
22 April 1989
in Derry, Northern Ireland
LM
Wigan Athletic FC, England
76
10
22
Molumby, Jayson P., on 71st min.

(70:24)

for Hourihane
21
98 days
6 August 1999
DM
Brighton & Hove Albion FC, England
4
0
21
Curtis, Ronan, on 71st min.

(70:26)

for Idah
24
228 days
29 March 1996
in London, England
CF
Portsmouth FC, England
5
0

result:

England 3 Republic of Ireland 0

unused substitutes:

1-Mark Travers, 16-Caoimhín Kelleher, 18-James Collins, 19-Sean Maguire.

team notes:

Alan Browne tested positive for the coronavirus in the testing following this match

records:

The Republic are without a goal in their past five matches. Their longest run since 1995-96.
3-2-4-1
Randolph -
Christie (Long), Duffy, Egan (O'Shea), Doherty -
Browne, Hourihane (Molumby) -
Horgan (Brady), Hendrick, O'Dowda -
Idah (Curtis)

Averages (Starting XI):

Age
27 years 270 days
Appearances/Goals
24.2
1.0
In the first 15 minutes of this friendly International at Wembley, both sides looked to try and gain the edge on proceedings. Tyrone Mings missed with a header from an early England corner but Ireland hit back with some good raids down the right where Daryl Horgan looked lively. Twice the winger put in dangerous crosses, the second following a clever flick from Alan Browne, who sent his former Preston North End teammate away. England defended the crosses well though and gradually pushed forward more themselves.

The Irish received a blow when John Egan had to go off after an early injury and England, attacking down the right, eventually won a corner. That was after 18 minutes and the corner was cleared, but only to Harry Winks who sent in another deep cross to the far post. In came Harry Maguire, who outjumped the defence to beat Darren Randolph with a good header and open the scoring.

From that moment on, England were dominant and the Irish gradually run out of ideas. The danger from Horgan evaporated and that gave Bukayo Saka the licence to move further forward in support of the attack. It also meant that Jack Grealish could start to show his skills to the full. A lovely move sent Reece James scampering down the right in the 26th minute and when his cross came in to the near post, only a desperate lunge by Shane Duffy stopped Dominic Calvert-Lewin from ending the move with a goal. From the resultant corner, Maguire again met the ball with a header and Randolph had to tip the ball over.

England's crossing was causing the Irish problems all the time, and Grealish won another corner. From this, in the 31th minute, the ball fell to Winks, who passed to Grealish, who, in turn, found Jadon Sancho. The youngster skipped inside and hit a right-foot shot into the far corner with a confident finish.

With Grealish pulling the strings in midfield England were in a nice rhythm, whilst Ireland started to look bereft of ideas. Another Sancho effort was blocked by a desperate lunge by Cyrus Christie. Nick Pope, who had precious little to do, intercepted a cross and sent Mason Mount breaking down the left as England won yet another corner. This was cleared, but Ireland kept sending long, aimless balls forward to no-one in particular, and that enabled England to mount other attacks. Saka, looking more and more dangerous, set up Grealish with a fine pass but nobody was there for the Aston Villa man's pullback from the byeline. The final action of a comfortable first-half for England came when Mings shot wide from close range.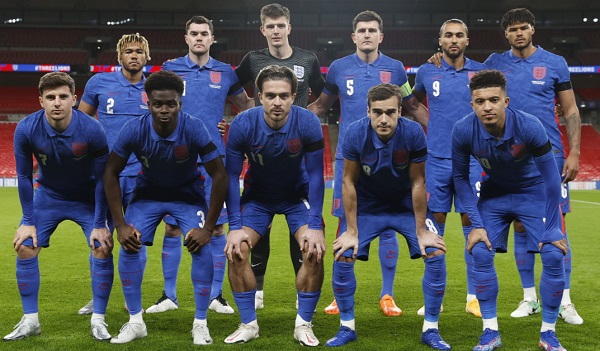 After the break England brought on Dean Henderson for a debut in goal, and the first action after the restart saw Grealish, with a jink and a chip shot just wide of the Irish goal. And within the next two minutes both Saka and James put in efforts that narrowly failed. England were in full control and another goal seemed inevitable, and that duly came in the 55th minute. Saka with a strong run into the box ended with Christie tripping the Arsenal man for an obvious penalty. Calvert-Lewin, who had run hard all through, but had few sights of goal, took the spot-kick, and rifled it home in style giving Randolph no chance to save. It was all too easy for the home side as the Irish looked a well beaten side, and there was still 35 minutes to go!

It was the time for substitutions and there were quite a few with Grealish, Mings and Calvert-Lewin going off and Ainsley Maitland-Niles, Phil Foden and Tammy Abraham coming on for England. Play became a little sedate after those changes, with England content to tippy-tap the ball around, too often, for the fans who wanted to see more intent to score more goals. On 66 minutes Maguire missed a great chance after fine work again by Saka. The full-back was playing well and in another attack, Michael Keane scuffed a shot on the turn and the bounce took it past a surprised Abraham, who was just two yards from goal.

As the Irish made substitutions of their own, Jude Bellingham became the third youngest England player ever, when he replaced Mount. Meanwhile, Browne, one of the few Irish players to shine, had their first shot on target, as late as the 72nd minute. Henderson, who initially slipped, made the eventual save with his foot. As a PNE fan I was willing Browney to tuck that one away! (Only joking!)

By this time England were so much on top that the game became a little tedious, with everyone seemingly just waiting for the final whistle to go. Unfortunately there was still ten minutes to go, and in that time Henderson made a second save, this time from substitute Ronan Curtis. Then Abraham ruined a perfect breakaway chance with a poor pass and Maguire headed wide with his fourth chance of the match. Right at the end, Duffy had a chance after England's defence dozed off, but he headed over.

It was a game that was affected by England's dominance and Ireland's general lack of ideas and quality. If England had been a little more forceful, they might have doubled their score, the substitutions didn't help much and it has to be said that after Grealish went off England lost their sparkle a little. Nevertheless, it was a well deserved win and a good workout for the tough games to come. As for Ireland, they have much more to work on and worry about.