Match Summary
Liechtenstein

Type

England

Referee (red) - Georgios Kasnaferis
36 (10 February 1967), Athens, FIFA listed 1995.

Assistant Referees - Andreas Giakoumis, 40 (22 September 1962), and Dimitrious Groutsis, 44 (14 March 1959).

Fourth official - Georgios Borovilis, 42 (10 May 1960), FIFA-listed 1999.

Goal Attempts
Attempts on Target
Hit Bar/Post
Corner Kicks Won
Offside Calls Against
Fouls Conceded
Possession

Liechtenstein Team
Rank:

FIFA (26th Mar 2003) 152nd
EFO ranking


ELO rating 177th
Colours:
Made by Adidas - Blue v-necked jerseys with white Adidas trim on shoulders, red shorts with white Adidas side trim, blue socks with white Adidas trim.
Capt:
Daniel Hasler
Coach:
Ralf Loose, 40 (5 January 1963 in West Germany), appointed 1 July 1998.
Liechtenstein Lineup
1
Jehle, Peter

K.

21
22 January 1982
G

Grasshopper Club Zürich, Switzerland

26
0
2
Telser, Martin
24
16 October 1978
RB
FC Vaduz
36
1
3
D'Elia, Fabio
20
19 January 1983
LB
Chur 97

, Switzerland

8
0
4
Hasler, Daniel
28
18 May 1974
CD
FC Wil 1900

, Switzerland

45
1
5
Stocklasa, Michael
22
2 December 1980
CD

FC Vaduz

28
1
6
Stocklasa, Martin
23
29 May 1979
RM
FC Vaduz
34
4
7
Zech, Harry, off 62nd min.
34
25 February 1969
CM
USV Eschen-Mauren
40
1
Harry Zech cautioned in the 59th minute for Unsporting Behaviour. As Gerrard goes in for the ball, he is caught by Zech. Gerrard is hurt.
8
Büchel, Ronny, off 86th min.
21
19 March 1982
RF
FC Vaduz
19
0
9
Beck, Thomas
22
21 February 1981
LF

FC Vaduz

24
0

10

Frick, Mario

, off 82 min.

28
7 September 1974


born in Switzerland

CF

Ternano Calcio, Italy

39
4
11
Gerster, Andreas
20
24 November 1982
LM
FC Vaduz
10
0
Liechtenstein Substitutes
17
Burgmeier, Franz

, on 62nd min. for Zech

20
7 April 1982
M

FC Vaduz

7
0
18
Nigg, Thomas

, on 82nd min. for Frick

19
28 June 1983
M
USV Eschen-Mauren
10
0
16
Beck, Matthias, on 86th min. for Büchel
21
5 October 1981
M
USV Eschen-Mauren
16
0

unused substitutes:

12-Martin Heeb, 13-Jürgen Ospelt, 14-Frédéric Gigon, 15-Christof Ritter.

team notes:

Michael and Martin Stocklasa are brothers.
4-3-2-1
Jehle -
Telser, Hasler, Michael Stocklasa, D'Elia -
Martin Stocklasa, Zech (Burgmeier), Gerster -
Büchel (M.Beck), T.Beck -
Frick (Nigg).

Averages (Starting XI):

Age
23.9
Appearances/Goals
28.1
1.1

England Team
Rank:

FIFA (26th March 2003) 9th
EFO ranking


ELO rating 7th to 8th
Colours:
The 2003 home uniform - White collared shadow hooped jerseys with white collar/cuffs trimmed with navy, red v-neck/panel thinning down sleeves, navy shorts with red thinning side panel, white socks with navy hoop.
Capt:
David Beckham, 22nd captaincy.
Head Coach:
Sven-Göran Eriksson

, 55 (5 February 1948), appointed 30 October 2000, took post 12 January 2001,


25th match, W 12 - D 9 - L 4 - F 47 - A 24.
England Lineup
1
James, David

B.

32
1 August 1970
G

West Ham United FC

12
8

GA

2
Neville, Gary

A.

28
18 February 1975
RB
Manchester United FC
56
0
3
Bridge, Wayne

M.

22
5 August 1980
LB

Southampton FC

10
0
4
Gerrard, Steven

G.

, off 65th min

22
30 May 1980
CM
Liverpool FC
14
2
5
Ferdinand, Rio

G.

24
7 November 1978
CD

Manchester United FC

30
0
6
Southgate, Gareth
32
3 September 1970
CD
Middlesbrough FC
52
1
7
Beckham, David R.J.

, off 70th min.

27
2 May 1975
RM

Manchester United FC

58
10
8
Scholes, Paul
28
16 November 1974
CM
Manchester United FC
53
13
9
Heskey, Emile W.I., off 80th min.
25
11 January 1978
F
Liverpool FC
32
4
10
Owen, Michael

J.

23
14 December 1979
F

Liverpool FC

46
20
11
Dyer, Kieron C.
24
29 December 1978
LM

Newcastle United FC

15
0
England Substitutes
14
Butt, Nicholas, on 65th min. for Gerrard
28
21 January 1975
M
Manchester United FC
26
0
15
Murphy, Daniel B., on 70th min. for Beckham
26
18 March 1977
M
Liverpool FC
7
1
17
Rooney, Wayne M., on 80th min. for Heskey
17
24 October 1985
F
Everton FC
2
0

unused substitutes:

12-Danny Mills, 13-Paul Robinson, 16-Jonathan Woodgate, 18-Darius Vassell.

team notes:

David Beckham's successful free-kick was his sixth, and England's 22nd. It is the fourth time England had scored two free-kicks in one season.

4-4-2

James -
Neville, Ferdinand, Southgate, Bridge -
Beckham (Murphy), Gerrard (Butt), Scholes, Dyer -
Owen, Heskey (Rooney).

Averages (Starting XI):

Age
26.1
Appearances/Goals
34.4
4.5
Match Report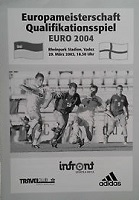 After the frustration of Macedonia and the disappointment of Australia. England got back on the winning trail with a professional performance to record a 2-0 victory against opposition that refused to be overawed by the prospect of matching themselves against the likes of Beckham and Owen.

England were brisk at the start, with Becks, Dyer and Neville prominent, but Owen's 28th-minute opener actually came at a time when England's momentum looked to be waning a little. It was a well-worked goal, emanating from the right flank. Becks released the rampaging Heskey and he produced a deft cross that was met by Owen's textbook header six yards out.

Really England should have doubled their lead soon afterwards. Twice in two minutes long balls found Becks and Heskey in one-on-ones with Liechtenstein 'keeper Jehle. While the skipper failed to control the ball properly for his chance, Heskey had a penalty appeal turned down following Jehle's challenge on him.

However, it was by no means all one-way traffic and the home front pairing of Bent and Frick had a number of half-chances throughout the game, most of which were created through their own desire and determination. England knew that such a narrow lead would remain an uncomfortable one and started the second half in business-like fashion.

At this stage England were clearly dominating and another goal was surely not too far away. And so it proved. You may know what Becks wants to do with his free-kicks as he steps up to the ball 25 yards from goal...but stopping him doing it is another matter entirely. He stuck a pearler of a kick on 53 minutes, bending his effort with pace around the wall and in off Jehle's left-hand post. Even the home fans were in awe.

A young man called Rooney was also given a run-out in the Rheinpark, being brought into the action on 78 minutes. Brian Kidd had a long chat with him on the touchline and Sven too had a precise word or two to impart. The coaches were keen to ease Wayne into his England career but sometimes talent demands opportunity.

The locals gave their side a standing ovation at the end. This was the biggest game in their country's history. For England it was rather more a case of "job done". - The Football Association Yearbook 2003-04, p45.

Source Notes
BBC Sport
TheFA.com
FA Library
Roland Ospelt, Chief Executive Officer of the Liechtensteiner Fussballverband
Football Association Yearbook 2003-04
____________________

CG