Match Summary
Officials

from Slovenia

Czech Rep Squad

Type

England Squad
Referee

(sky blue)


Damir Skomina
43, (5 August 1976), Koper, FIFA-listed 2003.
8th match, W 2 - D 1 - L 5 - F 9: A 11
15
Goal Attempts
7
8
Attempts on Target
4
0
Hit Bar/Post
0
Assistant Referees
6
Corner Kicks Won
2
Jure Praprotnik


34 (30 November 1984)

Robert Vukan


43 (18 August 1976)

0
Offside Calls Against
2
Fourth official
Matej Jug

, 39

(25 September 1980).

UEFA Delegate - Rainer Koch

, 60 (18 December 1958), Kiel, Germany

16
Fouls Conceded
10
45%
Possession
55%

Czech Republic Team
Rank:

FIFA (19 September 2019)

44th


EFO ranking n/a


ELO rating

3

2nd to 27th
Colours:
Made by Puma - Red crew-necked jerseys with blue trim and a lion's head graphic on the front, blue shorts, red socks.
Capt:
Vladimír Darida
Manager:
Jaroslav Šilhavý, 57 (3 November 1961), appointed 18 September 2018
11th match, W 7 - D 0 - L 4 - F 16 - A 14
Czech Republic Lineup
1
Vaclík, Tomáš
30
196 days
29 March 1989
G
Sevilla FC, Spain
29
27ᵍᵃ
5
Coufal, Vladimír
27
50 days
22 August 1992
RB
Sk Slavia Praha
6
0
3
Čelůstka, Ondřej
30
115 days
18 June 1989
RCD
Antalyaspor, Turkey
15
1
4

Brabec, Jakub
27
66 days
6 August 1992
LCD
FC Viktoria Plzeň
16
1
18
Bořil, Jan
28
273 days
11 January 1991
LB
Sk Slavia Praha
12
0
15
Souček, Tomáš
24
226 days
27 February 1995
DRM
Sk Slavia Praha
23
3
21
Král, Alex
21
145 days
19 May 1998
in Kožice, Slovakia
DLM
FC Spartak Moskva, Russia
6
0
20
Masopust, Lukáš, off 88th min.
26
241 days
12 February 1993
RM
Sk Slavia Praha
8
1
8
Darida, Vladimír
29
64 days
8 August 1990
CM
Hertha, Berliner SC, Germany
58
5
14
Jankto, Jakub, off 82nd min.
23
265 days
19 January 1996
LM

UC Sampdoria, Italy

24

3


8th min. for complaining that after Král's shot it hit Keane's arm.

19
Schick, Patrik, off 65th min.
23
260 days
24 January 1996
CF
RB Leipzig, Germany, on loan from AS Roma, Italy
21
9
Czech Republic Substitutes

scoreline:

Czech Republic 1 England 1
9

Ondrášek, Zdeněk, on 65th min.

(64:36)

for Schick
30
293 days
22 December 1988
CF
FC Dallas, United States
1
1
13
Kopic, Jan, on 82nd min.

(81:56)

for Jankto
29
129 days
4 June 1990
M
FC Viktoria Plzeň
18
3

scoreline:

Czech Republic 2 England 1

17
Zmrhal, Jaromír, on 88th min.

(87:34)

for Masopust
26
70 days
2 August 1993
M
Brescia FC, Italy
14
1

result:

Czech Republic 2 England 1

unused substitutes:
2-Radim Řezník, 6-Ondřej Kúdela, 7-Ladislav Krejčí, 10-Joséf Hušbauer, 11-Michael Krmenčík, 12-Lukáš Kalvach, 16-Ondřej Kolář, 22-Stefan Simič, 23-Jiří Pavlenka
records:
The Czech Republic are the 36th different country to have beaten England.
4-2-3-1
Vaclik -
Coufil, Čelůstka, Brabec, Bořil -
Souček, Král -
Masopust (Zmrhal), Darida, Jankto (Kopic) -
Schick (Ondrášek)

Averages

(Starting XI)

:

Age
26

years

240

days

Appearances/Goals

19.8

2.0

England Team
Rank:

FIFA (19th Sept 2019) 4th
EFO ranking Group One (2nd)
ELO rating 9th to 12th
Colours:
The Nike 2018 home shirt

-

White v-necked jerseys

with red tri

m on collar, white shorts, white socks.
Capt:
Harry Kane

²⁰




21st, W 12 - D 4 - L 5 - F 46 - A 24

Manager:
Gareth Southgate, 49 (3 September 1970), appointed caretaker manager on 27 September 2016, appointed as permanent manager on 30 November 2016.


38th match, W 21 - D 9 - L 8 - F 70 - A 33.

England Lineup
1
Pickford, Jordan L.
25
218 days
7 March 1994
G
Everton FC
22
23ᵍᵃ
2
Trippier, Kieran J..
29
22 days
19 September 1990
RB
Club Atlético de Madrid, Spain
18
1
3
Rose, Daniel L.

29


101 days
2 July 1990
LB

Tottenham Hotspur FC


29

0
10th min. following his late challenge on Schick outside area.

S

USPENDED

final

app

2016-19

4
Rice, Declan, off 88th min.

20


270 days
14 January 1999
LDM
West Ham United FC
6
0
5
Keane, Michael V.
26
273 days
11 January 1993
RCD
Everton FC
10
1
6
Maguire, J. Harry

26


220 days
5 March 1993
LCD
Manchester United FC
23
1
7
Sterling, Raheem S.
24
307 days
8 December 1994
in Kingston, Jamaica
LAM

Manchester City FC

54

10

68th min. for complaining at the referee for giving a foul against him.
8
Henderson, Jordan B.
29
116 days
17 June 1990
RDM

Liverpool FC

54

0

92nd min. after

b

oth he and Ondrášek leaped for the same ball.
9
Kane, Harry E.

26


75 days
28 July 1993

CF

Tottenham Hotspur FC

42

27


⁹

91st penalty-kick scored

(125)

10

Sancho, Jadon M., off 73rd min.

19


200 days
25 March 2000
RAM
Bsv Borussia 09 Dortmund, Germany
9
2
11
Mount, Mason T., off 72nd min.

20


274 days
10 January 1999
AM
/CM
Chelsea FC
3
0

England

Substitutes

scoreline:

Czech Republic 1 England 1

19
Barkley, Ross, on 72nd min.

(71:49)

for Mount

25


310 days
5 December 1993
CM
Chelsea FC
32
15
4
17
20
Rashford, Marcus, on 73rd min.

(72:04)

for Sancho

21


345 days
31 October 1997
LM
Manchester United FC
35
16
7
19

scoreline:

Czech Republic 2 England 1

23
Bakumo-Abraham, K.O. Tamaraebi, on 88th min.

(87:34)

for Rice

22


9 days

2 October 1997

F


Chelsea FC
3

1
0

2
the 49th player from Chelsea to represent England

result:

Czech Republic 2 England 1

unused substitutes:
12-Trent Alexander-Arnold, 13-Nick Pope, 14-Ben Chilwell, 15-Joe Gomez, 16-Tyrone MIngs, 17-Fikayo Tomori, 18-Harry Winks, 21-Callum Wilson (poorly), 22-Dean Henderson.
team notes:
England last played with two foreign-based players in the 2006 World Cup quarter-final.
Gareth Southgate is the first to manage England twice against Czech Republic.
records:
This is England's first qualification (WC & EC) defeat for ten years (Ukraine, October 2009), lasting 43 matches (W34 D9).
Manager Gareth Southgate was an unused substitute when Czech Republic visited in November 1998.
4-2-3-1


second half: 4-3-3

Pickford -
Trippier, Keane, Maguire, Rose -
Henderson, Rice (Abraham) -
Sancho (Rashford), Mount (Barkley), Sterling -
Kane


notes: Mount moved back to between Henderson and Rice in the second half

Averages

(Starting XI)

:

Age
25

years

123

days

Appearances/Goals

24.5

3.7
Match Report

by Mike Payne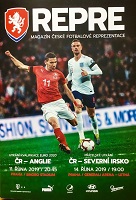 For the first time in ten years England lost a qualifying match in a major tournament. To go that long undefeated is rightly applauded, but the manner in which the run came to an end against the Czech Republic will be a worry for manager Gareth Southgate.



T

he match certainly couldn't have started any better for England as they took the lead after just five minutes play. A great flick by Harry Kane sent Raheem Sterling racing into the penalty area to the left of goal. His quick turn and check back completely deceived Lukas Masopust, who scythed the Manchester City winger down for what was an obvious penalty. Kane slotted home the spot-kick and it all looked good for England. Maybe going ahead so early proved their undoing as it was at that point that the game changed. For the remainder of the half there was a lackadaisical attitude from the England players, and also a certain amount of mis-placed arrogance. The Czechs were having none of that, and they really set about England to make them pay for thinking they had the match won.





It was soon obvious that England were not going to have things all their own way as the Czechs hustled and harried and pressed them into errors. A corner to the home side in the ninth minute led to an immediate equaliser. Michael Keane failed to clear from Ondrej Celustka, who deflected the ball to the completely unmarked Jakub Brabek, who bundled the ball home off his knee/shin. England are not dealing with set pieces at all recently, and it is something Southgate must address. The Czechs were lifted by this goal, and with their fans creating a lot of noise, they worked their socks off. For a while England were rattled. Jordan Henderson and Declan Rice were both guilty of sloppy passes giving away possession, but they were not alone as too many players looked woefully out of sorts, and sloppy was the right word to describe this performance.





England's midfield, with Mason Mount making an inauspicious full debut, looked disjointed and unbalanced and both full-backs were struggling to know quite what their role was to be. In fact, the whole team seemed to be struggling with the set up at times. Almost immediately after their goal the Czechs went very close again, this time with Tomas Soucek heading down to Patrik Schick, only for the forward to screw his shot over Jordan Pickford's crossbar. The home side continued to press and they had several worthy goal attempts in the first-half. Pickford had to be alert on a number of occasions, and made several good saves, especially from Vladimir Coufal's cross-shot after Danny Rose went down under a challenge, claiming a foul, which the referee didn't give. Rose struggled more and more as the game went on, and he was booked, which put him out of the Bulgaria game.





Schick came close at the far post and all this in the first 15 minutes. The remainder of the half saw England re-grouping slightly, but they were not causing the home defenders any real problems, indeed, goalkeeper Tomas Vaclik never had a save to make of any note. Pickford, meanwhile had to be very alert as the mistakes continued from the players in front of him. England were lucky to still be level at the break.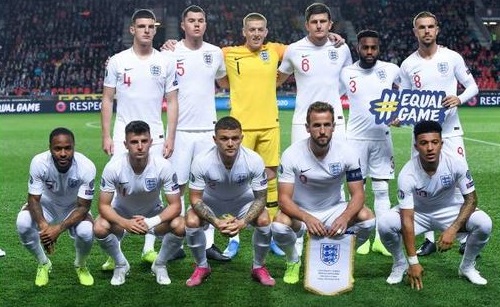 After a re-think at half-time Southgate rallied his troops, but not a lot changed as the Czech Republic were refusing to let go of the momentum they had. On 59 minutes a fine curling shot from Alex Kral was well tipped over by Pickford and three minutes later a lovely cross from the left by Sterling, needed a touch from Kane, but he missed the ball and the chance was lost. Sterling had at least been the one England player to show some of his good club form. Most of the rest of England's team also showed their club form, the trouble was not many of them have any good form at the moment.





Southgate brought on Ross Barclay and Marcus Rashford for the anonymous Mount and Jadon Sancho, but that made no difference as England laboured on.





Kral went close again in the 80th minute when the best move of the match, a series of one-touch passing, left him with a clear shot at goal. He went for the near post but Pickford once again made a good save. Five minutes later though, there was nothing the goalkeeper could do with what proved to be the winning goal. Rose was easily beaten in the air, after a poor clearance by Pickford, and the ball broke down the right for Masopust to have a free run. Harry Maguire failed to close him down and he had the easiest of pull-backs for unmarked substitute Zdenek Ondrasek to score with a good finish. It was a deserved goal for the Czechs, but oh dear, England's defending was awful, and their marking non-existent.





The crowd went wild with delight, understandably perhaps, as this had been the best Czech performance for a number of years. England, meanwhile need to re-evaluate their game as this one was reminiscent of the pre-Southgate era and a big step backwards from the last World Cup. England are still in charge of the group, and in a good position, but they will need to bounce back quickly from this in Bulgaria, in their next match. We shall see.




Source Notes
TheFA.com
BBC Sport
UEFA.com


Mike Payne - football historian and contributor
cg