Rank:

FIFA (17th Sept 2020) 4th
EFO ranking Group One (2nd)
ELO rating 11th to 7th
Colours:
The Nike 2020 home uniform

-

White crew-necked jerseys

with navy blue

collar and side trim, navy blue shorts with pale blue side stripe, white socks.
Capt:
Jordan Henderson


7th, W 5 - L 2 - L 0 - F 13 - A 4.

⁸


Harry Kane

65:10

Manager:
Gareth Southgate, 50 (3 September 1970), appointed caretaker manager on 27 September 2016, appointed as permanent manager on 30 November 2016.


45th match, W 27 - D 10 - L 8 - F 93 - A 34.

England Lineup
1
Pickford, Jordan L.
26
218 days
7 March 1994
G
Everton FC
27
24ᵍᵃ

sixth goalkeeper to face four penalty kicks

2
Alexander-Arnold, Trent

J.

, off 79th min.
22
4 days
7 October 1998
RWB
Liverpool FC
12
1
3

Trippier, Kieran J.
30
22 days
19 September 1990
LWB
Club Atlético de Madrid, Spain
23
1
4
Walker, Kyle A.
30
136 days
28 May 1990
LD
Manchester City FC
50
0

the 61st player to reach the 50-app milestone

5
Dier, Eric J.E.
26
270 days
15 January 1994
CD
Tottenham Hotspur FC
43
3
the 1000th appearance by a Hotspur player
6
Maguire, J. Harry
27
220 days
5 March 1993
RD
Manchester United FC
27
1
7
Rice, Declan
21
271 days
14 January 1999
CM

West Ham United FC


10

0


32nd min. after his challenge with Alex Witsel was deemed a foul.
8
Henderson, Jordan B., off 65th min.
30
116 days
17 June 1990
LM
Liverpool FC
56
0
9
Calvert-Lewin, Dominic N., off 66th min.
23
209 days
16 March 1997
RF
Everton FC
2
1
10

Mount, Mason T., off 89th min.
21
275 days
10 January 1999
RM
Chelsea FC
9
2
11
Rashford, Marcus
22
347 days
31 October 1997
LF
Manchester United FC
39
11


²

93rd penalty-kick scored

(127)

England Substitutes

scoreline:

England 2 Belgium 1
17
Phillips, Kalvin M., on 65th min

. (64:50)

for Henderson
24
314 days
2 December 1995
LM
Leeds United AFC
3
2
0
1
20
Kane, Harry E., on 66th min.

(65:10)

for Calvert-Lewin
27
75 days
28 July 1993
CF
Tottenham Hotspur FC
48
40
32
8
14
James, Reece T., on 79th min

. (78:20)

for Alexander-Arnold
20
308 days
8 December 1999
RWB
Chelsea FC
2
0
0
2
23
Sancho, Jadon M., on 89th min.

(88:45)

for Mount
20
200 days
25 March 2000
LM
Bsv Borussia 09 Dortmund, Germany
14
8
2
6

result:

England 2 Belgium 1

unused substitutes:

12-Tyrone Mings, 13-Nick Pope, 15-Conor Coady, 16-Ainsley Maitland-Niles, 18-James Ward-Prowse, 19-Jack Grealish, 21-Danny Ings, 23-Dean Henderson.

team notes:

This is England's first ever qualification match against Belgium.
Gareth Southgate is the first manager since Walter Winterbottom in 1952 to have managed England against Belgium three times.
Harry Kane and Jordan Pickford are the only two to have featured in all nine Nation League matches.

ranking notes:

This is England's first ever qualification match against the highest FIFA-ranked nation. Also England's highest ranking in the fixture (4th vs. 1st).
Their first fixture against the highest ranking FIFA nation since November 2017. No victory since November 2011 against Spain...This is their s

econd

victory against a highest-FIFA ranked nation.

records:

England have now won 21 of their last twenty home competitive matches.
Lukaku's goal is the 600th goal England have conceded whilst under a Conservative government.
Meanwhile, Rashford's equalising penalty was the 1400th goal in the Queen Elizabeth II reign.
Mount's winning goal was the fiftieth home goal scored in the Southgate era.
Those two goals were the 71st and 72nd goals against Belgium, making them the most scored-against country other than the Home Nations, beating the 71 goals scored against France.
It is also their ninetieth competitive victory at home in 124 attempts.
Manager Gareth Southgate played against Belgium in the October 1999 friendly victory. He had been a squad member in the pre-World Cup Finals warm-up match in May 1998.
3-5-2
Pickford -
Walker, Dier, Maguire -
Alexander-Arnold (James), Mount (Sancho), Rice, Henderson (Phillips), Trippier -
Calvert-Lewin (Kane), Rashford

Averages (Starting XI):

Age
25 years 291 days
Appearances/Goals

27.1

1.7
Rank:

FIFA (17th Sept 2020) 1st
EFO ranking Group One (4th)
ELO rating 1st to 3rd
Colours:
Made by Adidas - Red v-necked jerseys with broad black sashes, black/yellow trimmed collar/cuffs, black adidas side stripes, red shorts with black adidas side stripes, red socks with black adidas striped tops.
Capt:
Kevin De Bruyne
until 72nd min.
Manager:
Roberto Martínez Montoliu, 47 (13 July 1973, in Balaguer, Spain), appointed 3 August 2016.


47th match, W 36 - D 7 - L 4 - F 143 - A 37

.

Belgium Lineup
12
Mignolet, Simon L.H.
32
219 days
6 March 1988
G
Club Brugge KV
27
30ᵍᵃ
15
Meunier, Thomas
29
29 days
12 September 1991
RWB
Bsv Borussia 09 Dortmund, Germany
42

7


38th min. for pulling Jord

a

n Henderson by his shoulder at a corner kick.

P

ENALTY

2
Alderwiereld, Tobias A.M.
31
223 days
2 March 1989
RD
Tottenham Hotspur FC, England
101
3
3
Denayer, Jason

G.M

.
25
105 days
28 June 1995
CD
Olympique Lyonnais, France
16
1
4
Boyata, A. Dedryck
27
318 days
28 November 1990
RD
Hertha, Berliner SC, Germany
19
0
21
Castagne, Timothy
24
311 days
5 December 1995
LWB
Leicester City FC, Eng

land

10
2
6
Witsel, Axel L.A.L.
31
273 days
12 January 1989
RM
Bsv Borussia 09 Dortmund, Germany
108
10
8
Tielemens, Youri
23
157 days
7 May 1997
LM
Leicester City FC, Eng

land

30
2
7
De Bruyne, Kevin, off 73rd min.
29
105 days
28 June 1991
RF
Manchester City FC, England
76
19
9
Lukaku Bolingoli, Romelu M.
27
151 days
13 May 1993

CF

FC Internazionale Milano, Italy

86

53
58th penalty against scored

(87th overall)

most gls
11
Carrasco, Yannick F., off 83rd min.
27
37 days
4 September 1993
LF
Club Atlético de Madrid

, Spain

43
6

Belgium

Substitutes

scoreline:

England 2 Belgium 1
18
Verschaeren, Yari, on 73rd min.

(72:07)

for De Bruyne
19
91 days
12 July 2001
RF
RSC Anderlecht
6
1
19
Doku, Jérémy, on 83rd min.

(82:05)

for Carrasco
18
137 days
27 May 2002
F
RSC Anderlecht
4
1

result:

England 2 Belgium 1

unused substitutes:

1-Davy Roef, 5-Joris Kayembe, 10-Leandro Trossard, 13-Thomas Kaminski, 14-Hans Vanaken, 16-Leander Dendoncker, 17-Divock Origi, 20-Christian Benteke, 22-Brandon Mechele, 23-Michy Batshuayi.

records:

Lukaka's goal was the first goal conceded by England in exactly a year.
Belgium's first defeat in nearly two years, November 2018.
3-4-3
Mignolet -
Alderwiereld, Denayer, Boyata -
Meunier, Witsel, Tielemens, Castagne -
De Bruyne (Verschaeren), Lukaka, Carrasco (Doku)

Averages (Starting XI):

Age
28 years 144 days
Appearances/Goals
50.7
9.3
England versus the current No. 1 team in the world, Belgium, and it should have been a cracking match played in front of a packed Wembley Stadium. Alas, current times are not in favour of that, in every sense, and instead we had a very disappointing match, where the only saving grace was an England win, not to be sneezed at, of course. Gareth Southgate made lots of expected changes and one or two that weren't expected. Belgium, meanwhile, were missing some of their star players, but then, so were England.

Belgium started the game well, and they forced England on to the back foot. Quick passing and breaking at pace saw them put pressure on England's three at the back. Attack-wise, England showed little in that area in the first 25 minutes or so. A long 60-yard pass out of defence by Belgium saw Kevin De Bruyne's shot well charged down by Declan Rice. On ten minutes Belgium scored, or at least the crowd thought so, well, those that were watching on telly! Thomas Meunier put the ball into the net but a very late offside flag saved the home side. There was no VAR so, no argument really, but it was a very tight decision.

Five minutes later, and the visitors did take the lead. A swift break down the right saw Romeo Lukaku, outstripping Eric Dier for pace. A last ditch lunge by the England defender, ended with Lukaku being brought down for a pretty clear penalty. The former Manchester United player took the kick and drilled his shot home with Jordan Pickford going the wrong way. It was no less that Belgium deserved at this stage as they were dominating the match. Another fine attack, with fast paced passing and movement saw Meunier again pulled back for an offside decision, when a goal looked on. England breathed a sigh of relief again, and after that, ever so slightly, forged their way into the play.

England had an excellent spell with ten minutes to go before the break, winning a succession of corners and genuinely forcing Belgium on the back foot for a change. From one of these corners, as the ball came over, Jordan Henderson went down in the box, and the German referee awarded England a penalty. No VAR, so no argument again, but replays suggested that it was a soft one to say the least. But no England fans watching were too bothered by that, and up stepped Marcus Rashford to wallop the ball past Simon Mignolet for an equaliser and complete a memorable few days for the new MBE. Now I have to ask, was Rashford the first MBE to score a penalty for England at Wembley? That's one for the statisticians.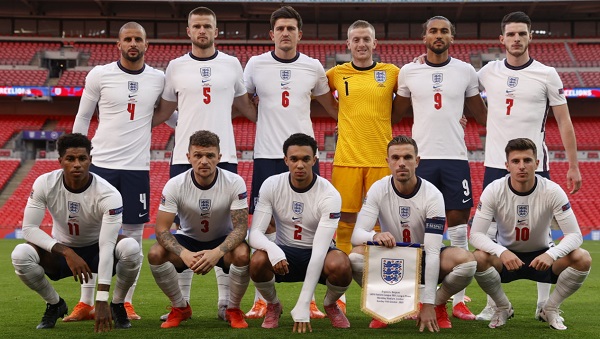 Belgium were stunned that England had the temerity to equalise and immediately came back strongly. Yannick Carrasco should have scored when well placed but he scuffed his short wide of the post, another let-off for England. The half-time break came at the right time for the home side and now they could re-group. Only one shot on target in the half, and that was the penalty, so more going forward was the main discussion in the home dressing room one would think.

In fact, just four minutes after the restart, fine play by Rashford saw Dominic Calvert-Lewin fire a shot just over. the Everton striker had been feeding on scraps throughout the first-half, so he would have been delighted to see that chance come along. It had been a good start by England in this half, passing better and playing calmly and exerting some pressure on the Belgian defenders. The pace of the game had slowed and play was a little more cagey.

Just as England had substitutes warming up, they suddenly turned the game around by taking the lead. Trent Alexander-Arnold and Kieran Trippier combined well with Alexander-Arnold's fine cross being headed down to Mason Mount. He gained possession just inside the left of the penalty area, adjusted his feet, and hit a curling shot at goal. Toby Alderweireld stuck out a foot to try and block the shot and the ball deflected wickedly off his toe and looped over Mignolet, dropping right in the top corner of the Belgian net. It was a bit of a freak goal, but none of the English contingent cared too much about that. 2-1 to England. After the goal, Southgate immediately went ahead with making his first substitutions, with Kalvin Phillips and Harry Kane coming on for Henderson and Calvert-Lewin respectively.

On 72 minutes a wonderful pass by De Bruyne, gave Carasco a fine chance, but again his shot trickled past the far post as Pickford narrowed the angle. It was the pass of the match from the Manchester City star, but it was also his last contribution as he was then substituted, much to the relief of the England supporters.

Kyle Walker, who made many timely interceptions and tackles in the match, was there again as Belgium hit back through the ever-dangerous Lukaku. Reece James was then sent on for Alexander-Arnold, to tighten the grip even more for England and with ten minutes to go, Pickford nicely caught a corner before sending a wonderful long, raking pass to Rashford, and England won a corner. From that Kane had a clear header, but to his anger, he messed it up and the ball missed the target. A good run by the hard-working Declan Rice, exchanging passes with Rashford, before the latter shot just over with his final effort.

The last seven minutes or so saw England comfortably hold out, with no further alarms. So, a notable victory, and Belgium's first defeat in two years. The final summary says that it was not a special performance from England, but rather a good solid professional team performance, and Southgate was rightly delighted with his sides display, and the result of course.