Rank:

FIFA (27th May 2021) 4th
EFO ranking Group One (3rd)
ELO rating 8th
Colours:
The Nike 2020 home uniform

-

White crew-necked jerseys with

navy blue

collar and side trim, blue shorts with pale blue side stripe, white socks.
Capt:
Harry Kane ²⁷


32nd, W 20 - D 5 - L 7 - F 73 - A 28




Conor Coady

60:54.

Manager:
Gareth Southgate, 50 (3 September 1970), appointed caretaker manager on 27 September 2016, appointed as permanent manager on 30 November 2016.


53rd match, W 33 - D 10 - L 10 - F 110 - A 38

England

Lineup

1
Pickford, Jordan L.
27
87 days
7 March 1994
G
Everton FC
31
27ᵍᵃ
2
Alexander-Arnold, Trent

J.

, injured off 88th min.

(87:56)

22
238 days
7 October 1998
RB/
RWB
Liverpool FC

13

1

88th min. for wandering back onto the field of play without the referee's permission.
3
Trippier, Kieran J.
30
256 days
19 September 1990
LB/
LWB
Club Atlético de Madrid, Spain
27
1
4
Rice, Declan, off 61st min.

(60:36)

22
139 days
14 January 1999
LDM
West Ham United FC
16
1
5
Mings, Tyrone

D.

, off 61st min

. (60:41)

28
81 days
13 March 1993
LCD
Aston Villa FC
9
0
6
Coady, Conor D.
28
97 days
23 February 1993
RCD
Wolverhampton Wanderers FC
5
1
7

Saka, Bukayo A.T.M.
19
270 days
5 September 2001
LAM
Arsenal FC
5
1
8
Bellingham, Jude V.W.
17
338 days
29 June 2003
RDM
Bsv Borussia 09 Dortmund, Germany
3
0
9
Kane, Harry E., off 61st min.
27
309 days
28 July 1993
CF
Tottenham Hotspur FC
54
34
10
Grealish, Jack P., off 71st min.
25
265 days
10 September 1995
AM
Aston Villa FC
6
0
11
Lingard, Jesse E., off 61st min.
28
169 days
15 December 1996
RAM
Manchester United FC
28
4

England Substitutes

scoreline:

England 1 Austria 0
17
Watkins, Oliver G.A., on 61st min.

(60:52)

for Lingard
25
154 days
30 December 1995
LF
Aston Villa FC
2
0
1
2

100

14
Godfrey, Benjamin M., on 61st min

. (60:56)

for Mings
23
138 days
15 January 1998
LCD


/LD

Everton FC
1
0
1260
the 70th Everton player to represent England
18
Ward-Prowse, James M.E., on 61st min.

(60:57) f

or Rice
26
213 days
1 November 1994
DM
Southampton FC
7
2
1
5
12

Calvert-Lewin, Dominic N., on 61st min.

(60:59)

for Kane
24
78 days
16 March 1997
RF
Everton FC

8
4
4
4
66th min. after he outjumped Aleksandr Dragović and caught his head with his legs.
1261
16
White, Benjamin W., on 71st min.

(70:42)

for Grealish
23
237 days
8 October 1997
RD
Brighton & Hove Albion FC
1
0
the fifth Albion player to represent England

result:

England 1 Austria 0

unused substitutes:

13-Sam Johnstone, 15-Kalvin Phillips, 19-Jordan Henderson, 20-Jadon Sancho (ill), 22-Aaron Ramsdale.

team notes:

England finished the match with ten men, after Terence Alexander-Arnold picked up a thigh injury when he kicked the ball away

(85:45)

following a throw-in. Knowing he was injured, he wandered off the pitch (86:44), but inadvertently wandered back on, and received a caution because of it.
Jack Grealish's great great grandfather, Billy Garraty, also played for England in 1903.

manager records:

It is Gareth Southgate's first return as England Senior Team manager to the ground of the club he managed between 2006 and 2009. He did bring the U21's here in March 2015, beating Germany 3-2.

records:

Jude Bellingham is the youngest starter since Wayne Rooney against Turkey in April 2003 (17yrs 160).
He is also the youngest post-war player to complete ninety minutes, third youngest overall.
England last won seven friendly matches in a row in 1984-86.
This is the first time that England have kept six friendly clean sheets in a row.
4-2-3-1


3-5-2 after 71 mins.

Pickford -
Alexander-Arnold, Coady, Mings (Godfrey), Trippier -
Bellingham, Rice (Ward-Prowse) -
Lingard (Watkins), Grealish, Saka -
Kane (Calvert-Lewin).
notes: Calvert-Lewin and Watkins swapped wings when they came on as substitutes.
Then with the introduction of White, England went with three at the back.

Averages (Starting XI):

Age
25 years 141 days
Appearances/Goals

17.9

3.8
Rank:
FIFA (23rd May 2021)

23rd


EFO ranking

Group 8




ELO rating

33rd

Colours:
Made by Puma - Black crew-necked jerseys with red/white/green pinstripe across chest, light blue shorts, light blue socks.


(Austrian crest on rear below neckline)

Capt:
David Alaba
Aleksander Dragović 70:53
Manager:
Franco Foda, 55 (23 April 1966 in Mainz, West Germany), appointed 30 October 2017, effective January 2018.
33rd match, W 20 - D 4 - L 9 - F _ - A _
Austria Lineup
1
Bachmann, Daniel
26
328 days
9 July 1994
G
Watford FC, England
1
1ᵍᵃ
21
Lainer, Stefan, off 81st min.
28
279 days
27 August 1992
RB
Borussia VfL 1900 Mönchengladbach, Germany
29

1

52nd min. after twice attempting to bring down Saka, succeeding the second time
3
Dragović, Aleksandar
30
88 days
6 March 1991
RCD
Bayer 04 Leverkusen, Germany
90
2
4
Hinteregger, Martin
28
268 days
7 September 1992
LCD
Eintracht Frankfurt, Germany


54

4

86th min. after disagreeing with the referee awarding a free-kick against him
26
Friedl, Marco
23
78 days
16 March 1998
LB
SV Werder Bremen von 1899, Germany
3
0
19
Baumgartner, Christophe, off 62nd min.
21
305 days
1 August 1999
RM
TSG 1899 Hoffenheim, Germany
9
3
24
Laimer, Konrad, off 62nd min.
24
6 days
27 May 1997
RCM
RB Leipzig, Germany
8
1
23
Schlager, Xaver, off 81st min.
23
247 days
28 September 1997
LCM
VfL Wolfsburg, Germany

20

1

20th min. after a mistimed tackle on Bukayo Saka in the middle of the Austrian half
8
Alaba, David O., off 71st min.
28
343 days
24 June 1992
LM
FC Bayern München, Germany
80
14
9
Sabitzer, Marcel
27
77 days
17 March 1994
AM
RB Leipzig, Germany
49
8
25
Kalajdžić, Saša, off 71st min.
23
330 days
7 July 1997
CF
VfB Stuttgart 1893, Germany
6
3
Austria Substitutes

scoreline:

England 1 Austria 0
10
Grillitsch, Florian, on 62nd min

(61:20)

for Laimer
25
299 days
7 August 1995
RCM
TSG 1899 Hoffenheim, Germany
22
1
17
Schaub, Louis, on 62nd min

. (61:32)

for Baumgartner
26
338 days
29 December 1994
in Fulda, Germany
RM
1.FC Köln 01/07, Germany
20
6
11
Gregoritsch, Michael, on 71st min.

(70:49)

for Kalajdžić
27
45 days
18 April 1994
CF
FC Augsburg 1907, Germany
25
4
18
Schöpf, Alessandro A., on 71st min.

(70:56)

for Alaba
27
115 days
7 February 1994
LM
FC Gelsenkirchen-Schalke 04, Germany
26
5
16
Trimmel, Christopher, on 81st min.

(80:30)

for Lainer
34
98 days
24 February 1987
RB
1.FC Union Berlin, Germany
12
0
14
Baumgartlinger, Julian J., on 81st min.

(80:48)

for X.Schlager
33
151 days
2 January 1988
LCM
Bayer 04 Leverkusen, Germany
83
1

result:

England 1 Austria 0

unused substitutes:

1-Alexander Schagel, 2-Andreas Ulmer, 5-Stefan Posch, 6-Stefan Ilsanker, 12-Pavao Pervan, 15-Philipp Lienhart.

team notes:

There were no Austrian based players in the starting XI, in fact, sixteen of the seventeen players involved had played their football in the German Bundesliga, goalkeeper Bachmann being the exception, playing in the English Championship.
4-4-2(1-1)
Bachmann -
Lainer (Trimmel), Dragović, Hinteregger, Friedl -
Baumgartner (Schaub), Laimer (Grillitsch), Schlager (Baumgartlinger), Alaba (Schöpf) -
Sabitzer -
Kalajdžić (Gregoritsch).

Averages (Starting XI):

Age
26 years 49 days
Appearances/Goals

31.7

3.4
In the great scheme of things, this friendly match hardly mattered before the mainent of the European Championships begins later this month. However, it did give Gareth Southgate the chance to try a few things out, see how players in his squad were, and start the planning for upcoming fixtures.

With no Chelsea, Manchester City or Manchester United, players considered due to their involvement in European finals, the team had an experimental look about it, although with lots of familiar names, and the game had a lively start. With just four minutes on the clock fine play and a pass from Harry Kane to Trent Alexander-Arnold, ended with a fizzing shot just touched over by Austrian goalkeeper Daniel Bachmann. From the resultant corner, Jude Bellingham had a free header but his effort went straight at the keeper. The visitors immediately hit back and England defenders had to be on their toes to clear any danger. After eight minutes it was the Austrians turn to see a fierce shot go just over as Christian Baumgartner tried the first of several attempts by the lively striker.

Three minutes later and England had the ball in the net as good play down the left saw Bukayo Saka win a corner. From the kick, the defence failed to clear properly, the ball ran to Jesse Lingard and his low shot at goal was turned in by Bellingham. Alas, the goal was ruled out because Tyrone Mings was penalised for a foul on the keeper.

Over the next fifteen minutes play was fast and furious with the tough tackling visitors showing no mercy with their challenges. Jack Grealish was particularly targeted, and he crashed to the ground on more than one occasion. On 19 minutes Saka was the next to suffer as Xaver Schlager was booked for a reckless tackle on the Arsenal player. From the free-kick, the ball reached Lingard whose clever lob then found Saka at the far post, but his volley flew high, wide and not so handsome. This was followed by a dangerous breakaway from the Austrians which ended with a dangerous cross going wide with no-one able to touch it. On 27 minutes Grealish was fouled again and from Alexander-Arnold's free-kick, the ball was again cleared to Lingard and suddenly Kane was in on goal. The goalkeeper dived at his feet though and saved the situation.

Declan Rice and Bellingham were working hard and effectively in midfield with both players making timely interceptions. Both teams were pressing when the other side was in possession, so there was little time to settle on the ball. The man in possession was quickly pounced on, by both teams, and into the last ten minutes of the half, Austria put some pressure on the England back line. Following their first corner, Sasa Kalajdzic fired in a shot, which was easily saved by Jordan Pickford. This encouraged the visitors though, and they moved the ball around well. Mings came to the rescue with one fine block as Baumgartner was about to shoot, and although the ball hit his hand, the referee waved away tentative appeals for a penalty. So, the half ended goalless, but not short on incident.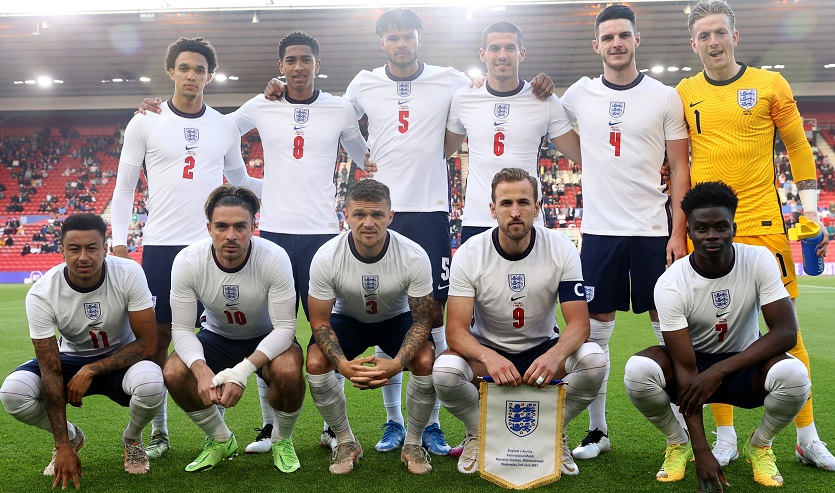 After the restart England were forced to defend and Stefan Lainer was booked after another foul on Saka. The Austrians certainly didn't hold back when it came to their tackles. England's free-kicks had been disappointing so far, and easily dealt with by the visiting defence. Then, a little out of the blue to some extent, England took a 56th minute lead, and it was a good goal too. A quick break from defence saw Kane in the inside-left channel. His delightful pass found Lingard in full flight and his terrific touch sent Grealish in on goal, as bodies blocked and collided with the Aston Villa man, the ball ran for Saka, also up with the attack, and he slotted home from a tight angle for his first England goal.

Austria responded well to the setback though and were soon on the attack, determined to pull the goal back. Baumgartner, who was dangerous throughout, saw another effort deflected for a corner, which was cleared by England. At this point, manager Southgate decided the time was right for a raft of substitutions. It was basically everyone off, and everyone else on! At least that what it seemed like at the time. It almost proved a disaster for Ben Godfrey as his first touch was to send the ball back to his Everton teammate, Pickford, except that Pickford had gone walkabout! Thankfully the goalkeeper rescued Godfrey with a desperate clearance off the line.

As England tried to regroup after all the changes, Austria stepped up a gear forcing England to defend in numbers. Conor Coady was having an excellent game though and was the calm head at the back. One incident annoyed the England fans, as another of the subs, Dominic Calvert-Lewin put in a prestigious leap to head the ball, but caught an Austrian defender as he came down from a great height. The referee, much to the crowd's anger, decided it was dangerous play and booked the Everton striker.

As this half progressed England lost their rhythm a little, and at times looked very disjointed. Grealish continued to impress with his clever runs and control and one dangerous cross was only just cleared. It was the last act by the Villa player as he was then substituted by Ben White, of Brighton, who was making his debut. White was quickly in the action with a terrific shot that flew just wide. That would have been a great way of introducing yourself to international football.

On 80 minutes, Austria were pressing still, and Pickford had to make a fine diving save from Baumgartner, and the more annoying thing was that it was the visitors who were picking up the loose balls more often than not. Three minutes later Alexander-Arnold worryingly pulled up after a clearance, he had played well, but this was an anxious moment for both player and team. Meanwhile, Martin Hinteregger was booked after arguing about a foul he committed, and then a minute from the end Austria missed their best chance of equalising. A cross from the right found Michael Gregoritsch on his own with a free header, but the substitute missed a sitter and held his head in his hands.

The last few minutes saw England hanging on somewhat, and down to ten men as Alexander-Arnold trudged off in despair. Right on time, Pickford slapped a cross that dropped for a shot at goal which was cleared by White from the line. In the end the final 1-0 score was secured. England were a little lucky to win to be honest and Austria will be disappointed finishing with nothing for all their effort. Without doubt England were affected by all the substitutions, but the exercise was a useful one and the crowd watching (how good it is to say that), went home delighted.