Rank:

FIFA (18th February 2021) 4th
EFO ranking Group One (3rd)
ELO rating 9th to 8th
Colours:
The Nike 2020 home uniform

-

White crew-necked jerseys with

navy blue

collar and side trim, blue shorts with pale blue side stripe, white socks.
Capt:
Harry Kane ²⁷


31st, W 19 - D 5 - L 7 - F 72 - A 28




Harry Maguire

88:10

Manager:
Gareth Southgate, 50 (3 September 1970), appointed caretaker manager on 27 September 2016, appointed as permanent manager on 30 November 2016.


52nd match, W 32 - D 10 - L 10 - F 109 - A 38

England

Lineup

1
Pope, Nicholas

D.

28
351 days
14 April 1992
G
Burnley FC
7
1ᵍᵃ
2
Walker, Kyle A.
30
307 days
28 May 1990
RB
Manchester City FC
55
0
3
Chilwell, Benjamin J.
24
100 days
21 December 1996
LB
Chelsea FC
14
0
4
Rice, Declan
22
76 days
14 January 1999
CM
West Ham United FC
15
1
5

Stones, John
26
307 days
28 May 1994
RCD
Manchester City FC
42
2
6

Maguire, J. Harry
28
26 days
5 March 1993
LCD
Manchester United FC
32
3
7
Foden, Philip W., off 86th min.
20
307 days
28 May 2000
RAM
Manchester City FC
6
2
8
Phillips, Kalvin M.
25
119 days
2 December 1995
RM
Leeds United AFC
7
0
9
Kane, Harry E., off 89th min.
27
246 days
28 July 1993

CF

Tottenham Hotspur FC

53

34
¹⁰

95th penalty-kick scored

(129) - top scorer
10
Sterling, Raheem S., off 90th min.
26
113 days
8 December 1994
in Kingston, Jamaica
LAM
Manchester City FC
61
14
11
Mount, Mason T.
22
80 days
10 January 1999
LM
Chelsea FC
16
4

England Substitutes

scoreline:

England 2 Poland 1
16
James, Reece T., on 86th min

. (85:54)

for Foden
21
113 days
8 December 1999
RWB
Chelsea FC
6
3
0
3
18
Calvert-Lewin, Dominic N., on 89th min.

(88:13)

for Kane
24
15 days
16 March 1997
CF
Everton FC
7
4
4
3
14
Lingard, Jesse E., on 90th min.

(89:04)

for Sterling
28
31 days
15 December 1996
RAM
West Ham United FC, on loan from Manchester United FC
27
15
4
12

result:

England 2 Poland 1

unused substitutes:

12-

Kieran Trippier

, 13-

Dean Henderson

, 15-

Conor Coady, 17-Eric Dier, 19-Tyrone Mings, 20-Luke Shaw, 21-Ollie Watkins

, 22-

Sam Johnstone

, 23-

Jude Bellingham.

goalkeeping records:

Nick Pope concedes his first goal for England after a record 498 minutes.

manager records:

It is Gareth Southgate's 25th competitive victory in 39 attempts.

stadium records:

This is a record eleventh consecutive World Cup victory at the Stadium, starting back in October 2012.

records:

England have won the last nineteen home WCP & ECP matches.
This is England's fiftieth World Cup victory at home.
England have played Poland in World Cup matches far more than any other country. This is the fourteenth occasion, which is also a World Cup record.
Harry Kane is the twentieth different England player to have scored against Poland (31 scored).
Manager Gareth Southgate played against Poland in both matches of the 1996-97 World Cup qualifying campaign, but an unused substitute in the 1998-99 European Championship qualifying campaign.
4-3-3(2-1)
Pope -
Walker, Stones, Maguire, Chilwell -
Phillips, Rice, Mount -
Foden (James), Sterling (Lingard) -
Kane (Calvert-Lewin)

Averages (Starting XI):

Age
25 years 283 days
Appearances/Goals

28.0

5.3
Rank:

FIFA (18th Feb 2021)

19th


EFO ranking

Group 8




ELO rating

22nd

Colours:
Made by Nike - Red v-necked jerseys with white collar/cuffs/sidetrim, white shorts, red socks with white tops.
Capt:
Kamil Glik
Manager:
Paulo Manuel Carvalho de Sousa, 50 (30 August 1970 in Viseu, Portugal), appointed 21 January 2021.
third match, W 1 - D 1 - L 1 - F 7 - A 5
Poland Lineup
1
Szczęsny, Wojciech T.
30
347 days
18 April 1990
G
Juventus FC, Italy
52
0
18
Bereszyński, Bartosz
28
262 days
12 July 1992
RWB
UC Sampdoria, Italy
31
0
14
Helik, Michał S.
25
203 days
9 September 1995
RCD
Barnsley FC, England
2
0
15
Glik, Kamil J.
33
56 days
3 February 1988
CD
Benevento Calcio, Italy
82
6
5
Bednarek, Jan K.
24
353 days
12 April 1996
LCD
Southampton FC, England
29
1
13
Rybus, Maciej, off 86th min.
31
225 days
18 August 1989
LWB
FC Lokomotiv Moskva, Russia
61
2
20
Zieliński, Piotr S., off 86th min.
26
315 days
20 May 1994
RM
SSC Napoli, Italy
59
6
10
Krychowiak, Grzegorz
31
61 days
29 January 1990
CM
FC Lokomotiv Moskva, Russia
78
4
16

Moder, Jakub P.
21
358 days
7 April 1999
LM
Brighton & Hove Albion FC, England
8
2
23
Piątek, Krzysztof, off 76th min.
25
273 days
1 July 1995
RF
Hertha, Berliner SC, Germany
18
8
9
Świderski, Karol, off half time
24
67 days
23 January 1997
LF
Panthessaloníkios Athlitikós Ómilos Konstantinopolitón FC, Greece
2
1
Poland Substitutes

scoreline:

England 1 Poland 0
7

Milik, Arkadiusz K., on half time for Świderski
27
31 days
28 February 1994
RF

Olympique de Marseille, France, on loan from SSC Napoli, Italy
59

15

44 seconds into the second half after he tripped Harry Kane from behind

scoreline:

England 1 Poland 1
21
Jóźwiak, Kamil, on 54th min. for Helik
25
343 days
22 April 1998
M
Derby County FC, England
12
2
6
Augustyniak, Rafał, on 76th min. for Piątek
27
168 days
14 October 1993
DM
FC Ural Yekaterinburg, Russia
1
0

scoreline:

England 2 Poland 1
3
Reca, Arkadiusz, on 86th min. for Rybus
25
287 days
17 June 1995
D
FC Crotone, Italy, on loan from Atalanta BC, Italy
14
0
11
Grosicki, Kamil P., on 86th min. for Zieliński
32
296 days
8 June 1988
M
West Bromwich Albion FC, England
83
17

result:

England 2 Poland 1

unused substitutes:

2-Sebastian Kowalczyk, 4-Paul Dawidowicz, 8-Kacper Kozłowski, 12-Karol Niemczycki, 17-Przemyslaw Płacheta, 19-Sebastian Szymański, 22-Łukasz Fabiański,

records:

This is Poland's third loss in 26 WC/EC qualification matches.

Manager Paulo Sousa played for Portugal in friendly matches against England

in December 1995

and

April 1998

.
5-3-2
Szczęsny -
Bereszyński, Helik (Jóźwiak), Glik, Bednarek, Rybus (Reca) -
Zieliński (Grosicki), Krychowiak, Moder -
Piątek (Augustyniak), Świderski (Milik),

Averages (Starting XI):

Age
27 years 264 days
Appearances/Goals

38.4

2.6
The punishing schedule for England continued with this match at Wembley against Poland, their third game in a week. Gareth Southgate made just one change from the win in Albania, bringing in Ben Chilwell for Luke Shaw at left-back.

The game started with England trying to retain possession, but with Poland hunting them down at every opportunity. England kept their cool though, and with Declan Rice, Kalvin Phillips and Mason Mount taking a firm grip on midfield, the dominance of the home team grew. It was soon obvious that Poland had earmarked Raheem Sterling for particular attention, realising that he posed a large threat down the left. Each time the winger received the ball he was closed down by two, three and even four defenders.

The first real chance came on seven minutes when a fine pass from Mount sent Chilwell away down the left and as he reached the bye-line he pulled the ball back, but just a little too high for the inrushing Phil Foden. His header went over but it was also a case of the wrong man on the end of the cross. Poland then broke quickly but that attack was quickly snuffed out by the England defenders. John Stones and Harry Maguire looked in good form and Kyle Walker and Chilwell also gave good protection to Nick Pope.

On ten minutes, Foden cut inside from the right, and had his ankle clipped to bring him down in the box. It looked a penalty but the referee was having none of it. Meanwhile, Sterling was fouled again as defenders swooped on him, and as the minutes ticked by the Manchester City winger was just starting to have a little more joy. One run into the area saw him put a good ball inside, but a defender cleared the danger away. In fact, in the first 15 minutes Poland dealt efficiently with the crosses coming in from England.

In the 18th minute England took the lead. For the first time in the match, Sterling had some space and set off on a run at the Polish defence. As he reached the bye-line a challenge came in from Michal Helik and clattered Sterling to the ground. This time the referee did give the penalty and up stepped Harry Kane to smash the ball down the middle with goalkeeper Wojciech Szczesny diving to his right. It was Kane's 34th England goal and his tenth penalty, which is a new England record.





Poland came back for a short while and Maguire was harshly penalised as he gave away a free-kick. That was not the first poor decision given by the Dutch referee, who made some irritating stoppages against both sides at times.

Two chances then came for Sterling in two minutes of action as first he was crowded out after bursting into the box onto a great pass from Mount. At the other end Pope was a little lucky with a mishit clearance which was thankfully intercepted by the busy Foden, and from the following breakaway, Sterling dribbled into the box again and almost scored the goal of the season. He beat several players before he was just edged out from making the final shot. What a goal that might have been!

On 31 minutes lovely interplay by Foden and Mount set up Kane for a shot. He hit the target but Szcesny dived to his right to touch the ball away from danger. That was a good save. England were stretching the Poland defenders at every opportunity, and with Rice, Phillips and Mount combining well, it looked only a matter of time before England sealed the win. One turn and pass by Phillips showed the Leeds United player was growing into this team with increasing confidence. Rice made many great interceptions, taking the ball from Polish players with ease at times with his clever reading of the play.

In the 43rd minute another run by Sterling was stopped only by desperate defending and every time Sterling took possession and ran at Poland he caused danger. The only annoying feature of England's first-half performance was in just two shots on target and one was the penalty goal. Other than that it was a good half.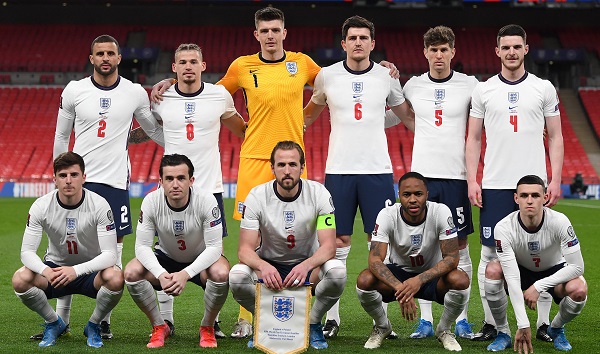 Poland made some changes in the second-half and certainly upped their game. Suddenly the little nicks gaining possession by Rice were not coming off, and Mount's runs were stifled as was the workrate of Phillips. Poland really harried and pushed England in this half, although it must be said that Pope was rarely called into action.

Mount was fouled in one attack to earn a free-kick in a good position, but that was wasted by Foden. Then a cross was cut out by Pope as Poland hit back and the visitors next attack was cleared by Maguire. He and Stones were playing well, as were the full-backs, but the increasing dominance of Poland was a worry. Poland made more changes from their bench, but nothing was forthcoming from Southgate regarding substitutions, which was rather surprising. The England players were showing visible signs of fatigue as the action became more frenetic.

One of the England manager's ploys is to build out from the back, but several times over this and the previous two games the pfaffing around at the back has almost brought disaster. In the 58th minute of this game England's luck ran out. Pope passed out to Stones and the obvious thing would have been to pass back to the keeper. But Stones took a touch too many, was closed down by Jakub Moder, the ball ran away but came back to Moder who finished with aplomb. Stones held his hand up to apologise to his teammates, but the damage was done. There is no need to criticise Stones too much as he and Maguire had played well, and he plays for Manchester City. They play that game too, and quite a few times players, not just Stones, have been caught out. It's the nature of the beast.

For a while Poland were in the ascendency, whilst a few England players were obviously stunned. However, to their credit they gradually recovered, and they still looked more likely to score than the visitors.

England won a few corners but there was little threat from those set pieces throughout the match. More subs came on for Poland but still nothing from Southgate. One Polish substitute Arkadiusz Milik came on and was booked in less than a minute. Later on though he had a free header which he put tamely wide. Then Mount gave Foden a chance with a good pass, but the youngster could not fine the power with his weaker right foot, and the goalkeeper easily saved. It was a little worrying to find players in crossing positions looking up to find no England player in the box, something we need to work on. As the match entered the last ten minutes there was still no signs of changes from the bench but on 84 minutes Mount shot as he cut in, won a corner for England. This time, something did happen from the set piece.

Foden's corner went very deep, too far it seemed, but Stones got round the back and headed the ball down and back into the danger area. The ball bounced to Maguire and he lashed home a terrific shot from 12 yards. All the players rushed to Stones who had certainly atoned for his earlier error. Some say the goal came against the run of play, but I don't agree, as England created more than Poland throughout.

Strangely, with just a few minutes left, Southgate then made three substitutions, with Reece James, Dominic Calvert-Lewin and Jesse Lingard coming on for Foden, Kane and Sterling. Still, the game was won, and you can't say fairer than that. And talking of fair, in one daily newspaper, the score ratings for players gave Stones '4'. What a ridiculous mark that was, obviously judged on that one blemish in an otherwise excellent match for the big defender. England are now in pole position in the group, if you will pardon the pun.