Rank:
FIFA (12th August 2021) 4th
EFO ranking Group One (3rd)
ELO rating 5th
Colours:
The Nike 2020 home uniform

-

White crew-necked jerseys with

navy blue

collar and side trim, blue shorts with pale blue side stripe, white socks.
Capt:
Jordan Henderson
P 8 - W 6 - D 2 - L 0 - F 17 - A 4.


Harry Kane

61:34

Manager:
Gareth Southgate, 51 (3 September 1970), appointed caretaker manager on 27 September 2016, appointed as permanent manager on 30 November 2016.


63rd match, W 41 - D 12 - L 10 - F 130 - A 40

England

Lineup

1
Johnstone, Samuel L.
28
164 days
25 March 1993
G
West Bromwich Albion FC
2
0ᵍᵃ
2
James, Reece T., off 62nd min.
21
271 days
8 December 1999
RB/CM
Chelsea FC
8
0
3
Trippier, Kieran J.
30
351 days
19 September 1990
LB
Club Atlético de Madrid, Spain
34
1
4
Alexander-Arnold, Trent

J.

22
333 days
7 October 1998
LM/RB
Liverpool FC
14
1
5
Coady, Conor D.
28
192 days
23 February 1993
RCD
Wolverhampton Wanderers FC
6
1
6
Mings, Tyrone

D.

28
176 days
13 March 1993
LCD
Aston Villa FC
14
0

82nd min.

S

USPENDED

7
Bellingham, Jude V.W., off 62nd min.
18
68 days
29 June 2003
RM
Bsv Borussia 09 Dortmund, Germany
8
0
8
Henderson, Jordan B.
31
80 days
17 June 1990
CM/RM
Liverpool FC
66
1

1263

9
Bamford, Patrick J., off 62nd min.
28
5 September 1993
CF
Leeds United AFC
1
0

the 33rd United player to represent England

only app

2021

10

Lingard, Jesse E.
28
264 days
15 December 1996
RF
Manchester United FC
31
6
11

Saka, Bukayo A.T.
20
5 September 2001
LF
Arsenal FC
11
2

England Substitutes

scoreline:

England 1 Andorra 0
19
Mount, Mason T., on 62nd min.

(61:02)

for Bellingham
22
238 days
10 January 1999
RM
Chelsea FC
23
16
4
7
23
Grealish, Jack P., on 62nd min.

(61:22)

for James
25
360 days
10 September 1995
LM
Manchester City FC
14
8
0
6
20

Kane, Harry E., on 62nd min.


(61:34)

for Bamford
28
39 days
28 July 1995

CF

Tottenham Hotspur FC
63
54
40
¹¹
9
97th penalty-kick scored

(133)

~

98th substitute goal

result:

England 4 Andorra 0
unused substitutes:
12-Kyle Walker, 13-Nick Pope, 14-Luke Shaw, 15-John Stones, 16-Harry Maguire, 17-Declan Rice, 18-Kalvin Phillips, 21-Raheem Sterling, 22-Jordan Pickford.
team notes:
This is the first time England have made eleven changes to their previous match since June 1982, when the two teams were in two different countries on consecutive nights.
Sam Johnstone is the 65th player to earn a second appearance under Gareth Southgate.
Jack Grealish's great great grandfather,

Billy

Garraty, also played for England in 1903.
stadium notes:
This is the 150th clean sheet England have kept in the 303 matches at Wembley.
The fourteenth time they have recorded a 4-0 victory here.
This is a record twelfth consecutive World Cup victory at the Stadium, starting back in October 2012.
England have won the last twenty home WCP & ECP matches.
This is also Southgate's eighth World Cup match at Wembley, equal with Alf Ramsey, and now one more than Bobby Robson managed.
manager records:
Southgate is statistically the best manager after 63 matches in charge.
It is Southgate's thirt

ie

th match at the National Stadium, eight more than Roy Hodgson managed, and his 22nd victory, five more than Hodgson.
records:
Unbeaten in 26 World Cup qualification matches, having not lost since October 2009

(W20 D5).

4-3-3
Johnstone -
James (Grealish), Coady, Mings, Trippier -
Bellingham (Mount), Henderson, Alexander-Arnold -
Lingard, Bamford (Kane), Saka


notes: for the second half Alexander-Arnold went to right-back. James then swapped positions with Henderson.

Averages

(Starting XI)

:

Age

26

years 43 days
Appearances/Goals

17.7

0.8
Rank:
FIFA (12th August 2021)

156th




EFO ranking

n/a




ELO rating

186th
Colours:
Made by Macron - Red v-necked wing-collared jerseys with blue winged collars & blue/yellow cuffs, red shorts, and red socks.
Capt:
Marcio Vieira
Ildefons Lima

85:31

Head Coach:
Jesús Luis 'Koldo' Álvarez de Eulate Güerge, 51 (4 September 1970 in Vitoria, Spain), appointed 2 February 2010.
89th match, W 5 - D 13 - L 71 - F - - A -.

Andorra

Lineup
1
Gómes Moreira, Josep A.
35
276 days
3 December 1985
G
Inter Club d'Escaldes
76
0
18
Rúbio Gómez, Jesus
26
361 days
9 September 1994
RB

FC Santa Coloma

30

0

90th+2 min. for a lunging challenge on Lingard on the touchline. S

USPENDED

14
García González, Christian
22
213 days
4 February 1999
RD

AD Alcorcón B, Spain

4

0

71st min. for the push on Mount on the six

yard line. P

ENALTY

S

USPENDED

3
Vales González, Marc
31
154 days
4 April 1990
CD

Sandefjord Fotball, Norway

75

4

38th min. for lunging into Lingard as they both ran for the ball: S

USPENDED

20
Llovera González-Adrio, Max
24
240 days
8 January 1997
LD
EC Granollers, Spain
44
0
15
Nicolás Schellens, Moisés San, off 86th min.
27
353 days
17 September 1993
LB
Atlètic Club d'Escaldes
62
0
10
Clemente Garcés, Ludovic, off 75th min.
35
119 days
9 May 1986
RM
Inter Club d'Escaldes
42
0
4
Rebés Ruiz, Marc
27
64 days
3 July 1994
RCM

Stade Beaucairois 30, France

42

3

45th+2 min. for a tackle on Saka outside the pe

nalty area

: S

USPENDED

8
Vieira de Vasconcelos, Márcio, off 86th min.
36
330 days
10 October 1984
LCM
Atlètico Monzón, Spain
106
0
23
Rúbio Gómez, Jordi, off 74th min.
33
308 days
1 November 1987
LM

Inter Club d'Escaldes

52

0

64th min. for catching the heel of Saka as he attempted a tackle from behind
9
Sánchez Alburquerque, Aarón, off 66th min.
25
92 days
5 June 1996
in Salamanca, Spain
CF
UE Engordany
25
0

Andorra

Substitutes

scoreline:

England 1 Andorra 0
19
Fernández Betriu, Ricardo, on 66th min.

(65:30)

for Sánchez
22
170 days
19 March 1999
CF

SD Formentera, Spain

16

0

88th min. for a poor challenge on Henderson on the halfway/touch line

scoreline:

England 2 Andorra 0
21
García Renom, Marc, on 74th min.

(73:48)

for Jordi Rúbio
33
168 days
21 March 1988
LB
CF Montañesa, Spain
50
0
16
Martínez Palau, Alexandre, on 75th min.

(74:00)

for Clemente
22
330 days
10 October 1998
RM
FC Santa Coloma, on loan from FC Andorra
36
1

scoreline:

England 4 Andorra 0
6
Lima Solà, Ildefons, on 86th min.

(85:31)

for Vieira
41
269 days
10 December 1979
in Barcelona, Spain
CD
Inter Club d'Escaldes
131
11
mst apps
mst gls
17
Cervós Moro, Joan, on 86th min.

(85:46)

for Nicolás
23
193 days
24 February 1998
LB
AE Prat, Spain
28
0

result:

England 4 Andorra 0
unused substitutes:
2-Cristian Martínez, 5-Emili García, 7-Xavier Vieira, 11-Sergio Moreno, 12-Iker Álvarez, 13-Francisco Pires, 22-Victor Bernat.
team notes:
The last two substitutes had waited on the touchline since 80:30 before being allowed to come onto the field of play after England had scored their fourth goal.
Head Coach Koldo, as Andorra's goalkeeper, has conceded all of the goals that England have scored against Andorra. The sixteen have come in the two matches of the 2006-07 European Championship qualifying campaig

n, and the 2008-09 World Cup qualifying campaign.

5-4-1
Gómes -
Js.Rúbio, García, Vales, llovera, Nicolás (Cervós) -
Clemente (A.Martínez), Rebés, Vieira (Lima), Jd.Rúbio (M.García) -
Sánchez (Fernández)

Averages

(Starting XI)

:

Age
29 years 297 days
Appearances/Goals

50.7

0.6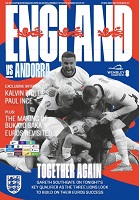 As regular England watchers, who like me have seen over 60 years of games before, will know that these sorts of matches come along at regular intervals. Expected to win by a hatful of goals, confronted by several changes in the team and playing reserves or youngsters, and being met by a stubborn and determined opponent, who makes it very difficult to break them down. We've seen it all so many times before. This was one of those games, painful to watch at times, but in the end a comfortable victory to send the fans home 'happy'.

In fact, manager Gareth Southgate made eleven changes to the side that beat Hungary a few days previously, and in many ways this game followed a similar pattern to the game in Budapest. A very slow start and a first-half devoid of positive football from England for long spells. Patrick Bamford was making his debut and his first two contributions were fouls, although he did try to send Jesse Lingard through on goal, but the goalkeeper was out quickly to beat Lingard to the ball.

The first fifteen minutes were littered with silly fouls by both teams, as the Greek referee was rather quick on the whistle at times. On 17 minutes a run to the bye-line saw Lingard pull the ball back to Bukayo Saka, and his shot was goalbound but for a deflection off a desperate defender. The ref gave a goal-kick for that one, much to everyone's dismay. But a minute later and England broke through. Tyrone Mings won a tackle and Jude Bellingham showed neat footwork to find Saka. His cross was blocked but the ball ran to Lingard who scuffed a shot home. It was a good goal, but not a clean strike.

Three minutes later and Bamford sends Lingard away again, and this time he chipped the goalkeeper beautifully, only to turn and see the linesman's flag up for offside. Lingard was the most lively of the England forwards and he was constantly a danger to the hard-working Andorra defence. Jordan Henderson shot over in the next attack and then Lingard was caught offside again. Bamford was pulled up for another foul and he was finding it hard to make an impact. In truth he looked a little out of his depth. To be fair the final pass into the Andorra box was poor and the Leeds star was feeding off scraps for much of the time. He almost reached a Saka cross with a lunge, and on 35 minutes Conor Coady tried an overhead kick following a corner. Two minutes later and Bellingham should have done better. A lovely pass from Trent Alexander-Arnold was expertly brought under control, before cutting inside to shoot wide of the near post, when he could have perhaps laid it across goal.

More scrappy play from England before the break saw little chance of adding to the one goal, and the final action saw Alexander-Arnold have a free-kick on the edge of the box after the lively Saka was fouled. The kick was awful however, flying over the bar, so 1-0 it was at half-time.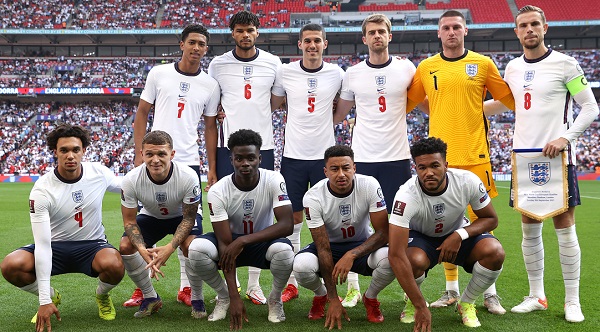 It seemed there was a little more urgency from England after the restart and two minutes in Bamford had a chance but lifted a half-volley over the bar. Then, on 50 minutes, James, who had a poor first-half at right-back and switched with Alexander-Arnold to midfield in the second, suddenly cut inside to unleash a great shot which cannoned back off the crossbar. That came right out of the blue! Five minutes later, good play by Henderson as he crossed to Bamford, who headed the ball down for Lingard to fire over again.

England were starting to get a little frustrated by their inability to break down the Andorra defence, who, to be fair were working very hard. When a long passing move ended with Kieran Trippier losing control, Southgate had seen enough and decided to change things. He brought on Harry Kane, Jack Grealish and Mason Mount for Bamford, James and Bellingham, and immediately the ball started to move forward quicker.

Saka was brought down by Jordi Robio, who was one of six Andorran players to be booked. Mings was the only England player to pick up a yellow card, and he will miss the next game as a result.

In this part of the game it was a tough watch for the fans, as England continued to go sideways and back more often than not with their passing. However, Grealish had other ideas, and he combined with Mount to send the Chelsea player into the box. A clumsy challenge by Christian Gonzalez gave the referee an easy decision to award a penalty. Up stepped Kane, who drilled the ball home emphatically for his 40th England goal.

Funnily enough, after that goal there was a burst of pressure from the visitors, although I use the term loosely, as Sam Johnstone had very little to do in goal, and he must think keeping goal for England is as easy as it was when he was at Preston!!

England were now pushing forward more and on 78 minutes Lingard struck again. Saka and Grealish were involved in the build up before Lingard's shot to the far post was too good for Josep Moreira in goal. Soon after Grealish put in a quick burst down the left, centred to Kane who just had to score. He didn't, his sliced shot striking a post from about two yards out. To save his acute embarrassment, the linesman put his flag up for offside. Oh, lucky Harry!

England won a couple of corners, and from the second on 84 minutes, Alexander-Arnold took it short and quickly to Lingard, catching Andorra asleep. Lingard's cross was headed in brilliantly by Saka, who not only deserved his goal, but scored it on his birthday. The crowd were absolutely delighted, as were all the England fans watching, after his experience a few weeks earlier at the same end of Wembley.

In the remaining minutes Lingard almost had a hat-trick but for another desperate block on the line by a defender, and then Kane almost added a fifth only to be foiled by a fine save by Moreira.

So, another 4-0 win, and England totally in charge of the group table at the half-way stage of the qualifying rounds. Some good individual displays from some of the youngest members of the squad, and Southgate will move on to the game in Poland with plenty of options for selection should he need them.