Rank:
FIFA (12th August 2021)

37th


EFO ranking Group Ten


ELO rating

33rd to 35th

Colours:
Made by Adidas - Red v-necked jerseys with white collar (green trim) and shadowed wavy hoops/white Adidas side stripes, white shorts with red Adidas side stripes, and green socks with white Adidas trim.
Capt:
Ádám Szalai
Manager:
Marco Rossi, 56 (9 September 1964 in Druento, Italy), appointed 19 June 2018.
33rd match, W 15 - D 7 - L 11 - F 45 - A 41.

Hungary

Lineup
1
Gulácsi, Péter
31
119 days
6 May 1990
G
RB Leipzig

, Germany

43
0
3
Kecskés, Ákos
25
241 days
4 January 1996
RD
FC Nizhny Novgorod

, Russia

3
0
6
Orbán, Vilmos T.
28
303 days
3 November 1992
in Kaiserslautern, Germany
CD

RB Leipzig, Germany

26

5

58th min. following a lunging tackle on Jack Grealish on the touchline
4
Szalai, Attila Á.
23
225 days
20 January 1998
LD
Fenerbahçe SK

, Turkey

17
0
14
Bolla, Bendegúz B., off 70th min.
21
284 days
22 November 1999
RWB

Grasshopper Club Zürich

, Switzerland, on loan from Wolverhampton Wanderers FC, England

3

0

35th min. for catching the back of a sprinting Jack Grealish's heels
15
Kleinheisler, László, off 82nd min.
27
147 days
8 April 1994
RM
Nk Osijek

, Croatia

38
3
13
Schäfer, András
22
142 days
13 April 1999
LM
FC DAC 1904 Dunaszerdahelyi Iabdarúgó klub

, Slovakia

10
2
5
Fiola, Attila C.
31
197 days
17 February 1990
LWB
MOL Fehérvár FC
39
2
20
Sallai, Roland, off 66th min.
24
103 days
22 May 1997
RAM
SC Freiburg

, Germany

26
4
10
Szoboszlai, Dominik
20
312 days
25 October 2000
LAM
RB Leipzig

, Germany

13
3
9
Szalai, Ádám C.
33
267 days
9 December 1987
F
1.FSv Mainz 05

, Germany

75
24

Hungary

Substitutes

scoreline:

Hungary 0 England 2
7
Sallói, Dániel, on on 66th min.

(65:42)

for Sallai
25
45 days
19 July 1996
RF
Sporting Kansas City

, United States

1
0

scoreline:

Hungary 0 England 3
11
Varga, Kevin, on 70th min.

(69:28)

for Bolla
25
156 days
30 March 1996
RM
Kasımpaşa SK

, Turkey

11
1
16
Gazdag, Dániel, on 82nd min

. (81:50)

for Kleinheisler
25
184 days
2 March 1996
RDM

Philadelphia Union, United States

7

1

89th min. for standing on the heel and pulling back a sprinting Harry Kane

result:

Hungary 0 England 4
unused substitutes:
2-Ádám Lang, 8-Tamás Cseri, 12-Dénes Dibusz, 17-Roland Varga, 18-Márk Tamás, 19-János Hahn, 21-Szabolcs

Schön, 22- Ádám Bogdán, 23-Nemanja Nikolics.
team notes:
Hungary did finish the match with ten men after Kevin Varga injured his achilles heel

(90:53)

as his foot went into the turf on the touchline. He received attention off the field

(91:33)

and was never replaced.
records:
The defeat was Hungary's heaviest at home in a World Cup qualification match.
3-4-3(2-1)
Gulácsi -
Kecskés, Orbán, Á.Szalai -
Bolla (K.Varga), Kleinheisler (Gazdag), Schäfer, Fiola -
Sallai (Sallói), Szoboslai -
Á.C.Szalai

Averages

(Starting XI)

:

Age
26 years 181 days
Appearances/Goals

26.6

3.9
Rank:
FIFA (12th August 2021) 4th
EFO ranking Group One (3rd)
ELO rating 6th to 5th
Colours:
The Nike 2020 away uniform

-

Mega blue and royal blue collared jersey and shorts. Abstract three-lions pattern throughout with challenge red sidestripes. Mega blue socks with a thin challenge red/sport royal blue hoop.
Capt:
Harry Kane ³²


40th, W 26 - D 7 - L 7 - F 88 - A 30

Manager:
Gareth Southgate, 50 (3 September 1970), appointed caretaker manager on 27 September 2016, appointed as permanent manager on 30 November 2016.


62nd match, W 40 - D 12 - L 10 - F 126 - A 40

England

Lineup

1
Pickford, Jordan L.
27
179 days
7 March 1994
G
Everton FC
39
29ᵍᵃ
2
Walker, Kyle A.
31
97 days
28 May 1990
RB
Manchester City FC
62
0
3

Shaw, Luke P.H.
26
52 days
12 July 1995
LB
Manchester United FC
17
1
4

Rice, Declan, off 87th min.
22
231 days
14 January 1999
LDM
West Ham United FC
25
2
55th min. for a committed and clumsy foul (52:36) on András Schäfer
5
Stones, John
27
97 days
28 May 1994
RCD
Manchester City FC
50
2

the 63rd player to reach the 50-app milestone

6

Maguire, J. Harry
28
181 days
5 March 1993
LCD
Manchester United FC
38
5
7

Grealish, Jack P., off 88th min.
25
357 days
10 September 1995
LAM
Manchester City FC
13
0

the 51st City player to represent England

8
Phillips, Kalvin M.
25
274 days
2 December 1995
RDM
Leeds United AFC
16
0
9

Kane, Harry E.
28
36 days
28 July 1993
CF
Tottenham Hotspur FC
62
39
10

Sterling, Raheem S.
26
268 days
8 December 1994
in Kingston, Jamaica
RAM
Manchester City FC
69
18
56th min. for removing his jersey when celebrating his goal
11

Mount, Mason T., off 84th min.
22
235 days
10 January 1999
AM
Chelsea FC
22
4

England Substitutes

scoreline:

Hungary 0 England 3
19
Lingard, Jesse E., on 84th min.

(83:54)

for Mount
28
261 days
15 December 1996
LAM
Manchester United FC
30
16
4
14

the 126th player to reach the 30-app milestone

scoreline:

Hungary 0 England 4
14
Henderson, Jordan B., on 87th min.

(86:56)

for Rice
31
77 days
17 June 1990
RDM
Liverpool FC
65
43
1
22
17
Saka, Bukayo A.T., on 88th min.

(87:23)

for Grealish
19
362 days
5 September 2001
LF
Arsenal FC
10
8
1
3

result:

Hungary 0 England 4
unused substitutes:
12-Kieran Trippier, 13-Sam Johnstone, 15-Tyrone Mings, 16-Conor Coady, 18-Trent Alexander-Arnold, 20-Reece James, 21-Jude Bellingham, 22-Nick Pope, 23-Patrick Bamford.
team notes:
First competitive fixture with Hungary since October 1983.
Jack Grealish's great great grandfather,

Billy

Garraty, also played for England in 1903.
records:
Fiftieth victory in September.
Southgate is the quickest England manager to forty victories.
England's clean sheet is the thirtieth away from home in World Cup qualification.
Unbeaten in 25 World Cup qualification matches, having not lost since October 2009

(W19 D5).

Manager Gareth Southgate made his third England appearance against Hungary as a twelfth minute substitute in May 1996. He withdrew from the squad when the two countries met each other in April 1999.
4-2-3-1
Pickford -
Walker, Stones, Maguire, Shaw -
Phillips, Rice (Henderson) -
Sterling, Mount (Lingard), Grealish (Saka) -
Kane

Averages

(Starting XI)

:

Age

26

years 218 days
Appearances/Goals

37.5

6.1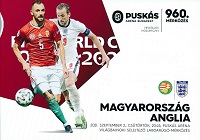 After a tentative first-half, England finally opened Hungary up and ended the game fully in command in a job well done. It certainly took a while for this game to come to life, with chances few and far between in the opening spell. Indeed nothing much happened in the opening half-hour, save a couple of half-chances that came England's way. They had most of the possession, but too often the ball went from side to side or backwards, and there were few forward passes to test the Hungarian defence.





On five minutes Harry Kane and Raheem Sterling gave Mason Mount a chance, but he fired over the bar. Two minutes later, a clever run by Sterling led to a corner which Harry Maguire headed over. The next moment of stifled drama came on the quarter-hour when Kane's ball into the middle was scrambled away by a defender. Neither goalkeeper had been tested so far but on 20 minutes England fashioned their best chance to date. Jack Grealish and Mount combined to set up Kane. His shot flew over and he was annoyed with himself for missing the target with his effort.





England were stretching Hungary with their possession and hard work, and when they did lose the ball, the super work of Declan Rice, Kalvin Phillips and Mount quickly won it back again. The home side tried to go long, but John Stones and Maguire are forming a great partnership together, and they rarely looking anything but solid. A break in play gave both teams a chance to talk to their managers, and on the restart Bendeguz Bolla broke away, only for the pass to be too long and easily gathered by Jordan Pickford. Hungary always knew the threat from Sterling, surrounding the Manchester City player every time he gained possession. But all this chasing after the ball was beginning to have an affect on the home players as they started to tire.





A rare chance came for the Hungarians when Rice was penalized and a free-kick was given on the edge of England's penalty area. This was wasted though as Dominik Szoboszlai blasted the kick high over the bar.





And that was the story of the first-half, with England dominating possession, but not finding any killer passes forward. In the end neither side had anything to show for their efforts.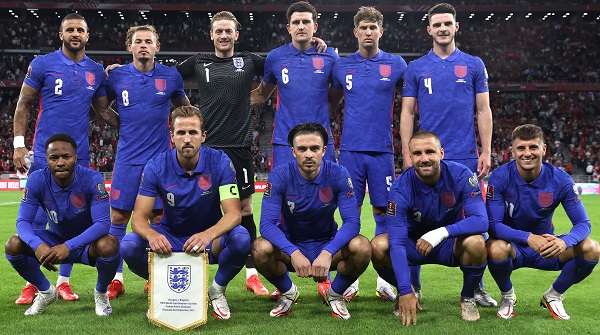 Talk about a game of two halves! Straight after the interval you could see that England were going to be more positive in their approach. An early free-kick was wasted but on 50 minutes Kyle Walker threaded a beautiful pass through for Kane, it seemed odds on for a score. Peter Galacsi, in the home goal, managed to block Kane's shot, when really, he should have had no chance. But that excellent move was the shape of things to come for England. Five minutes later, after he had just been harshly booked, Rice won the ball and passed to Grealish. Mount overlapped, Grealish found him and when Mount's cross came in, there was Sterling to side-foot the ball into the net for a super goal.





The only downside to that goal was the adverse reaction of the crowd, who bombarded the England players with missiles and also, more disappointingly, racial abuse. Sterling had taken off his shirt to reveal a poignant message of sympathy for a friend who had recently passed away, and was booked as a result. But that had no bearing on the despicable behaviour of the crowd.





England were now full of attacking ideas as they spotted the flagging in the Hungary team. Another good ball, from Kane to Sterling almost brought a second goal, but on 65 minutes that match-clinching goal duly arrived. Phillips intercepted a clearance and passed to Mount who flicked it on to Sterling. The winger's cross took a deflection and looped up nicely for the inrushing Kane to power home a close range header. Two minutes later Kane was there again, but this time Galacsi stuck out a foot to save Kane's shot. Two more minutes then elapsed before England scored a third goal.





Luke Shaw's corner was headed powerfully at goal by Maguire and the goalkeeper failed to keep the ball out of his net. The RP Leipzig goalkeeper would not want to see the replays of the goal as he should have saved it. After a couple of substitutes for the home side, a loose clearance by Pickford, coupled with shoddy defending by England gave one of those subs, Daniel Salloi, a rare home effort on goal, but he shot wildly over.





It was all action by now with England going close again through Sterling, who looked offside from Shaw's through ball, but failed when he tried to round the keeper, before Galasi saved. On 78 minutes Shaw again was the provider as Kane, who should have had a hat-trick in this match, ran onto another through ball. You would have bet your house on the England skipper scoring, but once again he allowed Galacsi the chance to save.





Pickford then had to make his only save, blocking a fierce angled shot, before more substitutes appeared, one for each side, with Jessie Lingard coming on for the impressive Mount. With three minutes left on the clock, England added a fourth goal to really hammer home their dominance. Good approach play down the right ended with Grealish laying a pass into the path of Rice, who capped a fine game with a low shot that went in under the goalkeeper's body. Again, Galacsi will not be too pleased with his part in the goal. Jordan Henderson and Bukayo Saka came on as late replacements for Rice and Grealish, but the job was done and England can be very pleased with their performance, especially in the second-half.