"HUNGER SHAMES" The Daily Mirror
Officials

from Spain

England

Squad
Type

Hungary Squad

Referee

(black)


Alejandro

José

Hernández Hernández


38 (10 November 1982)

, Arrecife, FIFA listed 2014.
12
Goal Attempts
6
5
Attempts on Target
1
Assistant Referees
0
Hit Bar/Post
0
José Enrique Naranjo Pérez
Teodoro Sobrino Magán
8
Corner Kicks Won
2
Fourth official
José Luis Munuera Montero
38 (19 May 1983), Jaén, FIFA-listed 2019

FIFA Referee Assessor - Stefan Messner, Austria
FIFA Match Commissioner - Peter Lundström, Finland
2
Offside Calls Against
2
8
Fouls Conceded
9
64%
Possession
36%
Video Assistant Officials

Juan Martínez Munuera




39 (13 July 1982), Benidorm

Assistant VAR official - Xavier Estrada Fernández, 45

England
Team
Rank:
FIFA (16th Sept 2021) 3rd
EFO ranking Group One (3rd)
ELO rating 6th
Colours:
The Nike 2020 home uniform

-

White crew-necked jerseys with

navy blue

collar and side trim, blue shorts with pale blue side stripe, white socks.
Capt:
Harry Kane ³³


42nd, W 26 - D 9 - L 7 - F 90 - A 32




Kyle Walker

75:30

Manager:
Gareth Southgate, 51 (3 September 1970), appointed caretaker manager on 27 September 2016, appointed as permanent manager on 30 November 2016.


66th match, W 42 - D 14 - L 10 - F 137 - A 42

record 17th

ͨ

at National Stadium

England

Lineup

1
Pickford, Jordan L.
27
219 days
7 March 1994
G
Everton FC
41
31ᵍᵃ

fourth goalkeeper to face six penalty kicks

most appearenced Everton FC player for England

2
Walker, Kyle A.
31
137 days
28 May 1990
RB
Manchester City FC
64
0
3
Shaw, Luke P.H.
26
92 days
12 July 1995
LB

Manchester United FC

19
1
23rd min. catches Nego in the head as he clears the ball. P

ENALTY

4
Rice, Declan
22
271 days
14 January 1999
DM
West Ham United FC
27
2
5

Stones, John
27
134 days
28 May 1994
RCD
Manchester City FC
53
3
6
Mings, Tyrone

D.

28
213 days
13 March 1993
LCD
Aston Villa FC
15
0
7
Grealish, Jack P., off 62nd min.
26
32 days
10 September 1995
LF
Manchester City FC
17
1
8

Foden, Philip W.
21
137 days
28 May 2000
RM/
RAM
Manchester City FC
11
2
9
Kane, Harry E., off 76th min.
28
76 days
28 July 1993
CF
Tottenham Hotspur FC
65
41
10
Sterling, Raheem S., off 76th min.
26
274 days
8 December 1994
in Kingston, Jamaica
R/LF
Manchester City FC
71
18
11
Mount, Mason T.
22
275 days
10 January 1999
LM/
LAM
Chelsea FC
26
4
England Substitutes

scoreline:

England 1 Hungary 1
19
Saka, Bukayo A.T.M., on 62nd min.

(61:51)

for Grealish
20
37 days
5 September 2001
RF/M
Arsenal FC
13
9
3
4
18
Bakumo-Abraham, K.O. Tamaraebi, on 76th min.

(75:28)

for Kane, injured off 90th+2nd min.

(91:56).

24
12 days
2 October 1997
CF
AS Roma, Italy
8
2
2
6
14
Henderson, Jordan B., on 76th min

. (75:35)

for Sterling
31
117 days
17 June 1990
RM
Liverpool FC
67
44
1
23
23
Watkins, Oliver G.A., on 90th+2nd min.

(91:57) for Abraham

25
158 days
30 December 1995
CF
Aston Villa FC
5
0
1
5
result: England 1 Hungary 1
unused substitutes:
12-Kieran Trippier, 13-Sam Johnstone, 15-Conor Coady, 16-Fikayo Tomori, 17-Ben Chilwell, 20-Jadon Sancho, 21-James Ward-Prowse, 22-Aaron Ramsdale.
team notes:
A club record five Manchester City FC players start for England.
Jack Grealish's great great grandfather,

Billy

Garraty, also played for England in 1903.
Olly Watkins is the fiftieth player to have earned a fifth appearance under Southgate.
stadium notes:
This ends a run of twelve consecutive World Cup victories at the Stadium, starting back in October 2012.
This is also Southgate's ninth World Cup match at Wembley, one more than Alf Ramsey, and now two more than Bobby Robson...his first draw after eight straight victories.
This is the 75th draw across both the Wembley Stadiums, but the fiftieth conceded at the new stadium.
records:
800th post-war match. The 100th draw on home soil. 2100th goal in Europe.
Twelfth match on 12th October, W8 D4. Not conceded before tonight on this day since 2005.
This is England's fifth World Cup fixture against Hungary, the first draw. It is also the first home draw in the eleventh Hungary visit.
Unbeaten in 29 World Cup qualification matches, having not lost since October 2009

(W21 D8).


Unbeaten in eighteen matches, best since September 1988-May 1990.
This is England's seventeenth match in 2021, a record equal with the number set in 2018 and 1966.
Manager Gareth Southgate made his third England appearance against Hungary as a twelfth minute substitute in May 1996. He withdrew from the squad when the two countries met each other in April 1999.
4-3-3
Pickford -
Walker, Stones, Mings, Shaw -
Foden, Rice, Mount -
Sterling (Henderson), Kane (Abraham (Watkins)), Grealish (Saka)


notes: Sterling went left when Saka came on to take up the right side. When Henderson came on, he took up a midfield position with Saka on opposite wing, with Foden and Mount attacking.

Averages

(Starting XI)

:

Age

26

years 287 days
Appearances/Goals
37.2
6.5

Hungary Team
Rank:
FIFA (16th Sept 2021) 40th
EFO ranking Group Ten


ELO rating

43rd

Colours:
Made by Adidas - Red v-necked jerseys with white collar (green trim) and shadowed wavy hoops/white Adidas side stripes, red shorts with red Adidas side stripes/back hem, and red socks with white Adidas trim.
Capt:
Péter Gulácsi
Manager:
Marco Rossi, 57 (9 September 1964 in Druento, Italy), appointed 19 June 2018.
37th match, W 16 - D 8 - L 13 - F 48 - A 45.

Hungary

Lineup
1
Gulácsi, Péter
31
159 days
6 May 1990
G
RB Leipzig

, Germany

46
0
3
Kecskés, Ákos
25
281 days
4 January 1996
RD
FC Nizhny Novgorod

, Russia

4
0
2
Lang, Ádám
28
268 days
17 January 1993
CD
AS Omonoias Lefkosias, Cyprus
43
1
4
Szalai, Attila Á.
23
265 days
20 January 1998
LD
Fenerbahçe SK

, Turkey

21
0
7
Négo, Loïc, off 90th+2nd min.
30
270 days
15 January 1991
in Paris, France
RWB
MOL Fehérvár FC
16
2
8
Nagy, Ádám
26
117 days
17 June 1995
RM
AC Pisa

, Italy

55
1
13
Schäfer, András, off 79th min.
22
182 days
13 April 1999
LM
FC DAC 1904 Dunaszerdahelyi Iabdarúgó klub

, Slovakia

13
2
5
Nagy, Zsolt
28
140 days
25 May 1993
LWB
Puskás Akadémia FC
4
0
10
Szoboszlai, Dominik, off 90th+2nd min.
20
352 days
25 October 2000

RF
RB Leipzig, Germany

17

3

90th min. for timewasting at a throw-in
20
Sallai, Roland, off 79th min.
24
143 days
22 May 1997
CF
SC Freiburg

, Germany

30
5
60th penalty against scored

(89th overall)

19
Schön, Szabolcs G., off 68th min.
21
15 days
27 September 2000
LF
FC Dallas

, United States

6
0

Hungary

Substitutes

scoreline:

England 1 Hungary 1

11
Holender, Filip, on 68th min

(67:42)

for Schön
27
77 days
27 July 1994
in Kragujevac, Yugoslavia
CF
FK Partizan, Serbia
16
1
18
Vécsei, Bálint, on 79th min

(78:46)

for Schäfer
28
91 days
13 July 1993
CM
Ferencváros TC
4
0
21
Hahn, János C., on 79th min.

(78:56)

for Sallai
26
211 days
15 March 1995
RF
FC DAC 1904 Dunaszerdahelyi Iabdarúgó klub

, Slovakia

5
0
23
Nikolics, Nemanja, on 90th+2nd min

. (91:40)

for Szoboszlai
33
285 days
31 December 1987
in Senta, Yugoslavia
LF
MOL Fehérvár FC
43
8
14
Bolla, Bendegúz B., on 90th+2nd min.

(91:50)

for Nego
21
324 days
22 November 1999
RB
Grasshopper Club Zürich

, Switzerland, on loan from Wolverhampton Wanderers FC, England

4
0

result:

England 1 Hungary 1
unused substitutes:
6-Balogh Botond, 9-Roland Salloi, 16-Dániel Gazdag, 17-Roland Varga, 22-Ádám Bogdán

.

records:
Hungary scored for the first time in five competitive matches against England.
Although it is true that Roland Sallai is the first Hungarian to score since László Nagy in May 1978 to score at Wembley, it is not the first Hungary goal, as Phil Jagielka scored an own goal here in 2010.
penalty notes:
Hungary's goal was their 31st against England, but their first penalty kick. Hungary are the 38th different country to take a kick against England, and Sallai the 83rd different taker..
3-4-3
Gulácsi -
Kecskés, Lang, Szalai -
Négo (Bolla), Á.Nagy, Schäfer (Vécsei), Z.Nagy -
Szoboszlai (Nikolics), Sallai (Hahn), Schön (Holender),

Averages

(Starting XI)

:

Age
25 years 300 days
Appearances/Goals

23.2

1.2
Match Report
by Mike Payne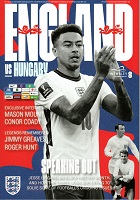 Well, you can't win them all! That was the overriding feeling after England failed to beat a stubborn and well drilled Hungarian team at Wembley. England didn't play badly, but they didn't play well either, and much credit should go to Hungary for carrying out their game plan almost to perfection.

Despite picking the team most of us would have chosen, Gareth Southgate's men could see that right from the start it was obvious the match would be a stiff test for the home side, something they haven't often had to contend with during this qualifying period. Hungary were well organised, aggressive, and dangerous on the break, and England had to have their wits about them at all times. A lively opening ten minutes, saw both teams shutting their opponents down quickly, so there was little goalmouth action forthcoming. The first chance of note came in the 9th minute when Jack Grealish, superb throughout, and Luke Shaw, combined on the left to send in a cross to the far post. Harry Kane was there but he was just beaten to the ball on the stretch by a defender.

As the corner was taken, John Stones was rugby tackled to the floor by his marker and the referee blew his whistle. But instead of giving a penalty, he warned both players, and ordered the corner to be retaken. A weird decision that made me wish we still had the lady referee that we had in the last game, back in charge!

Declan Rice and Mason Mount were working hard in midfield but the Hungarians were very aware of Phil Foden's attributes, and when the Man City player gained possession the defenders swarmed around him, giving him no space to work his magic. On 14 minutes the very lively Roland Sallai put in a good effort which was just off target, following a good break down the right. A bad pass by Mount then gave the Hungarians another chance but the defence was quickly back to snuff out the danger.

The first 20 minutes had been nip and tuck, although Shaw's first time ball into the box was only just intercepted before it reached Kane. Grealish was increasingly dangerous and the visitors found him hard to deal with as he ran at them consistently. One shot was easily saved by goalkeeper Peter Galacsi, but Grealish was definitely England's danger man. However, on 23 minutes the game changed. A ball bounced high in the box as Shaw looked to clear. In the end he fly-kicked it away, but Loic Nego had tried to put his head to the ball and the referee deemed it dangerous play as Nego writhed around in apparent agony. Strange to relate, he was soon up and about again after the penalty was given. It was checked by VAR but this ref had given England nothing up to this point, so the decision stayed. Sallai sent Jordan Pickford the wrong way to emphatically score from the spot.

England had to now regroup, as this was an unusual situation, being a goal down at Wembley, it hadn't happened for a while. Another decision went Hungary's way when Kane was clattered from behind in the box. You've seen them given! But Hungary were now looking confident, boosted by the goal, and England had a game on their hands. Zsolt Nagy then clattered Grealish and their were ironic cheers as the referee gave England a free-kick. Hungary cleared that and they were not about to surrender this lead easily.

On 35 minutes it was noticeable that England had stepped it up a bit, and two minutes later they scored an equaliser. This time a free-kick would be well used. Foden whipped in a cross, with the ball touching a couple of heads on the way to the far post where John Stones was there to crash it home. Five minutes later Grealish looked in with a great chance, but delayed his shot allowing the defenders to scramble the ball clear. Before the break, Grealish again went close after controlling a great pass by Kyle Walker, and then right on the whistle, Raheem Sterling was on the end of Shaw's cross to the far post. His first header was parried by a sprawling Galacsi, and Sterling's rebound effort was shot wide.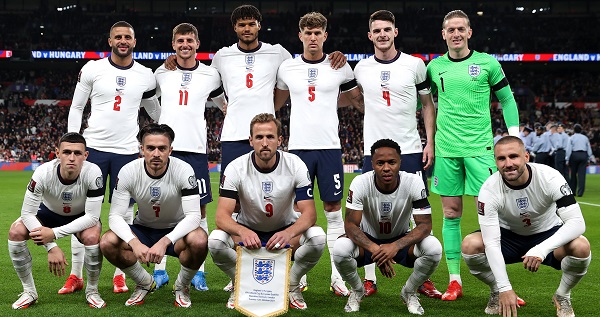 England began the second-half with some careless passing that gave Hungary the chance to push forward. Shaw was not his usual self, although that could be said of several of the England players. Sallai put in another good effort that was deflected for a corner, and despite some promising attacks by the visitors, Pickford had yet to be called upon. Hungary's strength was in their organisation, workrate, and general appetite for the game.

Foden then sent Sterling away and his cross was only just scrambled away. Kane had a shot easily saved after more good play by Grealish, Sterling won a corner, from which Stones headed inches wide. Then came a moment that puzzled every England fan as Southgate's first substitution was to take off Grealish and bring on Bukayo Saka. No problem with Saka coming on, but to take off your best attacker was a mystery, especially as Sterling and Kane were both having 'one of those nights!' A forlorn looking Grealish, sat in the stand, looked as perplexed as everyone else by that strange decision.

On 70 minutes all would have been forgiven as Kane put Sterling through on goal. A super sharp Sterling would have buried that chance but Galacsi was out quickly to save. Not long after Kane sliced another chance over, both he and Sterling were taken off, with Tammy Abraham and Jordan Henderson coming on. England's play became scrappy as the game reached its climax. Poor play by both Saka and Henderson, gave possession away cheaply, and a half-hearted attempt by Abraham to reach Mount's cross was about all England could muster. Abraham did have another chance but he didn't look too sharp. In fact he had to be substituted himself for an injury near the end, with Olli Watkins coming on.

In the end it was all to no avail. England, on the night, were out-thought, out-fought and outrun. Having said all that, they didn't lose, so no real damage done. The ball is still very much in their court.


Source Notes
TheFA.com
BBC Sport
MLSZ.hu
UEFA.com
Mike Payne - football historian and contributor
Neil Morrison
cg